Our GlobeIn Premium Wrap
Hand wrapped with love, each gift comes with its own regional pattern, giving your gifts an international flair.
Premium gift wrap – $5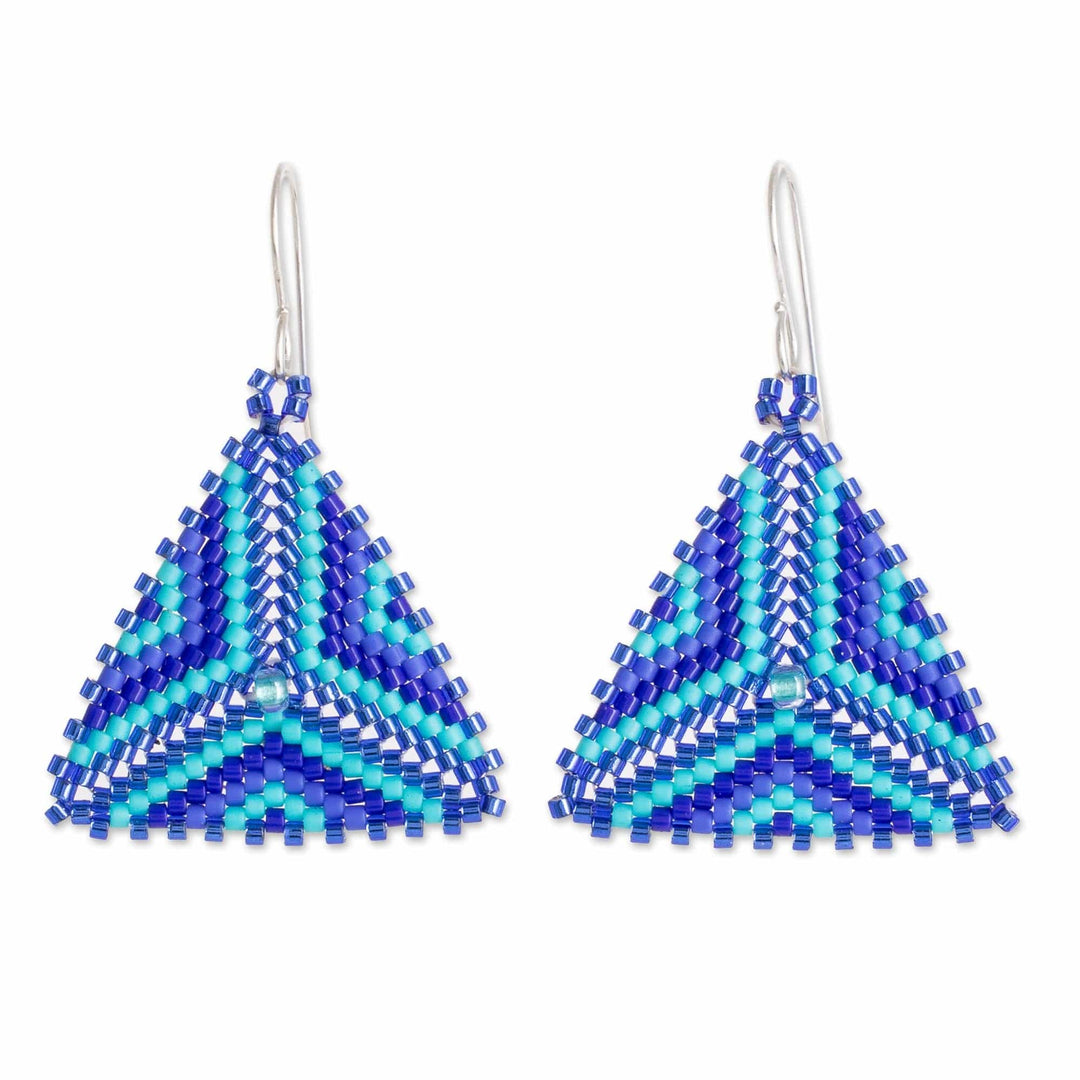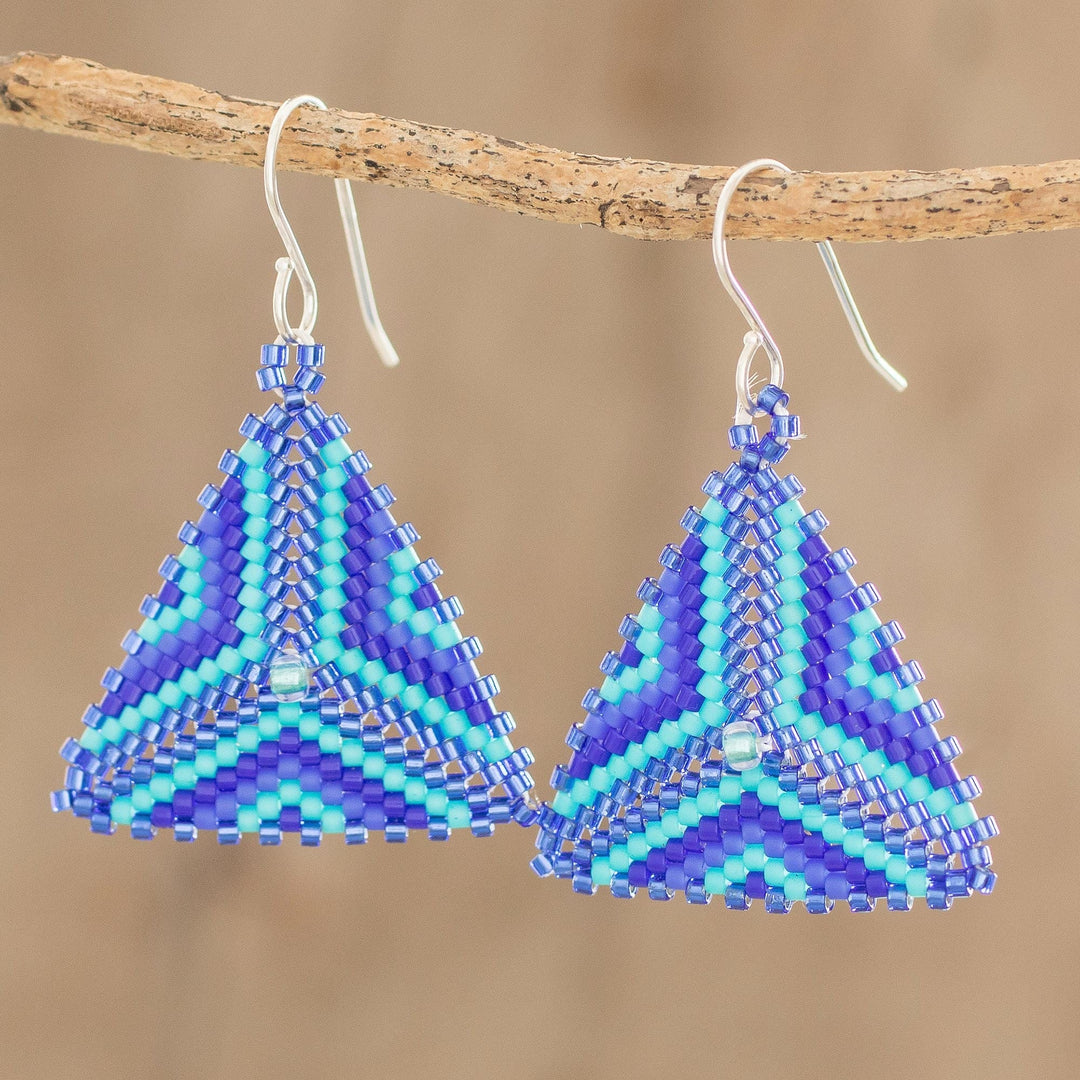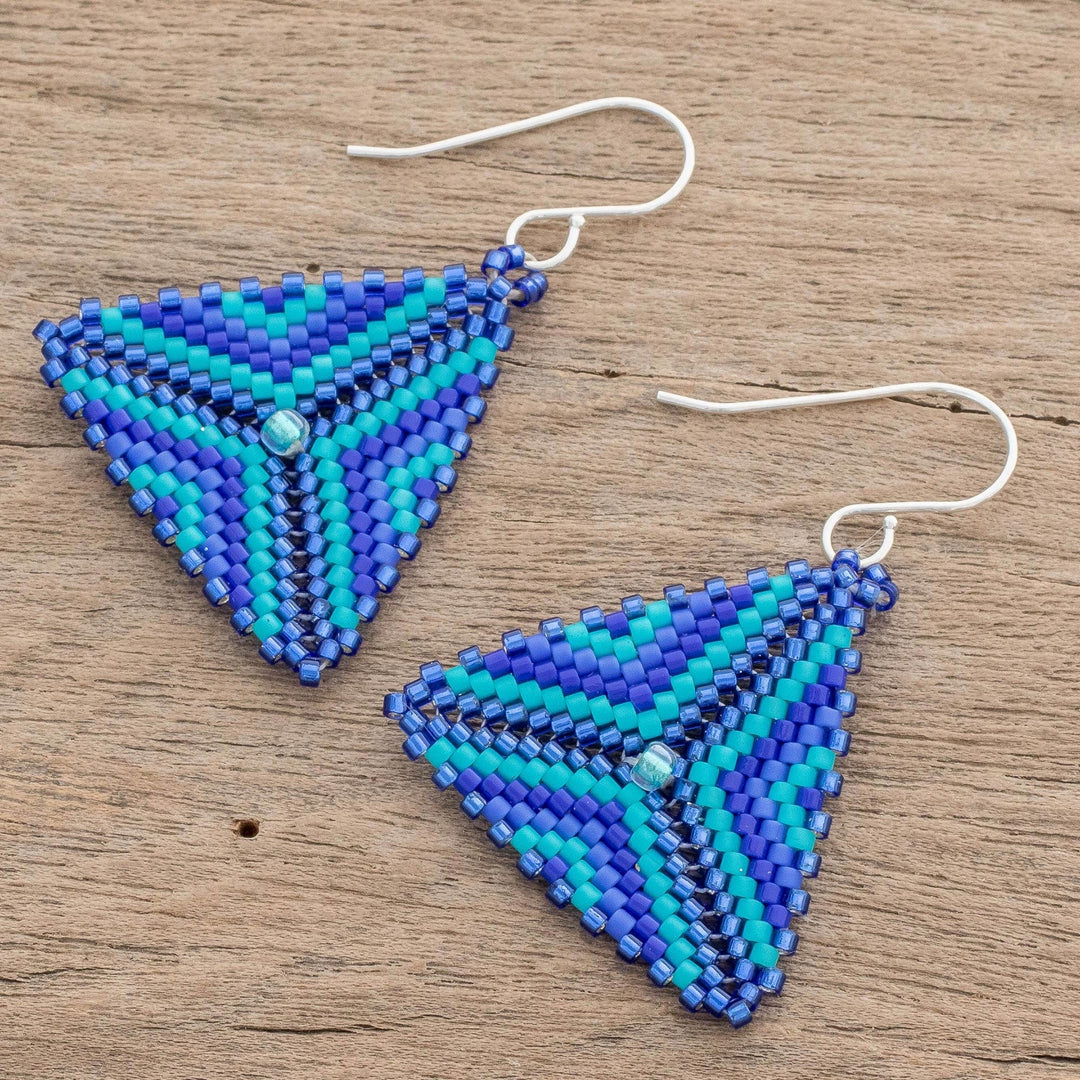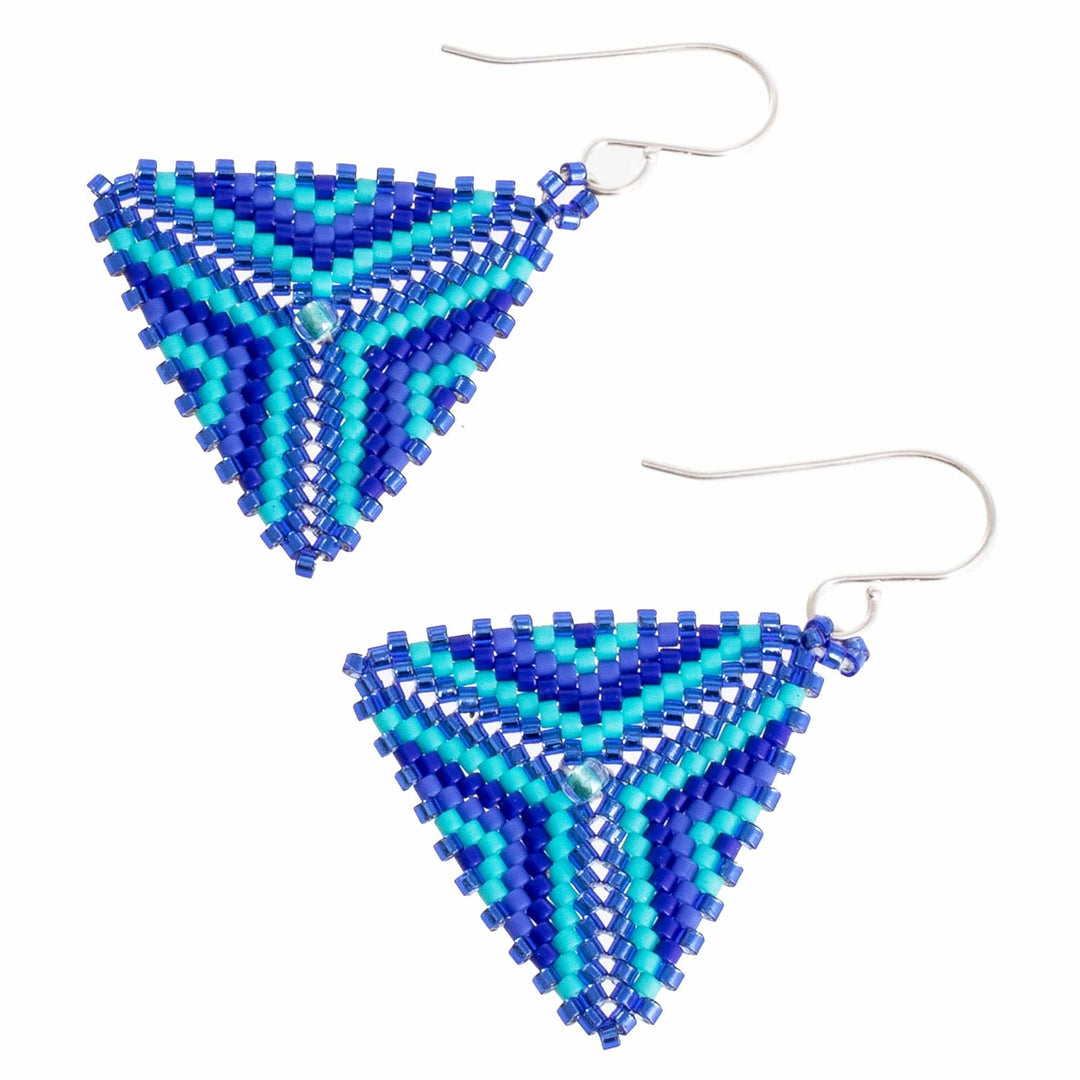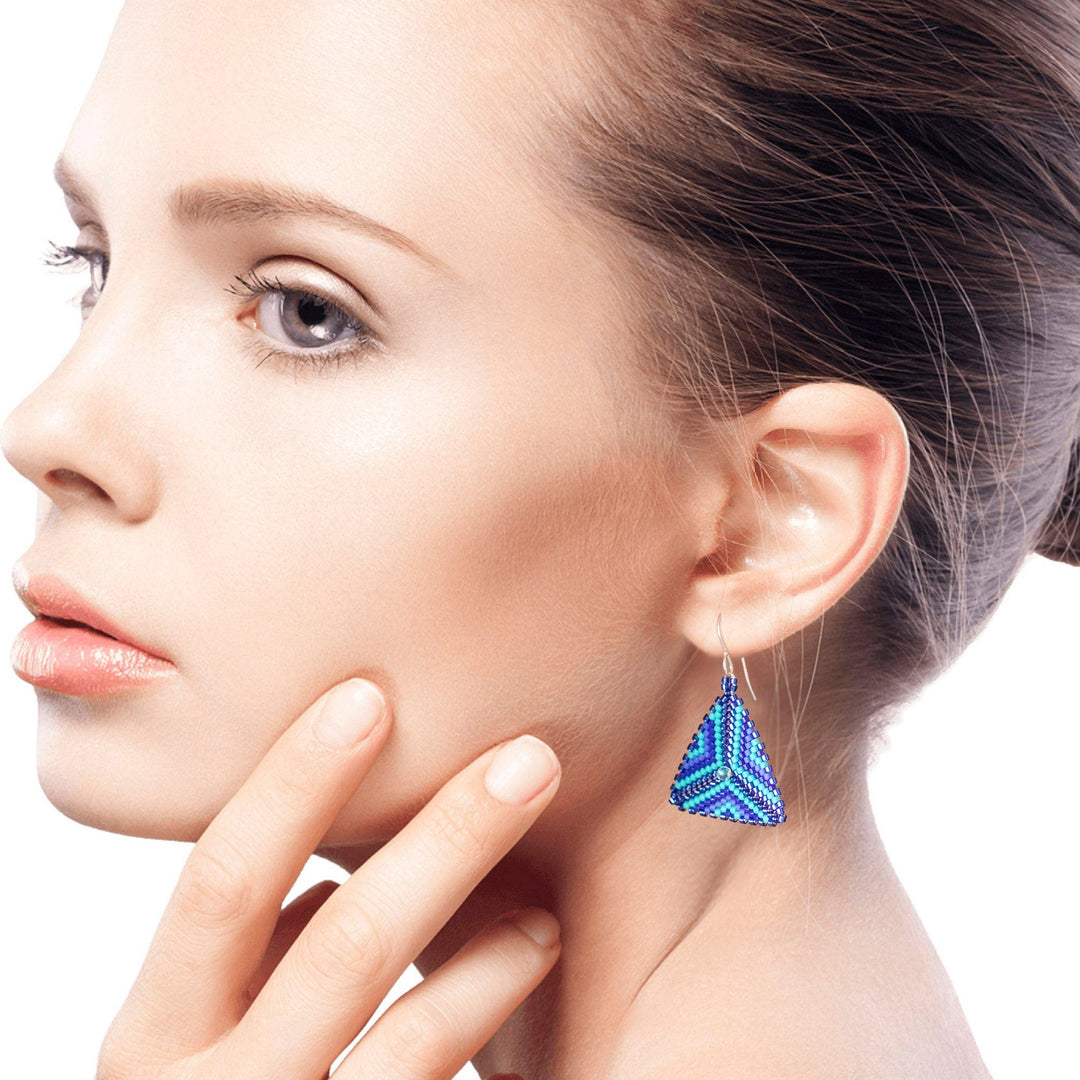 Triangular Glass Beaded Dangle Earrings in Blue - Tribal Triangles
$41.00
Guest price
$32.80
Member price
Available Premium Gift Wrap
You can optionally add Premium Gift Wrap into cart.
Learn more >
Overview
Description
Promoting the artisanal skills of youths in El Salvador, Pearls of the Sea Youth Group presents this geometric pair of dangle earrings. Artisans work with petite glass beads in various hues of blue, creating two triangles that swing below hooks of sterling silver.
Glass beads, 925 sterling silver hooks
0.04 oz
1.8 inches L x 1.2 inches W
THE STORY BEHIND THE PRODUCT
Artisan Organization: Pearls of the Sea Youth Group
Country: Central America
Pearls of the Sea Youth Group was formed by 11 young women from El Salvador. The community is located between the sea and a coastal estuary where mangroves flourish. It's a beautiful place and it takes about 30 minutes to reach in a motorboat.

Small boats line up along the pier where visitors dock. Children greet you with a smile and islanders are very friendly and welcoming. But living in this lovely community has drawbacks as well as benefits.

One of the youngest group members, Iliana Isabel, says, "I was born and grew up here. I live with my mother and am the oldest of three children. My mom had to be both mother and father at the same time. My family is poor and sometimes we didn't have enough to eat. When that happened, my mom would take my younger brother with her and go fishing. Sometimes they'd catch something. Sometimes they didn't. Life can be pretty hard here.

"There aren't any jobs in our town and the men fish. Generally, women are homemakers and take care of their children.

Maria Gladis is 25 and talks about her life.

"I have three children. I fish along with my spouse to feed our family. There were times when we returned home empty-handed. That's when I was overcome with worry over my children.

"It's sad not to have food and, as a mother, I'd find a way to get them something to eat. I'd turn to my neighbors to help them with their work so I could earn some money. I always wanted to have a steady income so that my children wouldn't lack anything."

Maricela has a similar story.

"I'm 23 and have two children. My daughter is seven years old and my son is four. They are my greatest treasures and my motivation to get ahead. On this island, there aren't any jobs for women because fishing is the only work. Sometimes, you win and sometimes you don't. It's a job that only men do."

Yaquelin Selena is 20 and tells us how the group started.

"A woman named Cathy came to our town from the U.S. and she brought a project for young people. We had a meeting and invited more women."

Doris continues the story. "One day, I ran into some friends and they mentioned that Cathy wanted to teach a group of women to craft jewelry. She taught us to make lots of beautiful designs. We also learned to value ourselves and be understanding when we run into problems. The mothers in our group are proud of ourselves and I can buy things that my children need with my earnings. Although it's not a lot, I feel good about it and more independent. I thank God for meeting Cathy and my colleagues."

After Cathy arrived and began offering training, more women joined the group to learn crafting techniques and begin working.

Edith is very happy to be a part of this group.

"This is a great opportunity that God is giving us. Several of us were experiencing the same downturn as I was. It was incredible seeing my coworkers' happiness and knowing we can work to get ahead. Cathy motivates us every day to never give up and fight for what we want. Now, we make jewelry and are able to sell it. We've begun earning money and are contributing to our family economy."

Katherine is 19 years old and feels that supporting her family is a big achievement.

"I'm very grateful because I've had the honor of helping my parents since I began working in 2014. Since then, I've been happy because I've finally been able to help them for all that they've done for me."

This group has brought so many women together, taught them new skills and the certainty that what they do is worthwhile.

Erika Flores is the youngest group member at 18. She has learned a big life lesson in the group.

"Seeing the jewelry we were about to make, I thought, 'This will be difficult and maybe I'll never learn.' In the beginning, I struggled to learn but, after a while, we all began perfecting our technique. Working in this group has meant so much to me. It's like my second home where I spend so much time with my coworkers who also mean so much for me. We're like sisters — we support each other and are very united.

"This group has contributed so much to my development as a person and to my values. I love socializing with my coworkers and new people I've met. This has made me a better person. I love my job because it gives me time to study and do my chores. I never thought I'd achieve so much.""