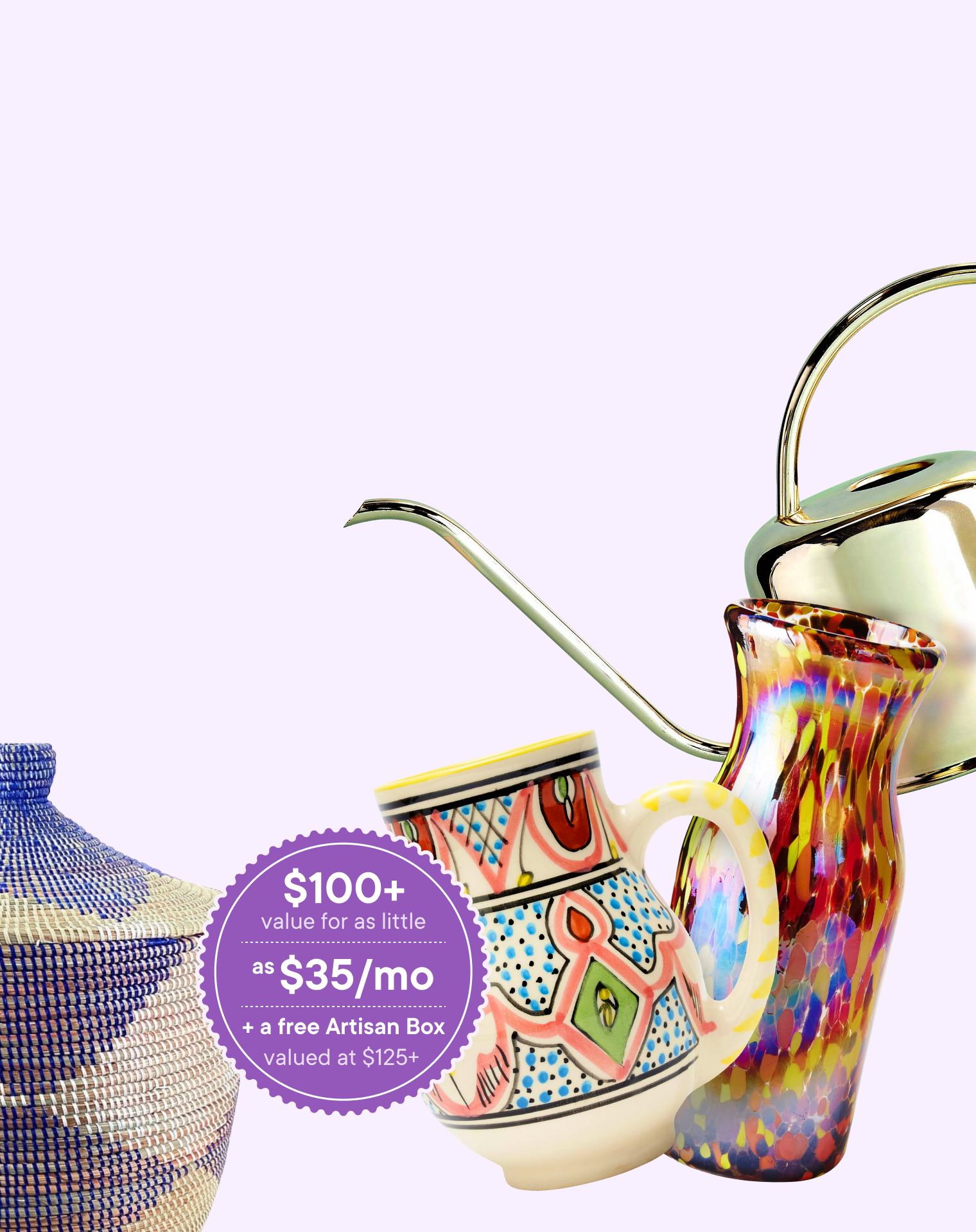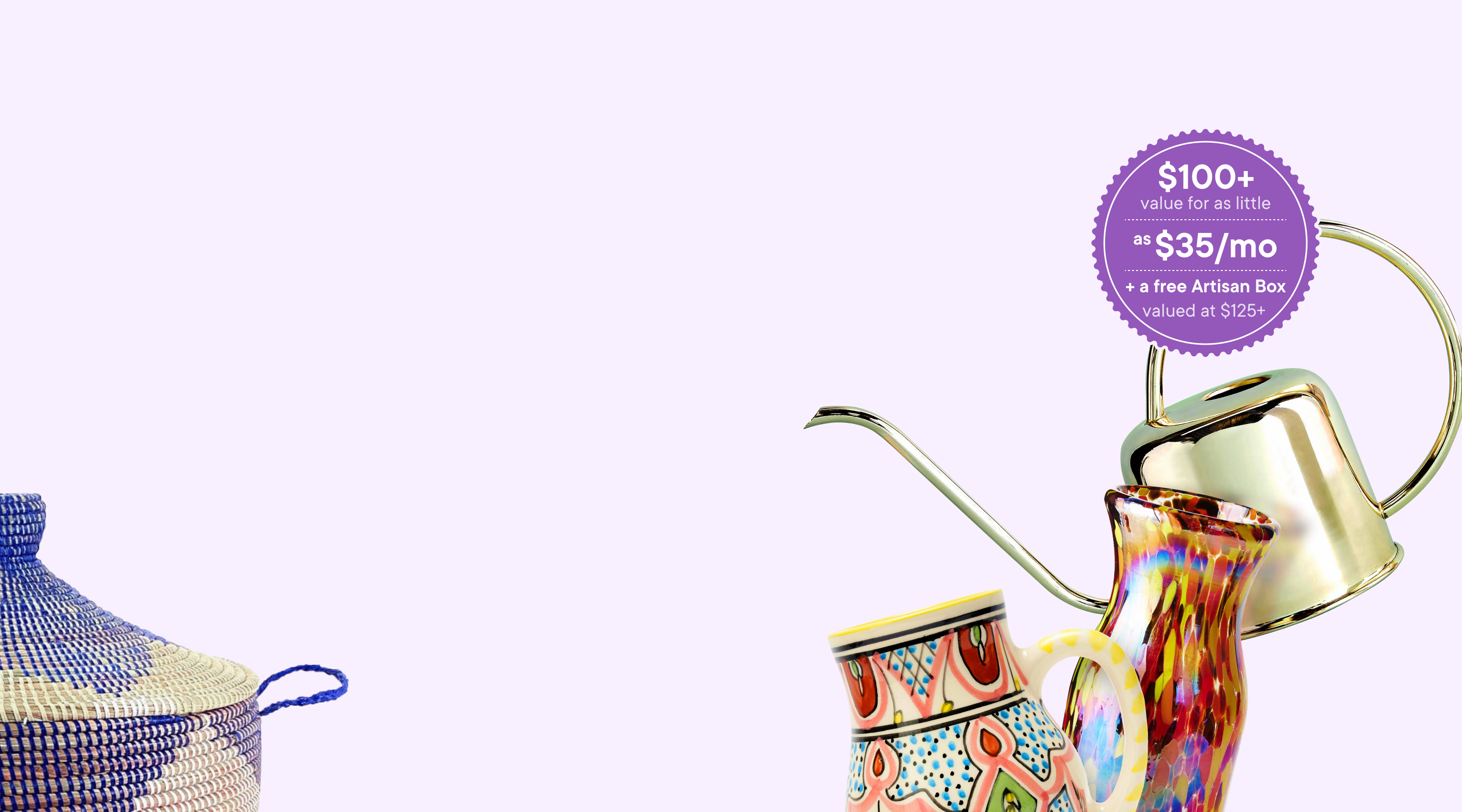 If you love to shop, love great deals, and want to make a positive impact on the world, you're in the right place
100% Ethically Sourced Home Goods, Fashion, Accessories and More at 65% off
Customize
Every month we curate hundreds of products for you to choose from. You make it 100% yours for up to 65% off retail.
Stay in Control
Don't love this month's choices? You can use your credits in the Artisan Shop or save them for next month.
Shop Anytime
Members get 20% off everything in our Artisan Shop every day of the week.
The Place to Elevate Your Home and Lifestyle Ethically
Diamond Hanging Planter with Terracotta Pot
Diamond Hanging Planter with Terracotta Pot
Diamond Hanging Planter with Terracotta Pot
Diamond Hanging Planter with Terracotta Pot
Diamond Hanging Planter with Terracotta Pot
Choose your Free Artisan Box
Sign up as a Premium Member today and we'll ship out your Free Artisan Box right away.
Plus, get $20 in credits to use immediately in our shop.
Strong Cerame (Khaloufi Abdeslam)
Zhour Khayati
After the death of her husband, Zhour Khayati came from El-Jadida region to look for a job in Marrakech. After trying for so long and working in different jobs and factories, she heard of Abdeslam and his artisan group. She asked for a simple job like cleaning, but after hearing her story of her late-husband's recent passing, he welcomed her and taught her everything he knows about clay throwing. but Abdeslam saw her potential and set his master artisans to teach her how to paint their products instead. This is how Zhour became Strong Cerame's first female artisan! Now Zhour Khayati has worked  with Abdeslam for 12 years now, and she remarks at how quickly that time has gone by! She is now a respected artisan of high skill, and is extremely passionate about ceramics. She's also proud of herself for what she's learned and how far she's come. Zhour Khayati puts her heart and soul into every piece she makes, and it really shows in this beautiful product!
Marquet
Mrs. Sunthong
Mrs. Sunthong, a member of the Ton Fai, or "Cotton Tree" artisan group, weaves products on a traditional hand-built loom using 100% locally-grown cotton. Whereas many rural Thai are forced to leave their families and seek work in the city to earn a secondary income, the weavers work on their craft between harvesting and planting season, integrating it into their farming lifestyle. Mrs. Sunthong is seventy years old. She has been weaving for a decade on a traditional hand-built loom. Many Thai homes are elevated about 10 feet above the ground, and have a shaded outdoor patio on the ground. After our cotton is dyed at a separate workshop, it is delivered to Mrs. Sunthong and the other artisans in her village. This allows everyone work from home, giving her the opportunity to continue earning a living wage without a long commute from her rural village.
EcoVibe
Ameena
The artisan who created your new intricately-woven Seed Bead Earrings is the strong and resilient Ameena. Each day, Ameena sits in a circle with other women artisans to create their crafts together. This is a time of productivity, but also a time of camaraderie where they can share their lives, aspirations, and even gossip together. Ameena has developed a special bond with these women in her short duration with EcoVibe thus far and she is forever grateful for this group of supportive women.  Due to COVID-19 and widespread lockdowns across India, Ameena's husband was furloughed from the iron factory where he worked. This is how Ameena took on the task of being the sole breadwinner in the family, a role that is not so common for women in India. Someone in her small village in Meerut suggested that she take a free training class at EcoVibe and her journey to financial independence was born. She is now creating her own seed bead jewelry with her own designs for EcoVibe.
Noah's Ark
Basu Dev Nayak
Basu is an expert painter who migrated to Noah's Ark's workshop in Moradabad a few years ago from Orissa. He wanted to pursue his passion for art and create his own living from it. At first it was hard because he migrated to Moradabad alone, leaving his family in Orissa. He would take one trip a year to visit and only stay for roughly two months before returning to Moradabad. After saving up his fair trade wages through Noah's Ark, Basu was finally able to relocate his family closer so he may see his daughter grow up beside him. Basu says that she has a really keen interest in singing. Us here at GlobeIn can only imagine her voice is as beautiful as her father's creations. Thank you, Basu!
Matr Boomie
Mohd Akram and Zeba
Say hello Mohd Akram and Zeba, two members of the jewelry artisan group we work with in Old Delhi, India. Mohd Akram is 35 years old and was educated up to the 10th grade. He has worked in the craft of jewelry-making for a little over 18 years, from the time he left school to today. Mohd Akram learned his craft from his parents and his parents' parents, as it is an ancestral craft in his region of India. Zeba works primarily with brass and for the last 7 years has received a quality income due to access to Fair Trade work through Matr Boomie. She is 30 years old and was educated to the 12th class, ie. all through grade school, which is not common for women of her class in India.
TradeAid International
Alebipoorum
Coming from the dexterous hands of Alebipporum, this Picnic basket is crafted with vetiver grass, which is rolled by hand and dyed to give it a vibrant hue. This basket is conceived after seven days of labor and hard work. It evokes that old-timey picnic vibe. This basket will make your picnic packing an easy-breezy sort of affair—just fill this basket with delicious fruits and foods, and enjoy a memorable picnic day with a perfect meal outdoors. Alebipoorum has mastered the art of weaving over 20 years! With the introduction of Fair Trade, Alebipoorum is able to save enough money in the rural bank, to ensure education for her children!
Completely Customizable
Exclusive Discounts
Free Shipping
Early Access
Choose your Free Artisan Box!
Plus $20 credit to use right away
20% off everything in our Artisan Shop every day
Access to Box Builder where you can build your own custom box
Exclusive access to new releases and best sellers
Earn unlimited rewards with Maven Points
Select FREE Artisan Box
5 Star Reviews from Our Community
I love it!
The products were wonderful. My favorite is the mug. I love the shape, the colors and how it's not too large, but holds so much liquid, and I love the shape – it fits so nicely into my hands. Definitely recommend!
Bounty box
I absolutely love the basket as well as items that came in it
Love it
Beautiful, soft, quality. This is a great item.
Cozy box
Some of my favorite things!
Unique Touch
I love this raffia edged bowl. What a clever idea of adding a weave of a different material and texture into the design of the pottery. I put this bowl to work almost immediately as a fruit bowl in my fridge and it is very functional and beautiful whenever I open the door. Perfect size too.
Picnic basket
Lovely picnic basket looking forward to taking it on a picnic very soon
Love the basket!
Bought this box for the mug and ended up loving the basket most instead. Using the mug as a decorative piece- a vase for flowers!
Gorgeous
This little plate is so beautiful! This is the second one I have purchased, one for home and one for camping. Love it!
In addition to your free Artisan Box!


You will gain access to these Premium Membership perks
Members Only Pricing
Members get 20% off all products, every day!
Box Builder
Box Builder allows you to create a custom bundle with 3 items at our absolute best prices!
Exclusive Promotions
Access to exclusive promotions, events and products!
Ethically Sourced
Learn more about the Artisan's behind the products!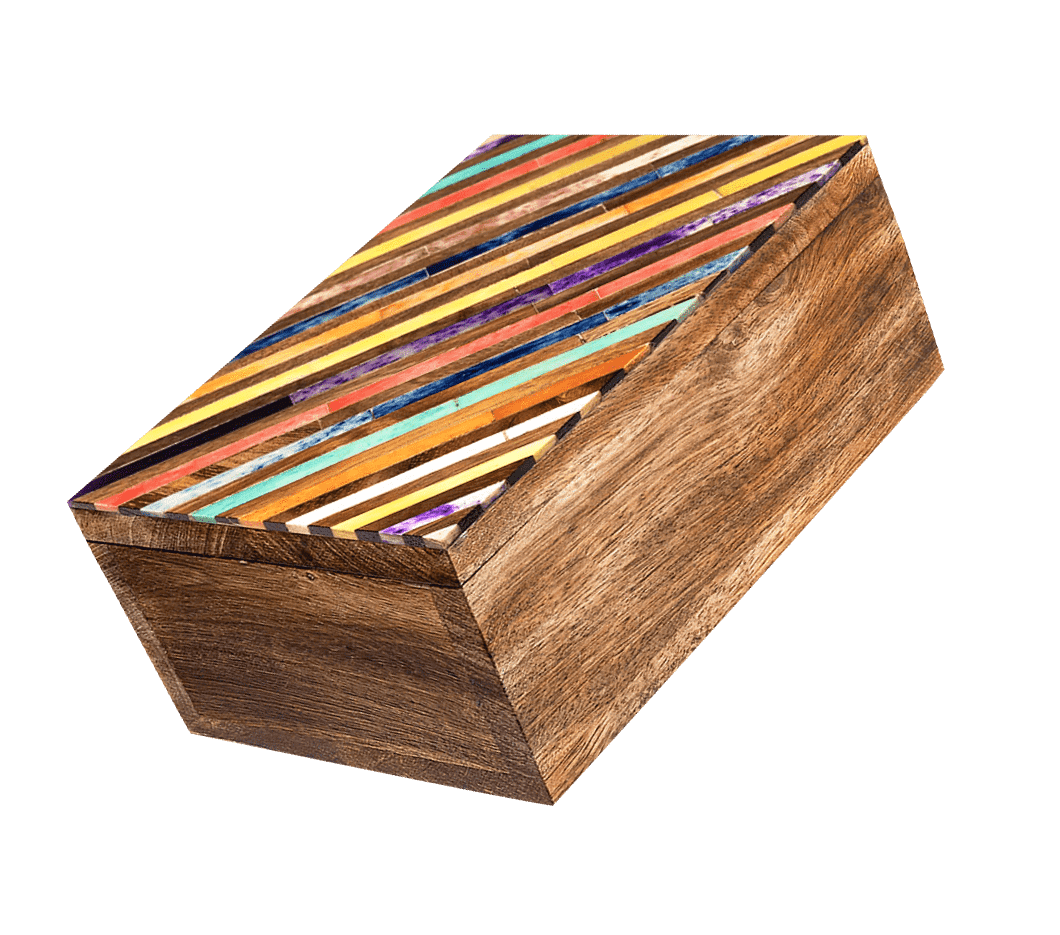 High-quality, personalized experience

Ethically Sourced

Upcycled Material

Handmade

Sustainability Focused

Completely Customizable
Living Wages
Select FREE Artisan Box