Our GlobeIn Premium Wrap
Hand wrapped with love, each gift comes with its own regional pattern, giving your gifts an international flair.
Premium gift wrap – $5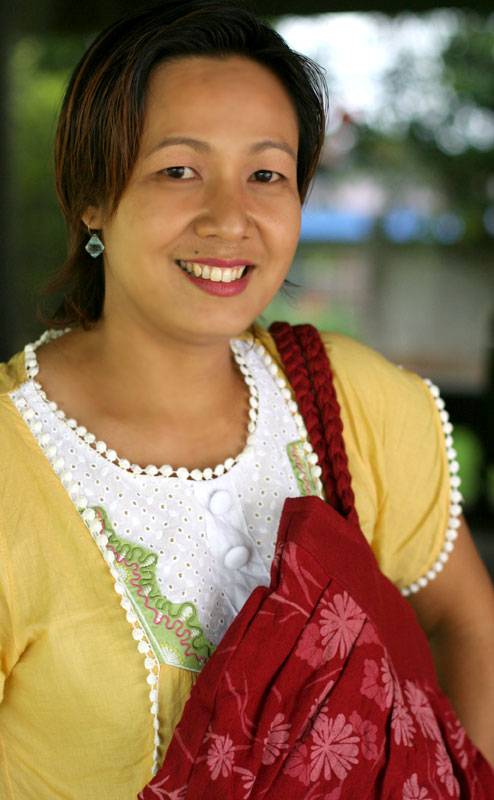 Cotton Shoulder Bag - Elephant Blues
$34.00
Guest price
$27.20
Member price
Available Premium Gift Wrap
You can optionally add Premium Gift Wrap into cart.
Learn more >
Overview
Description
A symbol of old Siam, elephants are a favorite in Thailand. Silver pachyderms parade across a blue cotton sling tote. By Jiap Rojjana, the bag is fully lined and an inner pocket with zipper keeps small items handy. Golden cords and rain tree wood beads adorn the strap. The shoulder bag is lined with cotton. It features an inner pocket that zips closed, and fastens with a coconut shell button.
90% cotton, 10% polyester, coconut shell, rain tree wood, polyester cords
0.17 lbs
Bag: 9.8 inches H x 9.8 inches W x 4.3 inches D
Strap(s): 34.5 inches L x 0.8 inches W
THE STORY BEHIND THE PRODUCT
Artisan Organization: Jiap Rojjana
Country: Thailand
"I was born in 1973 in a province north of Bangkok. Although my parents are poor farmers, they worked very hard to send my two sisters, my brother and myself to school. They wanted us to have a good education and to be able to achieve more than they did. However, I knew it would be too heavy a burden for them to send us to university. Upon hearing that finding a job in the northern region of Thailand was very easy compared to my modest village, I set off to see after getting my high school certificate. I managed to find work in sales. A few years went by and I met my husband. I resigned from my sales job and began helping him with paperwork for his construction business. Although both of us were working, we still struggled very hard to make ends meet.

"The idea working with textiles came about after visiting a silk shop. Such a wide range of beautifully colored, intricate cloth patterns mesmerized me! I bought some cloth to make myself a dress. With the scrap pieces of silk I made a few cushions and gave them to a friend of mine, who liked them surprisingly so much that she wanted to buy some from me to give to her friends. So it started, making clothes, wall hangings, table runners, cushion covers and various items with beautiful, diverse silk and cotton. I became enthralled with the whole process, I was doing something I loved to do and it was starting to bring in an income. My husband's business was not going well due to an economic crisis and the cost of living was rising, so most people were forced to tighten their belts for food and everyday expenses. I began to focus all my attention on my little handicrafts. Because of the low cost of my labor, people were still able to afford a little luxury in these hard times. A couple of years went by with my small venture growing and growing. Eventually I was able to sufficiently support my two children and had enough money left over to send some to my parents, brother and sister. Ironically, it is now my husband who helps me as his construction company fell through a few years back!

"I want to offer as many colors, styles, and patterns as I can and I want my customers to be overwhelmed with the selection and beauty of my handmade cushions.""