Our GlobeIn Premium Wrap
Hand wrapped with love, each gift comes with its own regional pattern, giving your gifts an international flair.
Premium gift wrap – $5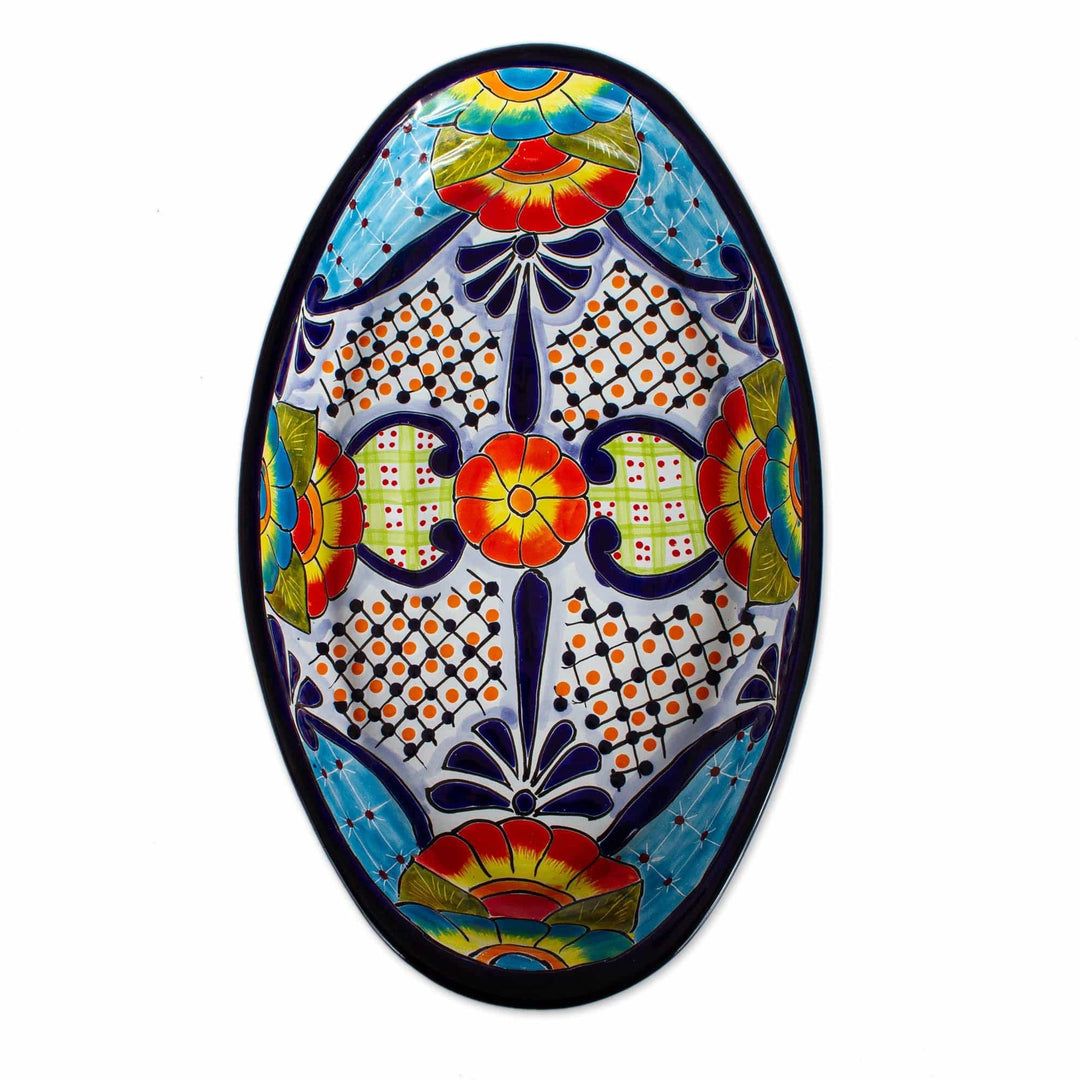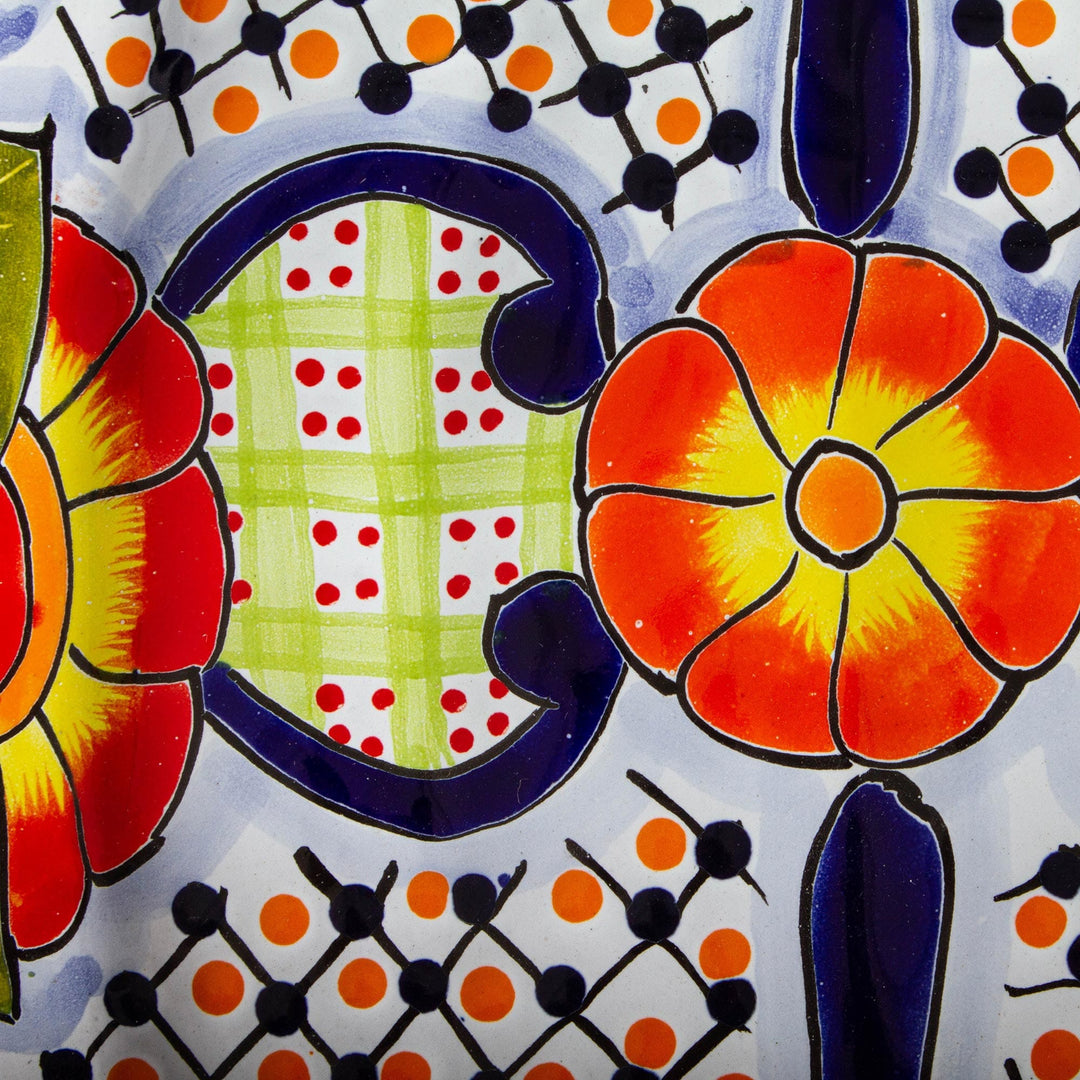 Talavera-Style Oval Ceramic Serving Platter from Mexico - Raining Flowers
$81.00
$0.00
Overview
Description
By Sergio Ponce, this majolica ceramic platter will bring the colors of Mexico to your home. The oval serving dish is painted by hand with vibrant floral motifs inspired by traditional Talavera pottery.
Ceramic
1.62 kg
5 cm H x 43 cm W x 25 cm D
THE STORY BEHIND THE PRODUCT
Artisan Organization: Sergio Ponce
Country: Central America
Latest Update

"I met you in 2018 in a forum organized by a Mexican government entity promoting and advising people who want to export their work. I was intrigued by each technical detail that assists artisans. I immediately said yes.

"The ensuing months were ones of learning about every detail of each of our designs. We were accustomed to memorizing the techniques and working quickly and skillfully. But now, I am involved with each step of the crafting process for the ceramics we offer you exclusively.

"We had to significantly improve the quality of even the most minimal details, which led us to select a group of artisans who work specifically on our designs for you. One of their characteristics is the capacity for repetition and matching the colors for each set of dishes. To help them, we create patterns for our designs that let us work more fluidly.

"For all of us, you are our great ally. We love your attention to each step of the process in filling orders.

"Our greatest challenge so far has been to work under pressure and recreate the design patterns with exactitude. For most of us, inspiration is one of our best tools. But this has let us rediscover our enthusiasm for quality in all our work and, in this way, to grow.

"It's so exciting to see some of my tableware in the Nat Geo catalog! I love how you give each piece a lovely name based on the design. I believe you've done an incredible job of showing the essence of Mexico to the world.

"We want to continue working hand-in-hand with you and consolidate all the projects we have planned."

Original Artisan Story

"When I was a little boy, I began learning this lovely technique thanks to my father. I became familiar with the craft at an early age by helping him in his workshop and becoming involved with all the processes, from mixing the clay to decorating the pottery and packing it for shipment. He taught me all the secrets of the art, as his family had been ceramists all their lives.

"I found it challenging to remain focused on achieving my dream. Little by little, I began mastering the techniques with the help and enthusiasm of my family. Their passion and love are what keep me going every day.

"I love the colors of our materials. We always strive to maintain the tradition and the quality of our work, using only clay and ceramic glazes.

"You need a deep knowledge of the techniques and the processes, and also great control and discipline. I supervise everything we do in my workshop to make sure we maintain the standards our shoppers expect and also create an enthusiastic and pleasant environment.

"When we first established our workshop, it wasn't easy. It was hard to gain people's trust but, over time, I gained experience, respect and recognition. I've learned from my mistakes and today I have the opportunity to set my imagination free. I'm also able to help preserve our family tradition and — in a certain way — to transcend as a person.

"Today, my wife helps me with this beautiful project I love so much. She shares my inspiration to offer an aesthetic experience in every piece we craft.

"This motivates me to continue even though you hear many ceramists saying it's tough and there's no future here. I've resolved to keep my enthusiasm high and believe in my ability to create my own future. I'm betting on innovation to succeed, and I never forget that there's a whole world to conquer. In this way, I can be an example for my family.""