Our GlobeIn Premium Wrap
Hand wrapped with love, each gift comes with its own regional pattern, giving your gifts an international flair.
Premium gift wrap – $5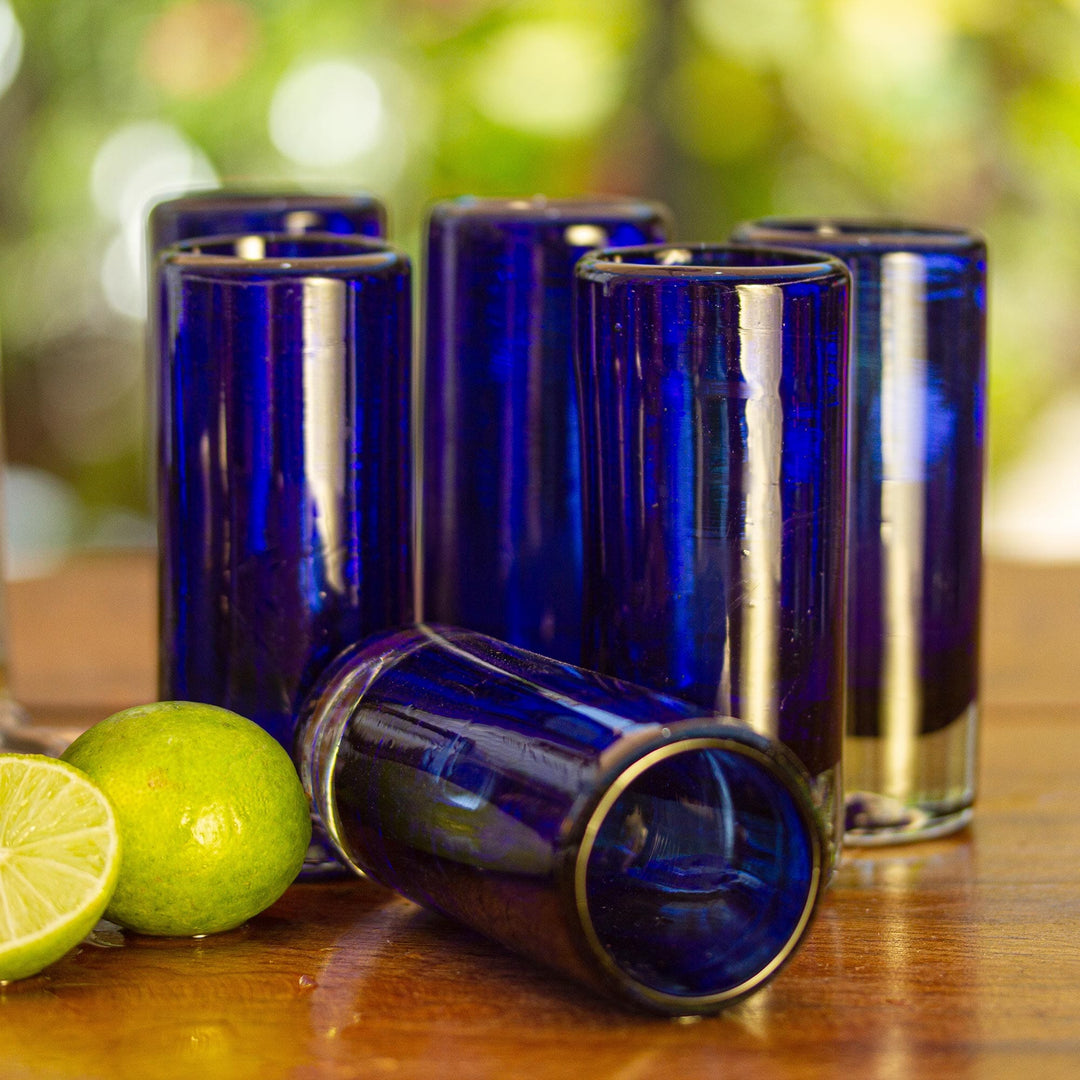 Handblown Recycled Shot Glasses - Set of 6 - Pure Cobalt
$57.00
Guest price
$45.60
Member price
Overview
Description
The potent flavor of tequila finds true perfection when served in handcrafted glasses, such as this set of six from the NOVICA Handblown Collection. Over thirty years of experience have resulted in master artisans' superior ability to create imaginative yet functional works, achieving an incredible clarity with the material.

Because each piece is handmade, shape and size can vary slightly and tiny bubbles may appear within the glass. This exemplifies the hand-blown technique, making every piece a unique example of blown glass craftsmanship.
Blown glass
0.80 lbs
Each: 3.9 inches H x 1.6 inches Diam.
2 oz.
THE STORY BEHIND THE PRODUCT
Artisan Organization: Novica Handblown Collection
Country: Mexico
The art of hand blown glass or vidrio soplado has diversified throughout the world, yet it is in the state of Jalisco, Mexico, where allegedly more pieces are crafted by talented artisans with techniques passed down from generation to generation.

Blown glass art is said to have originated in present day Syria during the Roman Empire, which is how it arrived in Italy, where blown glass art developed various styles. At first, the focus was on color and design, then came the introduction of new techniques that resulted in greater transparency and thus fragility, which were highly admired. Thus clear glass items became more valued over tinted glass.

Blown glass techniques made it possible for a greater number of products to be crafted, making glass a material of frequent use in the creation of drinking glasses, wine and liqueur glasses and other type of recipients.

Without a doubt, what distinguishes Mexican hand blown glass art is the interplay of clear glass with such colors as cobalt blue and other vibrant hues. Techniques have been refined since the 18th century, when this art form was introduced in Mexico by the Spanish, and spread throughout the country. It is said that blown glass arrived in the region of Guadalajara, Tlaquepaque and Tonala in 1820, thanks to an initiative by the Church whereby priests wanted to improve the work of the small glass workshops, so they brought two master artisans from Mexico City.

Nowadays blown glass is a term reserved for the crafting of glass objects through the creation of air bubbles in the molten glass. One way these bubbles may appear is by injecting air through a metal tube with the use of a machine.

The other method, featured in our Hand Blown Collection, is the traditional way – when the artisan holds the metal pipe with one hand, picking up the molten glass with one end of the tube, spinning it while blowing through the other end of the pipe and shaping it with the other hand.

In Mexico, hand blown glass can result in any form or shape imaginable, from tequila shot glasses to highball, old fashion drinking glasses, and jumbo sized glasses. There are martini, wine and champagne glasses as well as beer goblets. Other shapes include pitchers, vases, ice buckets, snack bowls, salad bowls, fruit bowls, dessert cups and bowls, and more."