Our GlobeIn Premium Wrap
Hand wrapped with love, each gift comes with its own regional pattern, giving your gifts an international flair.
Premium gift wrap – $5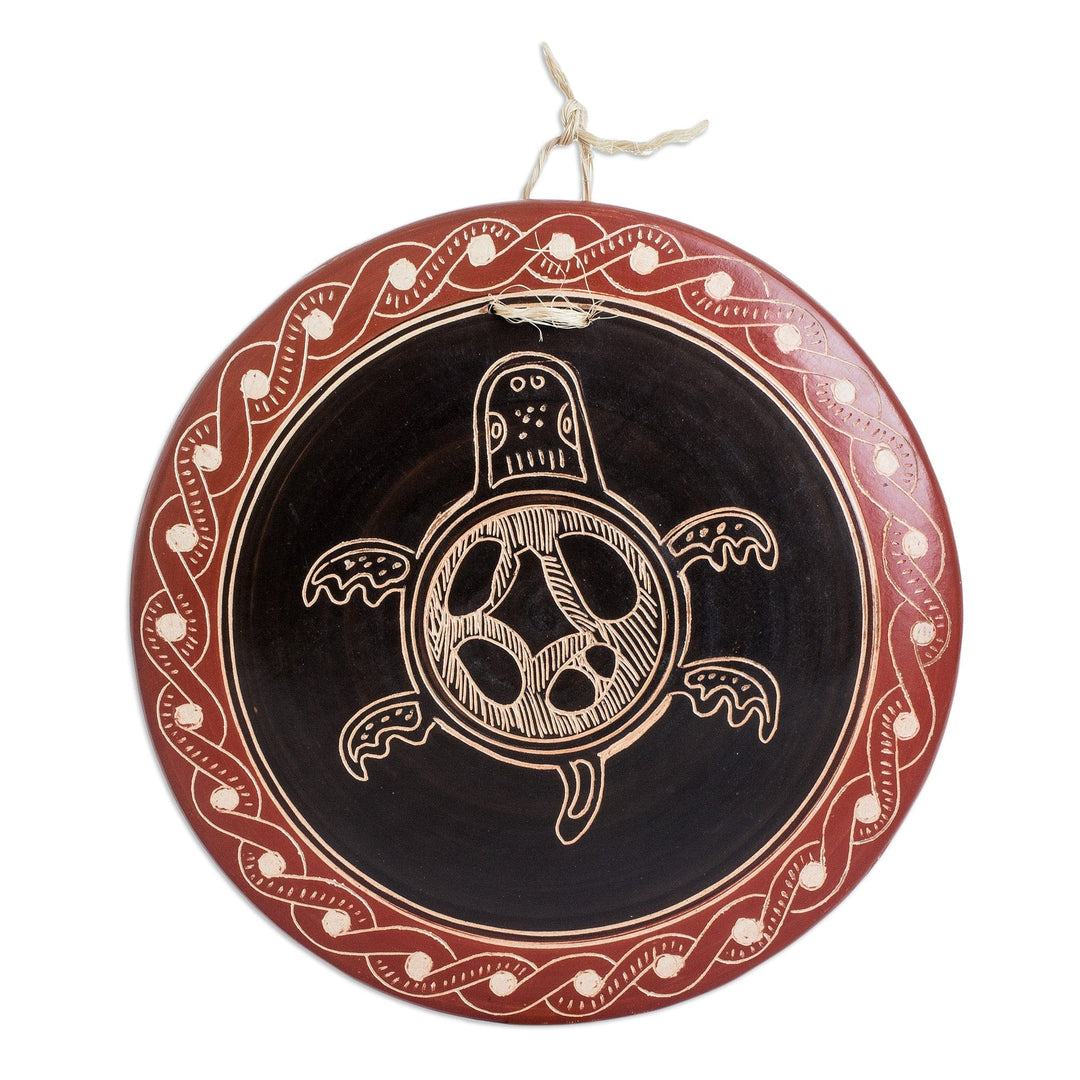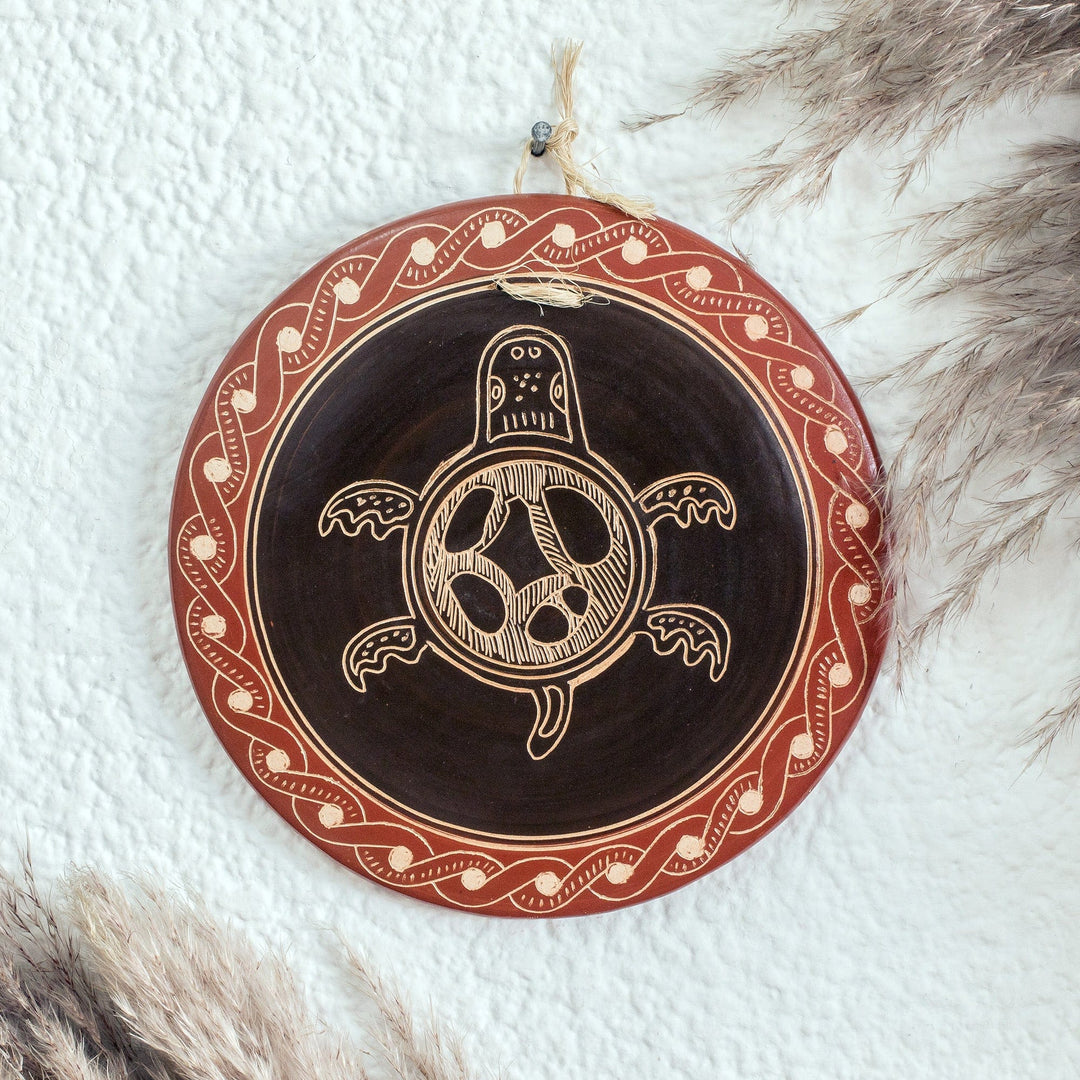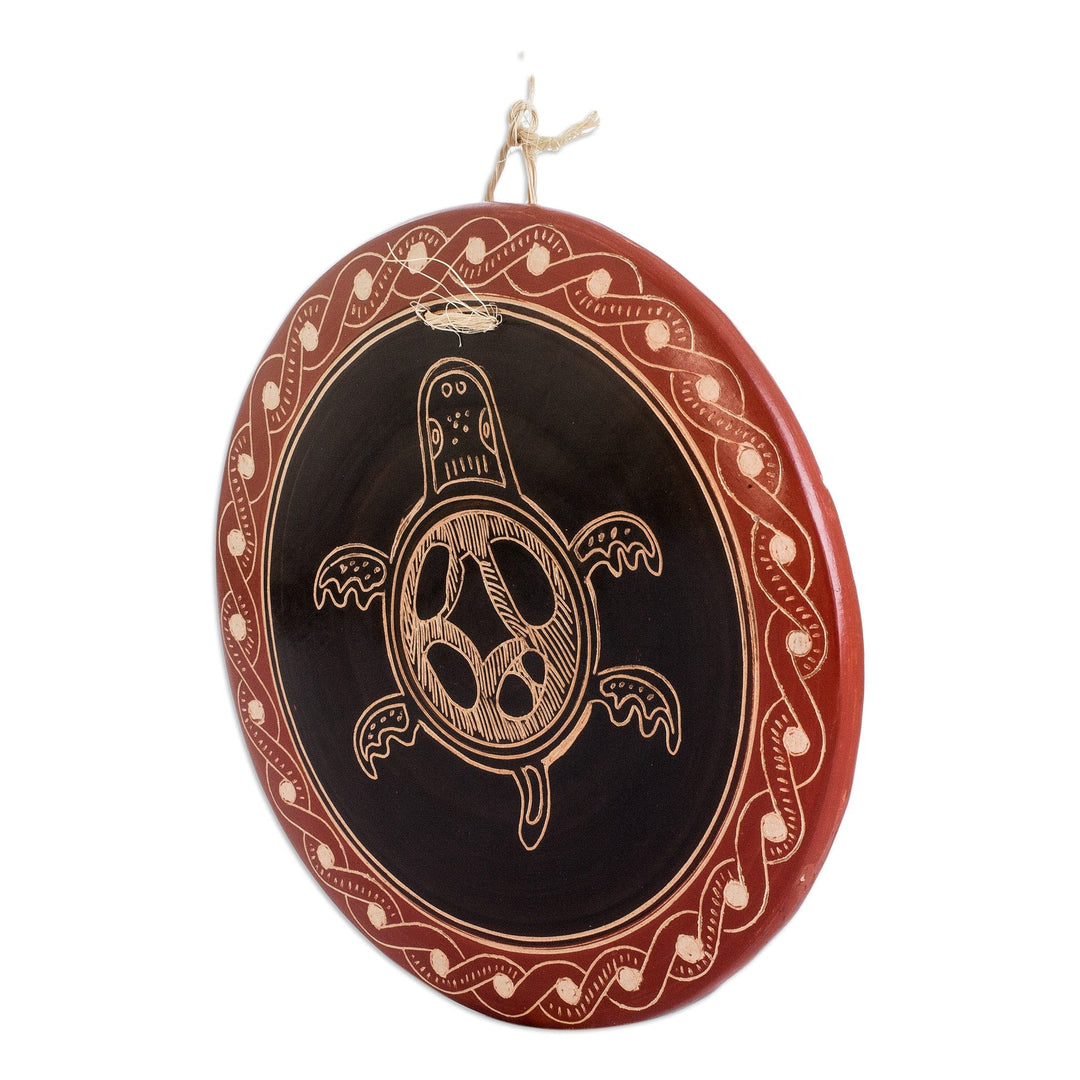 Sea Turtle Ceramic Wall Art from Costa Rica - Sea and Earth
$65.00
Guest price
$52.00
Member price
Available Premium Gift Wrap
You can optionally add Premium Gift Wrap into cart.
Learn more >
Overview
Description
A dark sea turtle spreads its limbs on this piece of ceramic wall art. Handcrafted by Chorotega pottery artisan Ilsa Chavarria of the Nicoya Peninsula in Costa Rica, the round decorative plaque is bordered with a burnt orange helix motif. Maguey fiber cord is threaded through the top of the plaque for easy display.

Chorotega pottery is completely handmade with traditional techniques passed down through the generations for 3,000 years, and one of the last surviving cultural elements of the Chorotega people indigenous to Costa Rica's Guanacaste region and Nicoya Peninsula. Chorotega pottery is made from local clay mixed with a very fine freshwater sand. The artisans shape the clay on hand-operated pottery wheels and hand-polish the art piece to give it a smooth texture and luster. Designs are etched by hand and the pieces are painted with natural pigments made from pulverized local colored rocks mixed with water, then fired in traditional wood-burning brick kilns. The result is a beautiful, earthen pottery unique to this region.
Ceramic, maguey cord
0.38 lbs
0.4 inches H x 7.3 inches Diam.
THE STORY BEHIND THE PRODUCT
Artisan Organization: Ilsa Chavarria
Country: Central America
"At a very young age, I began observing the making of ceramics. This is an art that has been transmitted from generation to generation in my family. My brothers are also ceramists and we have focused one hundred percent on this art. For me, it isn't just a way to make a living, but is part of my personal history.

"I was born in September of 1962. When I was 12, I started making pottery with the help of my family. This art captivated me from the beginning. I could always see my family members design and create incredible works of ceramic art.

"I had the opportunity to work for a cooperative in the Guanacaste area, where I could perfect my art. I have worked as an artisan since the mid-1970s and all this time has helped me to make each design unique, to innovate in my ceramics, and always offer something new.

"Ceramics mean a lot to me, and it fills me with pride and joy because this is an art tradition I want to convey to my children and to many people in my community. Even though the income is meager, it is always satisfying to be able to give the Chorotega culture a place again.

"Crafting ceramics was a very important part of our ancient Chorotega culture. They were made most frequently by women, which is why I seek to create in many women that spirit our ancestors had, and thus give us an important place in society that has long been lost.

"It is a great blessing for me to be able to show my art to many people. I hope that you appreciate and recognize my ceramics. But, above all, I want you to have a bit of Costa Rica in your homes.""