Our GlobeIn Premium Wrap
Hand wrapped with love, each gift comes with its own regional pattern, giving your gifts an international flair.
Premium gift wrap – $5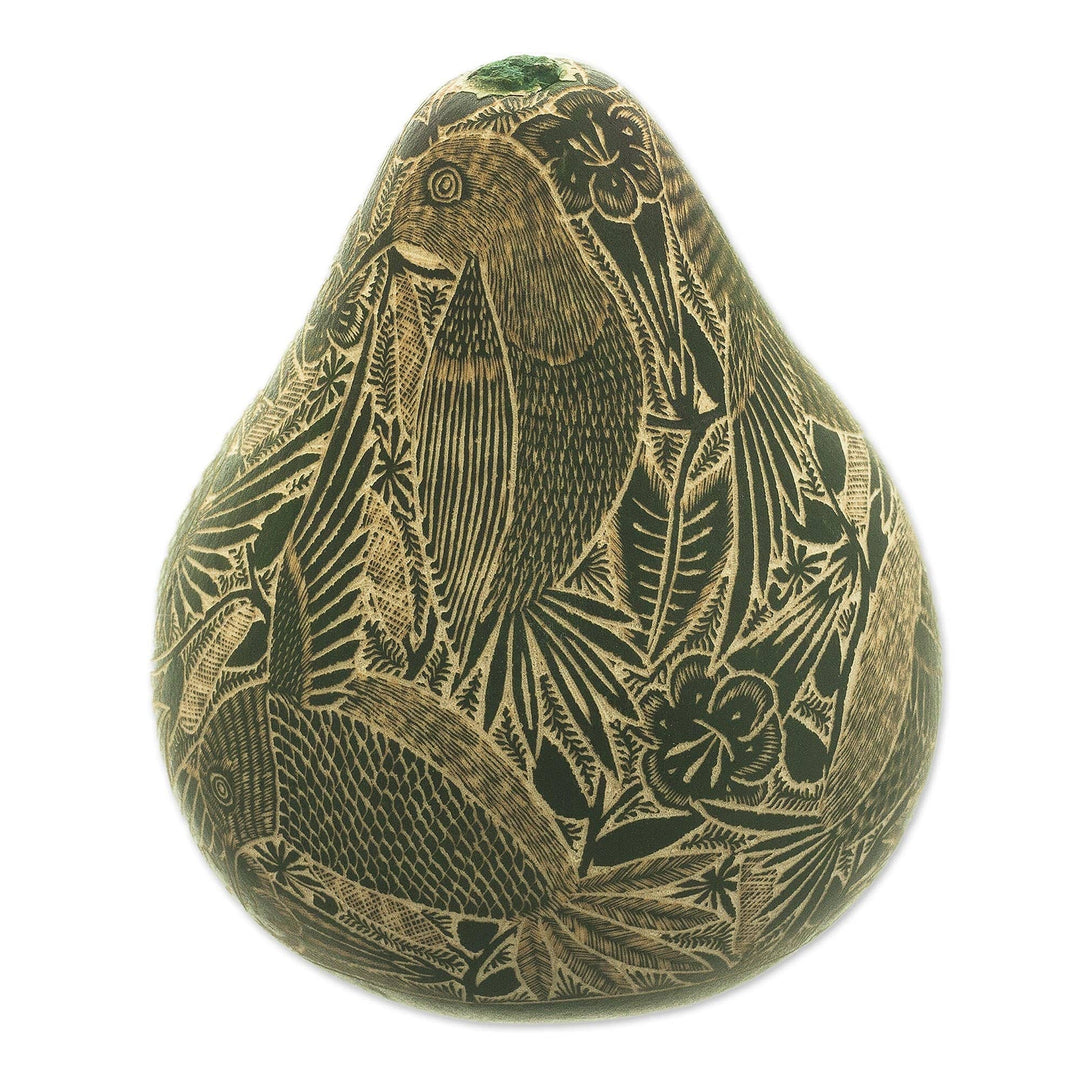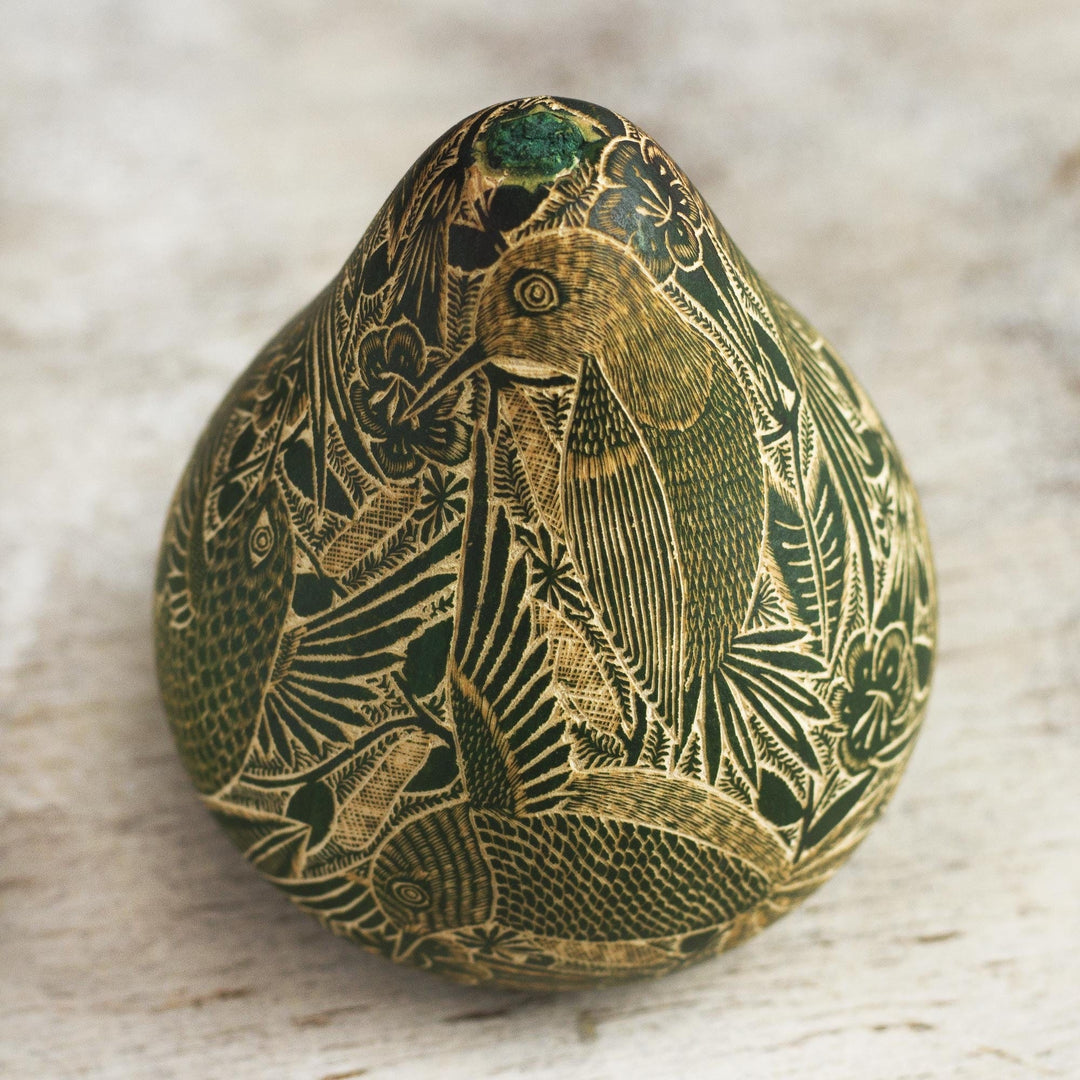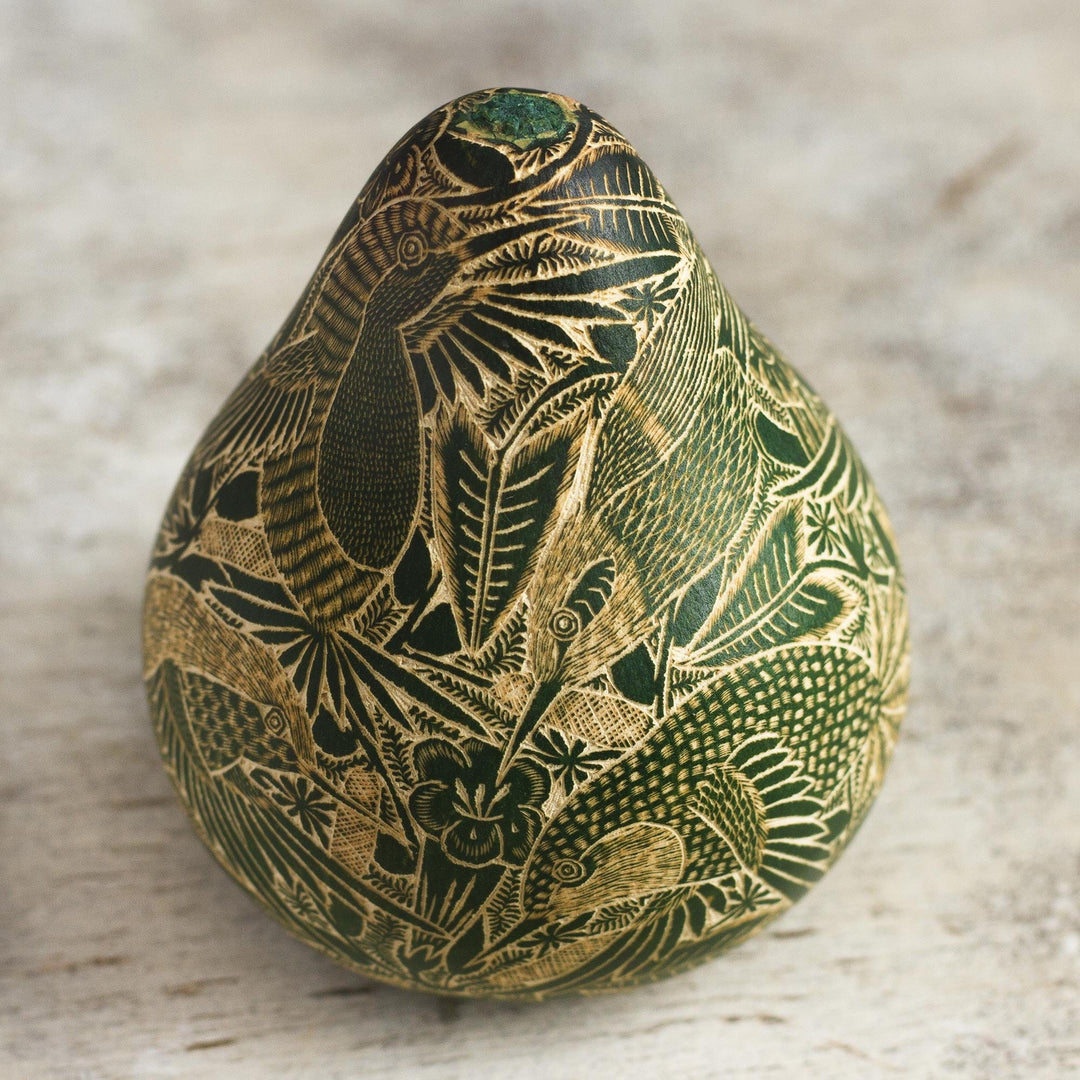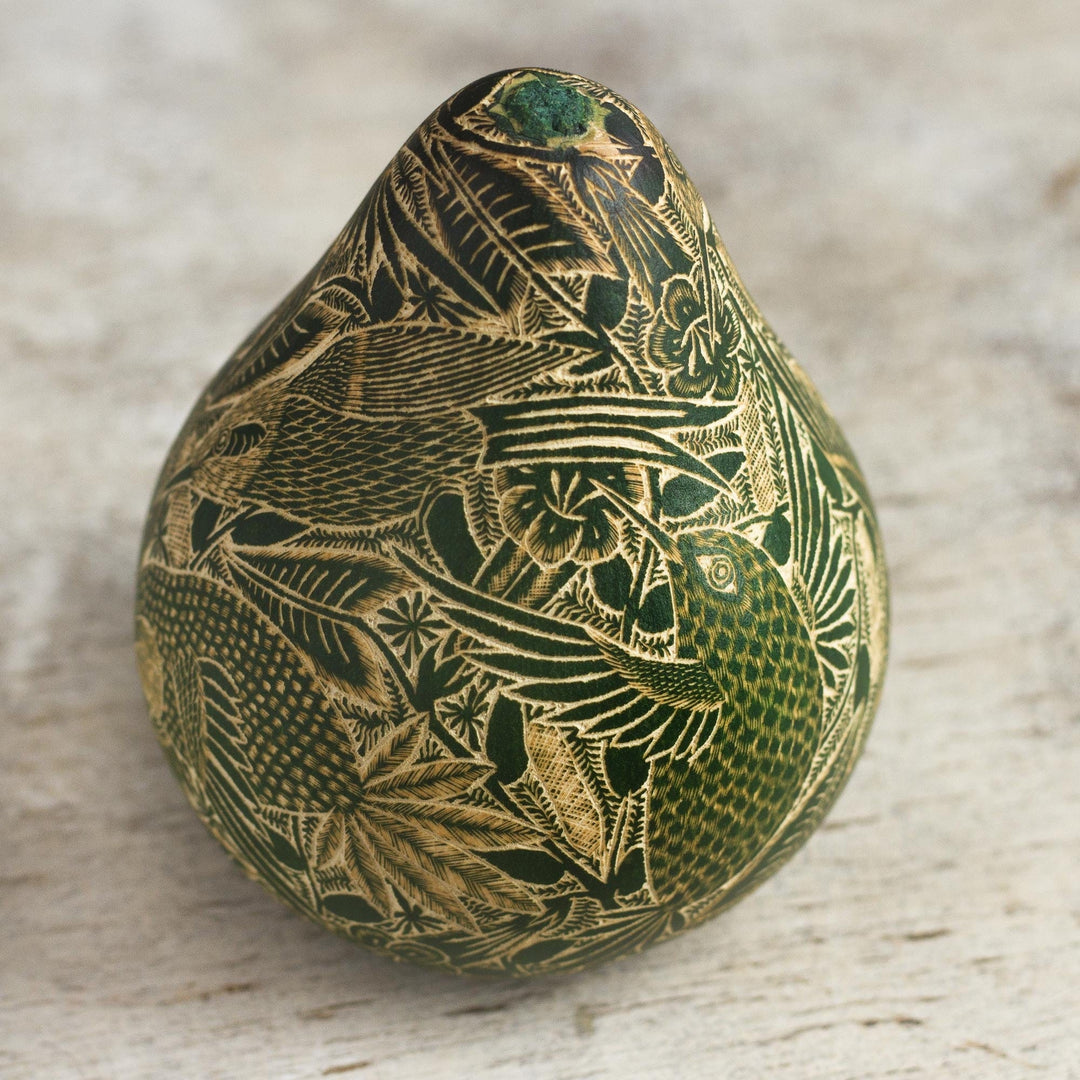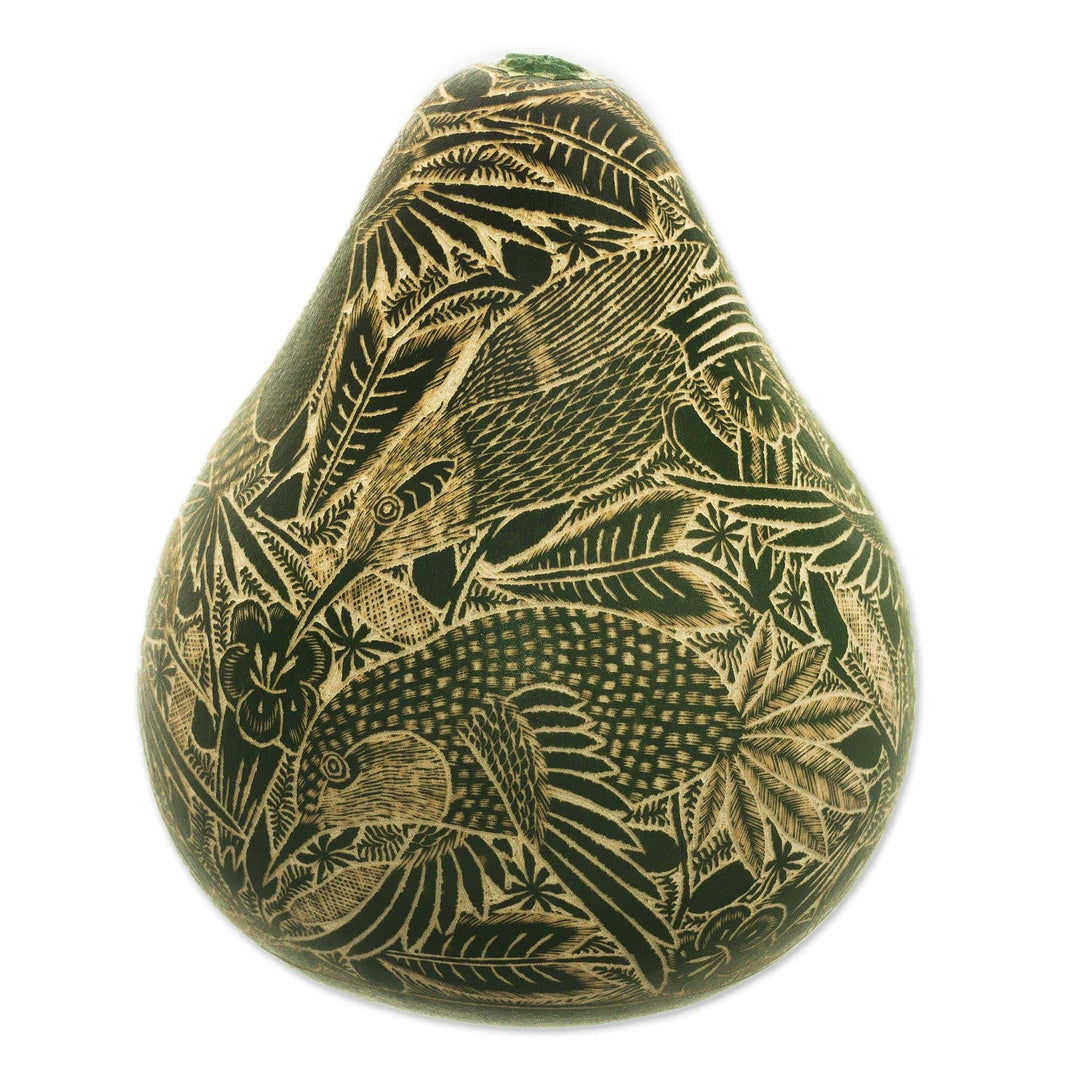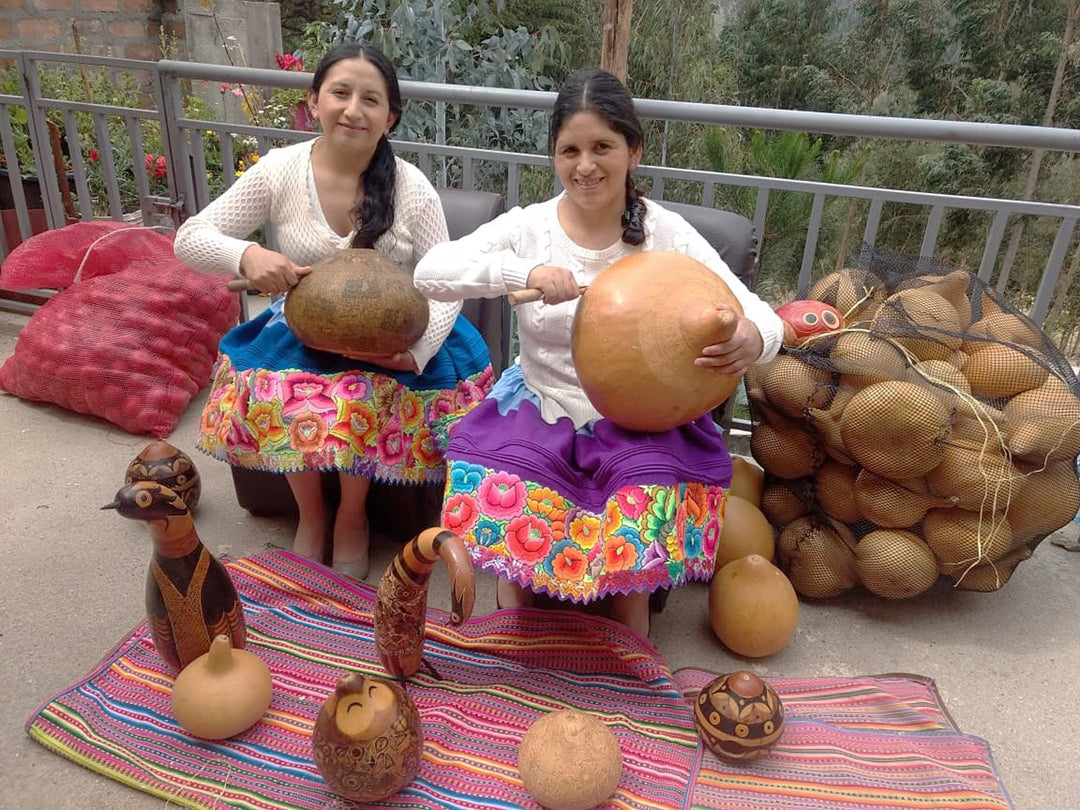 Peruvian Engraved Dried Gourd Green Hummingbird Figurine - Andean Hummingbird
$54.00
Guest price
$43.20
Member price
Overview
Description
Small and quick, hummingbirds dart from flower to flower, seeking sweet nectar. The Peruvian Andes are home to more than a hundred species of the tiny creatures. Celebrating their country's natural splendor, the Canto Sisters depict hummingbirds and blossoms on a dried gourd harvested from the yerba mate plant. It is dried and painted before the images are meticulously engraved by hand and given a protective coat of wax.

Cultivated on the Peruvian coast for 6,000 years, mate gourds were decorated with images of birds and fish by the pre-Inca Moche and Chimu peoples. But it was the Inca who went on to use the gourds as cups and bowls, in ceremonial objects and in musical instruments.

Because each unique piece is handcrafted from a natural gourd, please expect slight variations in shape, size and motifs.
Dried mate gourd
0.80 oz
3.5 inches H x 2.8 inches Diam.
THE STORY BEHIND THE PRODUCT
Artisan Organization: Canto Sisters
Country: Andes
"We're Katya and Blanca, the Canto Sisters. From the time we were born, we've been surrounded by the stories of our parents and grandparents. We grew up watching our family make a living from the passion in their hearts.

"Our parents dedicated their entire lives to the ancient Andean art of engraving mate gourds, which has been handed down from generation to generation in an endless chain. My father was a master in creating finely detailed images, so he set a very high standard for us.

"We use gourds that grow on the yerba mate plant, one of the first plants to be cultivated on the coasts of Peru some 6,000 years ago. The first engraved mate gourds were found in Huaca Prieta in the Chicama Valley. They date back 3,500 years and the mate burilado is one of the oldest Andean craft forms."We use a sharply pointed blade of a burin to make fine incisions on the clean, dried mate gourd. Our traditional images depict scenes from country life and our customs and some can be quite intricate.

"As sisters, we had a wonderful relationship. We both loved to draw. To practice, we used to take some of our parents' gourds without them realizing it. But they knew and always managed to give us the oldest gourds, or those that they couldn't use, and we let our imagination soar. They always encouraged us in drawing and depicting our experiences and dreams.

"My father made us our own burins and chisels and we were thrilled. We couldn't wait to use then and drew scenes from around our house — the cows, the sheep, the horses, the birds and the nature that surrounded us. We loved depicting what we did at school each day and the games we played with our classmates. When we got home, we couldn't wait to draw that day's experiences on the gourds.

"We find happiness in being able to maintain these feelings intact. And this is what led us to continue this art form and share it with artisans and the community, not only locally but also internationally.

"As we grew older, we decided we wanted to help our family, so we got an education and prepared ourselves professionally. The road wasn't easy. We faced different crises, not only with the family but also financial. We were cheated, and we suffered a lot. And we began to think we wouldn't make it, that perhaps engraving gourds didn't make sense when we could choose other options.

"But we pinned our hopes on our art, on its history. We were determined to make it work. We both left our safe jobs and put all our efforts into exalting our family's name by sharing our knowledge through the art of engraving mate gourds.

"We took special training and had the opportunity to support those who need it most in our community through the regional government. By reaching the artisans and helping them to enhance their artwork, we showed them that they could grow and their art could reach beyond the borders of the towns they knew.

"We feel proud that our art transcends our borders, and to be recognized for our work. And we're proud of this ancestral art that we continue to develop, keeping alive a tradition that is born from the soul and mind. We do it because we love it and because, through this art, we pay tribute to our family and our people.

"Each mate gourd carries a part of our soul and our heart. We want to inspire young people, and tell them that, as long as we have stories to tell, our art will never die.""