Our GlobeIn Premium Wrap
Hand wrapped with love, each gift comes with its own regional pattern, giving your gifts an international flair.
Premium gift wrap – $5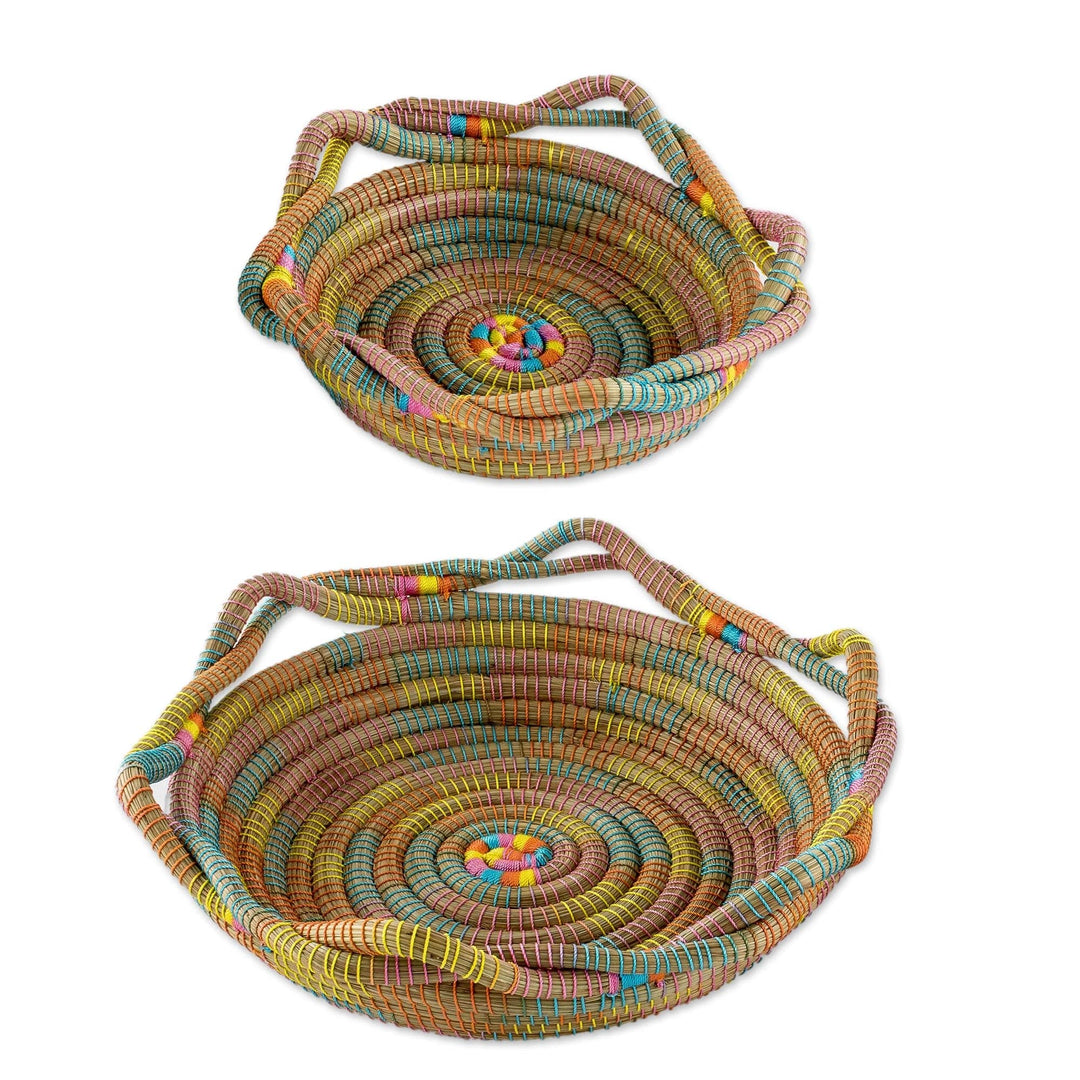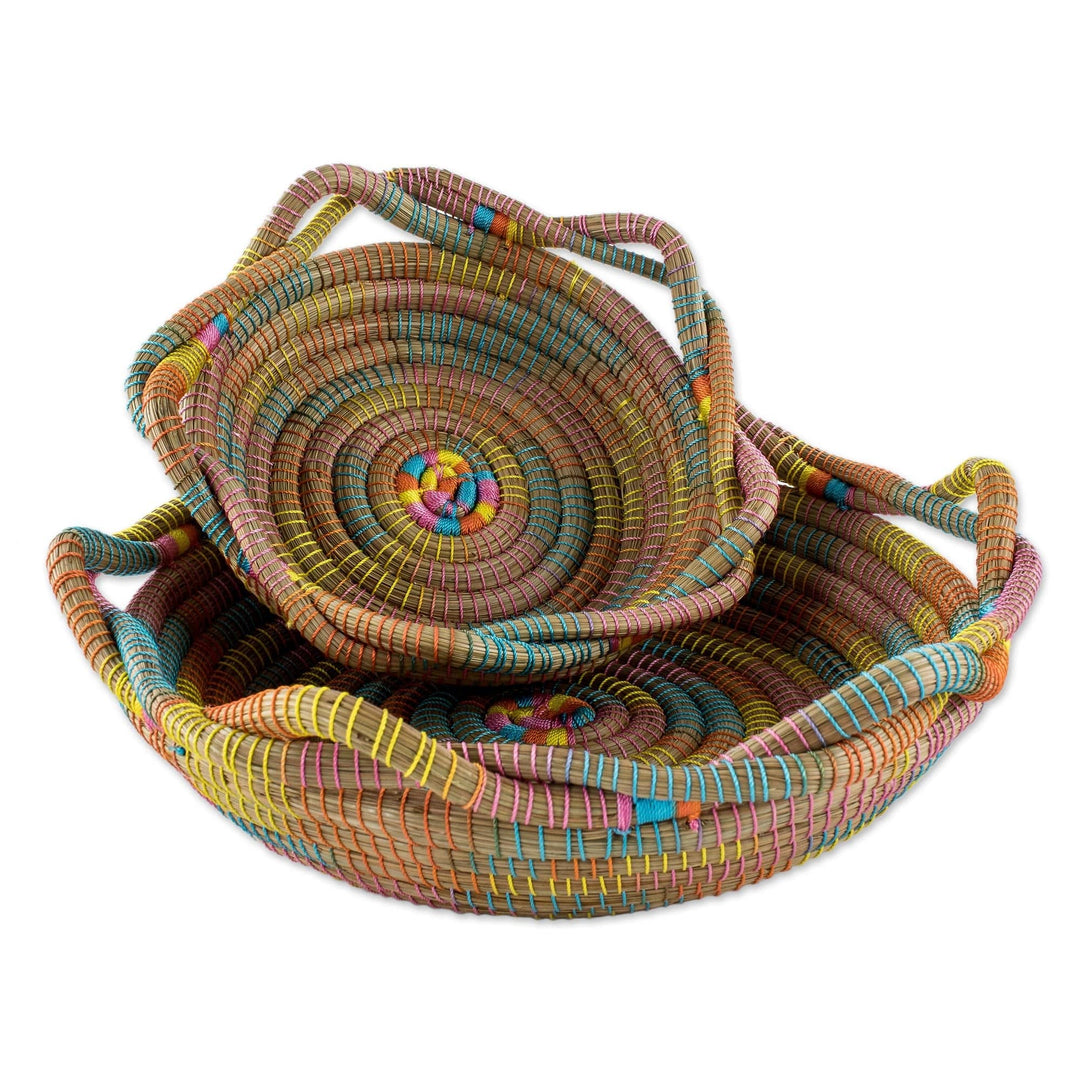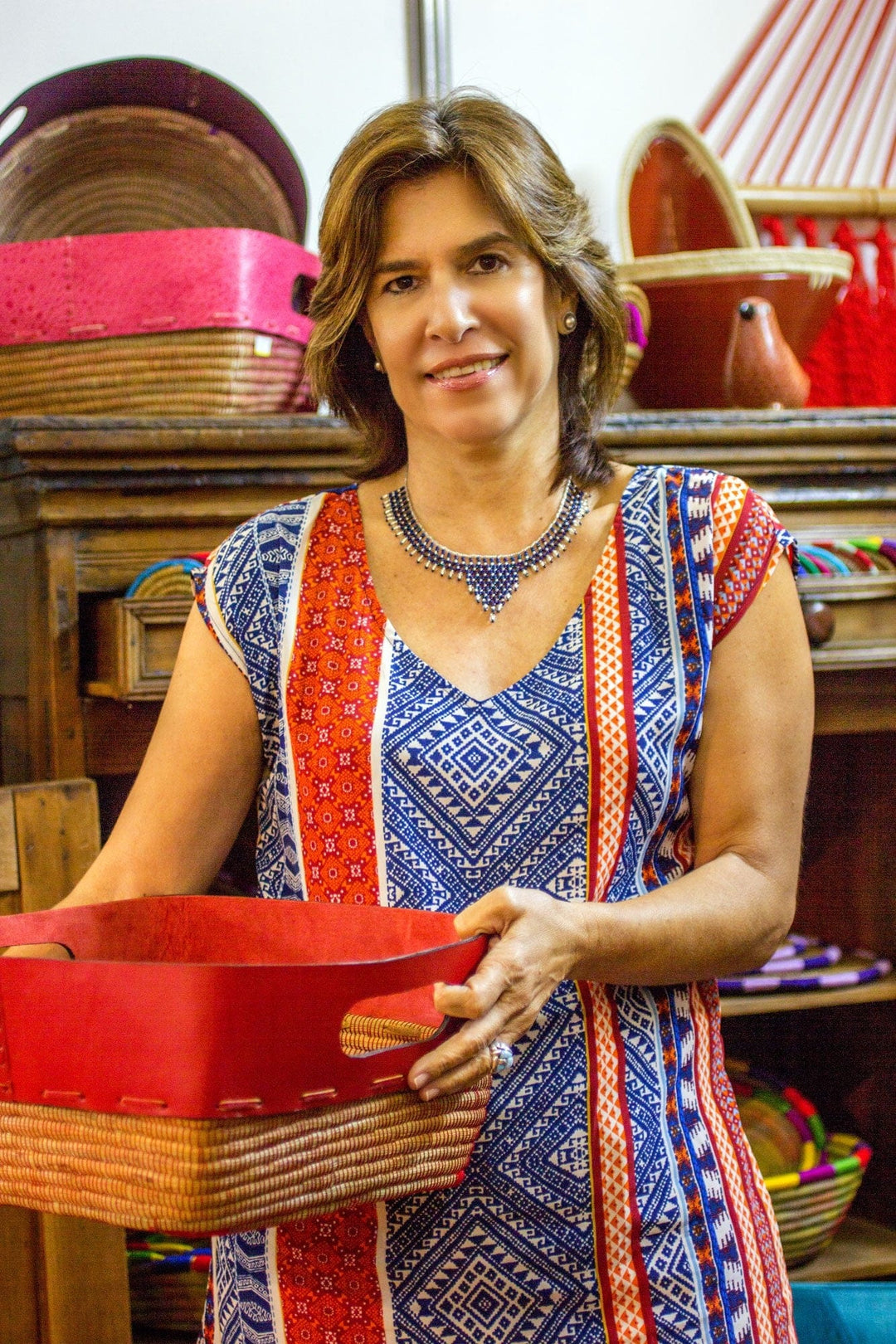 Pair Of Pine Needle And Yarn Baskets From Nicaragua - Colorful Feast
$65.00
Guest price
$52.00
Member price
Available Premium Gift Wrap
You can optionally add Premium Gift Wrap into cart.
Learn more >
Overview
Description
These baskets will work perfectly as fruit holders, catch-alls, or centerpieces for your dining table. Nicaraguan artisan Tamara Pereira handcrafts them in sturdy Moctezuma pine needles mixed with a colorful array of polyester strings that contrast beautifully with the fibers' neutral colors. The thick dried needles of the Montezuma pine have been used for millennia by the peoples of Mexico and Central America to craft baskets and other wares. Tamara's background as an architect has helped her bring a breath of freshness to this centuries-old tradition.
Montezuma pine needles, polyester thread
0.55 lbs
Smallest Piece: 2.8 inches H x 7 inches Diam.
Largest Piece: 3.5 inches H x 10.3 inches Diam.
THE STORY BEHIND THE PRODUCT
Artisan Organization: Tamara Pereira
Country: Central America
"I was born May 13, 1962.

"My brother Jorge wanted to work in handicrafts, and he got me started in the 1990s. I'd studied architecture and became involved in the artistic part of his endeavor. I liked it and my interest in crafts grew day by day as I learned about the different skills of artisans as well as the hardship they face. We realized they could better their lives through marketing and opening new markets, so I went back to school for an MBA to face these new challenges. I find it fascinating to combine the human element and the artistic element with the vision of a business model.

"The materials are wonderful — clay, wood, marble and even pine needles are transformed into original decorative objects in the hands of Nicaragua's artisans. I work with them and design many of the pieces.

All these years of experience have led me to combine materials that had never been used together before. For example, pine needle crafts are made in one village and ceramics are the specialty of a town in another region. But combining both materials resulted in unique designs and provided jobs for craftspeople in both areas.

"As far as design, my training as an architect connects me to handicrafts through aesthetics and the search for functionality. Each artisanal design possesses its own architectural function and aesthetic, just as a building does.

"I consider myself a creative person, a visionary, perhaps — dynamic, responsible, a person who perseveres and who, above all, loves the culture of Nicaragua.

"Due to a fall, I fractured my pelvis and had to stay in bed for three months. After that came rehabilitation and I had to learn to walk again. But thanks to the kindness of my collaborators and new technologies like my cell phone and laptop, I was able to continue working. My son Rodrigo took charge of the house and even took care of his little sister, Laura. I learned two fundamental things — the importance of the family and both the fragility and strength of the human being. Since then, my philosophy has been to live every day as thought it were the last, to live in the present, to do what I can today and to take care of relationships.

"I find inspiration almost everywhere, from beautiful landscapes to the colors of Nicaragua's flora and fauna, from travel, from magazines and also from the input of clients. It takes imagination, ingenuity and innovation to comply with their requirements and restrictions. Meeting their demands is a powerful source of motivation for me.

"I plan to continue working very hard developing new designs and marketing them so that our artisans can open new horizons, sell more and live better. I hope to establish distribution in North America and thus consolidate the existing market. I dream that one day people will recognize us worldwide for the quality of our work and our customer service.

"The greatest challenge is understanding and adapting handcrafted work to the demands of today's changing market, interpreting these needs and translating them into attractive, original and functional decorative items.""