Our GlobeIn Premium Wrap
Hand wrapped with love, each gift comes with its own regional pattern, giving your gifts an international flair.
Premium gift wrap – $5
Table Runner - Lidi I
$49.00
Guest price
$39.20
Member price
Overview
Description
Alternating bands of fragrant root and lidi, or palm-leaf rib, contrast handsomely in texture and color. Dramatic and beautiful, this table runner by Liem Hauw makes a unique addition to any contemporary setting. The natural Balinese plant filaments are laid by hand into a warp of soft cotton. Hauw has found his vocation crafting original textiles from fibers such as water hyacinth, banana bark and sea grass that abound in his homeland.

50% fragrant root, 45% palm-leaf rib and 5% cotton thread. Dry clean only.
50% fragrant root, 45% palm-leaf rib, 5% cotton
0.69 lbs
1.2 ft. L x 8.3 ft. W
THE STORY BEHIND THE PRODUCT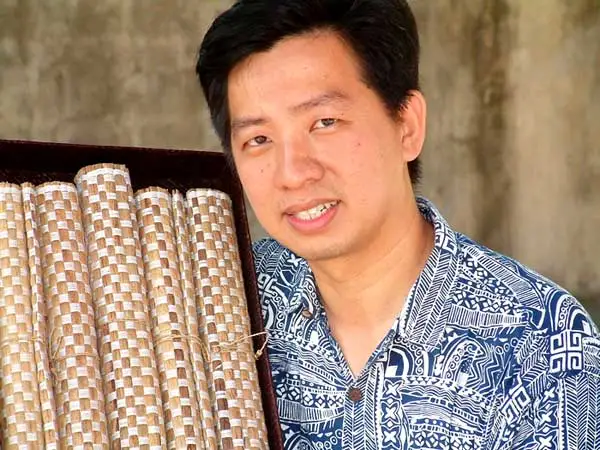 Artisan Organization: Liem Hauw
Country: Java
"My name is Liem Hauw and I was born on August 31, 1969 in Java. I started to work in 1995 after university, in some residential projects and hotels. I began by opening an art workshop in Bali. I work with textiles made from natural materials such as fragrant root, sea grass, water hyacinth, and many others. Maybe God had planned this way of life for me. My works became recognized and I started to make on my own curtains, blinds, floor mats, mosquito nets, cushions, table runners, etc. Now I also craft frames, vases, baskets, and lamps by weaving banana bark, sea grass, and other natural fibers. I work in metal as well.

"We work as a team consisting of seven people working actively, as well as my wife and a few more people from my neighborhood. Our products have been recognized in the USA, Europe, Australia, Japan, and South Africa. I keep thinking about expanding my work by creating new designs.""