Our GlobeIn Premium Wrap
Hand wrapped with love, each gift comes with its own regional pattern, giving your gifts an international flair.
Premium gift wrap – $5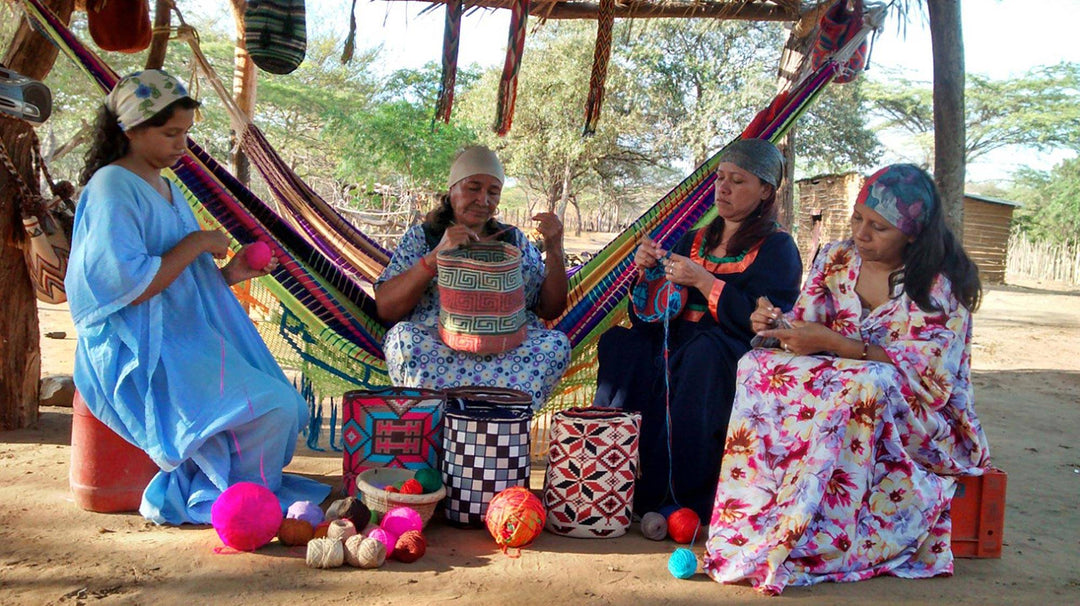 Acrylic Shoulder Bag - Wayuu Sunshine
$137.00
Guest price
$109.60
Member price
Overview
Description
Artisans of the Wayuu Community crochet this beautiful mochila or shoulder bag from acrylic yarns, working to preserve their cultural identity and artisanal traditions. The Wayuu are an indigenous people located on the Guajira Peninsula in northern Colombia. Legend has it that a spider named Wale Keru taught a Wayuu woman how to weave and crochet. The colorful unlined shoulder bag closes with a tassel-accented drawstring.
100% acrylic
0.50 kg
Bag: 27 cm H x 22 cm Diam.
Strap(s): 100 cm L x 6.5 cm W
Drop length: 50 cm from strap to bag
THE STORY BEHIND THE PRODUCT
Artisan Organization: Wayuu Community
Country: Andes
"To the Wayúu people, weaving and crocheting are a symbol of wisdom, intelligence, and creativity," says artisan Olga Siosi.

The Wayuú Tribe inhabits the visually striking desert of La Guajira Peninsula, which borders Colombia and Venezuela. They live on rancheros, traditional settlements made up of five or six households, or rancherías, that together herd goats and farm crops. They are known for their weaving and crocheting skills, which produce elaborate belts, blankets, bags, and hammocks, among other heritage crafts. Their most popular handiwork is the mochila, a crocheted bag of varying sizes and functions.

Mochilas have been part of Latin Caribbean culture for centuries. Traditionally, they are made of either plant fiber or hand-spun wool, but currently Wayúu artisans rely more on commercial-grade Colombian cotton. Although the bag's basic shape remains a cylinder, it can be manufactured with different widths and heights depending on the intended use. The Wayúu use mochilas for all kinds of daily activities; it is not infrequent to see a farmer carrying as many as three bags at a time, on their shoulder, tied to their waist, or strapped to their donkey.

To make a mochila, the weaver—usually a woman—begins by crocheting a round base with a blunt-point needle. The sides of the bag are then crocheted and finished with a scalloped edge and tasseled cord. The straps can either match the color assortments on the mochila or differ completely from the bag, forming a decorative macrame strap called osonuchi. Men are usually responsible for making these types of straps by using a wooden needle or spindle in a process called layer splitting, whereby one cord is passed through the fibers of the others, creating a sturdy band.

Mochilas come in bright colors and often feature complex, clan-specific motifs that have been passed down from generation to generation through matrilineal families. The symbols crocheted on the bags reflect daily activities and important Wayúu beliefs. Bright stars, double-headed flies, and goat hooves are just a few of the many emblems used to illustrate the Tribe's way of life. When it comes to color combinations, innovation never flounders among the Wayúu. But when it comes to experimenting with motifs, there has been hesitation within the community; they prefer to conserve the symbols' original shapes and heritage."