Our GlobeIn Premium Wrap
Hand wrapped with love, each gift comes with its own regional pattern, giving your gifts an international flair.
Premium gift wrap – $5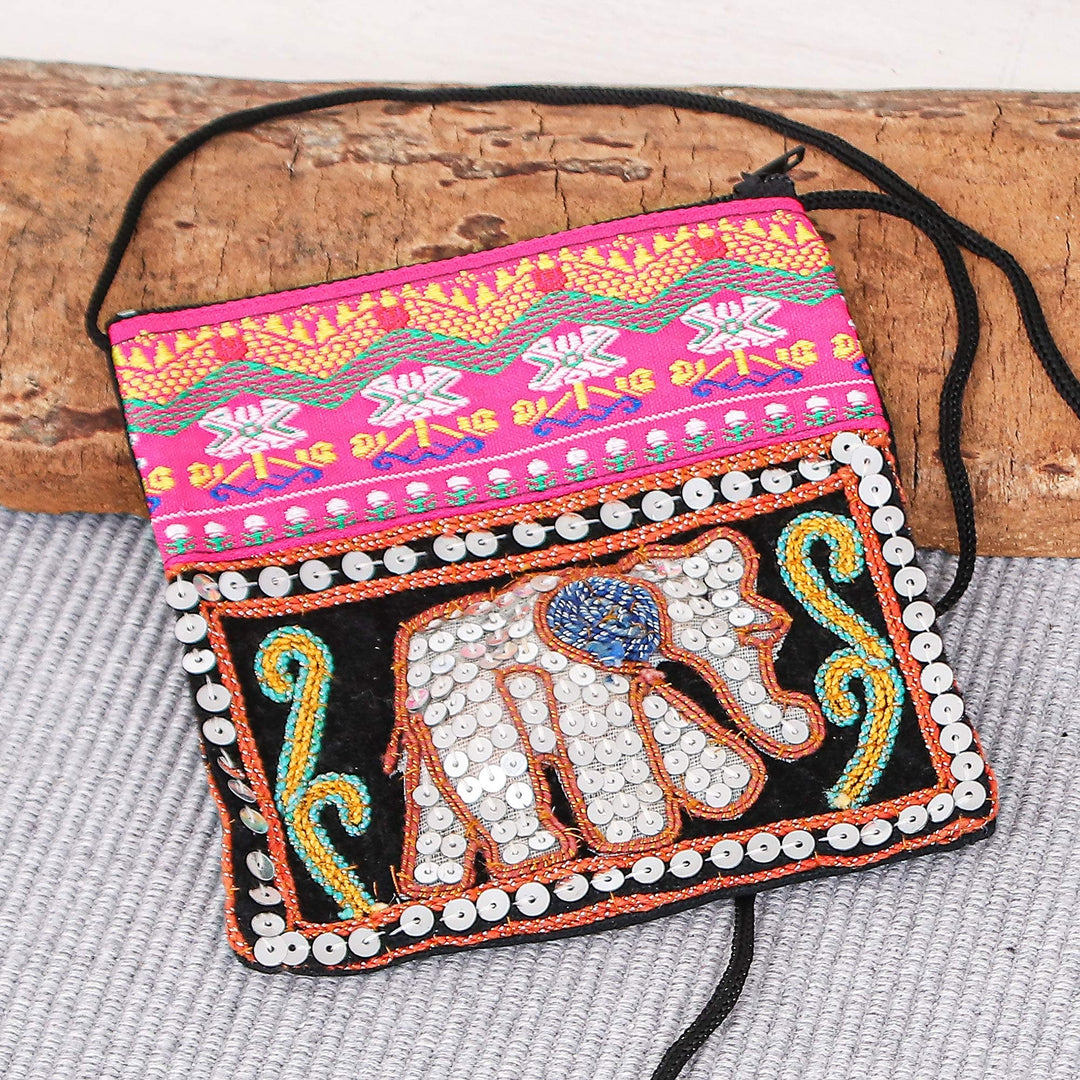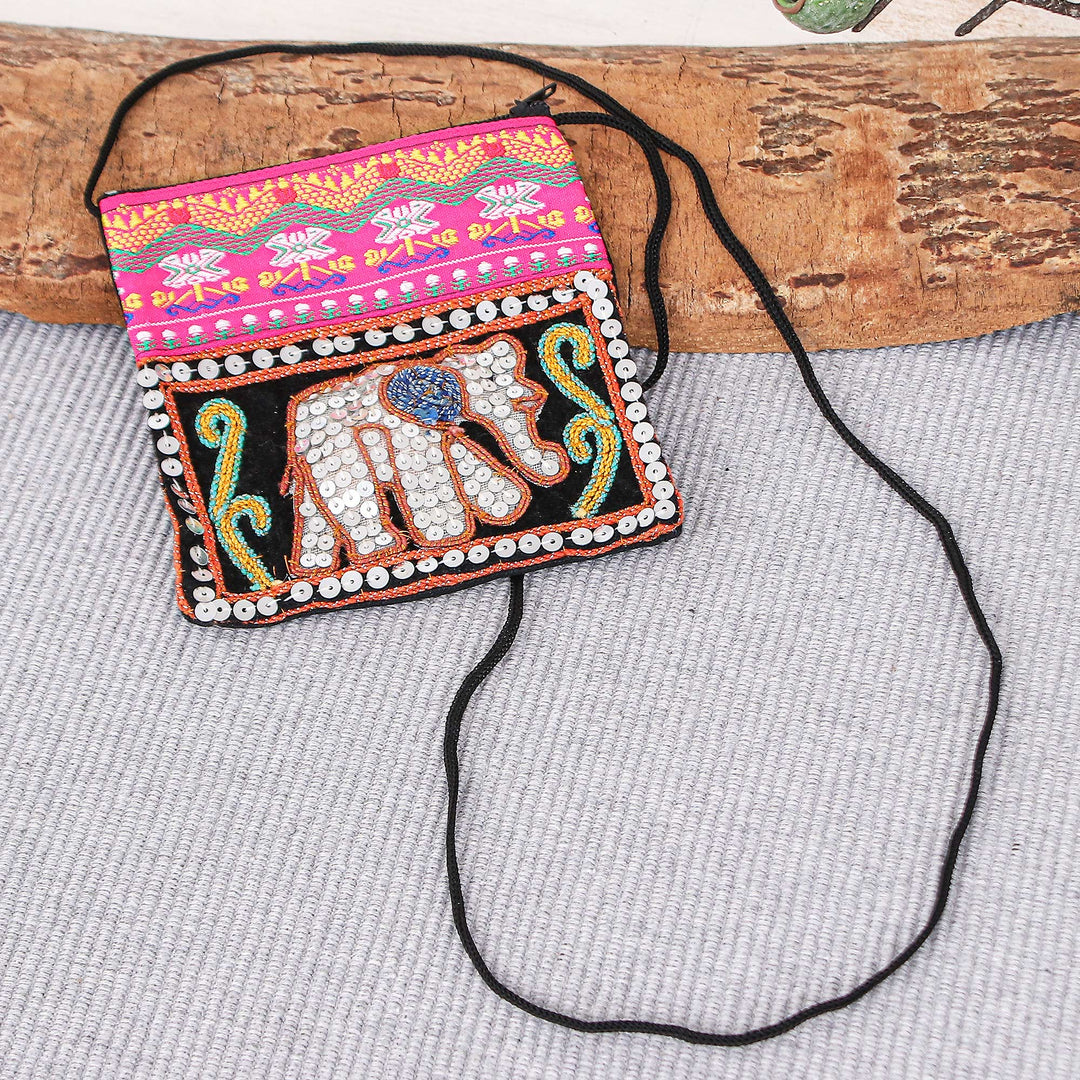 Small Shoulder Bag - Elephant Glam
$23.00
Guest price
$18.40
Member price
Available Premium Gift Wrap
You can optionally add Premium Gift Wrap into cart.
Learn more >
Overview
Description
Silvery paillettes and colorful cords decorate this Thai-style sling from Teerasak Chaiwong. Crafted from polyester and cotton blend fabric, the compact bag is fully lined and closes with a zipper.
80% polyester, 20% cotton; cotton/polyester lining
0 oz
Bag: 4.7 inches H x 4.7 inches W x 0.6 inches D
Strap(s): 40 inches L x 0.3 inches W
Drop length: 17.8 inches from strap to bag
THE STORY BEHIND THE PRODUCT
Artisan Organization: Teerasak Chaiwong
Country: Bali and Java
"Sawasdee krap. My name is Teerasak Chaiwong, but my nickname is Poo. I was born and grew up with my little sister in Chiang Mai, where my parents are merchants and work in an orchard.

"When I was young, I had nothing special, like most of the people in the countryside. Every morning, I helped my parents in their shop on a small platform in front of our house. We sold groceries, sundries and food, and always had many customers, mostly neighbors.

"My sister and I always walked to school together, carrying our lunch box and school bag. At 10 a.m., our parents closed the shop and went to work on the orchard, then came back to open the shop again in the evening.

"When I was fifteen, I chose to study art, as art school wasn't too difficult and I could pass the entrance exam. I disliked mathematics and art majors didn't have to study math at all. My parents always encouraged me to study well. I was lucky because we come from the countryside. During the old times, people like us dreamed of working in government offices as police, nurses or soldiers. I admit I wanted to be a soldier or policeman, too.

"At first, my parents worried about my career after graduation. They'd jokingly tell the neighbors that as soon as I graduated, I'd come back to draw on the walls of our village temple. That would have taken most of my life because the temple has a very long wall.

"After art school, I continue to Bangkok Art College, which was a challenge because I spent time in the big city. I lived in the home of a relative. Here, everyone studying for a master's degree is concerned with Thai history. I was amazed, but I also spent weekends studying traditional Thai art. They all told me when they were young, they were never mindful of Thai identity but they regret that now, so I seriously devoted time to my artistic efforts.

"Classmates envied me because I come from Chiang Mai, a land of unique and outstanding culture with many old temples so without hesitation, I chose to focus mainly on Thai art. It is incredibly attractive to see, with beautiful designs and also a reflection of Thai life, because where did those designs come from? For example, the flower design, the flame and various animal motifs.

"After I graduated, I came back home and really did work at our village temple, restoring the ancient murals. I was so proud because I had to be delicate and patient, taking much care with these images from antiquity. I also had the opportunity to fix and renovate the old pagodas, which only men are permitted to repair. These pagodas contained relics of Lord Buddha, monks' robes or auspicious antiques.

"I married Tiraphan, a Novica-featured artisan, and we had a daughter who is not in the best of health. Afterwards, I stopped working for a while to look after her. But whenever I'm free, I always go to work at the temple. When I'm taking care of my daughter, I also help my wife craft beaded jewelry although I'm not very good at it. At least I can help her with the last steps, like cutting the ends of the strings and packaging her designs.

"I draw and design greeting cards that everyone likes, and I was very happy to earn money from an activity I really love. My wife's jewelry has been very well accepted through Novica and, with her encouragement, I was inspired to show my art on the website too.

"I work with handmade saa paper made from the bark of mulberry branches. I currently create greeting cards in the traditional Thai style and decorate them with hand-stamped elephants and flowers on aluminum. I like natural materials that are made by hand. My boxes are crafted from banana fibers because when the bananas turn ripe, we usually cut off the trunk and a new banana tree grows from the roots. We used to feed the trunks to the pigs, but today the trunks are often discarded, so I began to craft paper with them. The paper's unusual pattern is beautiful and we are recycling the earth's gifts.

"I have the warmth of my family and a lovely daughter who hugs and kisses me and tells me she loves me each morning before going to school. It is encouraging and I'm happy every day. I hope you like our Thai art. Novica, thank you so much.""