Our GlobeIn Premium Wrap
Hand wrapped with love, each gift comes with its own regional pattern, giving your gifts an international flair.
Premium gift wrap – $5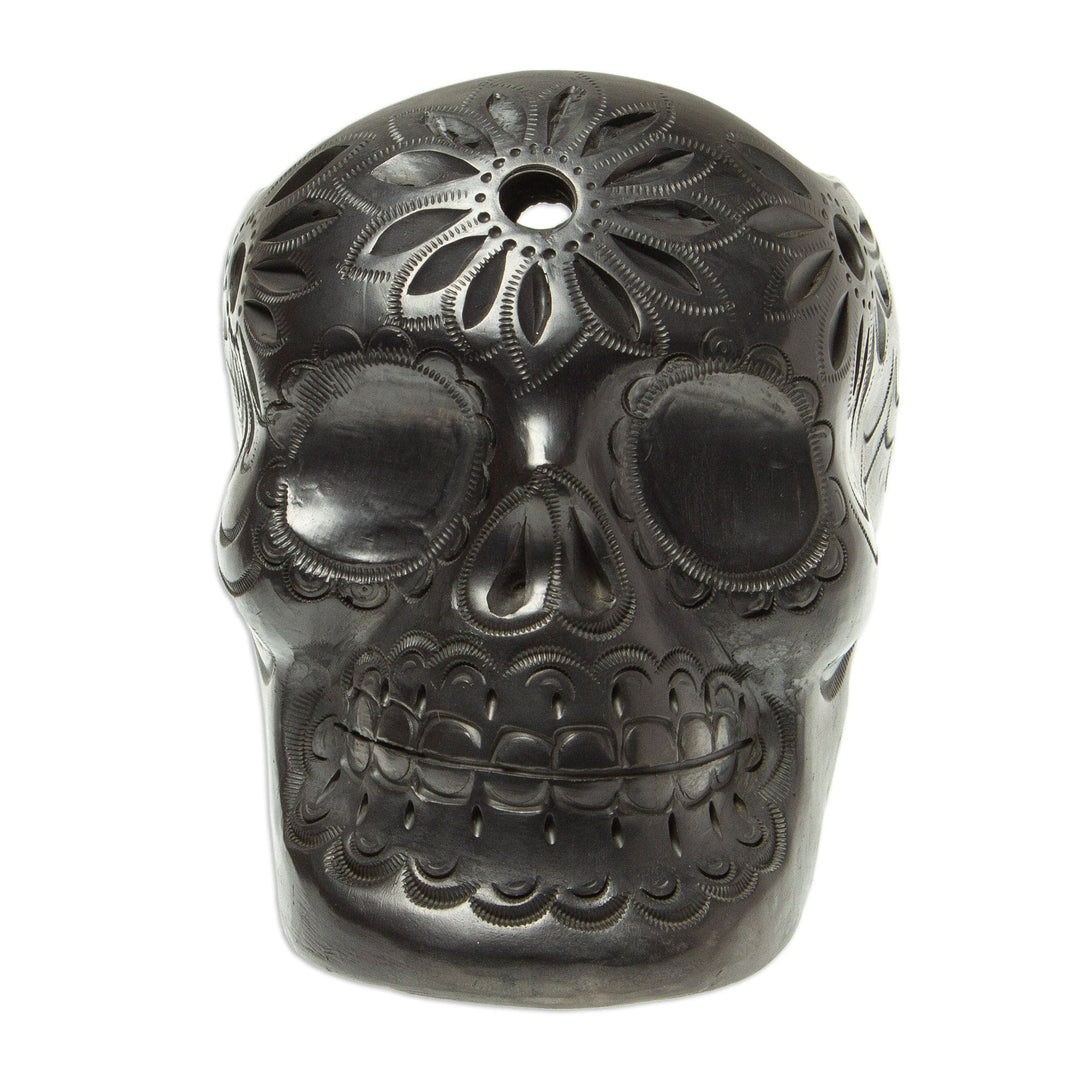 Ceramic Skull Planter - Revival
$74.00
Guest price
$59.20
Member price
Overview
Description
Working in the traditional Oaxacan art form known as barro negro, Mexican artisans Fernando and Magali Pedro create this lovely small planter. Shaped like a skull, the ceramic planter is beautifully detailed with floral motifs.
Ceramic
1.24 kg
15 cm H x 12 cm W x 22 cm D
THE STORY BEHIND THE PRODUCT
Artisan Organization: Fernando and Magali Pedro
Country: Mexico
"Hello, we are Fernando and Magali, originally from San Bartolo Coyotepec, and we work with barro negro (black clay). For us, clay is something that comes from generation to generation in our families. It started with our grandparents, continued with our parents, and continues with us, who are now the third generation. As our parents and grandparents taught us, now we teach our children, so they will soon be the fourth generation of artisans in both families. In addition, we are in a government program to teach young people who want to learn how to make clay pieces.

"We extract the black mud from a mine at the foot of the hill, right here in the community. We soak it and strain it, to remove the stones, roots, sand and everything that is not mud, since the mud has to be fine to be able to work it. Then we knead it and make the figure. Once the figure is made, we give it the finish, whether openwork, engraved or burnished. Then we let the pieces dry and cook them in wood ovens, to give the color to the clay. We work with the reduction of oxygen; at the time of firing our pieces, the smoke impregnates the clay and is what turns it black. This entire procedure takes 20 to 25 days, from the time the mud is extracted from the mine, until we make the piece. To make the pieces we only use water and clay. It is easy to mold it while it is fresh, though for us perhaps it is easy because we have many years of practice.

"In our community we start working with clay from a very young age. Around the age of 7 the first piece is made, and at 12 or 13 years of age we start working on the figures, the polishing or the finishes. When we are children we begin more with the intention of playing, but later, when we are older, we do it with the intention of learning and we begin to make designs. There are also people who come to live in the community at the age of 25 or 30 and begin to work with clay and learn the technique.

"My favorite part of making the pieces is finishing them, because it's not repetitive. Each piece is different; we can make flowers, hearts, rounded petals, pointed petals, a flower with a cover or a flower with openwork, etc. There we can express ourselves better, and that is why all the pieces come out different and the craft becomes something unique. Our inspiration comes from the admiration we see in the people who purchase our crafts. Seeing that they like it, we want to continue creating and modernizing ourselves.

"Although there are many pieces of black clay and many designs, each craftsman has his own technique. For example, here in San Bartolo, many skulls are worked, but we like to add something distinctive like flowers, braids or a different fretwork. Because of that, I can easily distinguish my pieces from those of others. Sometimes people bring us images as a reference to make an equal piece, and when we see it we realize that that piece in the image is ours.

"Initially, my husband and I each worked in the workshop of our respective families. My mother had her business and I worked with her, and my husband had his business with his family. When we met we decided to open our own workshop and that's how we started. Since then, working on our own has not been easy, since there are many artisans in the field. However we have put all our effort and love into it and we currently have 17 years with our workshop, working daily with around 15 people.

"In our community many traditions are still preserved that our grandparents taught us, thanks to the fact that we continue to instill it in our children. Both we, and the 400 families of artisans in our community, continue to instill in our children a love of crafts. Traditions such as community festivals, stewardships or the tradition of going to the mine to extract the mud are still being preserved. The customs and traditions have not been lost; here the streets are still rustic, the houses are picturesque. These are things that people like to know.

"Crafts allow us to continue with the customs and traditions that our ancestors inherited. We can make known the beautiful art that we can make with our hands, not only within our country but throughout the world, and that is the motivation to continue preserving our legacy.""