Our GlobeIn Premium Wrap
Hand wrapped with love, each gift comes with its own regional pattern, giving your gifts an international flair.
Premium gift wrap – $5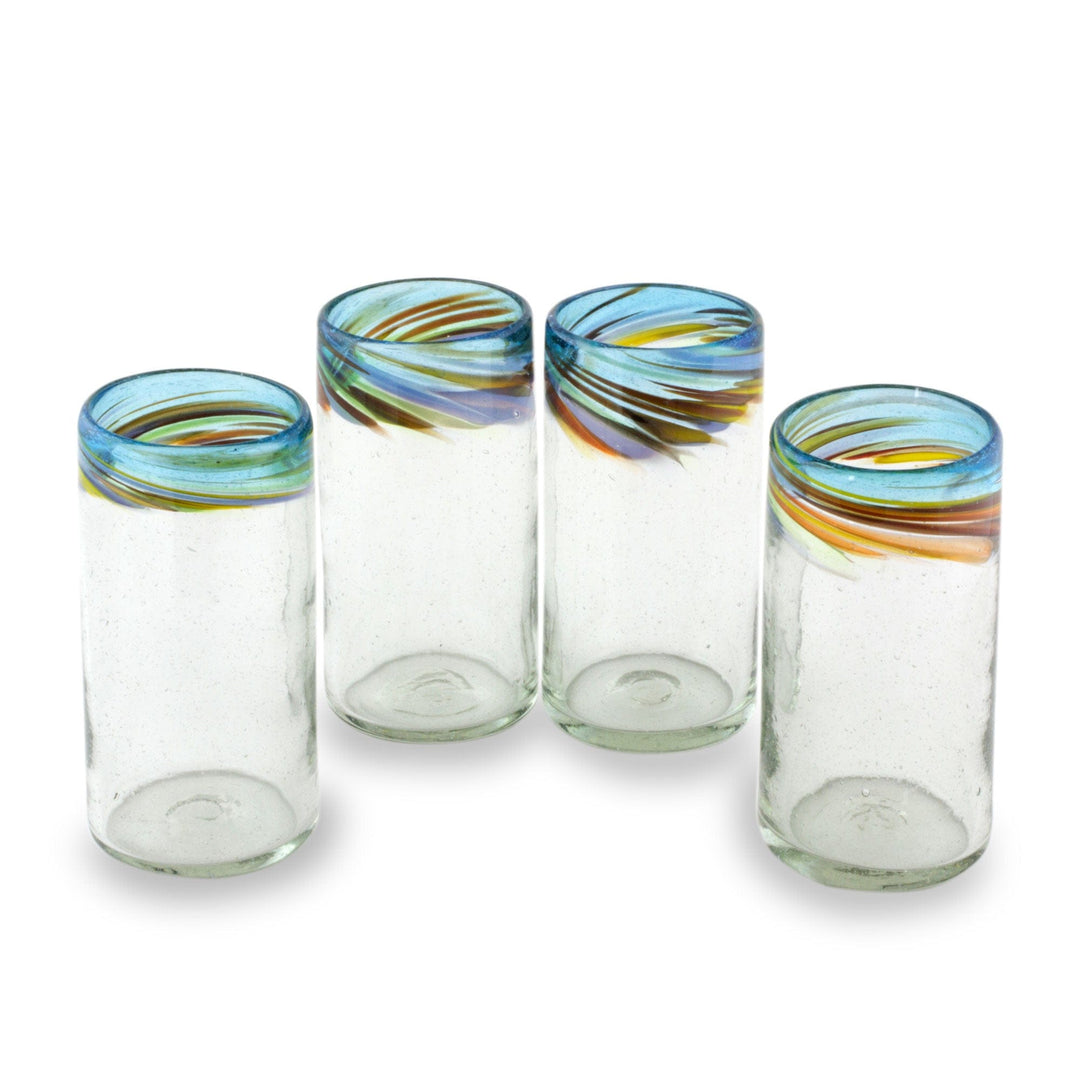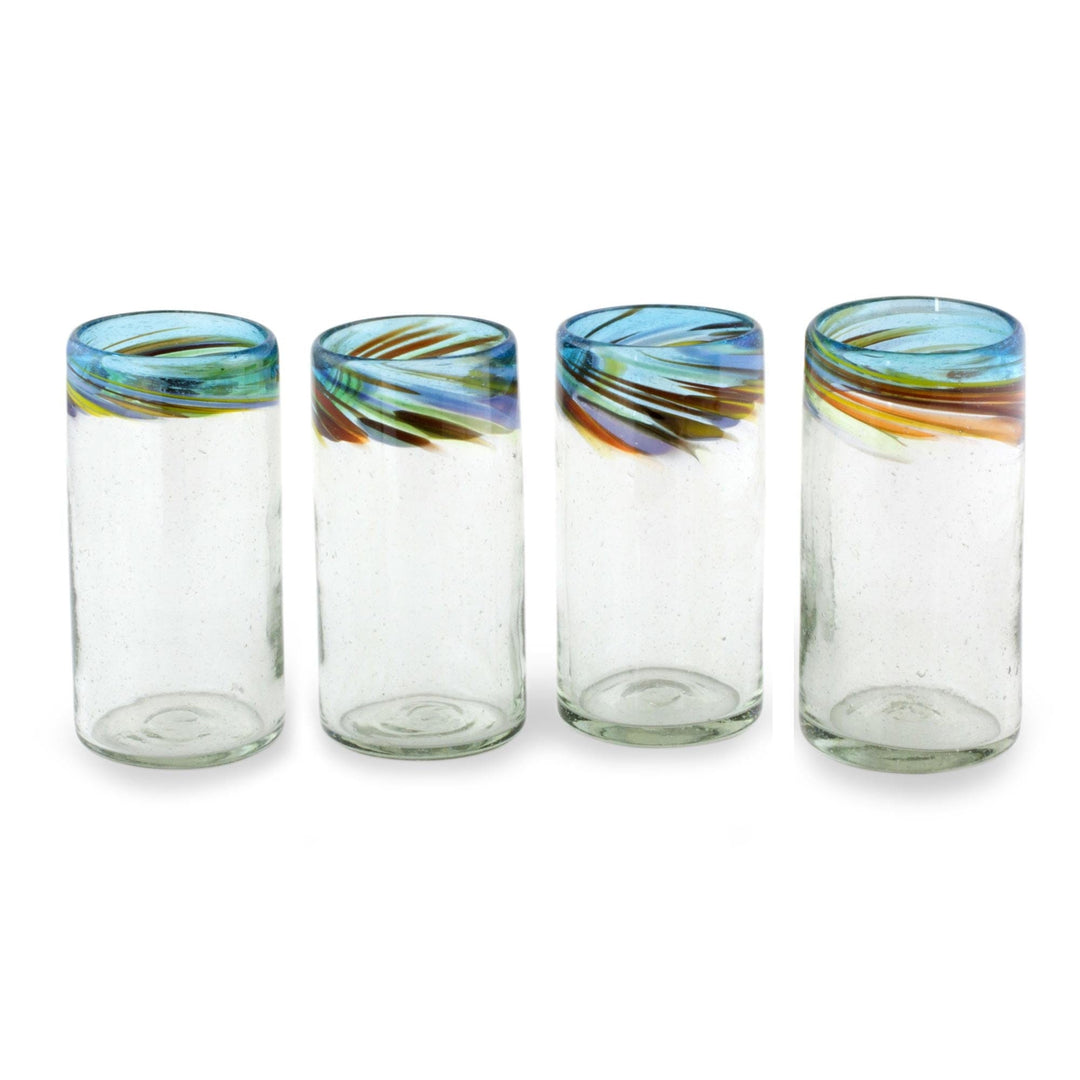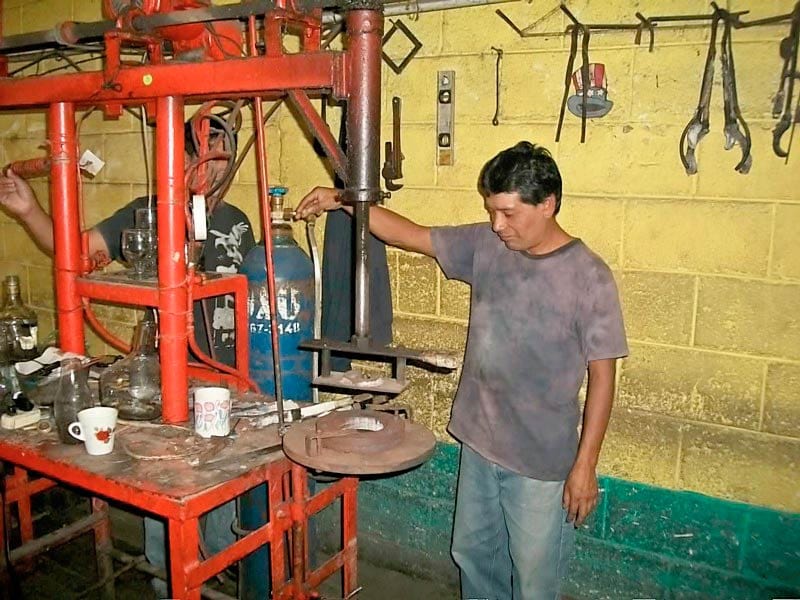 Handblown Recycled Glass Drinkware (12 oz, Set of 4) - Aurora
$125.00
Guest price
$100.00
Member price
Overview
Description
'There are very few natural displays of color that are as beautiful as the Aurora Borealis. That ethereal show of color produced by the Northern Lights inspired the design of our 'Aurora' collection,' Cantel Blown Glass Artisans explain. They craft the tumblers by hand, using traditional blown glass techniques featuring swirling lines of color like orange, yellow, green and red underscored by aqua blue.

Because each piece is handmade, shape and size can vary slightly and tiny bubbles may appear within the glass. This exemplifies the hand-blown technique, making every piece a unique example of blown glass craftsmanship.
Recycled glass
1.28 lbs
Each: 5.3 inches H x 2.8 inches Diam.
12 oz.
THE STORY BEHIND THE PRODUCT
Artisan Organization: Cantel Blown Glass Artisans
Country: Guatemala
The cooperative was the idea of fifteen artisans who had formerly worked together as employees. Their job had been difficult for all of them, and the experience had worn them down physically, intellectually and emotionally. But it also gave them the incentive to create something better. They saw the opportunity to produce handcrafted designs in blown glass, and formed the cooperative in 1976.

"To create our designs, we recycle glass that we purchase from businesses and individuals," a member of the cooperative explains. "By recycling, our work contributes to the ecology.

"The art of blown glass has a long history. It is believed that artisans in Egypt may have been the first to create it. And the art spread throughout the world.

"To learn the techniques, we met with foreign blown glass artisans and we've studied and put our skills to use with great care, determination, dedication and attention to details. We realized that one of the best ways to learn is by observing someone who knows what he or she is doing, and then to practice until our pieces come out well. The secret is to never give up.

"In all the years we've been working in the cooperative, we've learned an infinity of things, some easily, others through our errors. But we've always had the attitude that we can learn something from every experience, no matter how difficult. Once we had to take out a bank loan to expand our workshop. As time went by, we lost control of the bank accounts and, when we became aware of the problem and the situation we'd gotten into, the bank was about to take control of the cooperative. Eventually we were able to solve the problem, however we learned we need to be more in control so as to avoid problems in the future. But at the time, we didn't know this because it was our first such experience. It has been situations like this one that taught us how to get ahead.

"Our dream is to reach a wide market, both in Guatemala and internationally. We want to sell our designs based on fair market prices. But most of all, we want to continue as a proud Guatemalan enterprise.

"Our work focuses on inspiration and creativity. We are the only cooperative in Guatemala that does this kind of work, and this motivates us each day. Our work lets us support our families and others, too, as well as their families.""