Our GlobeIn Premium Wrap
Hand wrapped with love, each gift comes with its own regional pattern, giving your gifts an international flair.
Premium gift wrap – $5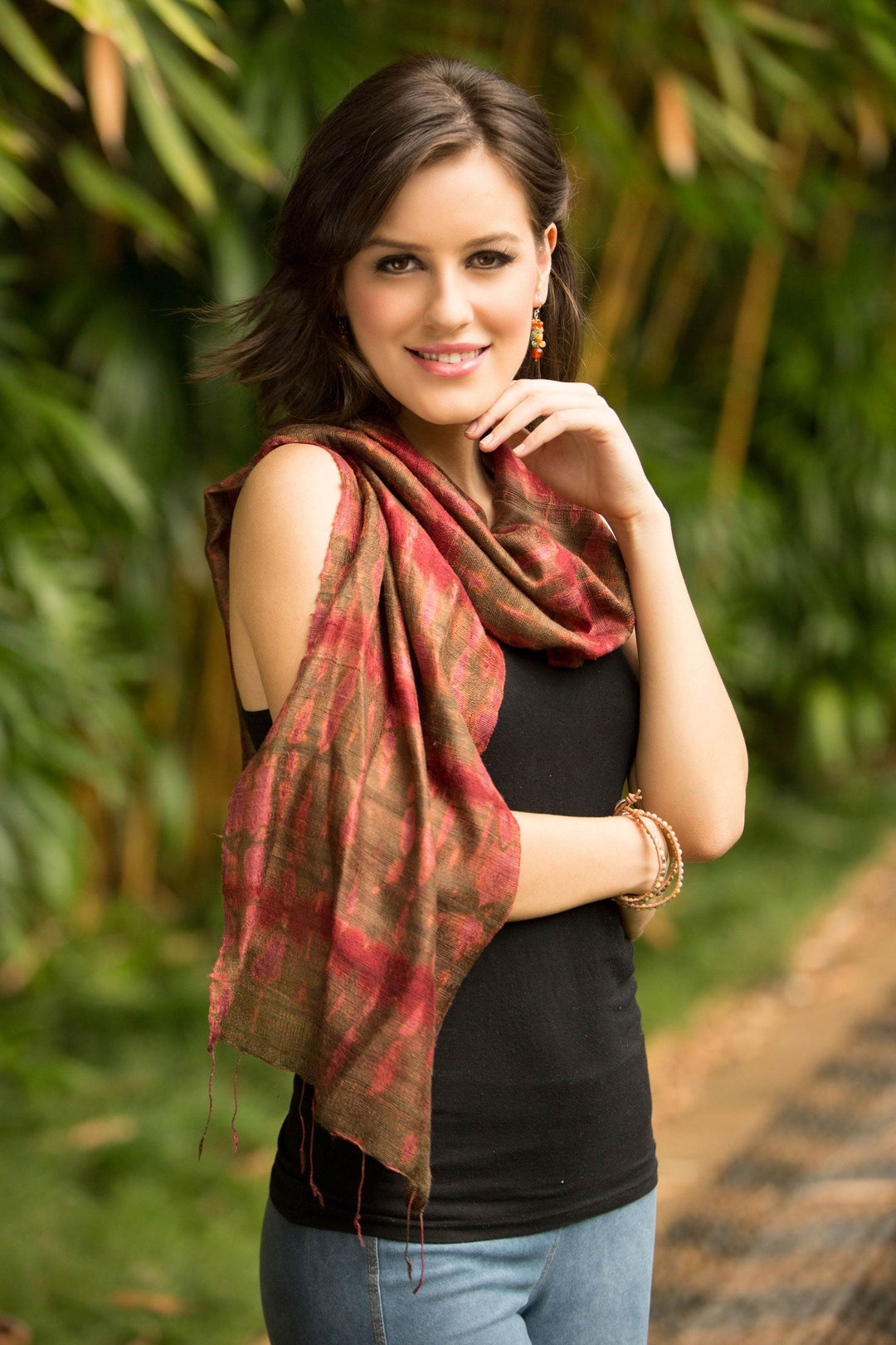 Hand-spun Silk Tie Dye Scarf - Siam Adventure
$34.00
Guest price
$27.20
Member price
Available Premium Gift Wrap
You can optionally add Premium Gift Wrap into cart.
Learn more >
Overview
Description
Thailand's Vinita combines a bold palette of colors for the design of this hand-spun silk scarf. Selecting olive green, light apricot, dark rose and red, she uses tie-dye techniques to color this trendy scarf. Vinita works with bark silk, preferring its slightly coarse textures.
100% silk
0 oz
65 inches L x 12.3 inches W
THE STORY BEHIND THE PRODUCT
Artisan Organization: Vinita
Country: Central America
"Hello, My name is Vinita Tongtawat. My first name comes from the combination of my father's (Pinit) and my mother's (Viboonwan) names. Although my name is not defined in the dictionary, I'm very proud of this name. It is the name given by my parents with their love. I was born in Lampang, then moved on to study in Chiang Mai and when I finished high school, I went to study at the College of Fine Arts in Bangkok and completed my bachelor's degree at the Faculty of Fine Art, Silpakorn University. Here I discovered my true identity — I express myself through tangible art, especially by creating unique colors with batik apparel.

"My thesis was on batik textiles with a very good combination of colors. It was very beautiful and lively. My work was selected for publication on a pamphlet for The Student's Thesis Work. Much of my beautiful work was purchased by Austrians. All of my pieces selected for exhibition were sold out. I was very grateful for the success I achieved through this.

"After graduating in 1983, I married my husband who was a student at my same university. I started to work for a home décor company in Bangkok as a designer. By 1989, we had a small son and daughter, and we decided to follow our dreams for our children to grow in a land of peace, beauty and with a simple lifestyle. Chiang Mai is the city that offered us what we were looking for, plus it is also the center Thai of handicrafts so I started working for a big exporter of saa paper when we moved here.

"I worked there for some time and then I quit to start my own venture focusing on textile arts. I have the ability to make a good selection of colors for dyeing fibers. The color combinations are beautiful and definitely reflect my identity as well. At the beginning, I studied the color absorbing qualities of each type of fiber in order to get beautiful, stable colors. Some fabrics require pretreatment before dyeing. After that, I started dyeing fabric by doing a few pieces at a time, boiling them in a small old pot.

"Once I made sure that I could get beautiful and stable colors, then I started to experiment with techniques to add texture to the fabric, like waxed batik, tie-dye and stitching. I constantly produce new colors to complete my stock. My designs received good response from people who loved my work. They started to place orders.

"I started with a small pot for dyeing and eventually moved to a big pan with a diameter about the spread of human arms. The one important thing for me is to always mix the dyeing colors myself to get the right color. Before dyeing, I check every piece of fabric to make sure that it is good quality with no defect at all.

"Since I studied art, the very first lot of my production reflected quite a lot about myself. I sometimes forget to think about the market demand. My client was trying to help by telling what the market trend was. I tried to change and produce to meet the needs of the market.

"I am very happy with what I have achieved so far. When asked about any challenges to overcome, I would say that I never have any obstacles. I think I do what I can do and don't force things that aren't ready or things that I cannot do. That way my work can run smoothly.

"Every day, the first thing I do in the morning is pay my respects to Buddha. Then I walk to the small garden at the center of my house, prepare breakfast, chat with family, then go to work. My husband has a small studio where he paints. I have a small area for my fabric work. I'm getting older now and my venture is stable, and I have my daughter who graduated from art school as well to help me take care it.

"Now I have more time to work on what I love — waxed drawing and coloring to make batik. It is the same art work I did when I was studying. My family is a family of artists, my husband and my children are art graduates. When we are together, it is a very happy time. Our happiness is expressed in our art work. Now my daughter and I have joined you. Hopefully we will get a warm welcome from all of you. Thank you.""