Our GlobeIn Premium Wrap
Hand wrapped with love, each gift comes with its own regional pattern, giving your gifts an international flair.
Premium gift wrap – $5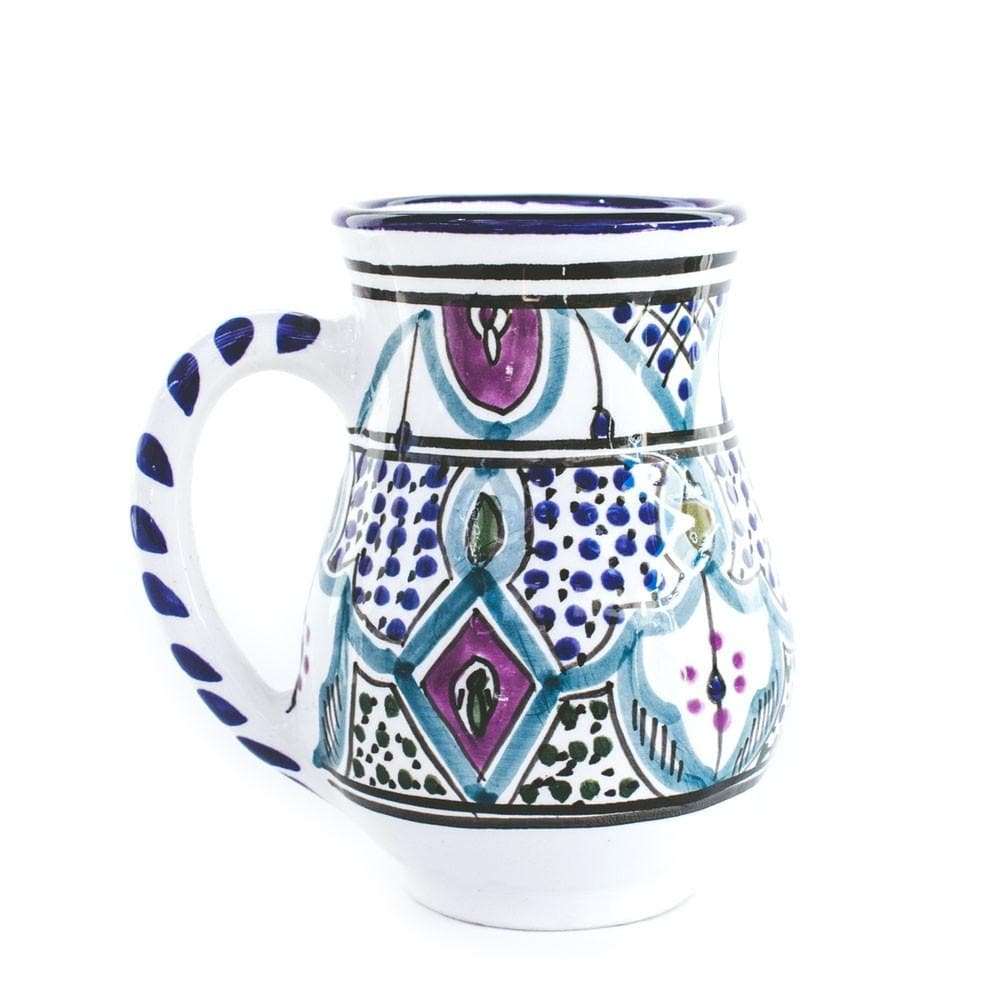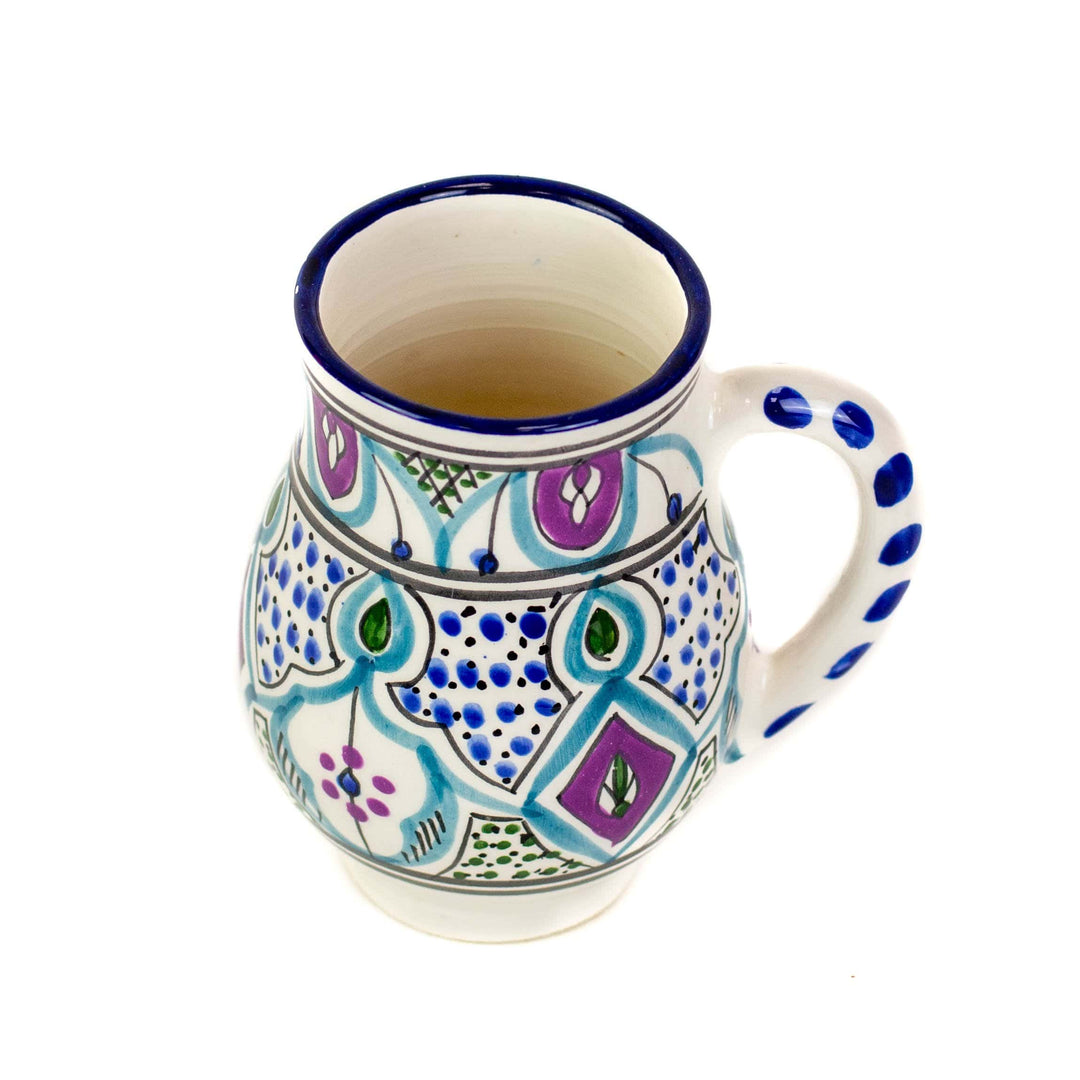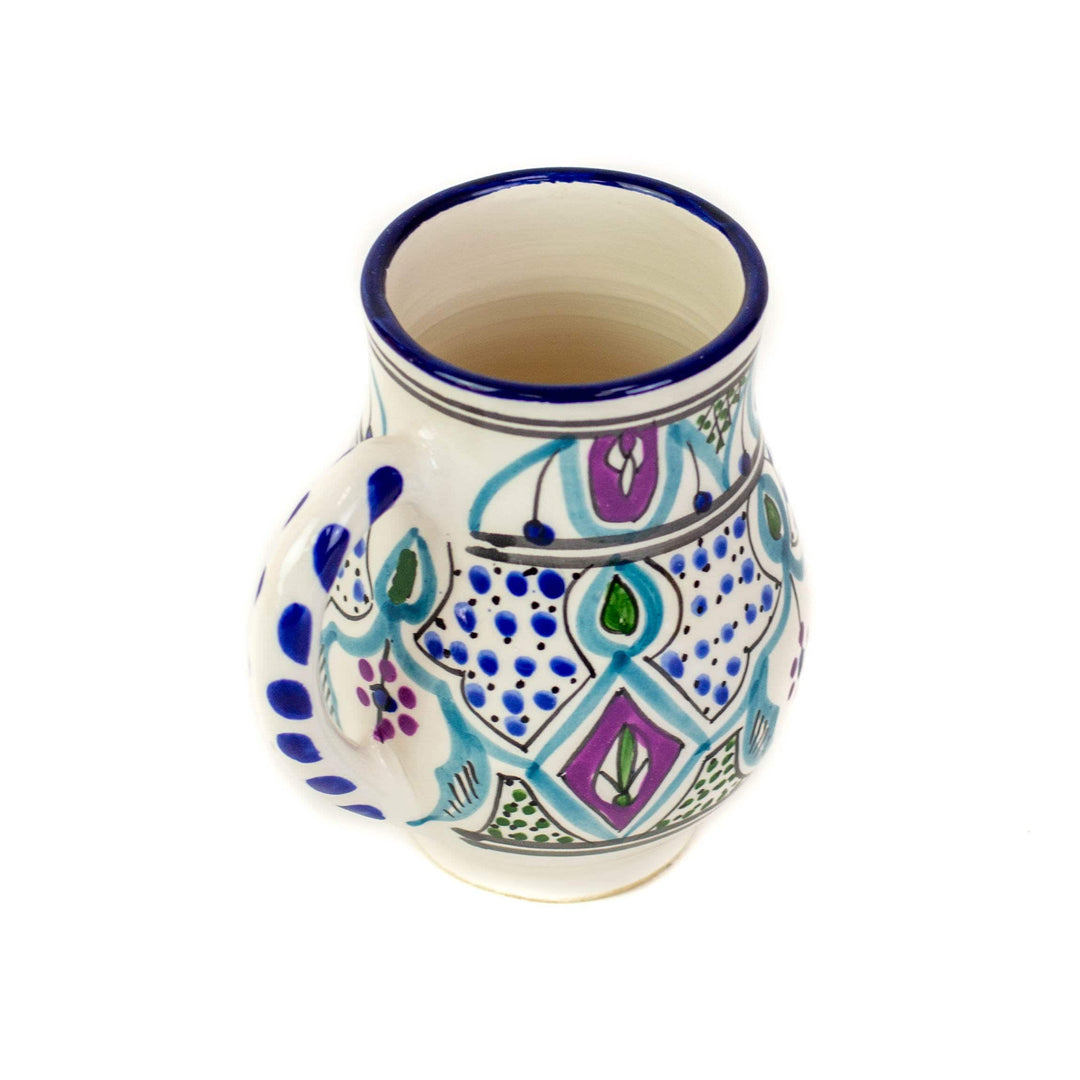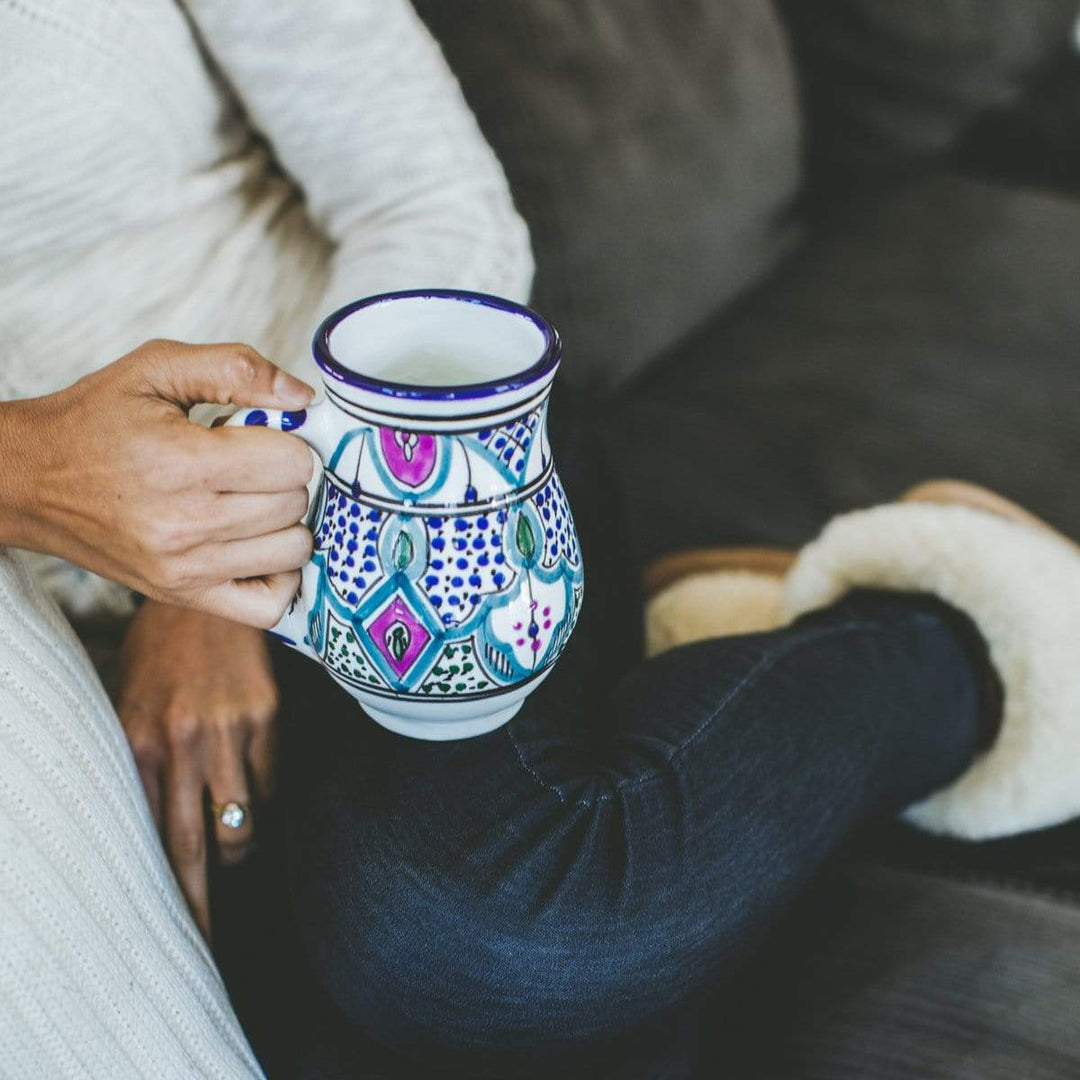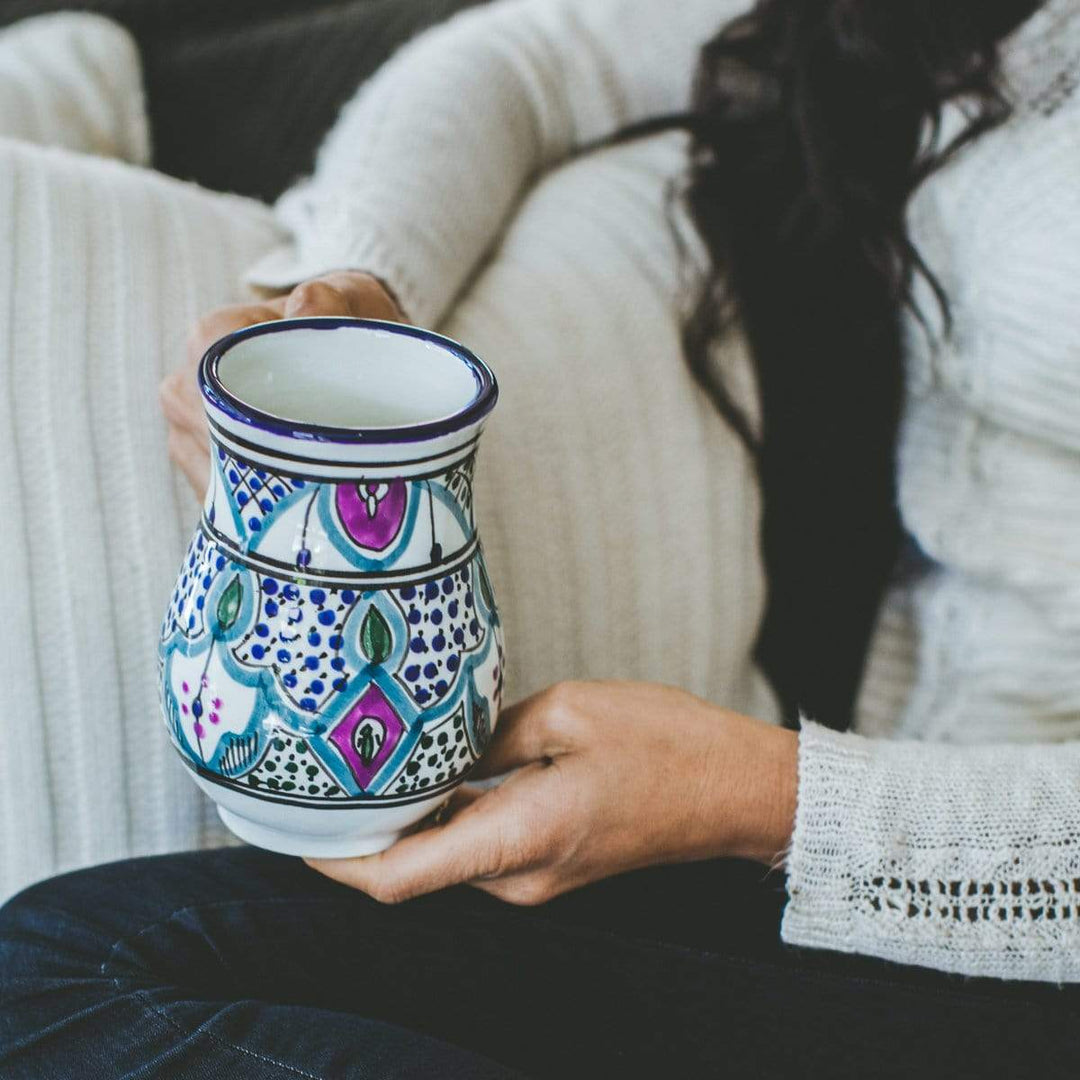 Hand-painted Malika Mug
$22.00
Guest price
$17.60
Member price
Overview
Description
This is no ordinary mug! Larger than most mass-produced mugs, the Malika is lovingly hand-painted with intricate colorful designs and nestles perfectly in your palms. Plus, it has the potential to hold more than your morning joe. We suggest adding fresh flowers for an extraordinary vase, or stashing wooden spoons for a functional art piece.
Details
Measurements: 6" x 4" x 5"
Materials: Stoneware Ceramics
Care Instructions: Dishwasher and microwave safe.  Caution:  May get hot in the microwave.
Country of Origin: Morocco and Tunisia
* Due to the artisanal nature of this product, color and size may vary.
THE STORY BEHIND THE PRODUCT
Artisan Organization: Strong Cerame - Khaloufi Abdeslam
Country: Morocco
The creator behind your new Malika mug is one of our very favorite and talented artisans, Abdeslam. Abdeslam was born in the Meknès region of Morocco, but currently resides in Marrakech where he and his artisan group produce ceramics. He is well respected in the artisan community for his eye-catching ceramics with amazing quality. Abdeslam was self-taught and his passion for pottery is apparent in his work.

On top of his work as an artisan, Abdeslam is a proud father and brother. He taught his two brothers the craft after his father passed on, and was able to sustain their family business. Abdeslam is very hands-on and passionate about his work. So much so, that he has taught every single person working in his workshop himself! His workers are more like a family and they look up to him as a father and inspiration. This group of artisans led by Abdeslam developed this Malika mug specifically with GlobeIn, in order to bring their amazing work to the world stage. We hope you enjoy his careful craft!
95%
of reviewers would recommend this product to a friend
I recommend this product
Best gift.
This mug is so beautiful and unique. I gave it to a friend of mine. The best thing with these items is they are the most beautiful and cherished.
Beautiful hand painted mug
I enjoy using my mug. It is large and has such a lovely appearance.
Gave as gift- Mom loves it!
My sister liked the gifted to my mom so much that I got one for her too. They love how big the mug is but that the opening is small so it keeps their coffe/tea warmer for longer! ❤️
breakfast treat
beautiful colors and design - hold a lot of coffee!