Our GlobeIn Premium Wrap
Hand wrapped with love, each gift comes with its own regional pattern, giving your gifts an international flair.
Premium gift wrap – $5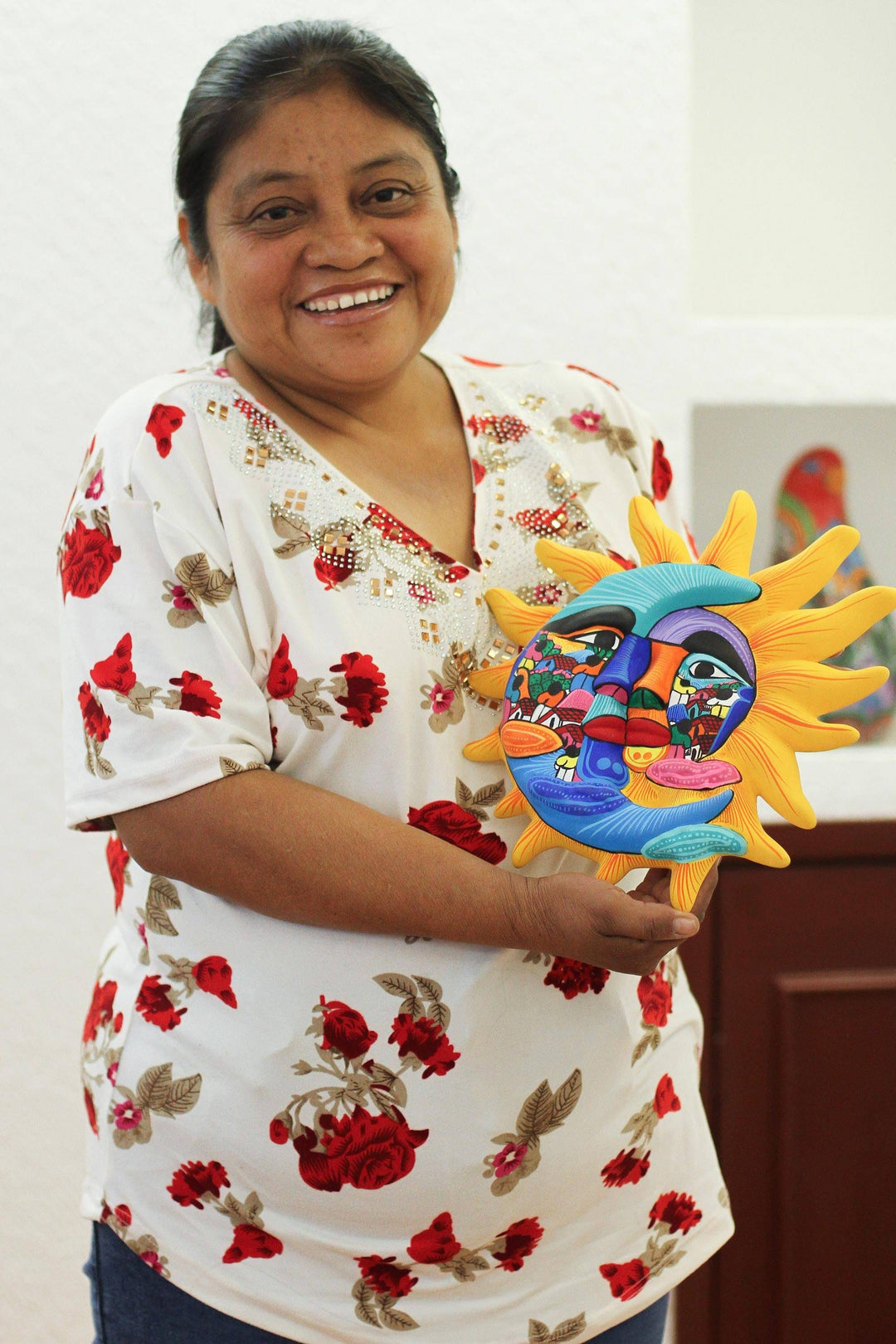 Hand-Painted Ceramic Skull Decorative Accent - Pre-Hispanic Tradition
$49.00
Guest price
$39.20
Member price
Available Premium Gift Wrap
You can optionally add Premium Gift Wrap into cart.
Learn more >
Overview
Description
Maria and Esteban offer a charming addition to your home decor. Crafted of ceramic, this skull is painted by hand with beautiful floral motifs and cultural patterns that reflect Mexican artistic traditions.
Ceramic
0.14 lbs
3 inches H x 3.1 inches W x 4.3 inches D
THE STORY BEHIND THE PRODUCT
Artisan Organization: Maria and Esteban
Country: Mexico
Latest Update

"At a young age, I learned to paint by watching my parents. I really liked it and I began to work with the help of my father. I focus all my attention on each detail in my work.

"When I began working with you in 2018, I had very few sales. I only made what I sold in the tianguis, or street markets. Gradually, I began to realize that offering my ceramics in this new way allows one to appreciate each detail of the artisans' work.

"My sales with you already represent more than 60 percent of my total income. I'm very happy and thankful, since this gives me the resources I need to raise my six children. You've allowed me to offer work to very close friends, thus teaching them a way to move ahead in life.

"I've exhibited my ceramics in craft fairs, where I received recognition for designs that I created. I feel very proud to show my work to more people and this motivates me to continue working.

"Thanks to all of you for your support and ideas that help me to continue to grow as an artist."

Original Artisan Story

Maria Santos and Esteban Guzman work in ceramic, creating home decor objects with the colors of Mexico.

"When I was still a little girl, my mother and father let me 'help' paint their traditional Guerrero-style clay figurines, Maria says. I loved to watch them work and learned everything from them. They were my best teachers.

"I remember when we moved to Guadalajara to work. No one believed that our painting and ceramics would sell. Without money to invest in materials, we were afraid it couldn't be done. But we began with what we had and reached a point where we sold so much we could buy a small piece of land and build a house for our family.

"Today, we buy our figurines and paint them by hand. We like how the colors combine, and we accentuate the statuettes with repeated dots, feathery lines and fanciful flowers. Our inspiration comes from nature and from our own imagination.

"Just like my parents did, I began teaching my children this art when they were young. After school, they liked to help us paint the background colors. Family unity is so important! For many years, all I ever did was work and work. Then one day, after Christmas, my children decided to take us out for the day and I was so happy being with them. I never thought it would be so lovely to laugh and share moments with them like when they were little ones.

"All of our designs are painted by hand with love and care. Our imagination takes shape in each one. Thank you for choosing them to decorate your own homes. We hope you like them.""