Our GlobeIn Premium Wrap
Hand wrapped with love, each gift comes with its own regional pattern, giving your gifts an international flair.
Premium gift wrap – $5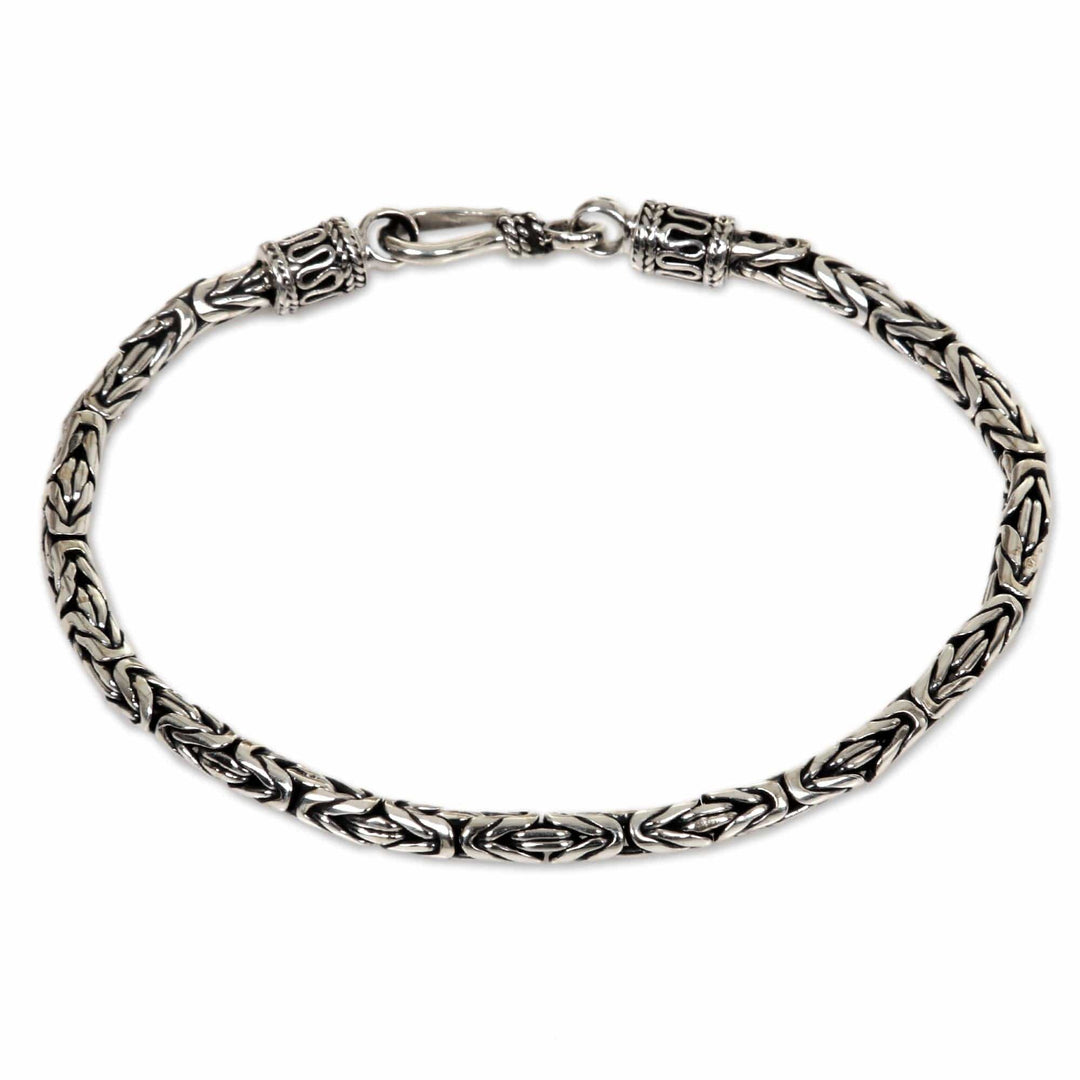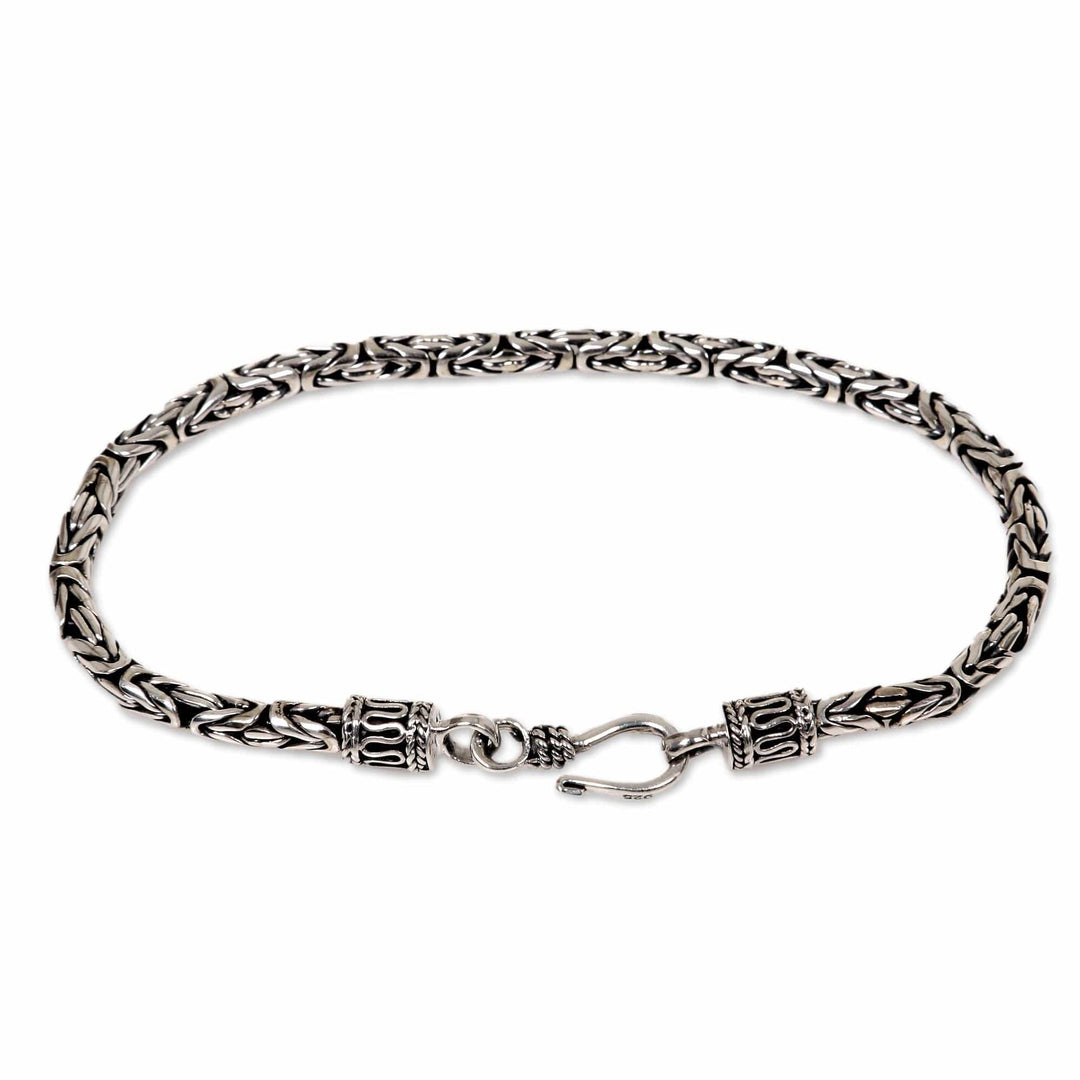 Hand Made Sterling Silver Chain Bracelet - Borobudur Collection
$54.00
$0.00
Available Premium Gift Wrap
You can optionally add Premium Gift Wrap into cart.
Learn more >
Overview
Description
Dazzling with ornate detail, this bracelet by Wayan Sarjana celebrates the legendary Borobudur style. It is named after the magnificent Buddhist temple in Java which was built in the 9th century as a schematized representation of the cosmos. This sterling silver chain bracelet is crafted by hand with amazing skill.

.925 Sterling silver
Sterling silver
0.18 oz
7.3 inches L x 0.1 inches W
THE STORY BEHIND THE PRODUCT
Artisan Organization: Wayan Sarjana
Country: Bali and Java
Wayan Sarjana has fine-tuned his silver-smithing skills over the years to become one of the most talented and innovative craftsmen in his village.

Sarjana, an amateur historiographer, says he returns to his roots for inspiration, elaborating on ancient Indonesian designs to create elegantly unique silver jewelry.

I was born in a village in Sukawati on the island of Bali in 1970. I am the eldest of three children from a family of artists, but I was the first in my family to work with silver.

I started to learn at the age of fifteen as an apprentice in my village with a man called Nyoman Regig. He was a good but strict teacher. If I made one piece just a little bit wrong, he would be so angry with me. But he also taught me how to work under stress and short time limits. That's a good foundation, if you ask me!

After five years, I started on my own to craft original jewelry that I sold to local shops. And slowly, I was able to save enough money to set up my own workshop at home, where I still work.

My main inspirations come from nature and daily life around me. Flowers and animals are my favorite subjects, but sometimes-abstract geometrical shapes come into my mind, even though they are originally inspired strongly by nature.

Silver is not an easy medium to work with here, because the price changes all the time, but I cannot imagine doing anything else.

I am happy and very grateful to you for helping me to promote my work outside Bali, and being supportive of my ideas and understanding in regards to the different aspects of being a silversmith.

I hope that everyone around the world enjoys my work and that, if there is anything I can do for you with my talent, contact me, please.

These years with you have brought so many changes to my life. Now I have something to be proud of, including the fact that the world now appreciates me as an artist — a silversmith from Bali. I was only selling my jewelry door-to-door before, and my life was in the hands of shop owners. With you, I'm now able to create my own life, and to earn a consistent income. Today there are five people working with me. One by one, they came to my place asking for work. They are happy to work with me and are also happy to be a part of our success — and happy to earn more money than they ever received before."