Our GlobeIn Premium Wrap
Hand wrapped with love, each gift comes with its own regional pattern, giving your gifts an international flair.
Premium gift wrap – $5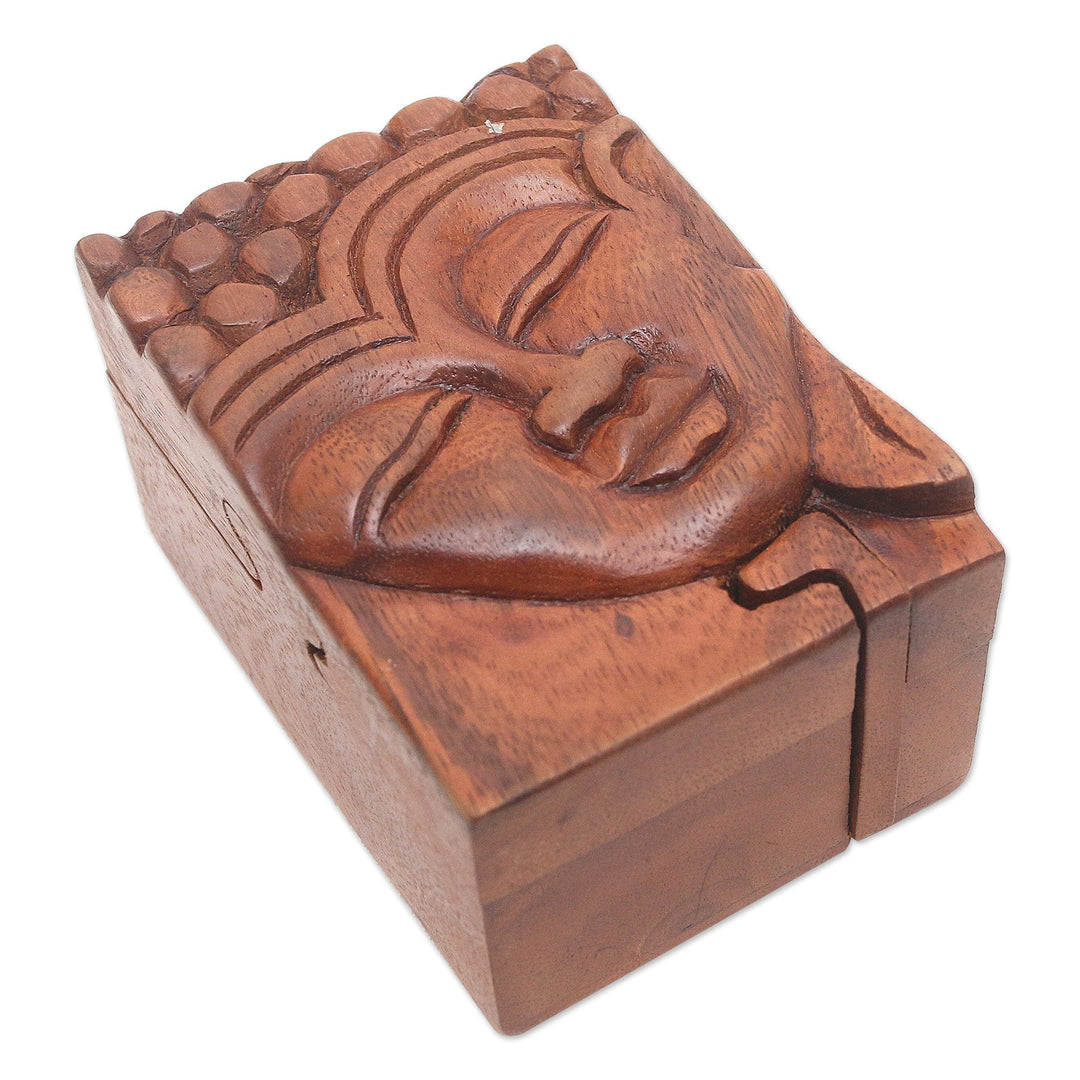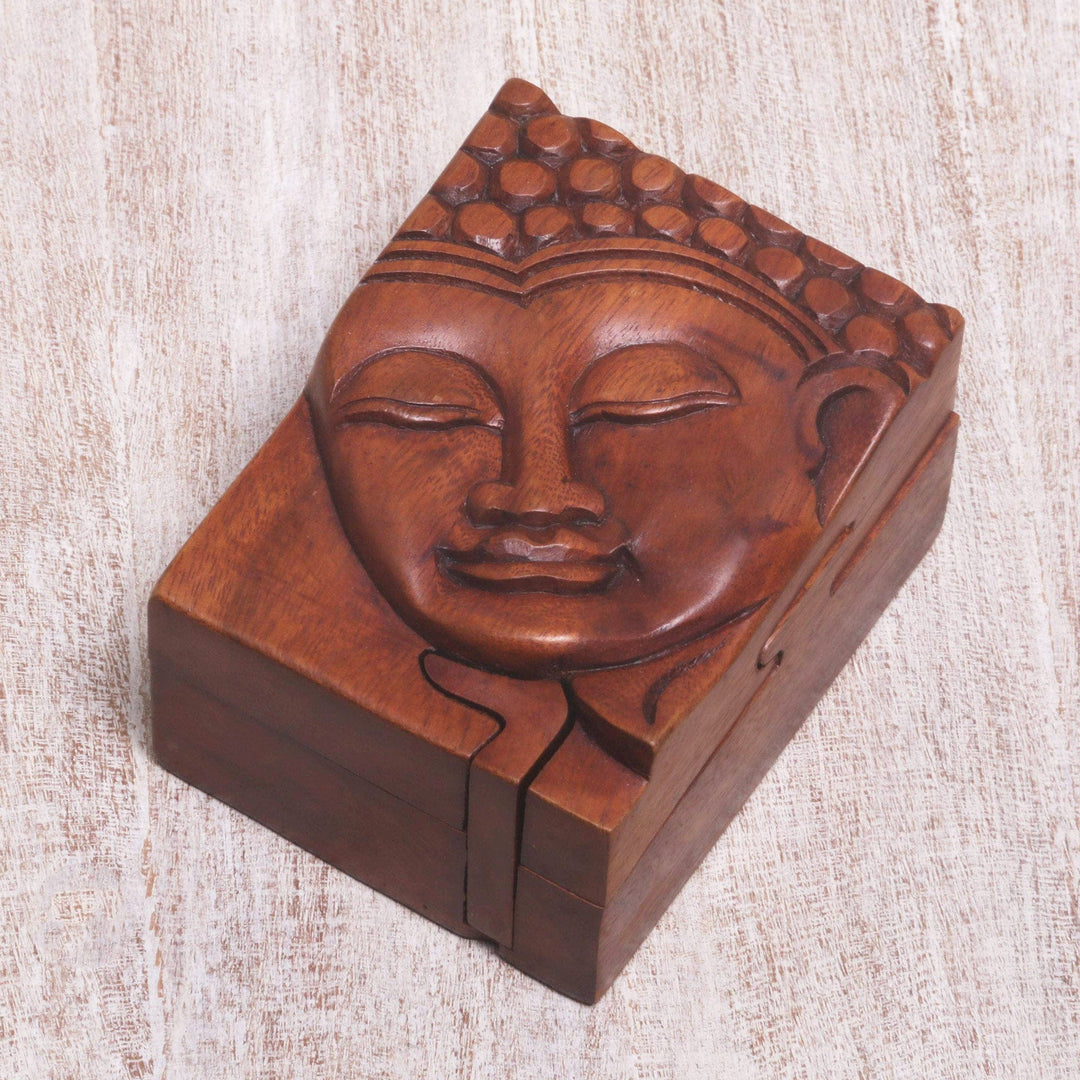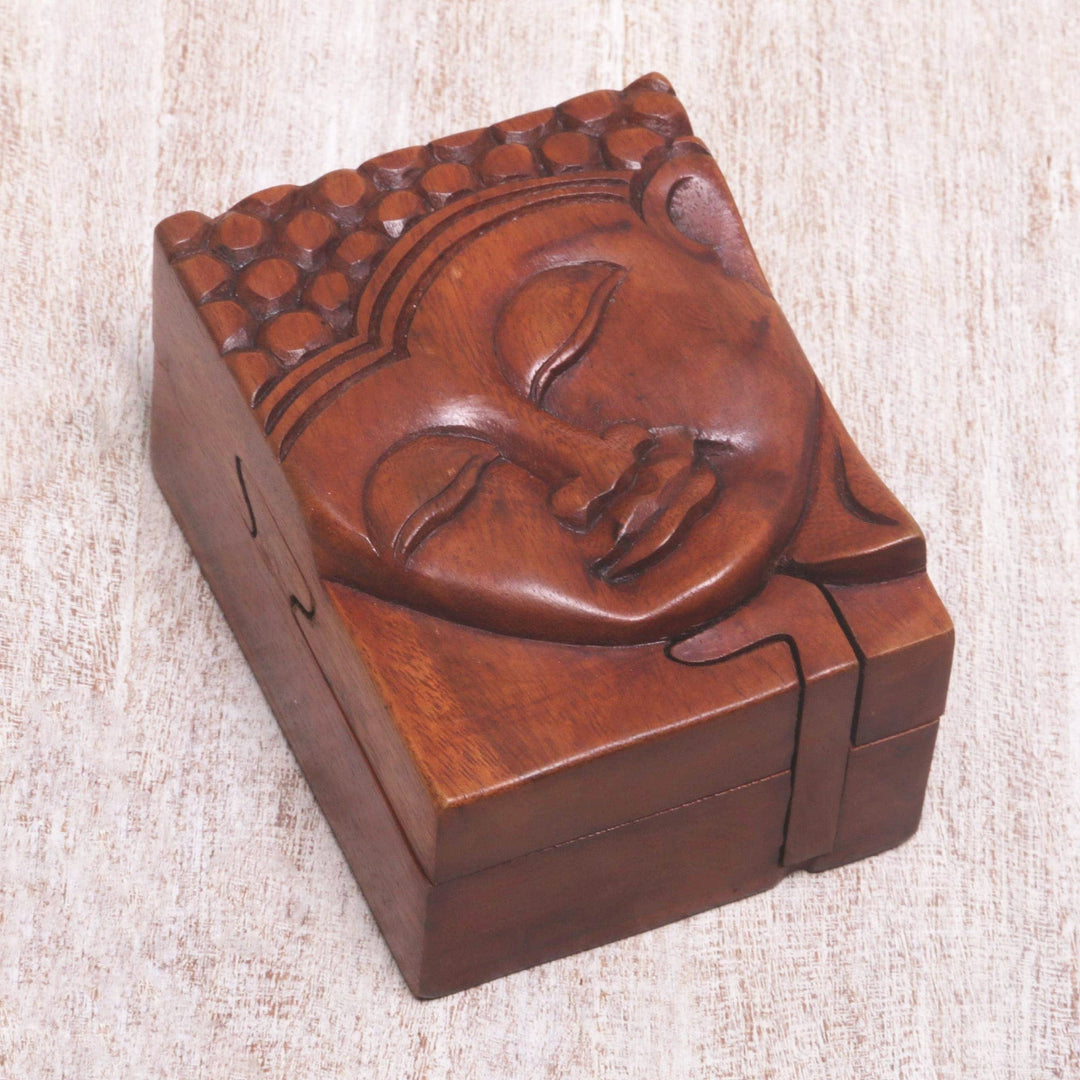 Hand Carved Buddha Motif Puzzle Box - Glory of Buddha
$49.00
Guest price
$39.20
Member price
Available Premium Gift Wrap
You can optionally add Premium Gift Wrap into cart.
Learn more >
Overview
Description
Buddha's solemn portrait is transformed into an attractive puzzle box by Balinese artisan Eka. Using natural suar wood, she exquisitely hand carves each of the four pieces that are designed to fit and lock into shape. The interior of this box is perfect for storing small pieces jewelry and keepsakes.
Suar wood
0.21 lbs
2.4 inches H x 3.9 inches W x 3.1 inches D
THE STORY BEHIND THE PRODUCT
Artisan Organization: Eka
Country: Indonesia
Latest Update

Eka was born on August 11, 1978 in Tampaksiring Gianyar, a tranquil village in Bali that still has strong Balinese customs and cultures. Her father is a hard-working wood carver and her mother sells garments. She is the first child of three.

"I'm Ni Putu Sri Ekawati from Bali. I'd like to introduce my wood carving collection to the world. People say I'm a stubborn woman with strong principles and that I never give up. I like aerobic, yoga and also reading.

"I came from a simple family that strongly maintained Balinese customs and discipline. After I graduated from a nursing academy, I was married to coconut-shell carver Putra Suteja from Mas Ubud, who was a featured artisan. We were blessed with a daughter and a son. Unfortunately, after two years of marriage, my husband passed away after suffering from lung cancer for almost a year. He left us when our little boy was just born. My heart was broken and I fell so deeply into sadness. I saw no future; everything was so blurry in my vision at that time.

"I never expected that I would be a single parent. I felt that life was so cruel, unfair and too tough for me, but life must go on. I had to take care both of my children while I worked as a nurse in a hospital. One of them was still just a baby. Every time I saw their innocent faces, I felt something heavy inside my heart lighten up my spirit. I remembered my responsibilities for their better future, something that I and my late husband discussed and really wanted. Children shouldn't know hard times and suffering.

"I decided to continue working with you, as my husband did. Thanks to God, I had learned a little bit of it from my late husband, so I could manage the workshop and also monitor the quality so it is still as good as my husband's. I also created a wood carving collection under my own name, and they have been well-accepted. I'm so glad and proud that so many people in the world like my designs. It has really happened because you have been helping me through your online marketing. Today, our income has increased by 75 percent.

"I can't believe I have passed the dark-cloudy times, and now I can focus on my children's future, to provide them a better education and life. I believe that because I have been helped by God's hands and supported by all my friends, I can keep working hard so I can feed my children, pay their school fees and also save for their future. The income I get also keeps getting better and better. This has been a great help for us, and now we can slowly start to do home improvements too. Until now, I've been working as a nurse in a hospital while also keeping this workshop of my husband's growing.

"I love the tranquil environment during the night. It's the best time to evaluate myself — what I did today, and also the growth of the workshop. I keep trying any potential possibilities — we'll never know the result if we never try. I really like wood sculpture, so now I have started to get involved myself in the design. I am inspired by the current trends and combine it with Balinese culture. The carving itself is done by three men and three women wood carvers who work with manual tools. I want to build a better collection of wood carvings for you, eliminate designs that don't sell well, and propose new ones that have more potential and satisfy everyone. This way, I hope I can secure my children's future life."

Original Artisan Story:

"I am Eka, and I was introduced to you by my husband Putra Suteja. Unfortunately, he passed away in 2009 after a long illness, leaving me with a three-year-old daughter and a ten-day-old son. I decided to honor his memory by continuing carving, something I learned from my father from a very young age. Dad would carve and my mother, brothers and I would finish the statues. We worked this way until I married Putra Suteja.

"He liked to carve coconut shells and we enjoyed developing new styles and designs together, then I would make the samples. Now that I'm the sole provider for my children, I continue to carve coconut shells, and I also carve sculptures from wood.

"My children are my biggest motivation to work and to move on. Even though now I am alone, I always keep my spirit up and go on strong for my children. Thanks to them I do not falter, and thanks to all of you for always supporting me.

"Being associated with you means I can feed my children – I will always do my best to provide a good future for them. Thanks to you all, because you encourage me to continue developing new ideas and designs for the sculptures so they will be always liked.""