Our GlobeIn Premium Wrap
Hand wrapped with love, each gift comes with its own regional pattern, giving your gifts an international flair.
Premium gift wrap – $5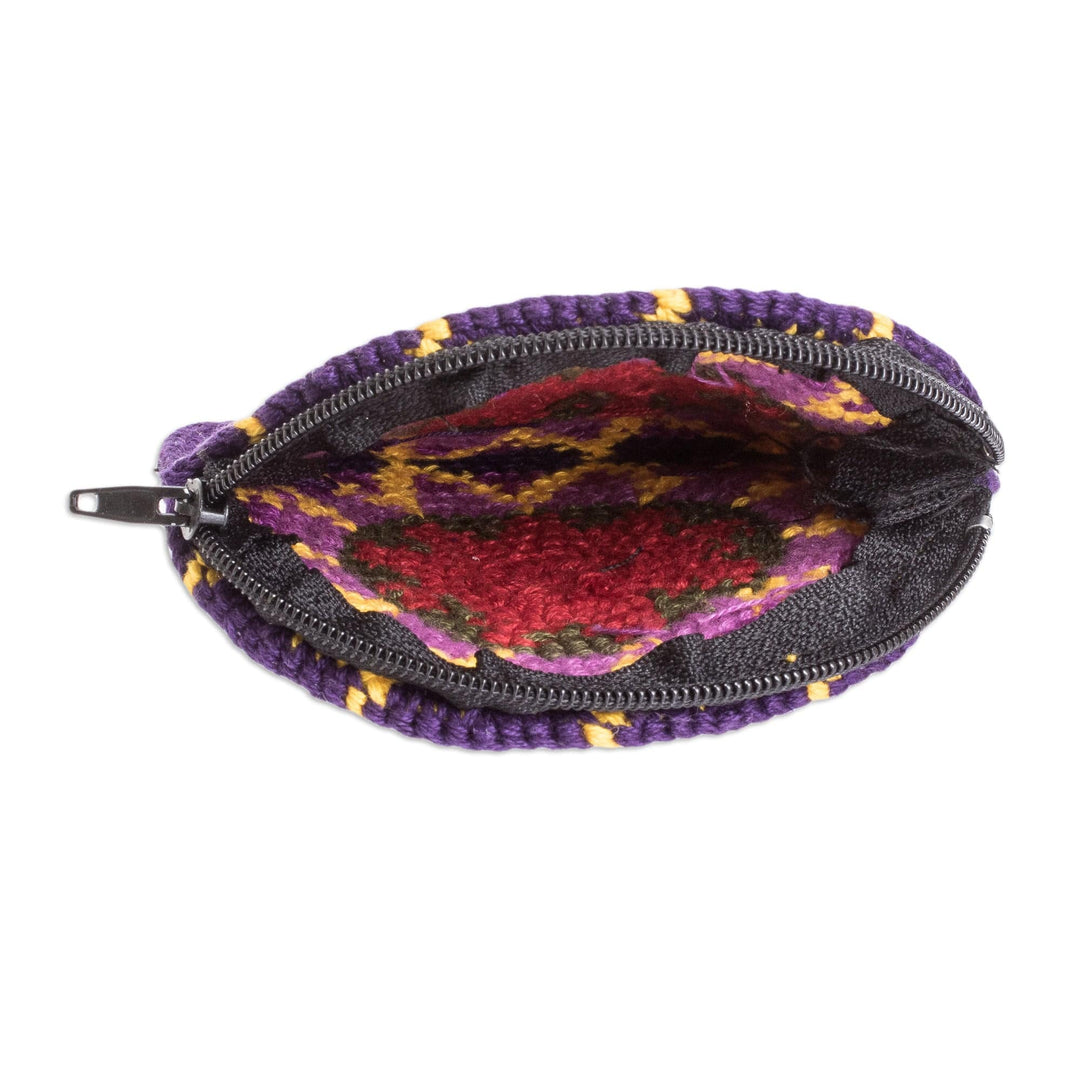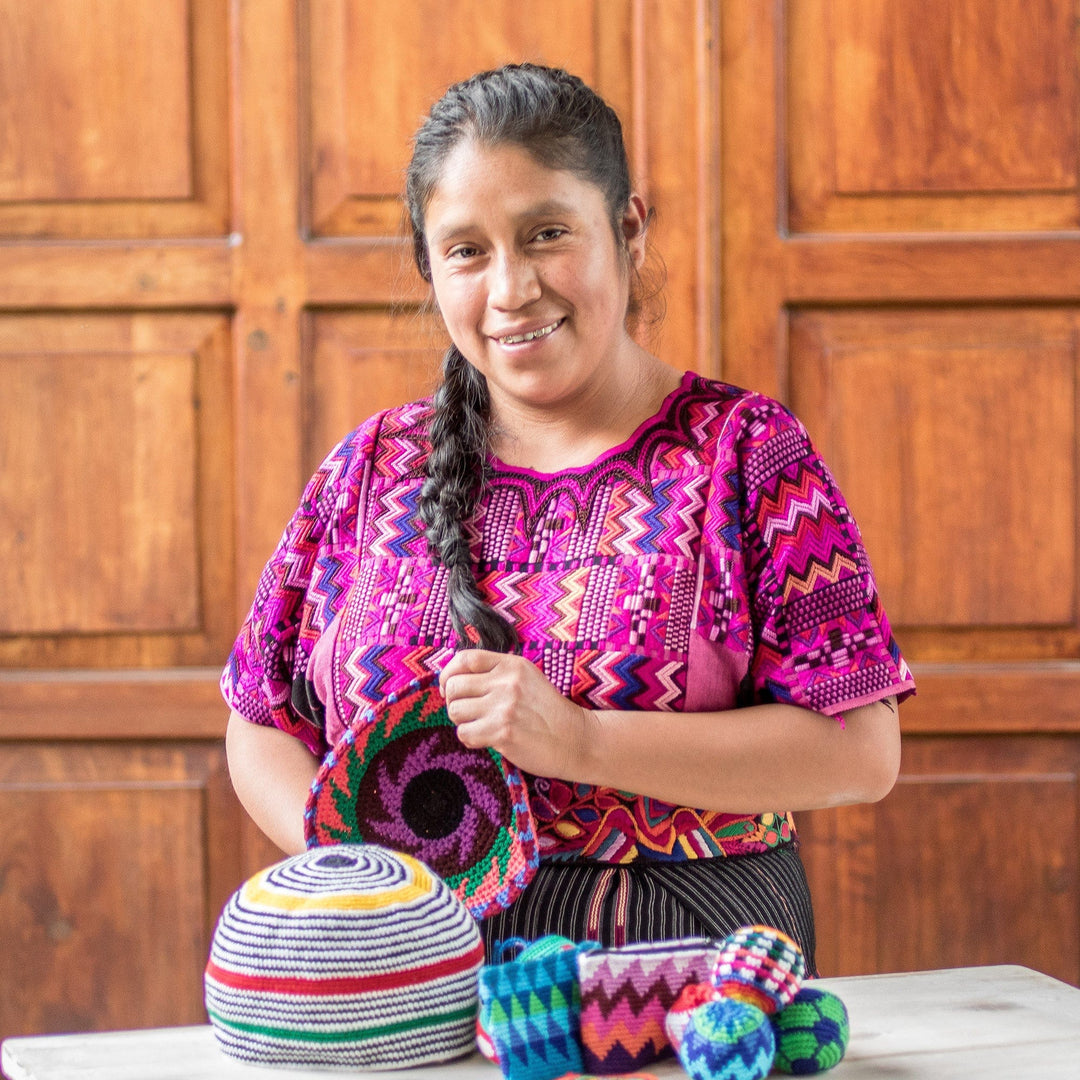 Crocheted Multicolor Cotton Coin Purse from Guatemala - Shining Star
$26.00
Guest price
$20.80
Member price
Available Premium Gift Wrap
You can optionally add Premium Gift Wrap into cart.
Learn more >
Overview
Description
Vibrant colors come together in a beautiful crocheted purse made entirely of cotton by Guatemalan artist Sebastiana Guarcas. Using the traditional crochet technique, Sebastiana handcrafts this gorgeous shining star design with the traditional colors of Chichicastenango, her beloved homeland.
100% cotton
0.26 oz
0.2 inches H x 3.9 inches Diam.
THE STORY BEHIND THE PRODUCT
Artisan Organization: Sebastiana Guarcas
Country: Central America
"It is a pleasure to introduce myself; my name is Sebastiana Guarcas. I was born in Chichicastenango, a municipality in the department of Quiché. Chichicastenango is well known for its local market, where you can find thousands of handicrafts, made entirely by hand with a lot of love.

"Since I was a baby I lived with my grandparents. I grew up very close to my grandmother, who was dedicated to weaving. With her, I learned to weave scarves on a backstrap loom and the crochet technique when I was 6 years old. I learned to do hand embroidery on napkins that we used at home. In my childhood, I went to school and in the afternoons after doing my homework she would let me weave. At the age of 11, I started designing my own color combinations; and my brothers and my mom got together so we could start selling. With my brothers, we created new figures for our products. My grandmother always advised us on which colors combined well and which did not.

"My mom told me that my paternal grandmother taught her how to do hand embroidery and crochet. My dad used to paint masks and wooden figures that he sold in a store he had in Panajachel, a place very popular with tourists where he was doing very well at the time. Unfortunately, sales dropped a lot and he had to migrate to Canada. With my mom and my sisters, we continue to dedicate ourselves to crochet and embroidery.

"Time passed and I continued in the art, my brothers too, but each one took their own path. For me it was something of great pride, to be able to continue weaving because it is an art that has been lost over time. I continued learning and little by little I improved my technique, through trial and error. That took me to many markets and many stores where they sold my products.

"I started a family; I have been married for 9 years and I have 3 small children. I always have the support of my husband; he helps me get the work done and encourages me to keep going. I want my children to have a good education, to have good jobs, to work in what fulfills them, in what makes them happy.

"The art of crocheting is an art that unfortunately is no longer much sought after in the local market. Because they do not give us fair payment, it is difficult to continue. However, there is always an open door, a door that fills us with enthusiasm and desire. to continue.

"I started when I was little because I was seeing that it was a need, a skill and a job at the same time. I like to work with crochet; every design they give me I can do. Sometimes I receive the designs in drawings and I make the color combinations myself. When I have a thread I imagine that the colors are part of nature; that helps me to be inspired in my designs.

"The pandemic harmed us--we had no orders, and we were left with nothing. There was nothing to do; it was a very difficult time. Thank God we came out of it and we hope that in the future it will improve. That is why I value this opportunity very much because it is like being reborn and having one more illusion that everything will be fine for us.

"Being a craftsman is a dignified and honorable job. I feel free. In addition to giving my children what they need, it is a healthy skill that does not require much effort, and I am extremely happy to do it." "