Our GlobeIn Premium Wrap
Hand wrapped with love, each gift comes with its own regional pattern, giving your gifts an international flair.
Premium gift wrap – $5
Colorful Wood Alebrije Bull Figurine - Intricate Bull
$117.00
Guest price
$93.60
Member price
Overview
Description
In a crouched posture, this charming bull figurine is painted by hand with vibrant Mexican folk art motifs. Eugenia and Roberto Sosa design this delightful alebrije, which is carved by hand from copal wood.

Alebrijes are a fairly recent Mexican art form, attributed to Pedro Linares. Unconscious due to illness in 1936, he was presumed near death and yet his dreams were extremely vivid. He tells of a place where all was peaceful and quiet until all of a sudden there appeared a lion with an eagle's head, a rooster with bull's horns and a donkey with butterfly wings. They kept screeching 'alebrije, alebrije!' and Pedro began running away. He encountered a man who told him it was not yet his time to be there are and he should continue running towards the exit. In this dream Pedro climbed out of a window and regained consciousness.
Copal wood
0.51 oz
3.2 inches H x 1.8 inches W x 5 inches D
THE STORY BEHIND THE PRODUCT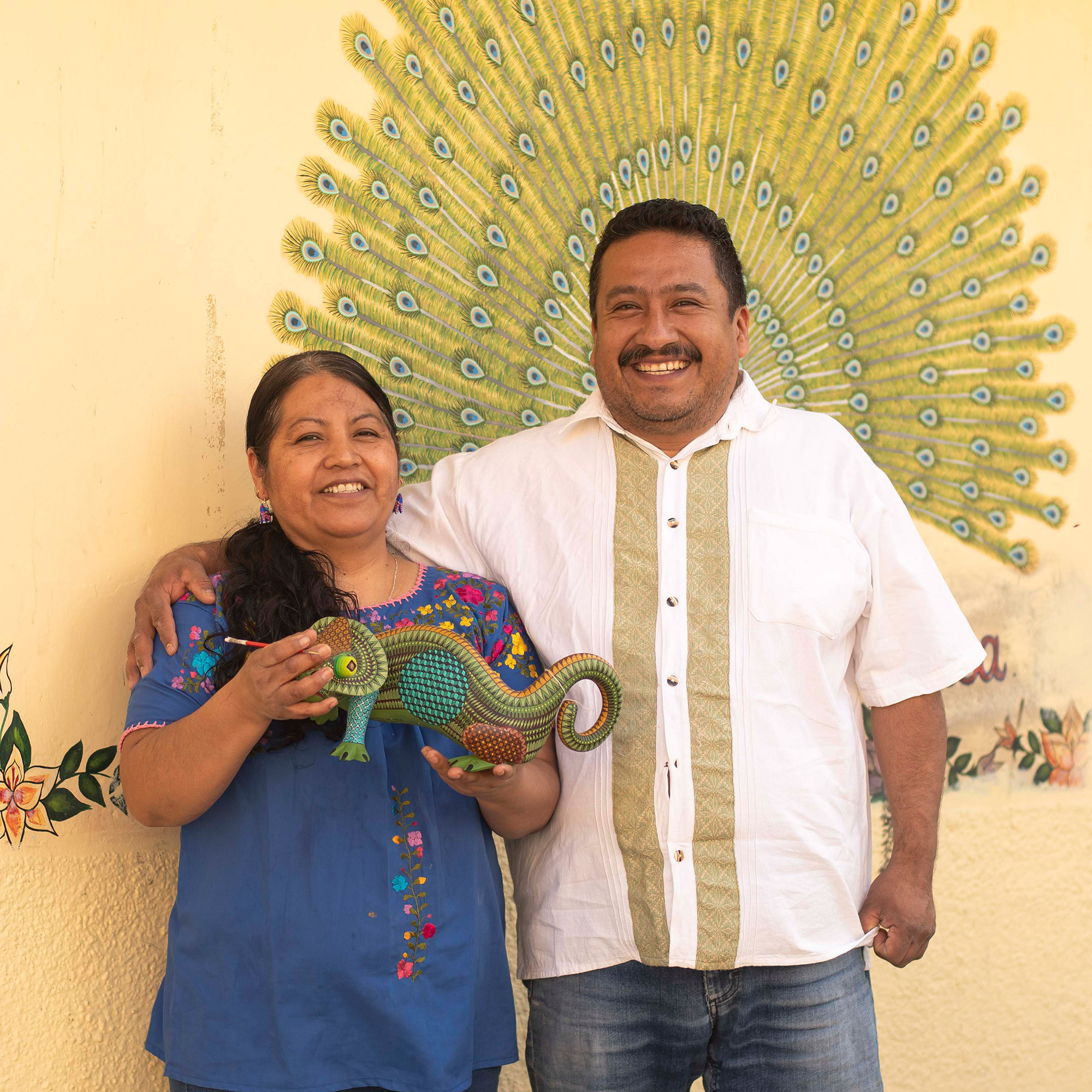 Artisan Organization: Eugenia and Roberto Sosa
Country: Mexico
Latest Update

"We have worked with the help of Novica since 2017; these have been years of apprenticeship that have allowed us to grow and evolve.

"We have modified our technique with an eagerness to improve our quality. Today, we create finer decorations utilizing more defined Zapotec grecas (spirals), giving greater detail to each piece, making it very special.

"We were faced with challenges that have made us stronger, such as day-to-day competition in our community and other places dedicated to this craft. This gives us the opportunity to be better and innovate in quality and design, always presenting pieces filled with tradition and color, but with the essence of family and our own personal touch.

"For us, preserving this beautiful tradition that has given us so much is important. Today, we teach it to our children. We still remember the first moment when we started to teach painting.

"Thanks to Novica, we have managed to export our pieces and compete with ourselves in quality and innovation of each new model that we design. We are very thankful for the opportunity to transfer part of this beautiful familial tradition that our parents gave us, above all improving this work that is so culturally representative."

Original Artisan Story

"We're both from a small town in Oaxaca. We started learning to craft copal wood alebrijes when we were children. People here tell a story about the origin of these fanciful Mexican sculptures. They say that a Oaxaca man named Pedro de Linares had a very vivid dream. He saw himself in a forest inhabited by strange and fantastic creatures that walked with him there until he finally awoke.

"Along the way, these creatures cried 'Alebrijes! Alebrijes.' He said some looked like donkeys with wings, a lion with the head of a dog and a rooster with the horns of a bull.

"We love this beautiful art because their colors are unique. We especially like decorating them and focus on making each one different and special.

"Our materials are of natural origin, like the copal wood that's so abundant here. But we look after the ecology, harvesting only branches but never the tree. We use acrylics and very fine paint brushes; the motifs themselves arise from our own imagination. In the workshop, everyone helps — the men carve the wood, the women paint the sculptures, the grandparents do the sanding and the children paint the base coat.

"Our dream is to position our art in other parts of the world, so we are working hard to make our workshop grow. We want to provide more work for people with talent and creativity.

"We hope to leave a mark with our inspiration on the next generations – our children. We want to preserve this precious alebrije craft through every one of our designs. And we want to make a difference in the economy of our town.""