Our GlobeIn Premium Wrap
Hand wrapped with love, each gift comes with its own regional pattern, giving your gifts an international flair.
Premium gift wrap – $5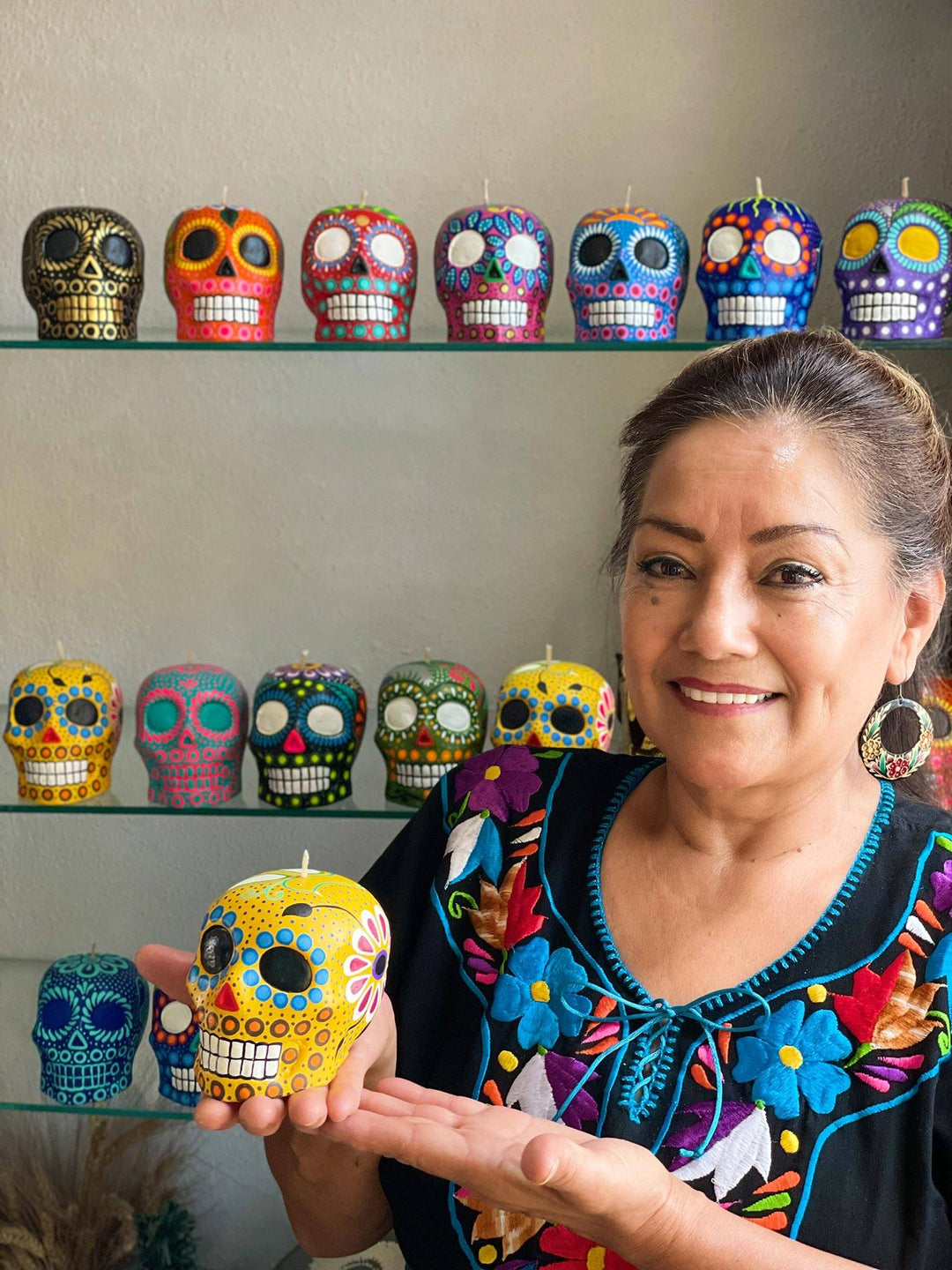 Day of the Dead Skull Candle - Colorful Black Floral Skull
$46.00
Guest price
$36.80
Member price
Overview
Description
By Aida Martinez, this colorful candle depicts a festive black skull with multicolor motifs and flowers. She works in paraffin and carefully paints the image by hand for a Halloween ambience. Perfect for décor or display, its waxed wick lets it burn as a functioning candle.
Paraffin, cotton wick
0.34 kg
11 cm H x 9 cm W x 10 cm D
THE STORY BEHIND THE PRODUCT
Artisan Organization: Aida Martinez
Country: Mexico
"I learned the art of candle making from my parents — it is a generational craft. Our city is characterized by wax sculpture, so I was always in contact with candles. However, I always had the desire to do something different, combining the artistic with the traditional. Crafting candles lets me express and depict feelings and happiness, and I love what I do.

"After several setbacks, ruining a few candles and making mistakes, I've found my form of expression. I love to see people's reaction when they admire a design, to share our traditions and the feelings it can elicit. The only challenge is to make our craftsmanship more recognized and appreciated.

"Our materials are fundamental to our work. I acquire them from Mexican suppliers — paraffin, stearin, cotton wicks, and acrylic paint. For my part, there are many color schemes I've created as I combine colors and generate sample tones.

"It's been tough to work on my own. But I realize that the achievements are more satisfying and it can be fun learning from my own mistakes. They lead us to grow.

"It's also been difficult when we didn't have much work and we all suffered. I took the risk of doing things differently, and decided to spend what we had in attending international trade shows so that more people could see what we do. I feel proud of this because, if I hadn't, our workshop wouldn't be here today.

"I have many plans to grow as a businesswoman and as an artist, to take my work to other areas and to be recognized so that whoever buys our work, takes a piece of our Mexico with them.

"At this point in my life, I am very happy that our work can now reach you who live outside Mexico.""