Our GlobeIn Premium Wrap
Hand wrapped with love, each gift comes with its own regional pattern, giving your gifts an international flair.
Premium gift wrap – $5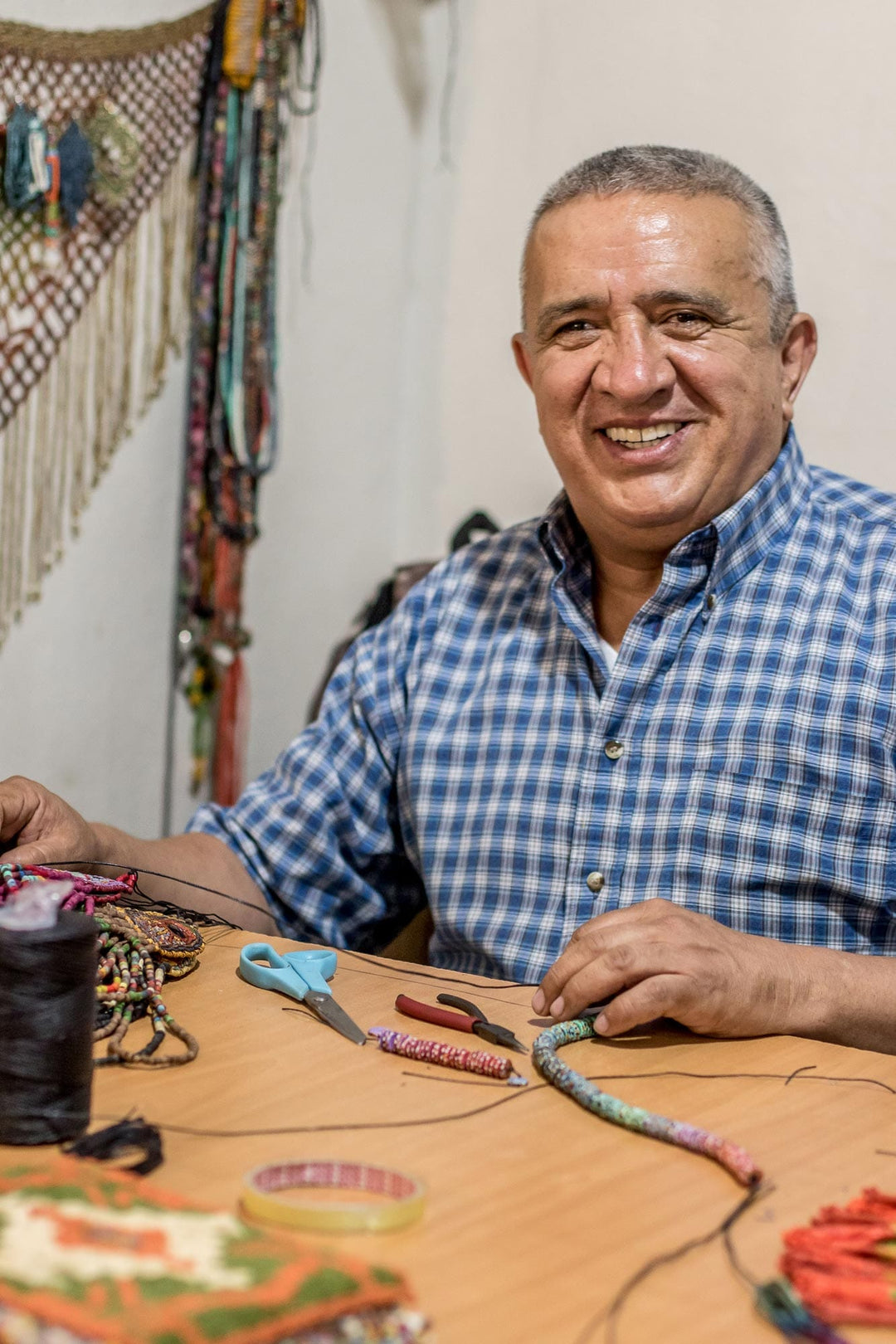 Ceramic Beaded Wristband Bracelet in Blue and Multicolor - Colorful Lakes
$22.00
Guest price
$17.60
Member price
Available Premium Gift Wrap
You can optionally add Premium Gift Wrap into cart.
Learn more >
Overview
Description
Alternating with various hues, blue ceramic beads capture the dark blue of lake waters. Guatemalan artisan Jaime Hernando Vargas creates this wristband bracelet, crafted entirely by hand. A sliding knot gives this accessory an adjustable length.
Ceramic beads, nylon cord
0.12 oz
6 inches min L - x 12 inches max L x 0.5 inches W
THE STORY BEHIND THE PRODUCT
Artisan Organization: Jaime Hernando
Country: Central America
"My name is Jaime Hernando Vargas and I am a native of Colombia. It is a pleasure to introduce myself to you. I always felt attracted to handicrafts, art, and color. Because of this, I decided to take a technical class in design, where I learned about and fell in love with this world of handicrafts, especially working with natural materials.

"With time, I began to get involved in the world of costume jewelry, a fantastic field that permitted me to create limitless designs and let my imagination soar. Because of this, I also began to work with pre-Colombian replicas from my country.

"Through the power of destiny, I came to Guatemala and loved it. I fell in love with its colors, the warmth of its people, and its handicrafts. I loved everything so much that I continued to live in Antigua Guatemala, a magical and pleasant place. I decided to open a small shop during what became the most difficult part of my life. I had to struggle very hard, but I managed to get ahead.

"As part of my work, I made small ceramic beads. Ceramic is a very noble material with which you can make many things. I began through trial and error, creating my own artisanal machines along the way. During this time, I had the opportunity to meet many artisans. They were the perfect complement to my work, and thanks to them I learned a lot. I began to combine colors and create a wide spectrum of pieces. I had very friendly relationships with those artisans, which helped us grow and work together with a similar objective.

"At the beginning, it was a little complicated; each artisan had their own way of doing things. They were all experts in beaded handicrafts, which is very complicated work. It occurred to me that their pay was not fair, which inspired me to work with them. My initial goal was to generate dignified and just employment. We work with artisans from Sololá, who create their work in a spectacular way. They help us with the creation of woven bracelets, necklaces, and bags. We also have artisans from Sacatepéquez who work in our workshops every day, crafting and painting small ceramic beads.

"In 2018, a natural disaster occurred, created by the Volcán de Fuego. It affected the communities of Sacatepéquez, Chimaltenango, and Escuintla, where many people lost their loved ones and their homes. I met two women and taught them this art, and today we work together. I hope that we can bring our knowledge to more people. In this way, we will be generating many more jobs for people who need them.

"This is work performed with plenty of love, which has taken a lot of time and dedication. My family and I make the perfect team. My children and my wife have helped me a lot, and they are the primary drive in my life. I am grateful for the confidence that my clients have in me, knowing that in their hands they will have a unique piece made with a lot of dedication." "