Our GlobeIn Premium Wrap
Hand wrapped with love, each gift comes with its own regional pattern, giving your gifts an international flair.
Premium gift wrap – $5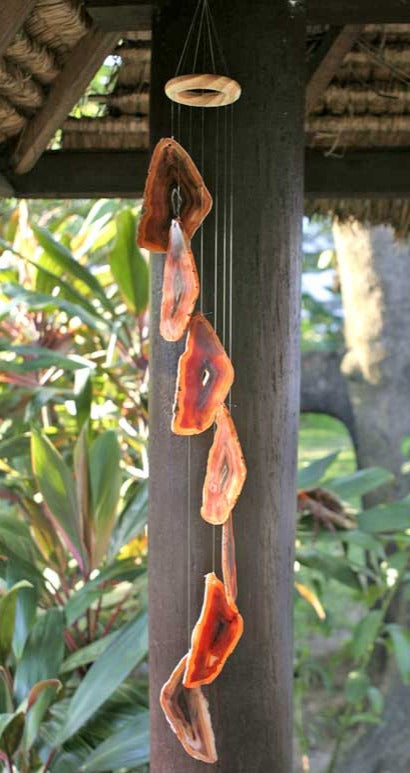 Brazilian Agate Mobile
$108.75
Guest price
$87.00
Member price
Overview
Description
The mysteries of the earth are revealed in the melodious chimes of this mobile from Guena. It is inspired by Feng Shui principles that tell of positive energies coming through as the wind announces its passing. The mobile is crafted by hand with agates that have been dyed to resemble the earth's fiery core. They are suspended from a pinewood hoop that hangs from a nickel-plated ring.
Pinewood, dyed agate, nickel-plated brass and nylon thread
0.47 kg
8 cm W x 88 cm H
Brought to you in partnership with NOVICA, our global artisan partner
THE STORY BEHIND THE PRODUCT
Artisan Organization: Guena
Country: Brazil
"In 1980 I left behind a career as an accountant and I dove into the artistic universe. I began as an artisan's assistant and a sculptor, and gradually I became fascinated with gems and crystals. Soon after, I was exhibiting my work at local art fairs and markets.

"Despite the fact my academic formation revolved around sitting behind a desk, now I can tell you I could never go back to a technical or bureaucratic job – I have more patience for art than for logic!

"Nowadays I travel throughout Brazil in search of crystals from Bahia, emeralds from Minas Gerais, agates from Rio Grande do Sul, and many other naturally-occurring wonders. I continuously learn new techniques and craft different products. I realize I have experienced a great personal transformation. Although many times difficult, I have learned that the path of an artisan is a path without return in which a person experiences beauty to the maximum, as well as moments of singular freedom.

"I know the Internet has a great potential, but I must admit I don't know much about computers – it's synonymous to a way of life I long left behind. I leave that to my children — they can take care of it for me. To me, working with you is an excellent opportunity for people to get to know the extraordinary work artists all over the world are capable of making. It is an excellent way for an artisan to exhibit his work without the confinement of borders.""