Our GlobeIn Premium Wrap
Hand wrapped with love, each gift comes with its own regional pattern, giving your gifts an international flair.
Premium gift wrap – $5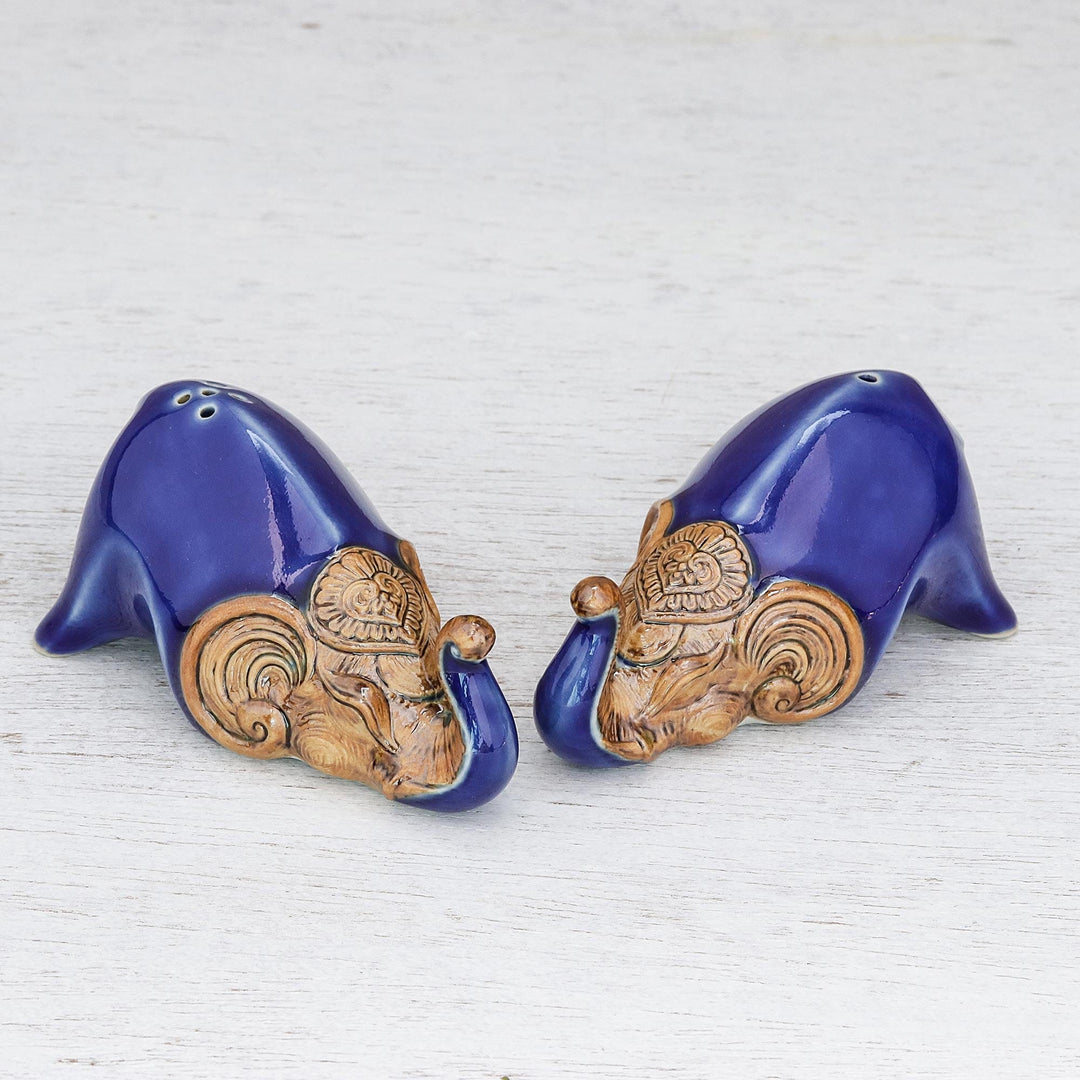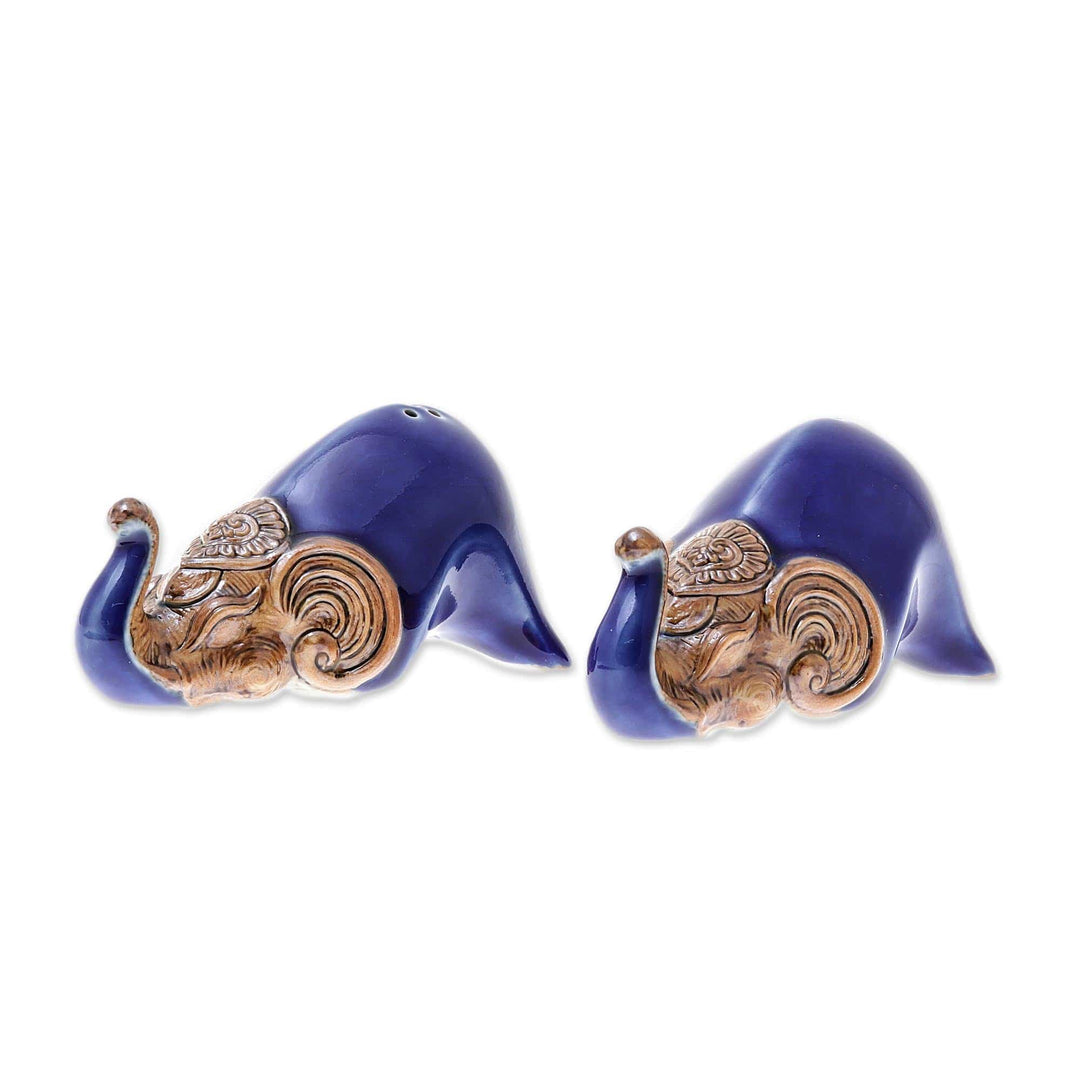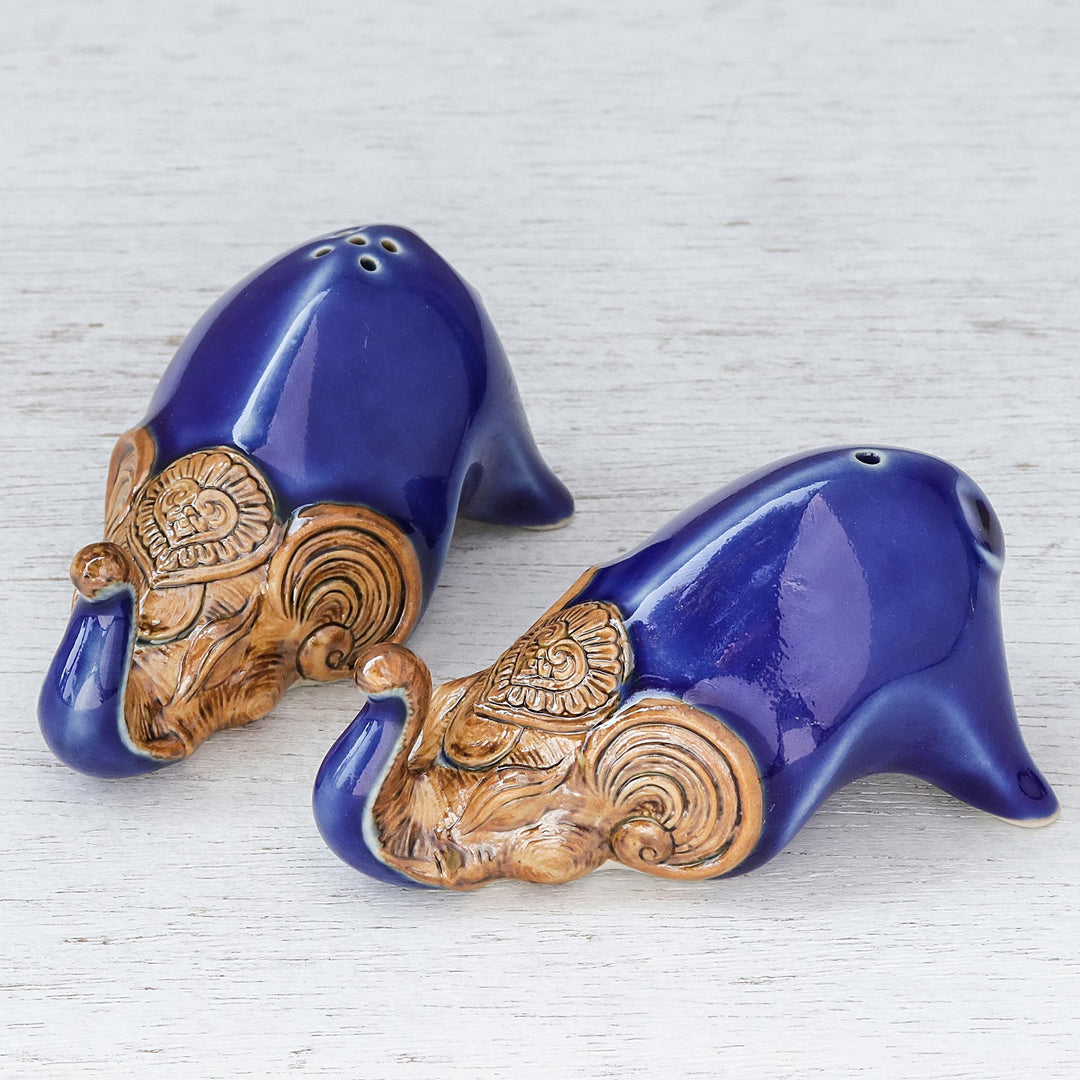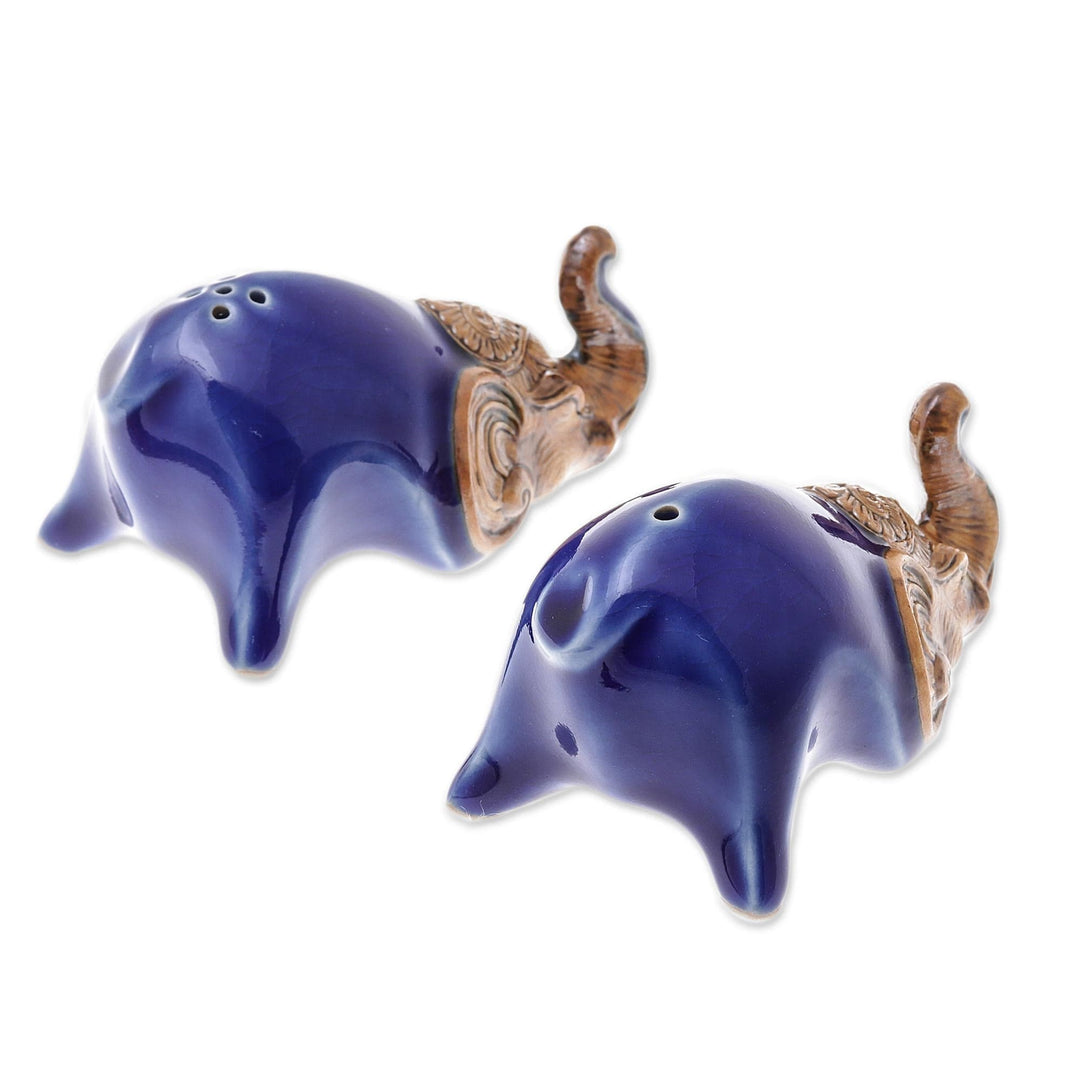 Blue Ceramic Elephant Salt and Pepper Shakers (Pair) - Crouching Elephants in Blue
$32.00
Guest price
$25.60
Member price
Overview
Description
Hunkered down in a crouched position, two cute elephants make a delightful addition to your kitchen. These creative salt and pepper shakers are handcrafted of ceramic, finished with blue and light brown glazes. Thai artisan Aunchalee Kaewduangtip creates this pair.
Ceramic
0.18 lbs
Each: 2 inches H x 2 inches W x 3.7 inches D
THE STORY BEHIND THE PRODUCT
Artisan Organization: Aunchalee Kaewduangtip
Country: Central America
"I was born in Chiang Mai in 1976. When I was in junior high, schools like the one I attended focused on practicing an art or craft along with our academic subjects, so I chose the ceramics class because it looked like fun. We learned to use a potter's wheel to create plates, bowls, vases or other containers in circular shapes.

"Today, I work in ceramics at home.

"I start by taking the clay from the rice fields and drying it in the sun. I then grind it to a powder, and strain out any sediment or weeds. The resulting powder is a very fine clay. To use it, I soak it in water. When the clay becomes sticky, I rub it before use and place it on the potter's wheel. We turn it by hand while shaping the clay with our hands, and my friends and I take turns either turning the wheel or molding the clay. Finally, when I have the shape I want, I put my pottery in the kiln. Then I wait with excitement, hoping it turns as we expected.

"I fell in love with ceramics so I studied for a vocational certificate in the art department. During my first year of college, I told my teacher that I wanted to major in ceramics rather than waiting for a suggestion. And for my high vocational certificate, I studied more complicated aspects of the work, such as the selection of soil, or using the kiln at different temperatures.

"Because my family didn't have enough money, I decided not to continue in the university. I began working with Duangkamol, another featured artisan, in her workshop. My duty was carving and decorating the pattern clearly before we put the ceramics into the kiln. I enjoyed working with her and I learned many things, but I still dreamed about crafting my own designs.

"After four years there, I bought a small gas-fired kiln, suitable for a family workshop, and began working on my own. I didn't know anything about sales or marketing, but it didn't concern me that much. Because I worked at home, it didn't take much money to begin and it was worth a try. I practiced using the kiln until the ceramics came out perfect. The first generation of my own designs included a hand-thrown container and another made with the slab method, in which we press clay into thin sheets, cut them to the desired shape then hand-stamp the patterns and join the pieces.

"This method was not popular because each piece came out a different size, but I find it charming. Many people suggested I use a mold, which could make every piece the same size and is faster. However, I insist on using the slab method because I want to touch every piece of my work. I felt I could pass my feelings onto my designs — my happiness in each one of them. Although they are functional containers, they can be pieces of art.

"I continue working at home, crafting vases, dishes or bowls on the wheel or with the slab technique. I use leaves and flowers to create the motifs, and I sometimes use a mold if the shopper requests it.

"Government programs in support of Thai artisans have sponsored my ceramics in a number of trade fairs, and this has helped me become known. I offer courses on pottery making to interested students.

"I hope this can help preserve the ancient art of celadon because we are using more modern machines than handiwork. I realized this when I found out that, after graduation, only three of my classmates in the ceramics department are working in ceramics.

"In the near future, I hope to obtain a clay conditioning machine to be able to create more pottery and faster. This would provide an opportunity for employment in the community, especially older people who can work from home. We'll be using local materials such as the leaves and leaf sheaths from sugar palm trees to fire our ceramics and make them a source of identity for this community.""