Our GlobeIn Premium Wrap
Hand wrapped with love, each gift comes with its own regional pattern, giving your gifts an international flair.
Premium gift wrap – $5
Authentic India Madhubani Painting of Krishna and Radha - Song of Love
$28.00
Guest price
$22.40
Member price
Available Premium Gift Wrap
You can optionally add Premium Gift Wrap into cart.
Learn more >
Overview
Description
In this romantic scene, Lord Krishna courts the beautiful Radha with the sweet notes of his flute. Devendra Kumar Jha recreates the loving scene in the style of the Mithila Madhubani paintings. The union of these two lovers signifies the union of the worldly and the divine.

As each painting is an individual creation, each is unique. Colors and motifs may vary slightly from that pictured.
Acrylic and natural dyes on handmade paper
0.10 lbs
15.3 inches L x 5.8 inches W
THE STORY BEHIND THE PRODUCT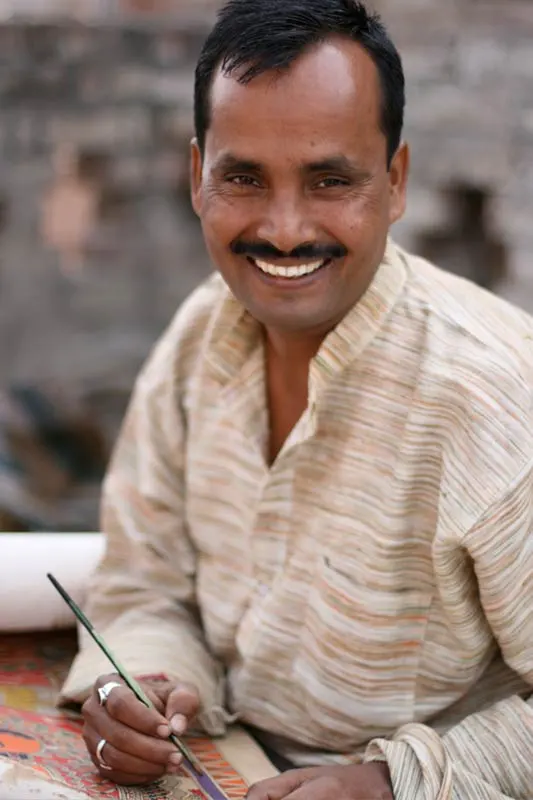 Artisan Organization: Devendra Kumar Jha and Family
Country: India
Latest Update

"Life is a journey, and Madhubani painting has always been a part of my journey. Today I can proudly say that even if I leave Madhubani painting, Madhubani painting will never leave me.

"It's been almost 19 years now since I first joined Novica. Over the years I have grown with Novica. When I joined as an artisan, I had just started painting. My association with painting was not very long then. But I had been painting since I was a child, as Madhubani painting is in my blood and my mother was my mentor.

"As I grew up and mastered the art, I decided to shift my base to Delhi from Jitwarpur, Bihar where I originally came from. After coming to Delhi, initially I had to face a lot of challenges. I participated in many local fairs and exhibited my paintings. This is when I happen to learn about Novica and the great opportunity it provided for upcoming artists and artisans across the globe. This was a good chance for me to show my talent to the world.

"It is not difficult for me to do this art form, as I have inherited it from my tradition and culture and it feels great and I take pride in it. The technique and tools for my painting have not changed at all. I execute my paintings by using natural colors on handmade paper like I did earlier, and use brushes, sharpened reeds and pen nibs for drawing the designs and figuration like before.

"When I joined Novica, I had a lot of liabilities, but now I am living a stable and comfortable life. I have 5 children. My elder daughter who is very much interested in painting learned the art from me, and my wife who also knows the intricacies of Madhubani painting helps me in my work. I feel proud that coming from a small village, I could establish myself in the world of painting. I get immense pleasure and happiness while executing the paintings. Each painting has a story to tell.

"Earlier when I joined Novica, I was concentrating on doing only Madhubani paintings. But now, with the passing of time, I create journals, albums, photo frames, greeting cards and many more products with my paintings on them. Now I also do Madhubani painting on silk scarves, ties and fabric belts. I create these products as per orders from my patrons who love and appreciate my art form.

"Apart from receiving the State Award for Excellence in Madhubani paintings and the National Award, I have also received many other awards, like an award from the Kala Sanskriti Mantralaya (Ministry of Culture) in 2016, an award from the Gramin Vikas Vibhag (Ministry of Rural Development) in 2017, and awards from NGOs and the Development Commissioner (Handicrafts).

"Every year I participate in many exhibitions conducted by the Government of India which is held in Bangalore, Delhi, Mumbai and Kerala along with many other parts of the country. I also participate in exhibitions held abroad like Milan, Malaysia and Sri Lanka, organized by the Government of India.

"I have conducted Madhubani painting workshops in many schools and colleges in and around Delhi. Recently I did a workshop in one of the blind schools in Delhi, which was amazing and a unique experience altogether. I also teach Madhubani painting to 15 students assigned by the Government of India for 6 months, for which I receive a fixed amount. I also teach whoever is keen to learn the Madhubani art form and approaches me for the same.

"It has been a wonderful journey for me so far and I am thankful to all Novica customers for liking and appreciating my paintings. I wish to spread the beauty of traditional Madhubani art to the whole world."

Original Artist Story

Join us in congratulating to Devendra and Family for receiving the State Award for Excellence for their Madhubani paintings! This award is conveyed by the Government of Bihar for year 2012-2013. Along with the State Award, he has also received the National Award for his Madhubani painting in the year 2013 conveyed by the president on behalf of the Government of India.

"I was born in 1969 in Jitwarpur, Bihar - an eastern state in India. My mother, who is a state award winner in Madhubani, the painting style that I use, was my mentor. Under her supervision and guidance I have emerged as an artist capable of creating these paintings.

"In this school of art we do not make preliminary sketches, nor is our work planned. We simply pick up our brushes and create. A vivid and creative imagination is essential in this style of art, for while motifs may be similar, no two paintings will ever be found to be the same."

Mithila, (in Bihar) is a scholastic and cultural center in India that traces its lineage of arts from epic times. Mithila paintings – alternately called Madhubani paintings – are a folk tradition kept alive by women in northern Bihar. They depict events from epic, mythology and traditional designs on their floors and walls of their houses using crushed wet rice and natural colors. From this age old tradition stemmed the practice of drawing Mithila paintings on a canvas of hand-made paper or pure mulberry silk fabric using natural colors and fabric dyes. Brushes, sharpened reeds and pen nibs are used.

Devendra Kumar Jha participates in numerous exhibitions conducted by the Government of India throughout the country. He also participates in exhibitions held abroad like Milan, Malaysia and Sri Lanka organized by the Government of India."