Our GlobeIn Premium Wrap
Hand wrapped with love, each gift comes with its own regional pattern, giving your gifts an international flair.
Premium gift wrap – $5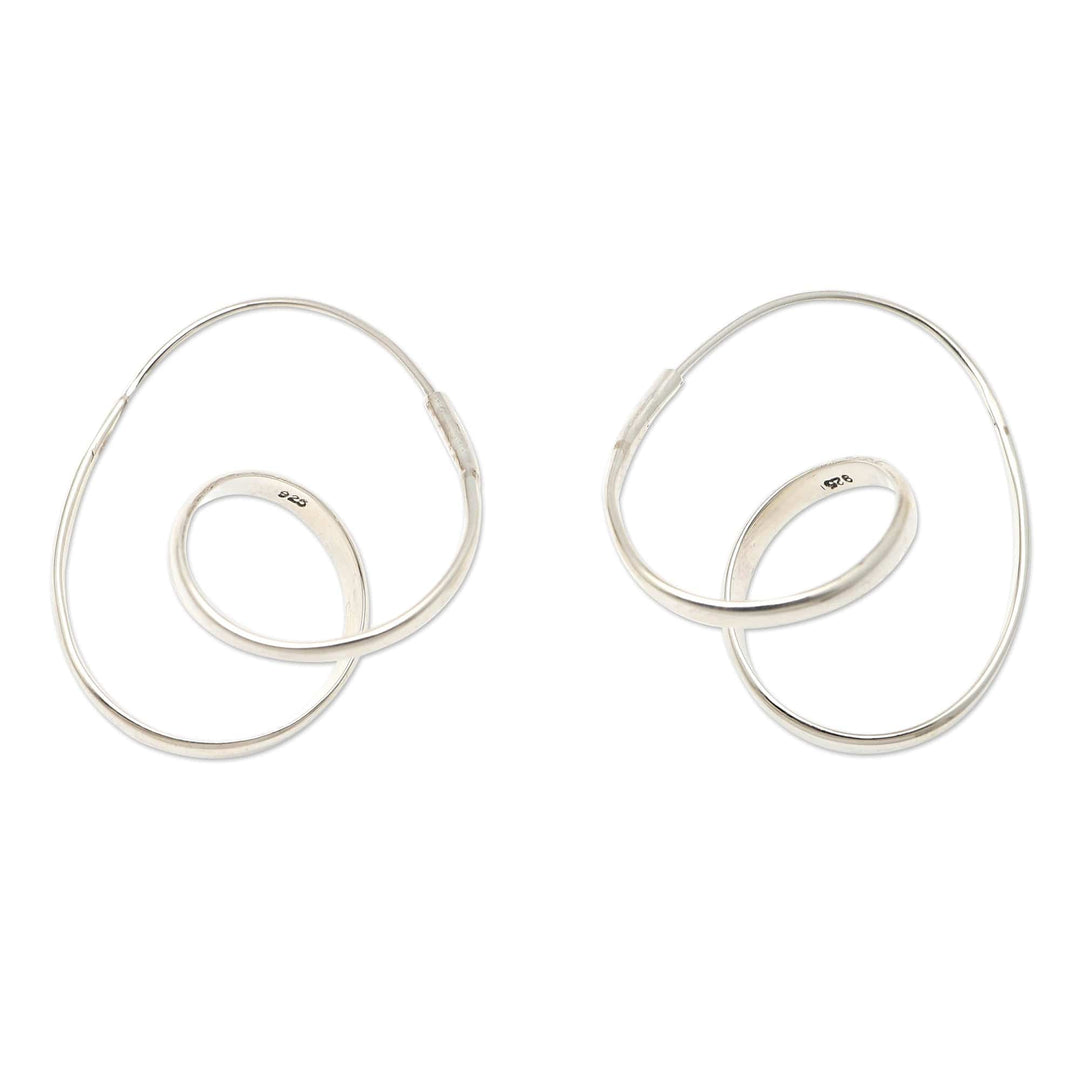 Sterling Silver Hoop Earrings - Roller Coaster Ride
$41.00
Guest price
$32.80
Member price
Available Premium Gift Wrap
You can optionally add Premium Gift Wrap into cart.
Learn more >
Overview
Description
Inspired by the fun of a roller coaster ride, Kadek Aridyah's minimalist silver earrings make a creative addition to your jewelry box. The Balinese artisan hand crafts the pair from a delicate loop of sterling silver with a high polish finish that shines.
925 sterling silver
0 oz
1.4 inches L x 1.3 inches W x 0.7 inches D
THE STORY BEHIND THE PRODUCT
Artisan Organization: Kadek Aridyah
Country: Bali and Java
"I was born in Denpasar. My parents used to work as silversmiths, and my mother supported us from creating designs and shaping them into crafts. They would sell them directly to foreign tourists. The proceeds from work were used for our meals and school fees so we could have a comfortable place.

"My mother is from Denpasar City while my father is from Gianyar. They met when my father chose to continue his education in Denpasar. After a dozen years as a couple, they got married. I am the younger of two siblings. My childhood was filled with play activities. Sometimes Mother scolded me for spending more time playing than helping her with work at home. My mother said I was a silly and mischievous child. Once my mother bought me a set of cooking toys, but what I did was use the toy pot on the stove burner! Thankfully there wasn't a fire. It's something I can't forget, even now.

"From elementary school until college, I studied in Denpasar. I started working when I was 10 years old. I was often involved in the work my father and mother did. When they produced jewelry, I would help with the packaging and put size labels on the rings. But it was very useful for me, because indirectly that's where I started to be interested in pursuing this job. So slowly I learned to design jewelry. Since I was little I watched my parents pursue this profession. They cooperated with each other, starting from the process of making it to selling it to tourists. I learned a lot by watching and started trying to make my own designs. My mother taught me a lot about designing jewelry, while my father taught me how to sell it and communicate well with potential buyers. It's a perfect combination.

"Since childhood I have loved to experiment in the kitchen, from learning to make fried rice to various snacks. I think cooking also has a lot in common with designing things. It's just that what is judged is not only the appearance, but also the taste of the dish. Cooking is also a combination of ingredients, composition, taste and appearance.

"In 2020, I experienced the toughest time in my life. My mother left us forever after 5 months of battling stage 4 colon cancer. It was really hard for me, as an unmarried daughter, to have been abandoned by her mother. I felt it was unfair, when my friends who are married and even have children can still be accompanied by their mother. My heart shattered into pieces. I feel that I still need the support of a mother, both in my personal life and in my career. Moreover, my mother was my role model in studying the world of art. However, before she died, my mother gave a message that she entrusted everything to me, family responsibilities, our family temple and also our craft business. I feel my shoulders are very heavy, when I am not married and do not have a life partner; and the burden I have to carry seems to be beyond my limits. But I tried to be strong when I saw my father, who also lost his wife. Not only did he lose his companion, but he also lost his work partner. I have to get up and fight again for this family.

"I always remember the moment in November 2019, when my mother and I were selling at a monthly event on the beach. The weather that day was so hot and scorching that we were sweating profusely. But the opposite happened later that night, when we were getting ready and packing up to close our booth. Suddenly the wind blew hard and it rained very heavily. We quickly packed our suitcases and folded our table. My mother and I became the spectacle of the people around us. They wondered how we could do all that alone in the pouring rain and strong winds. We walked together towards the parking lot soaking wet. Instead of being sad because we were wet in the rain, we laughed because we looked like wet mice. We make the moment as a memory in search of fortune. Always be happy, no matter the situation. Because that's life--sometimes up, sometimes down. Always be grateful in any situation. The sentence that I always remember from my mother is, "Always keep trying under any circumstances". Even after my mother died, these words are what I will always remember to restore our family's economy.

"In designing I am inspired by everyday life. Like when I see trees, animals, flowers, or even when my mother bought me clothes. The motifs in these clothes I used as inspiration in making works. Of the many products I have worked on, I consider the Mask Pendant the most challenging for me. A mask is one of the works of Balinese art that is usually used during dance. Various types of masks can have different meanings from the expressions on the mask. The selection of the right quality gemstones can embody the character of the mask itself.

"Balinese culture is also one of my sources of inspiration. I use various types of carvings in the temple to design jewelry. During the production process I am assisted by 3 women who are my family. I am also assisted by 2 male artisans and 1 female handyman. My mother and I would manage their work. The life as a craftsman is quite dynamic, so we divide the work quickly as needed. For the main materials I use .925 silver, gold, gems and pearls. In our village, Celuk, we have a silversmith's cooperative that sells basic raw materials.

"As a person who works in the arts, I like everything neatly arranged. Even my friends say I am a very neat and clean person. I really like beauty and order. I got to know Novica from fellow craftsmen in my village when I was in economic difficulty to support my mother who was sick. I hope that in the future Novica can help restore my family's economy after my mother's death." "