Our GlobeIn Premium Wrap
Hand wrapped with love, each gift comes with its own regional pattern, giving your gifts an international flair.
Premium gift wrap – $5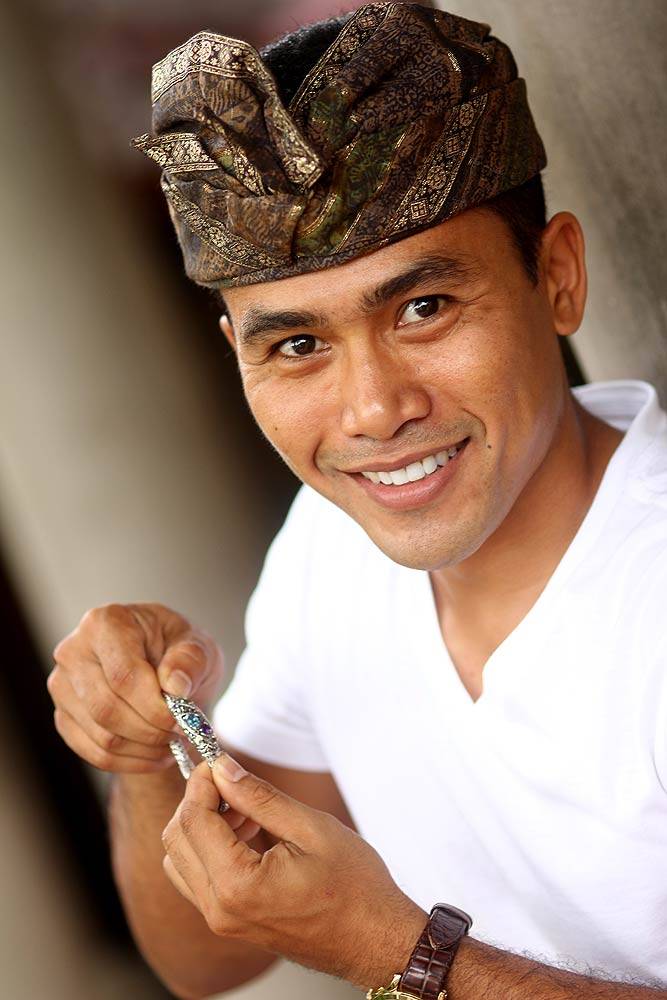 Sterling Silver Cuff Bracelet - Entrancing Fern
$162.00
Guest price
$129.60
Member price
Available Premium Gift Wrap
You can optionally add Premium Gift Wrap into cart.
Learn more >
Overview
Description
This exquisite sterling silver cuff bracelet is presented by Kadek Hendra of Bali. The interior of the bracelet is intricately engraved with a sinuous fern motif, while the exterior features a fine geometric motif with oxidized accents. A cleverly concealed hinge allows you to take the cuff off and put it on easily.
925 sterling silver
0 oz
5.8 inches L (end to end)
THE STORY BEHIND THE PRODUCT
Artisan Organization: Kadek Hendra
Country: Indonesia
"I was born in Bali on December 15, 1980. My parents are silversmiths.

"They taught me to work with discipline and to do it seriously, with full responsibility. This lesson helped form my character, and I will teach my children the same things.

"I became interested in this craft when I realized that sketching my own designs and giving them character was really important. At first, it felt like a heavy responsibility, but then I got hooked on design. I have to keep sketching to pull the ideas out of my head, and it's a lot of fun.

"The best teacher I have is my father. He was a tough teacher because he always believed in my ability and my capability. That means a lot to me.

"My best friend describes me as a religious guy, a hard worker, and a perfectionist. Sometimes my desire for perfection makes it difficult to have a lot of friends.

"I find endless inspiration in our great natural panorama and the living creatures that surround us in Bali — animals like frogs and swans, plant life such as trees and bamboo. The traditional art motifs of Bali are also a great inspiration as I blend them with modern design.

"I work with silver, gold, gemstones and pearls, and make them into precious jewelry. The character of my design is totally different than that of other jewelry in my town. I give soul to my designs, therefore they have great character and look nice on everyone who wears them. It's challenging to sit down with clients to hear what they want and then transform their ideas into jewelry. "I'm married and we've been blessed with two lovely children. I will give them the best education possible and will not push them to follow what I do for a living. Rather, I will let them choose their own path with joy and happiness.

"It wasn't easy for me to leave home and my big family to start out on my own, but they all supported me in the decision. My best friend and my best assistant both supported me, too. Because I'm the third generation of a silver crafting family, I took a lot of skills with me to my own workshop.

"For the first three years, I designed for one client and he was a huge help to me. So it was another big step when I decided to work on my own, to stand on my own two feet. I wasn't sure I'd be successful and I made many plans with my lovely wife in case my workshop was a failure. Finally, I found the bright way. "Just like other Balinese people, I hope that our culture and tradition will live on through us. Ours is a simple way of life where we wake up in the morning and have time to play, to talk to our neighbor, perform ceremonies in the traditional way by helping each other. It's a simple way of live that doesn't involve money too much.

"To be a master in this craft, I try to never give up and believe I am an artist, so whatever I make is a piece of art with great value. My wife helps me. We are a great couple in the world.""