Our GlobeIn Premium Wrap
Hand wrapped with love, each gift comes with its own regional pattern, giving your gifts an international flair.
Premium gift wrap – $5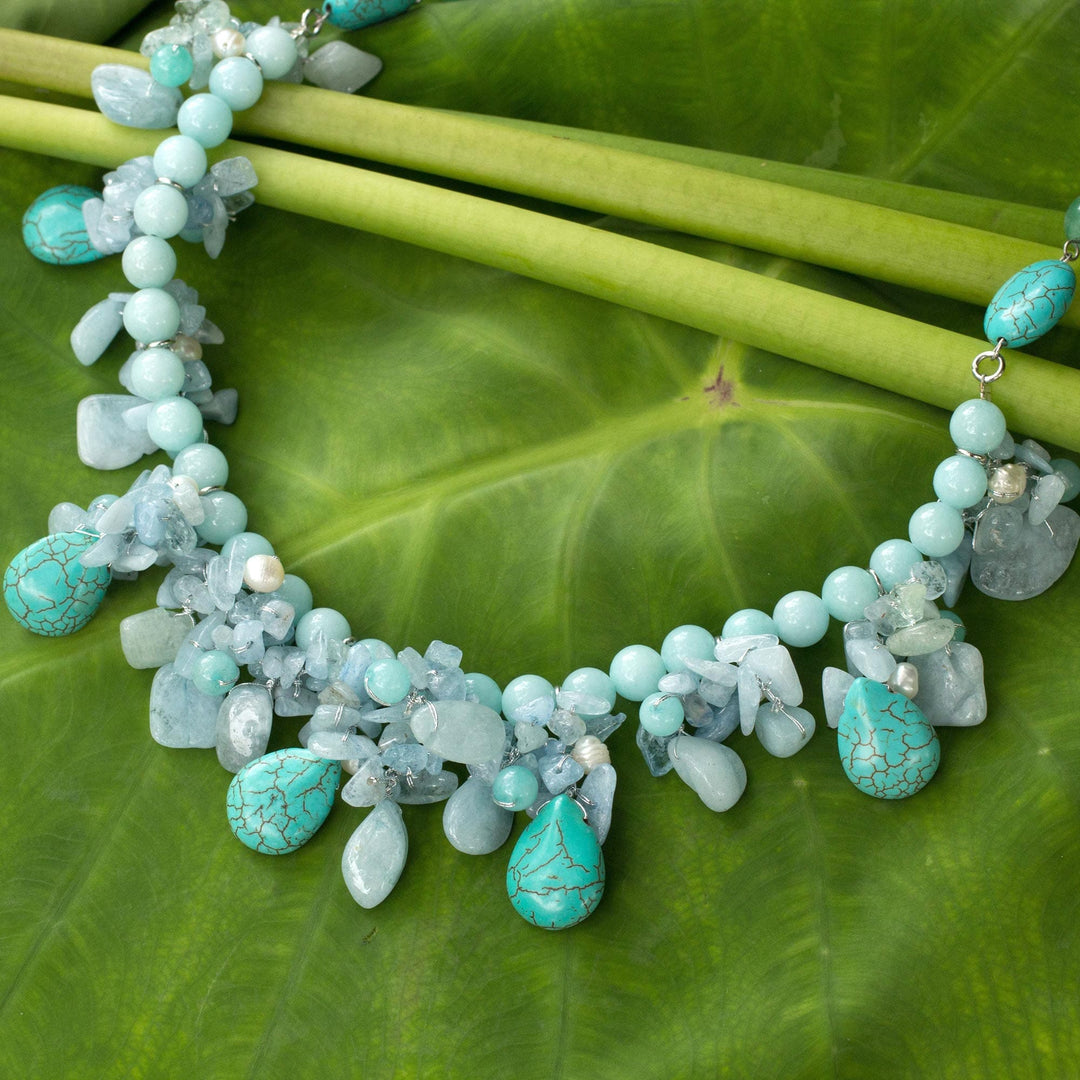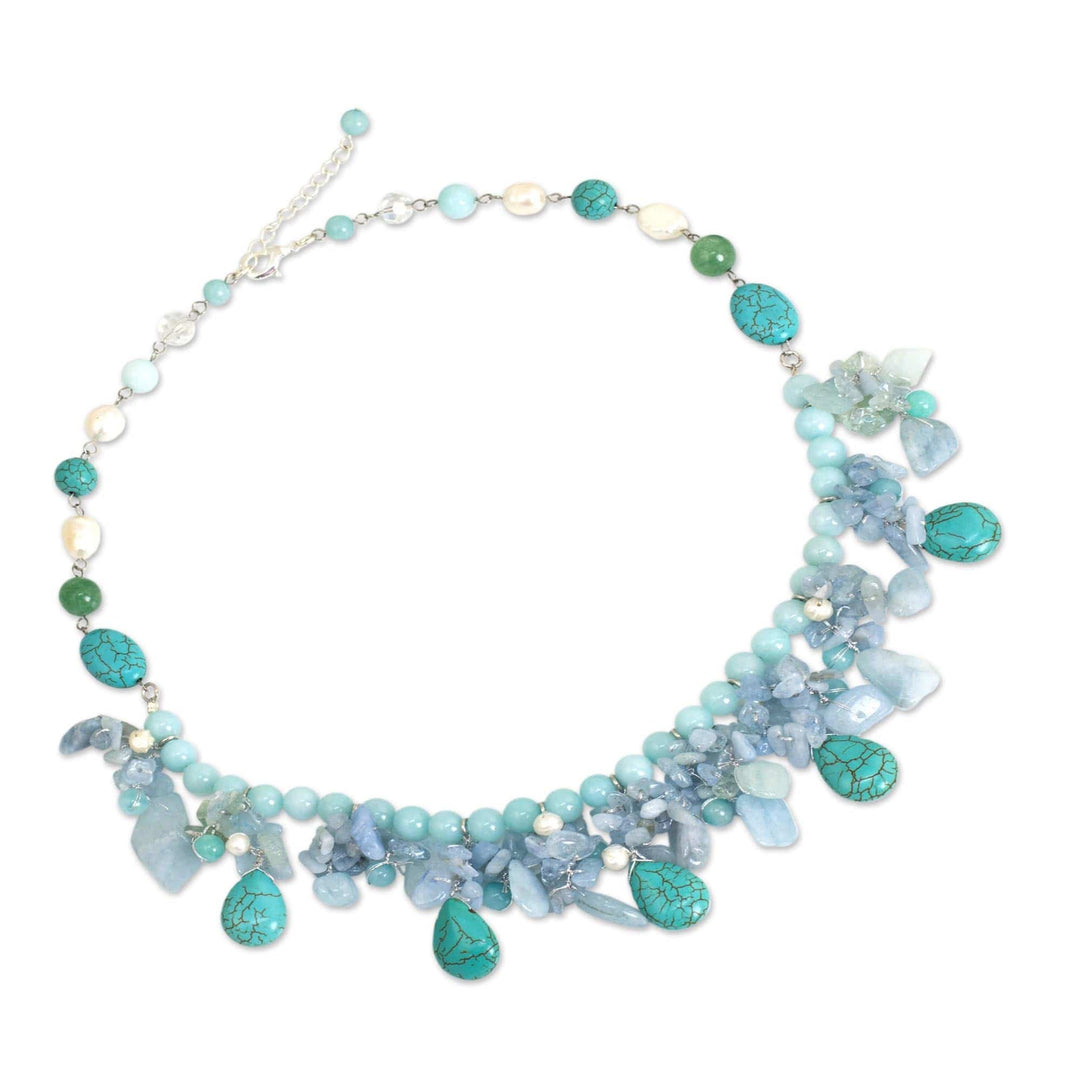 Artisan Crafted Pearl Aquamarine Blue Calcite Necklace - Cool Beauty
$54.00
Guest price
$43.20
Member price
Available Premium Gift Wrap
You can optionally add Premium Gift Wrap into cart.
Learn more >
Overview
Description
Knotted by hand on silvery strands, gemstones cluster in an opulent necklace. Nareerat combines blue calcite with quartz, aquamarine and luminous white pearls.

.925 Sterling silver plated brass extender and clasp
Cultured freshwater pearl, dyed calcite, dyed quartz, aquamarine, sterling silver plated brass
0.10 lbs
Necklace: 20 inches L x 1.6 inches W
Extender: 1.6 inches L
THE STORY BEHIND THE PRODUCT
Artisan Organization: Nareerat
Country: Thailand
Update (August 2021)

"Working with you has made me realize that my inner passion is in creatively crafting jewelry. I enjoy creating new designs. I have great passion for the process. And, I love to explore new things, new methods.

"I have opened a small workshop to create handmade jewelry made of gemstones, pearls, glass and many other materials. My work mostly emphasizes the beauty of nature and colors. There are four skilled artisans who have worked regularly with me for a long time, and everyone loves what they do.

"Now I'm able to offer work to more than 20 women in my community, both on a permanent and temporary basis. Some of these people are security guards, students, homemakers and company employees who work nearby. They seem happy with the way we work together. It's a way to earn a little bit extra to their usual jobs.

"Besides handmade jewelry, I would like to try creating other things such as tabletop items, household decor and decorative items from the existing materials I've been using in making jewelry. I think it could be fascinating and fun.

"From my income earned over the past ten years, I have invested in a property. I bought a townhouse next to my office. I plan to make a guest accommodation where I will offer a small class in crafting jewelry, from basic to advanced.

"I think my jewelry designs may not be trendy or fashionable forever. But what I want to maintain is the delicate process using manual skills. I would like to keep this handmade art heritage forever, which I know is difficult in this digital age.

"I want like to thank you for the opportunity to present our jewelry to the world since 2011. I feel proud that I have taken part in helping our community."

Original Artisan Story

"My name is Nareerat Tansuwansophon but you can call me Lek. I was born into a Catholic family in Trang province, in southern Thailand. My mother passed away after I was born. I am the youngest of six children and have three brothers and two sisters. My family members are merchants. My house was next to the church so I participated in many activities there. My family believed in God, just as I do.

"In 1982, after I graduated from grade nine, I moved to Bangkok. There I was a secretarial major at the Convent of the Holy Infant Jesus School, where I studied for three years. Then I worked as a buyer at a foreign trading agency until 1992 when an enamel company asked me to work in their marketing department. I thought it was a good opportunity so I worked there for three years before I quit to get married.

"My hobby is origami, folding papers into many shapes. In 1996, my first daughter was born. I named her Ice. While I was pregnant, I spent all of my time doing origami. It made me get better and appreciate art. After I had some time off for being pregnant, I went back to work for another three years until I had twin boys in 2000. They are H and OAT. I quit working again when they were born and devoted all my time to them.

"When I moved to a new house about a year later, I was so bored. I wanted to have my own small project so I looked for products at the big Bangkok market. I liked several kinds of jewelry so I bought some of them to sell at my sister's shop. The feedback was great, so I decided to design my own jewelry in 2004.

"I prefer to design and craft it myself. I wanted to make something different from what you find in the market. So I bought a book about jewelry making processes. I started from the beginning. It was hard and it took me a long time to make the first piece. When I knew the basics and the process, I started to design by myself. I practiced for long time until I got better. Finally, in September of 2005, I opened my own small workshop.

"I have faith and believe in God, and I want to look after my three children so they grow up to be good people. I also want to make jewelry. At present, I live with my husband and our children, and I manage my jewelry project by myself.

"The greatest challenge in my life may not be exciting, but it's challenging to me. It is making jewelry and presenting my ideas through my designs.

"One of my best memories is when the doctor told me that I was expecting twins. It was the best gift from God. And one more good memory is when I sold a necklace I named 'Green Silk Curtain' to my first customer. It was the first necklace I designed and crafted by hand.

"I love all of my work. I am satisfied and happy when I see my others appreciate my designs. This inspires me to make more beautiful jewelry.

"To create my jewelry, I like to sit in the middle of the materials – colorful stones and pearls in many shapes. Nature is a reference for my designs.""