Our GlobeIn Premium Wrap
Hand wrapped with love, each gift comes with its own regional pattern, giving your gifts an international flair.
Premium gift wrap – $5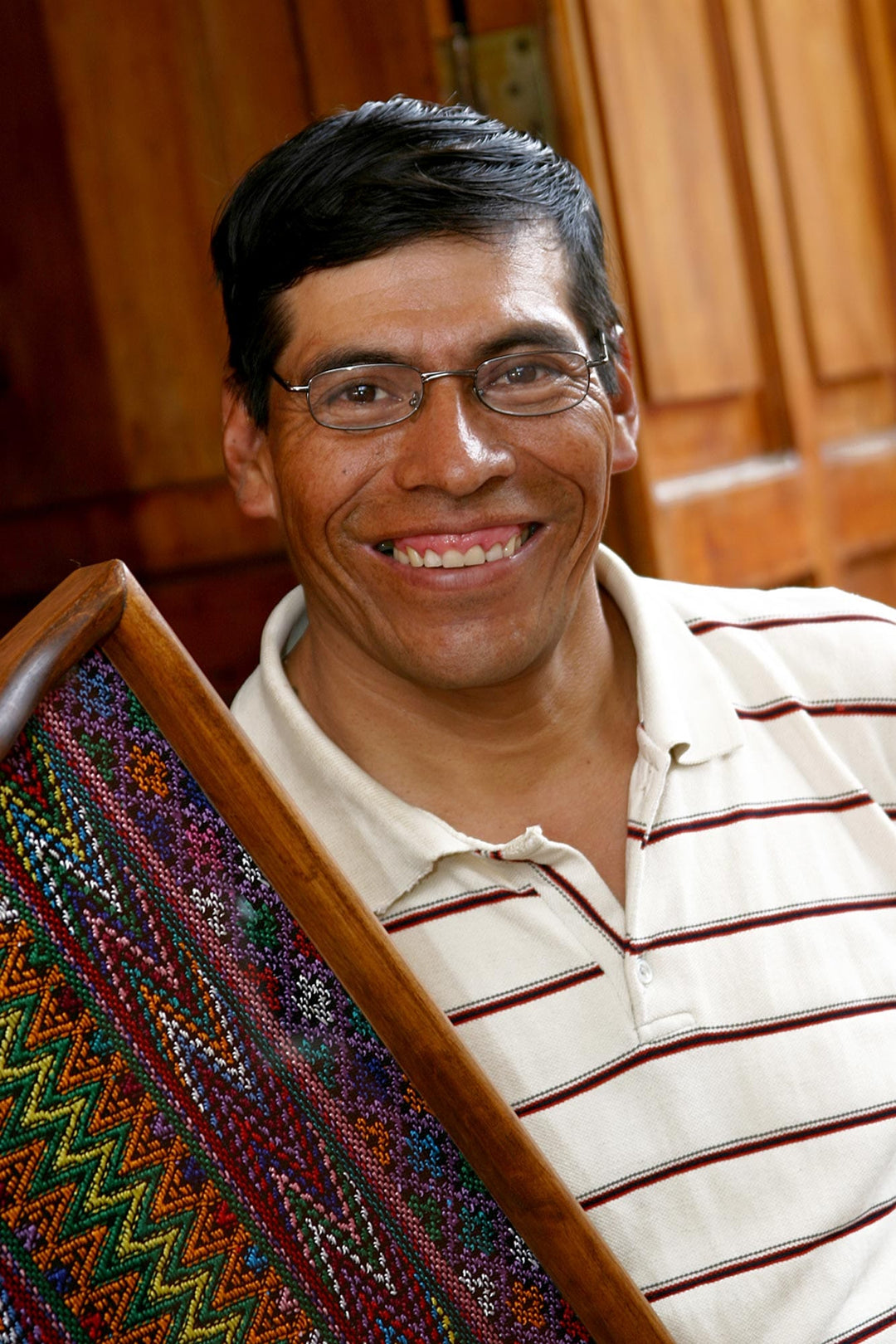 Artisan Crafted Heart Shaped Wood Jewelry Box - Heart of Blue
$73.00
Guest price
$58.40
Member price
Available Premium Gift Wrap
You can optionally add Premium Gift Wrap into cart.
Learn more >
Overview
Description
From Patricio Coroy, this handsome box is crafted from Guatemalan alder wood. The wood's light tones receive a dark stain, and the coffer is shaped like a heart. Colorful cotton fabric, handwoven on a backstrap loom, adds beauty to this design.
100% cotton and alder wood, brass hinges
0.47 lbs
2.4 inches H x 7.5 inches W x 7.8 inches D
THE STORY BEHIND THE PRODUCT
Artisan Organization: Patricio Coroy
Country: Central America
"I was born March 17, 1962 in a small village. When I was 12, I began to work in wood. I only made it through third grade of primary school. I didn't finish school because my parents needed help with their work. My father worked at sawing lumber and I helped him. In those days, we didn't have any power tools and everything was done by hand.

"For about ten years, I worked with my father sawing wood. We did this until there were no more trees around our village. When the trees were gone, we didn't have work anymore as there was no more lumber to cut.

"So I started looking for something to do and I bought some wood out of curiosity. I made a violin with it. I began crafting violins and sold them for the next five years, but I also enjoyed playing them.

"In 1990, I got married. Soon afterward, I began a three year course on organic farming and sustainable development that was taught in my village.

"With the course organizers, our Rabbit project was born. The name comes from a children's story where, thanks to reforestation, rabbits and other animals of the forest had a place to call home. Also, in the Maya world, the rabbit is the nahual of abundance and prosperity.

"The idea of this project was to reforest the village and in this way, be able to give jobs to the people. Because we had cut down all the trees and hadn't planted more, and we didn't wait for new trees to grow. The project's objectives were to protect the environment and produce wood in a sustainable manner.

"Then we got the idea to look for a commercial outlet for the lumber scraps and we began to use the smaller branches and trunks to create works of art, candleholders and trays to be able to use the whole tree. There used to be a lot of waste because we only used the main trunk, so this is a different way to take advantage of the wood.

"We sent all the samples we made during the course to the capital to sell. That helped a lot because we began to sell our designs and were able to earn enough to continue supporting our families.

"In 2002, this forest project won an award from the World Bank and the Soros Foundation of Guatemala. We used the money to set up a carpenter shop with power tools, since we got electricity in our village in 2001. "With the award money, we also extended the reforestation to two more communities and a forest consultant was hired.

"We formed an association of ten producers from the community in 1994. Today there are 273 producers from 12 communities in the region. I'm the president and I spend most of my time designing new products so the association members will have new items and we can sell more.

"I really enjoy designing new items with wood. We are fortunate that a university sometimes sends designers to work with us and I watch how they create a new design. I like this a lot and have learned to create different pieces over time. I've also learned new techniques from them. And I also get ideas from the Internet, then modify them because I don't like to copy.

"Many people, including a Dutch NGO, the embassy of Norway, the Guatemala Association of Exporters and the National Forest Institute have believed in our project. So we continue to grow, and now we also have a textile project for 225 women – they are the feminine side of the association!""