Our GlobeIn Premium Wrap
Hand wrapped with love, each gift comes with its own regional pattern, giving your gifts an international flair.
Premium gift wrap – $5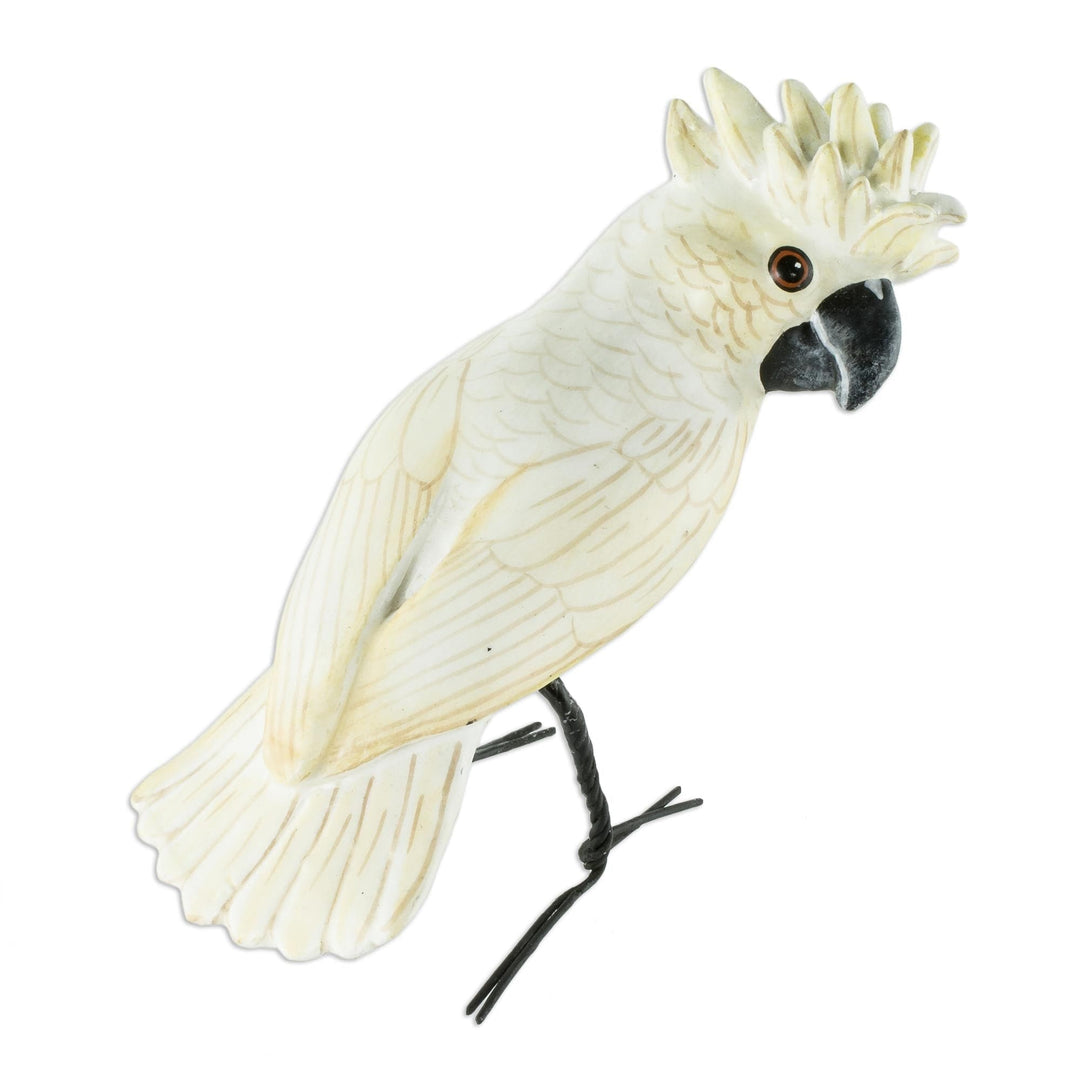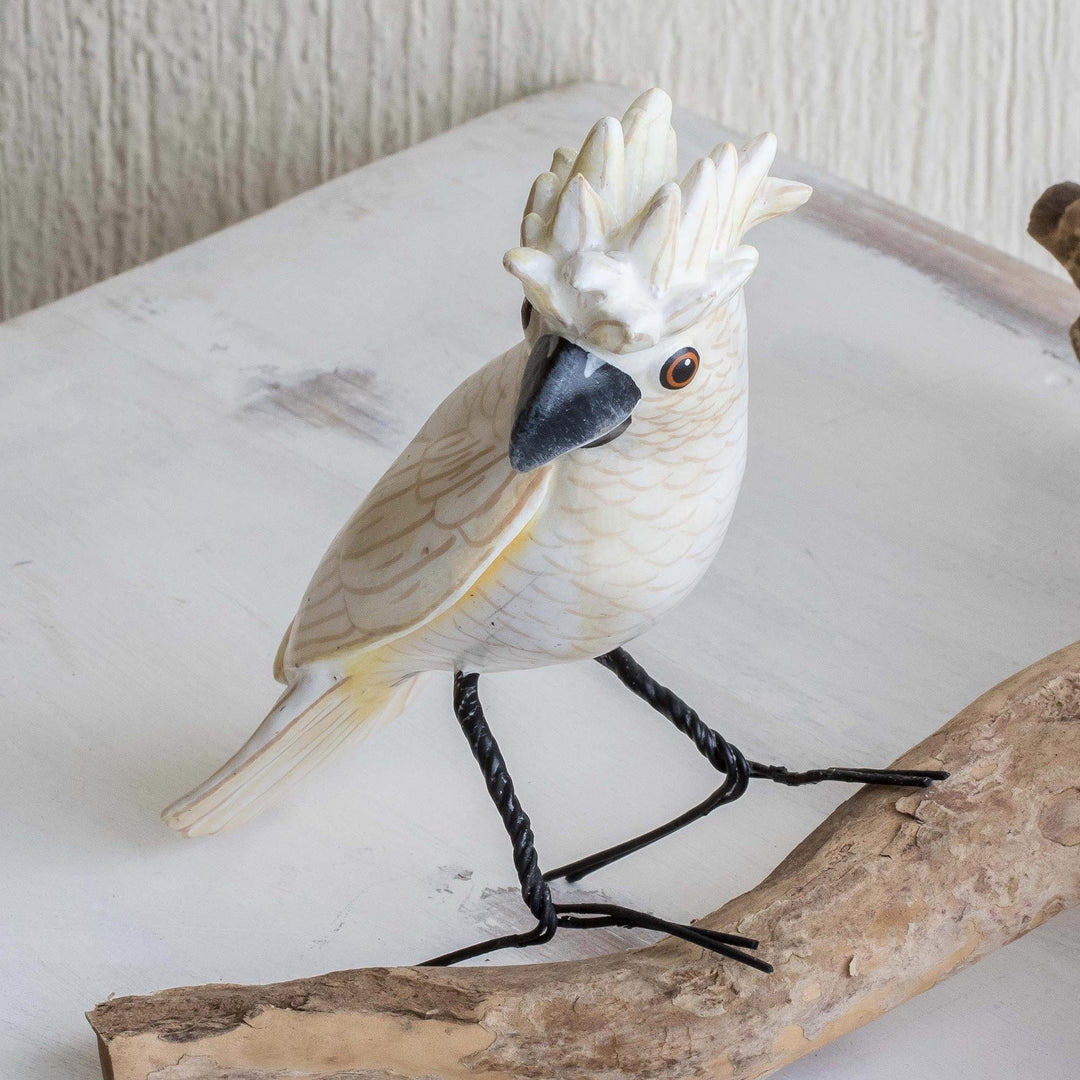 Artisan Crafted Ceramic White Cockatoo Sculpture - Umbrella Cockatoo
$65.00
Guest price
$52.00
Member price
Available Premium Gift Wrap
You can optionally add Premium Gift Wrap into cart.
Learn more >
Overview
Description
Called the Umbrella Cockatoo because of its substantial and distinctive crest, the white cockatoo is native to the islands of Indonesia. Guatemalan artisan Mauricio Morales creates its likeness in ceramic, painting it with exquisite detail. The metal legs can be bent around a tree branch for display, if desired.
Ceramic, aluminum wire
0.23 lbs
6 inches H x 2 inches W x 4.1 inches D
THE STORY BEHIND THE PRODUCT
Artisan Organization: Mauricio Morales
Country: Central America
Latest Update

"I joined Novica in 2017. Thanks to Novica my income has improved, and I have been able to pay for my children's school. Before, it was very difficult for me to keep up with the payment of the basic services of the house and the payment of debts that I had to incur to keep my family afloat. But with the help of Novica, everything at home has improved.

"This year in the celebration of Artisan's Day, Novica Central America awarded me for growth in sales. I had a 110% growth from 2020 to 2021. And apart from this recognition, I have received very good comments and congratulations from other fellow artisans. I am very happy because God has rewarded me with such a beautiful talent and because my products are sold, and customers like them. Novica makes up a great work team and without the support of each one of them, we would not be able to fulfill ourselves as artisans. "

Original Artist Story

His name is Mauricio Morales. He was born in the beautiful city of Antigua, Guatemala. From the time he was a child, he suffered life's adversities. His mother abandoned the boy, leaving him with his grandmother.

"She was like my guardian angel," the artisan says. "She took care of me from the first moment I was with her. She wrapped me in her arms. Thanks to her, each day filled me with fortitude. No matter how tough things were, she always knew the right words to say."

His grandmother was young Mauricio's source of inspiration. He admired her hardworking and perseverant lifestyle. She taught him many skills, from carpentry to cooking. They lived in a humble little house that she built with great effort. Today, this is Mauricio's home.

In school, he divided his time between work and study, and this was when he began to work with a well-known ceramic artisan in the city. As time went by, Mauricio gained experience.

In the ceramic workshop, he met his wife and their love began to blossom when they were both quite young. "Meeting Mauricio is the best that has happened in my life. I had always lived well. My parents gave me whatever I wanted. It's been a blessing to know someone who could teach me to appreciate the good things in life. My husband is a loving father who gives his all for his children. He is demanding but a fighter and tenacious. Thanks to him, I learned to do many things I didn't know how to do," she says.

"I know I can be very demanding with my children sometimes," the artisan says. "But I want them to know the real meaning of life, that life is made up of moments. That we must struggle to achieve our dreams. That we shouldn't expect things to come to us. I feel so very fortunate to have the family that God has given me. They are my strength," Mauricio says, with tears in his eyes.

Little by little, he has perfected his work, which has been recognized in many parts of the world. His realistic ceramic bird sculptures form a part of many collections.

Mauricio's greatest dream is that his children learn this art. He wants to be able to give them a college education. Above all, he wants them to become good people.""