Our GlobeIn Premium Wrap
Hand wrapped with love, each gift comes with its own regional pattern, giving your gifts an international flair.
Premium gift wrap – $5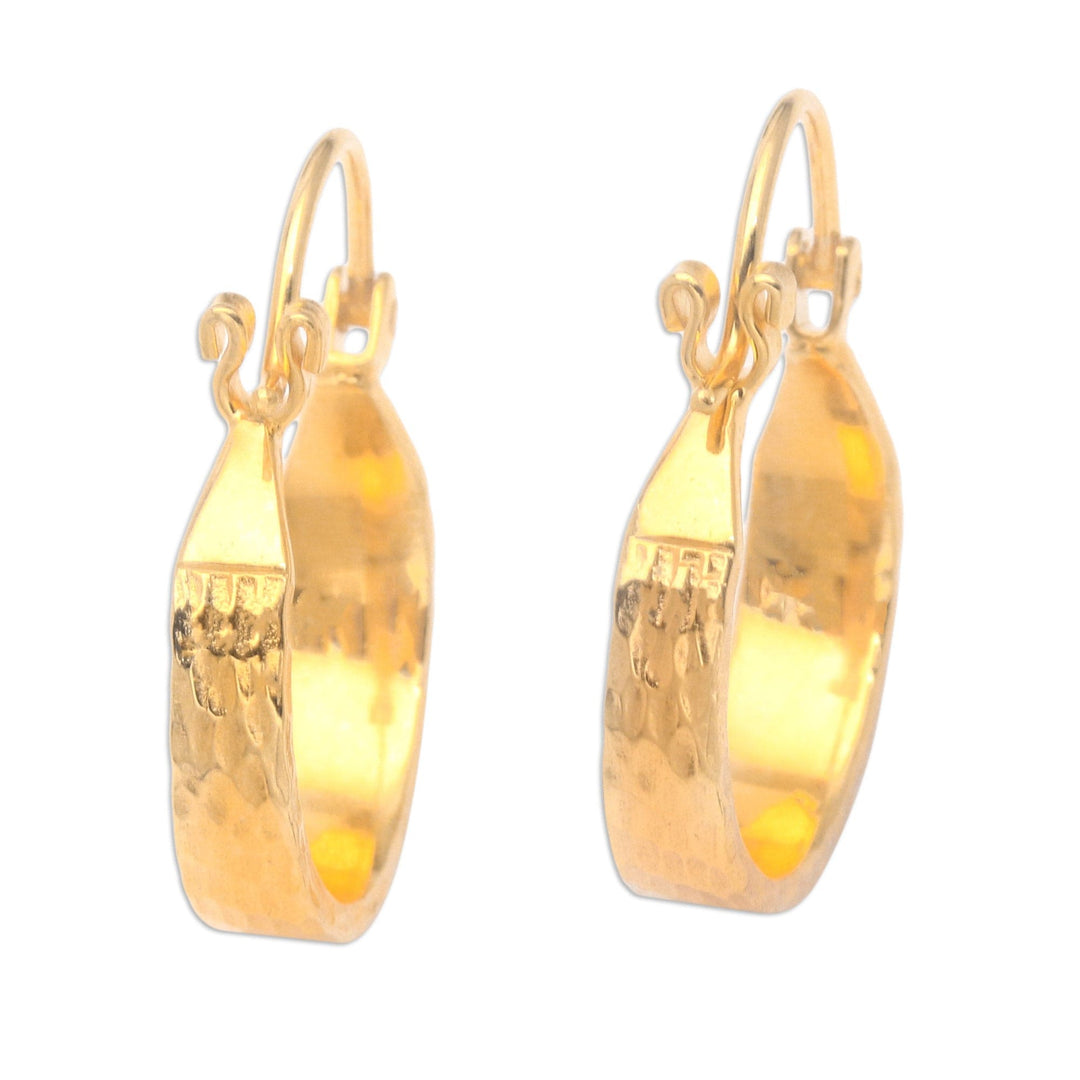 18k Gold-Plated Hoop Earrings with Hammered Finish - Dazzling Elegance
$41.00
Guest price
$32.80
Member price
Available Premium Gift Wrap
You can optionally add Premium Gift Wrap into cart.
Learn more >
Overview
Description
Balinese artisan Dewa Nyoman Oka brings us a sublime creation made from 18k gold-plated brass. With a hammered finish, these hoop earrings have a dazzling look that will complement any outfit.
18k gold-plated brass
0.06 oz
0.9 inches L x 0.7 inches W x 0.2 inches D
THE STORY BEHIND THE PRODUCT
Artisan Organization: Dewa Nyoman Oka
Country: Indonesia
"I was born in Pejeng, Gianyar in 1958. It is a small village located in Central Bali, about 1.5 km away from the internationally well-known tourist destination, Ubud. Since it used to be the center of the ancient kingdom, my village and its surroundings are rich in cultural heritage, such as beautiful old temples and unique traditions that still exist to this day.

"My father was a Balinese traditional healer as well as a multi-talented artist. He was a dancer, sculptor and a painter. I am so much inspired by his way at life, and I want to follow his footsteps in dedicating my life to the community's preservation of art and culture. My father taught me how to draw, design and sculpt.

"I am the third child of seven brothers. I was so blessed as a child growing up in a village. I could play freely in a peaceful natural surrounding with many friends where I learned so many things and grew together. That shaped my character and my keen interest in tradition, nature and art. Despite our financial struggles, my father always wanted me to be a well-educated person. So, he sent me to study in an elementary school in Denpasar, where I had to live far away from my family in the early stages of my childhood. Then I moved to Gianyar to continue my studies in a secondary school. I continued my studies to be a teacher in Klungkung, the neighboring town where I live now. I started to work when I was studying in teacher training school. I had to work to help my parents pay my school fees as well as helping to ease our family economic difficulties. I did various jobs such as photographer, handicraft seller, mattress maker, etc.

"After graduating from teacher training school, I become an elementary school teacher in Klungkung. While working as a teacher I kept doing art and craft work. I learned a lot about art from my father. Now, after retiring from teaching, I want to focus on design and art by becoming an artist with NOVICA. Thus I can introduce art and traditions reflected through my work to the world. I am interested in this field because I love to design and pay attention to detail. I have always admired Balinese architecture

"My friends always describe me as a being friendly, persistent and optimistic. In my spare time I like to play volleyball and football. I am married. I have two daughters and one son. Having a family, being a father and a husband is such a blessing for me. I am driven to work harder to build a better future and preserve Balinese art, tradition and culture.

"The hardest part of my life was when I just got married to my wife. With pretty much nothing in hand, we were struggling financially. There were even times when we could hardly meet our daily needs. This forced me to work multiple jobs as a driver and traditional craft and batik seller. But gradually as my business got more stable, I managed to overcome that hard situation.

"When I look back to where I started on my journey in jewelry making, there were so many frustrating failures in designing and production, and even in business aspects of the job. But eventually each process has brought me closer toward the progress I wanted to make, and I think it's a kind of self-accomplishment. Success is a journey, not a destination. This sentence makes me more appreciative and wanting to learn more in my way toward achieving my goals and being more creative.

"Since each of my products conveys its different unique stories and features, I would say that each product has its strong characteristics. I am the one that designs all of my products. I draw my inspiration mostly from traditional Balinese foliage and motives found in Balinese architecture. Currently, I work with six silversmiths; five men and one woman. I am also assisted by my son. I also employ disabled people in my business. I strive to provide a great product. So I always arrange the work based on the skill of each of my silversmiths, so they can work with things they are really good at. The kinds of materials that I usually use include silver, brass, copper, and semiprecious stones. Being Balinese and being able to live in such a rich cultural island is a blessing. The traditions and abundant cultural heritage are my biggest sources of never-ending inspiration. My jewelry is unique and quite different from other jewelry, because it's a fusion of traditional contemporary style inspired by Balinese architecture and long-rooted Balinese art.

"I got information about Novica from a friend of mine. I hope that by joining Novica, I can help promote Balinese art and culture through my work; and in doing so, also be able to help people working with me to grow together. I hope that we can continue to work toward the preservation of tradition and culture, while involving the younger generation.""
100%
of reviewers would recommend this product to a friend