Our GlobeIn Premium Wrap
Hand wrapped with love, each gift comes with its own regional pattern, giving your gifts an international flair.
Premium gift wrap – $5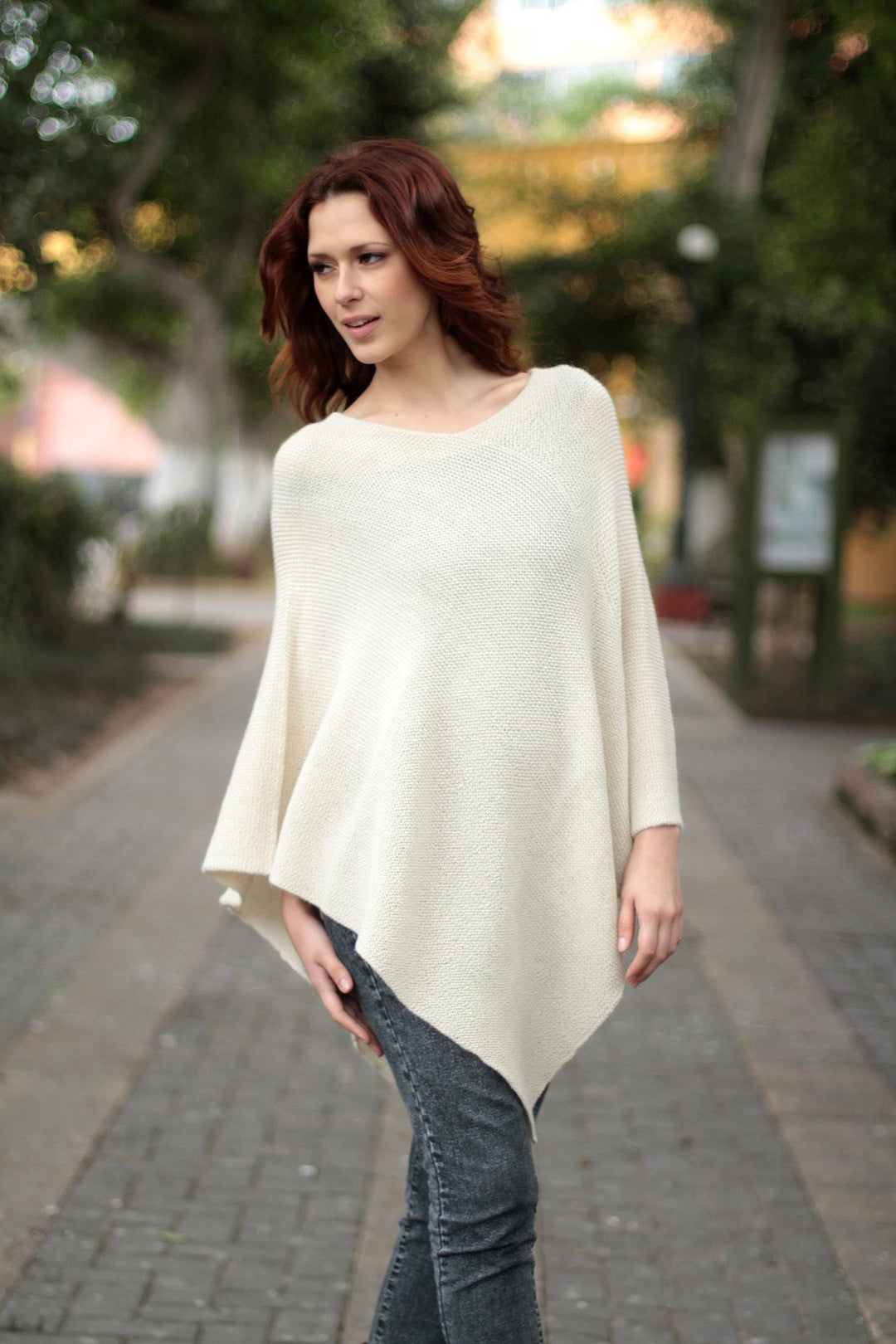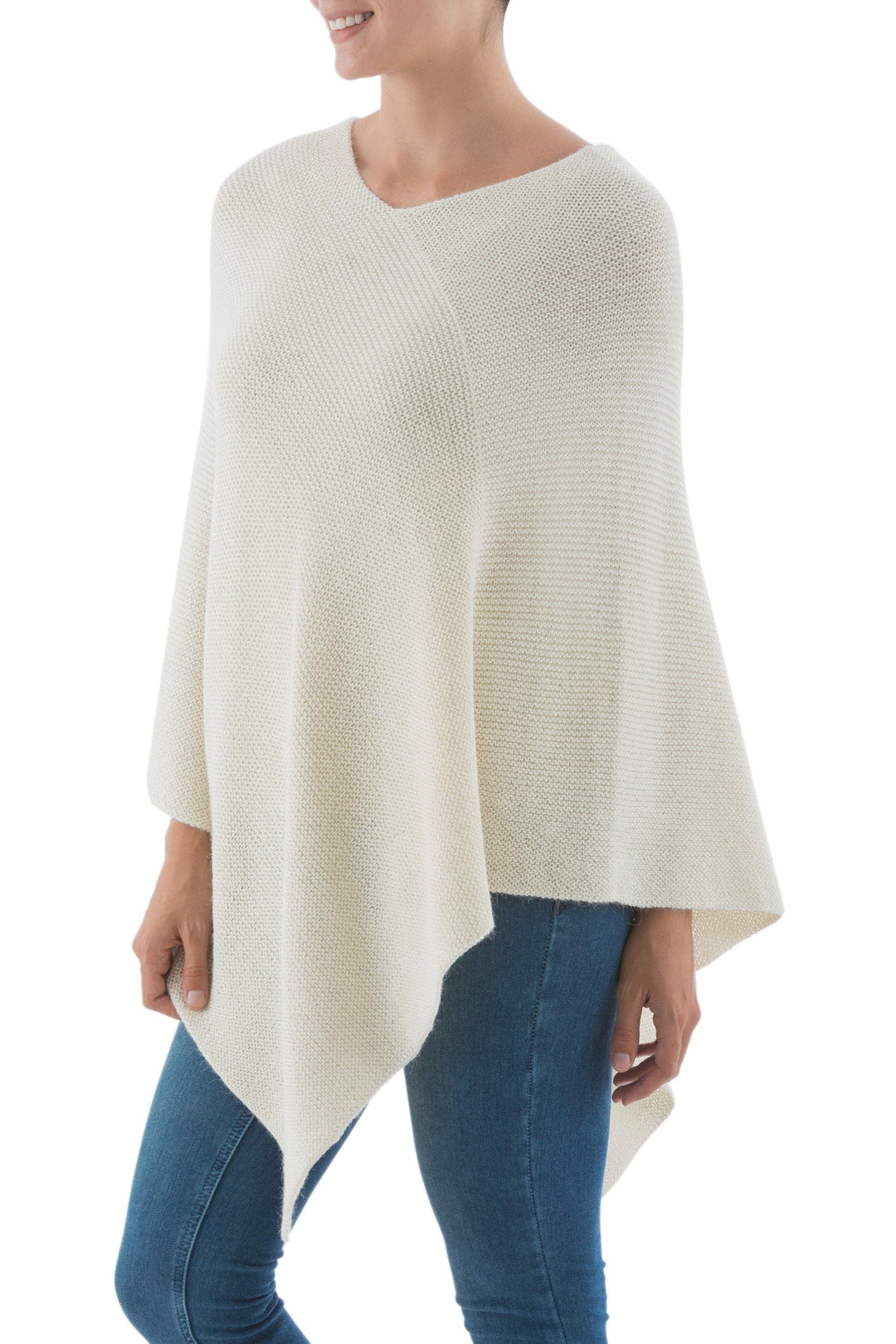 100% Alpaca Wool Poncho - Sweet Cream
$124.80
Guest price
$99.84
Member price
Overview
Description
Working in cream tones, Alfredo Falcón creates a poncho for all seasons. Its classic knitted texture and plain borders exalt the soft, warm elegance of alpaca wool.
100% alpaca
0.40 kg
85.1 cm L x 90.2 cm W
THE STORY BEHIND THE PRODUCT
Artisan Organization: Alfredo Falcon
Country: Peru
Update (June, 2019)

"I come from a humble family of textile artisans and my first jobs were making sweaters that we sold later in a small store in Huaraz — an Andean city famous among tourists and mountain sportsmen. Everything went well until our town was hit by the earthquake of 1970. After the natural disaster, tourism and local commerce decreased. Added to this was the violence unleashed by Sendero Luminoso, a radical Maoist group that bled the country with terrorist attacks and forced many inhabitants of rural areas to migrate to the big cities. That was how I arrived at a settlement located east of Lima.

"There, I started a new life. I thought the only way out of poverty was moving away from textiles so I started studying accounting. Eventually I got a steady job, but then the company went bankrupt in the economic crisis and I was fired.

"I then put everything I had learned to the test and set up a small workshop for creating alpaca apparel. I began to design and make clothing with various techniques. Little by little, I bought my knitting machines and I made hats, scarves and sweaters, which were immediately received in the national market. I never thought that my work would go around the world.

"Years ago, I met Leoncio Tinoco, a world-class Peruvian artisan. He liked my work so much that he invited me to work with you to expand my business. I didn't hesitate and, in a short time, my alpaca designs went from being exhibited in the small souvenir shops of Lima to filling the closets of thousands of customers around the world, who were satisfied by the quality of my work. This was the best thing that ever happened to me.

"Over time, sales increased significantly. This helped me a lot to modernize my workshop with new technologies to increase production and create new items such as ruanas, capes, sweaters, ponchos and scarves.

"I love exploring the latest trends in fashion. It allows me to create new lines of clothing, with designs and colors that combine traditional and contemporary styles, in order to revalue the local culture of Peru. I owe my success to my beautiful team of workers, whom I have trained with new weaving techniques to provide better results, both in quality and comfort. We have also given work to the women of the soup kitchens, a social program that feeds poor people. The women participate in the finishing and crochet trim.

"I never imagined that textiles would help improve the quality of life for so many women in the soup kitchens. Most of them are mothers who don't have a permanent job, mainly because they are always providing food and schooling to their children. Therefore, they only have their free time to earn extra money. With this method, some have saved thousands of soles per month. Once a weaver came to collect 4,500 soles ($1,300 USD) in six months and, with that money she bought several appliances and other items for the home.

"I'm proud of everything I have achieved over more than 25 years of working in the textile arts I love and being part of this global family of artisans."

Original Artisan Story:

"I was born in the capital of Peru in 1968. When I was a small child, my parents began teaching me to knit. Like me, they had learned them from their own parents. So we are a family devoted to the world of textile arts for generations.

"Nowadays I combine knitting by hand and on classic machinery, remaining true to Inca and colonial motifs. I would like the world to receive high quality apparel through my work, with modern colors and traditional motifs. I hope you enjoy them!

"I have been working with you Since 2001. My workshop is located outside of Lima, a place of refuge for many immigrants who fled central Peru during the times of terrorism. Before this, I had a small workshop in an industrial park that the government gave me on credit, a place where small producers could work with dignity. It wasn't properly roofed, and its production capacity was limited. I designed and made clothing.

"My market was limited to a few local shops, and to a single small foreign client who purchased my work from time to time. Now, thanks to you, my sales increased significantly, and my workshop began to undergo an enormous change. I purchased better tools and materials. My production capacity has grown tremendously, and my work has gained considerable popularity and recognition.

"Thank you very much, my friends."

In 2016, Alfredo won a contest called The Best Knits and two of his designs were chosen for a calendar. He has also received an award from the City of Lima."