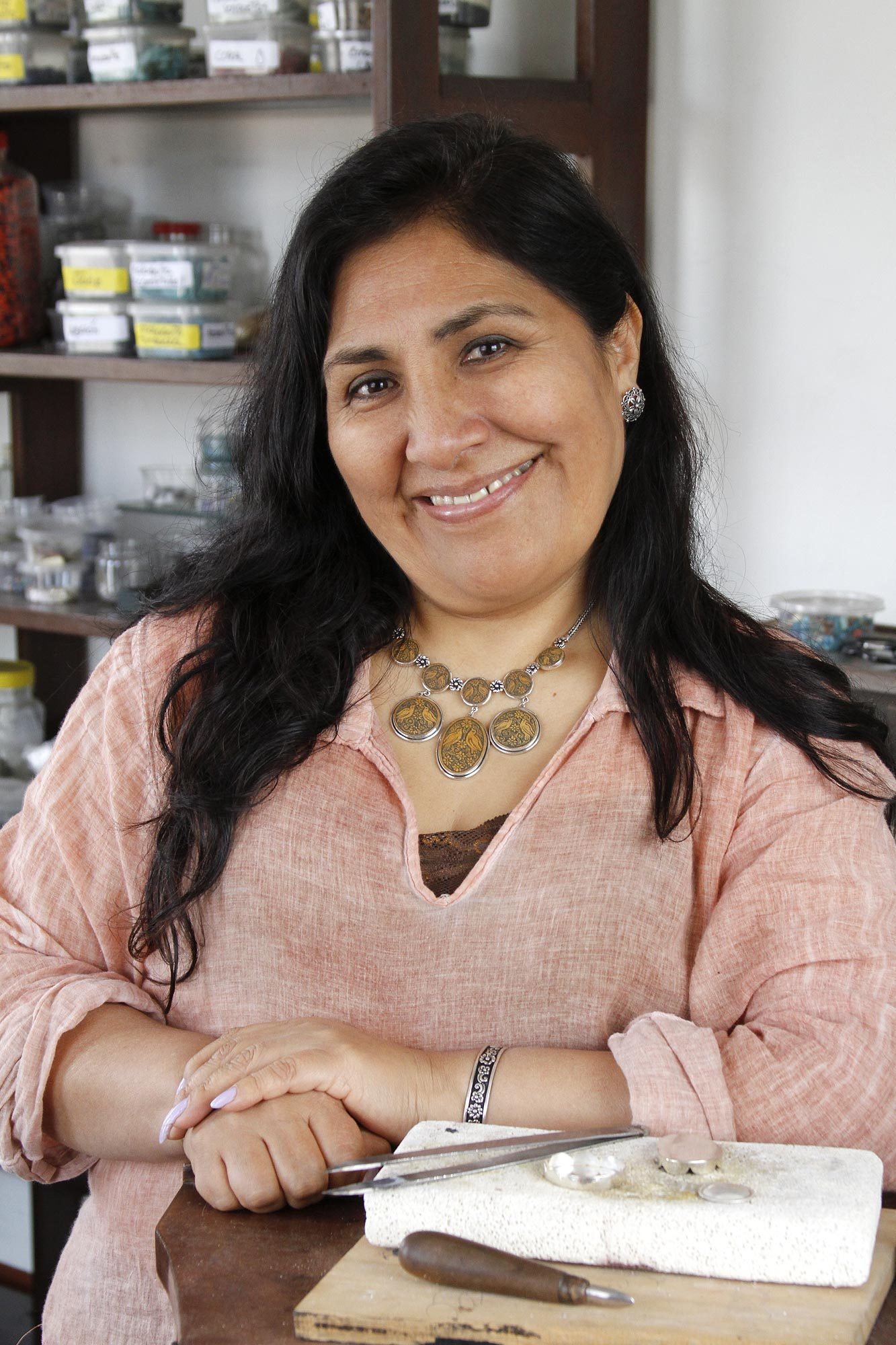 Artisan Organization: Sonia Cachi
Country: Andes
"My name is Sonia Cachi Yupanqui. I was born in 1968 in the majestic imperial city of Cuzco. I am very proud to have been born in this beautiful, mystical land. I consider myself to be a very entrepreneurial woman; I always want to see projects through. I am very creative, curious, and above all, responsible when I commit myself to doing something.

"I tried very hard to promote my silver work, so that my craft could succeed. I found a certain degree of stability in a place that was interested in my work. Just when I began to feel more secure and stable, a very unfortunate notice arrived. Without prior warning, they stopped soliciting my work. It was very untimely.

"This was the beginning of the creation of my brand with my own name. I decided to be independent and to be my own boss. My husband and I began together and we sold our crafts in local fairs. Little by little, we went on creating our workshop from scratch.

"From a young age, I was immersed in the world of jewelry. My father dedicated himself from his youth to this beautiful art. I grew up surrounded by hammers, chisels, and metals. Seeing my father in the workshop inspired a lot of curiosity and desire to learn what he was doing. With a lot of patience, love, and passion, I acquired knowledge and apprenticeship, thanks to everything that my father could transmit to me. My father was the best teacher. He dedicated his life to art and spreading it within his workshop, offering help to all those who wanted to learn the essence of this art.

"What I like the most about my art is designing, and the most challenging part is creating pieces that can inspire people to adopt the jewelry as theirs and make it a part of their personality. My inspiration comes from living in a majestic land filled with the culture and history of art. I am also inspired by my childhood and everything that surrounds me. I love design and constant innovation.

"My dreams and hopes for the near future are to increase the presence of our art, not only in Peruvian life, but also in the lives of all who enjoy our culture. We work with youth so that they can find a way of life and a source of income for their families and that they can be capable of pursuing everything that they want. I am very happy to be a part of the Novica family, sharing my art with all of you." "