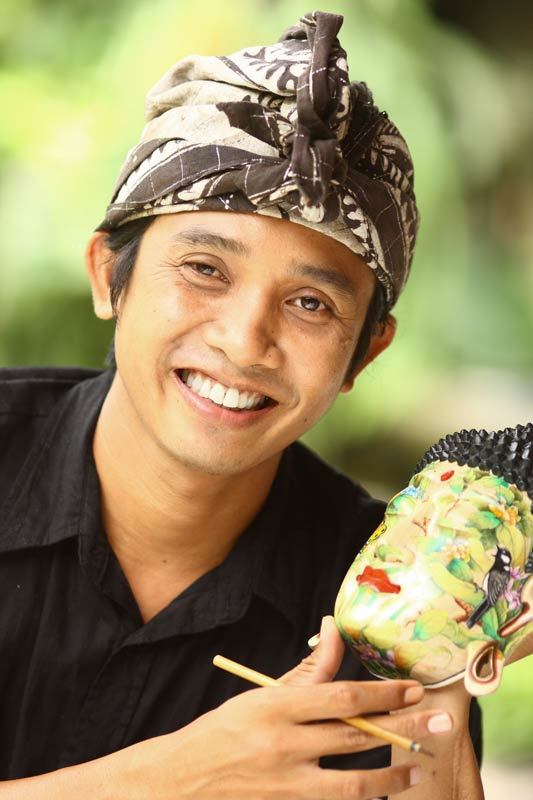 Artisan Organization: Gung Gus
Country: Indonesia
"My full name is Anak Agung Gede Bagus Ari Panji Widya Pratista — such a long name given to me by my parents! Our Balinese names reflect our customs and the importance we give to family heritage. According to our traditions, my names mean the following: Anak Agung implies royal lineage, Gede tells that I am the first child, Bagus literally means handsome and also indicates I am male, and Ari Panji Widya Pratista is my real name.

"However, people call me Gung Gus, short for Agung Bagus.

"I was born and raised in Ubud, which allowed me to be in touch with artisans on a daily basis. Most of my family members are carvers — carving is our family heritage. You could say I developed an ability to carve just by seeing my relatives at work every day.

"Other than carving, I also love to paint so, after trying different procedures, I finally found a way to combine wood carving with painting.

"My parents were adamant that we have a higher education, so they sent my brother and me to college. We were expected to study hard and carve during our spare time in order to support our studies. Times were hard then, but I knew I counted on my parents' unfailing support. They kept telling me, 'Work is a must, but with a good education, people will respect you even more.'

"I enjoy working with you because my masks and carvings can reach people outside Bali and I feel respected as an artisan. I like the fact that you promote Balinese artists and artisans on an international level.""