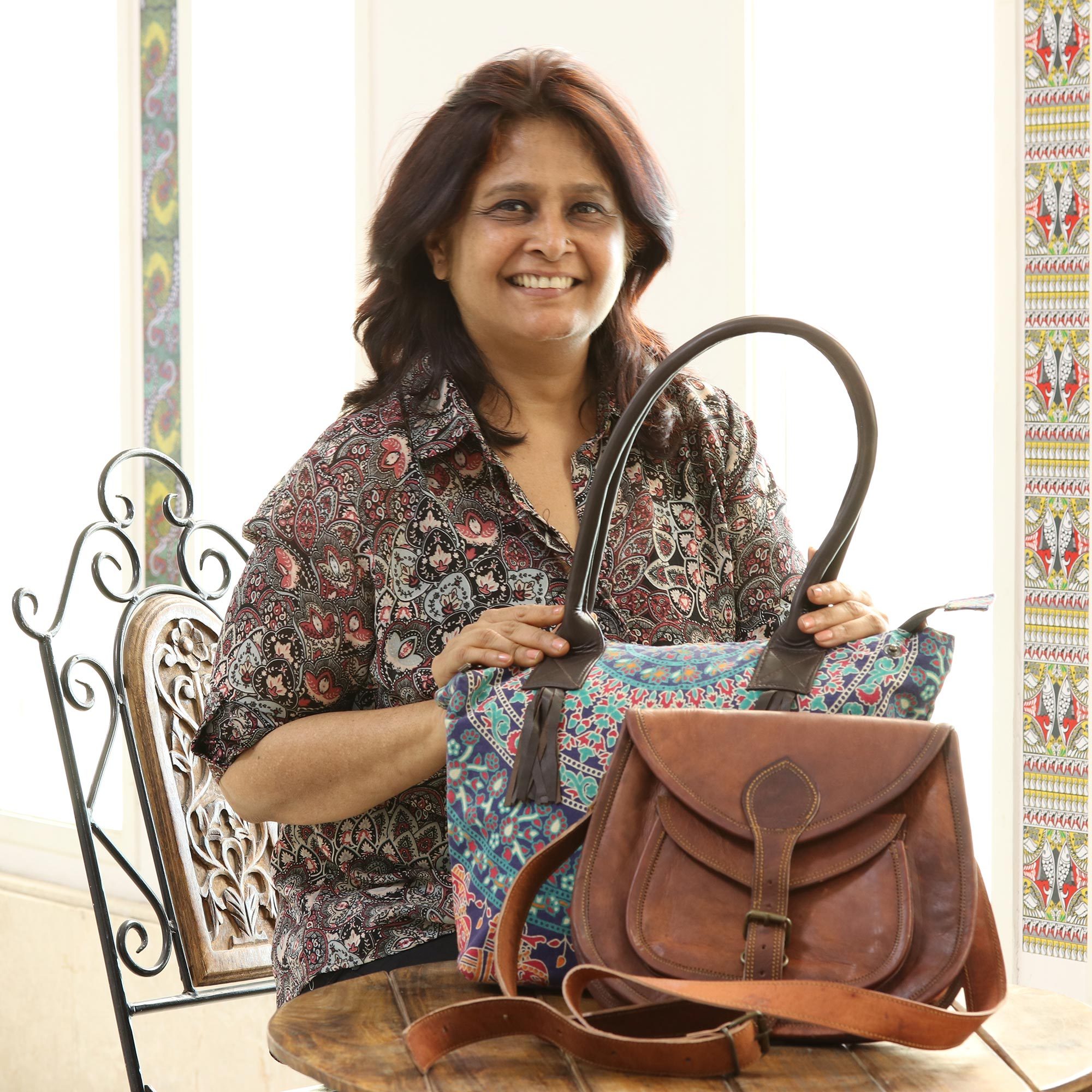 Artisan Organization: Deepika Lohani
Country: India
"Hi Friends! I am Deepika Lohani, from Delhi, the capital city of India. I was born in 1968. My friends describe me as creative, hardworking, and passionate about fabrics.

"I genuinely believe that challenges are a part of life. They make us stronger and help us grow and reach new heights. After my schooling, I took a course in interior design. Gradually, I became more interested in fashion design. I started designing clothes and opened a small boutique of my own with a team of three people. I love bright embroidery work and used to do sketches for the embroidery myself. I worked in this field for 12 years.

"Even though I loved to design clothes, I wanted to do something more creative. My passion for designing and interest in handmade crafts and fabrics attracted me to mandala bags. I decided to design beautiful bags with mandala-pattern fabrics accented with leather and wood beads.

"I credit my passion and creativity to my mother, who, even though she was a housewife, had an amazing sense of style and taste. I learned from my own experiences. Each day was a new struggle. I had no expertise when I started more than a decade ago, but I have learned.

"I use fabric, leather, and wood for my bags. I procure mandala-pattern fabric from local vendors and create the bags according to my design. The mixture of different ecological traditions and designs is what attracts me to this craft. At times, it becomes challenging to translate such fabrics into designs that will attract modern women.

"It was challenging in the beginning, but after I got settled, the feeling of financial independence and providing stability for my family and opportunities for my employees was unmatched. I appreciate the precision, discipline, punctuality, mastery, and passion of my team. We are currently a team of six.

"Providing economic opportunities for my employees and seeing their families flourish are the best by-products of my work. It gives me the utmost satisfaction to bring some happiness to their lives and smiles to their faces.

"I am thankful for NOVICA for giving me a platform to exhibit my creative designs to the whole world. I wish to grow with NOVICA and become an entrepreneur in the future." "