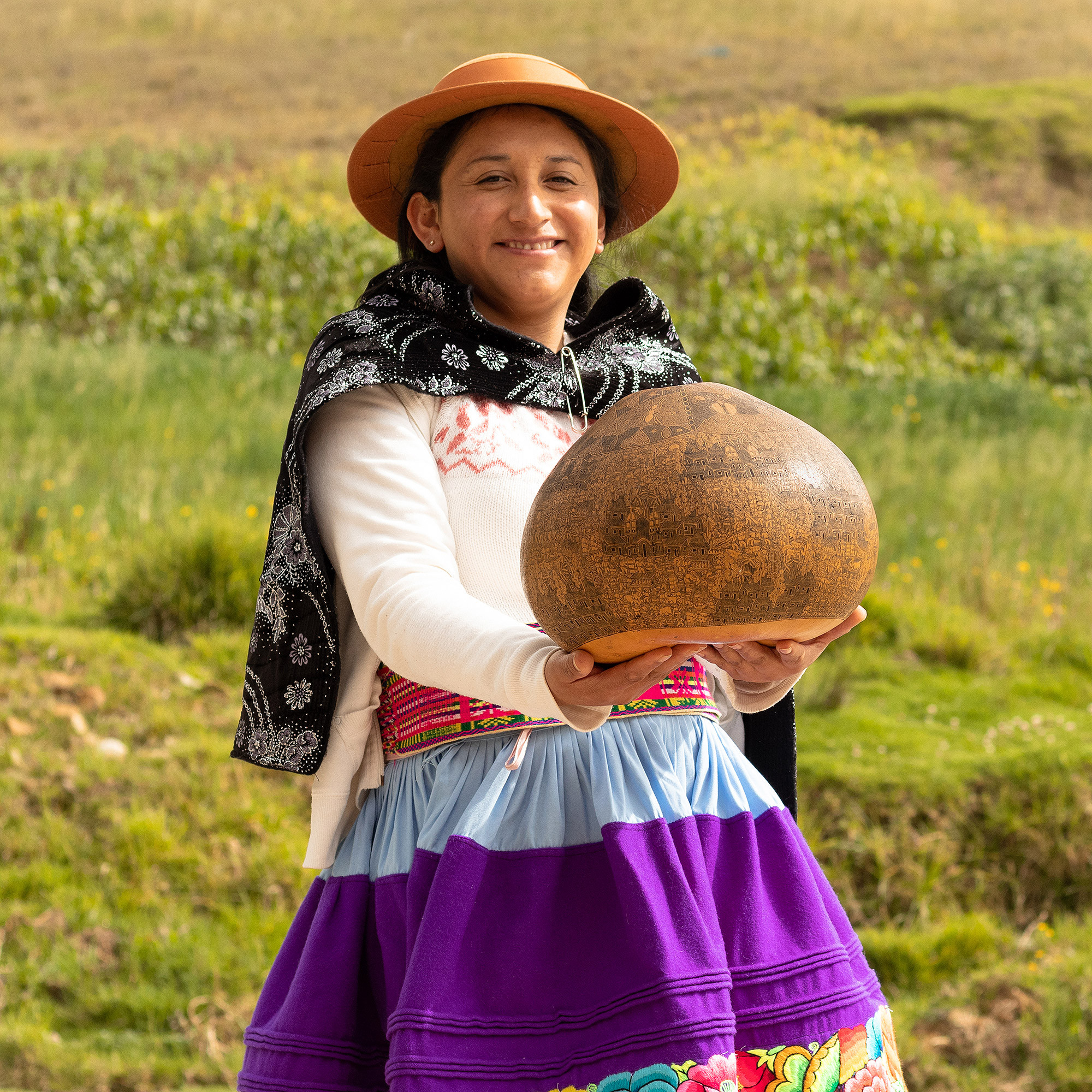 Artisan Organization: Blanca Canto
Country: Andes
"Hello! My name is Blanca Canto and I was born in Huancayo. I am an artist of carved mate gourds, thanks to the inherited family tradition. If my friends had to describe me, they would say that I am passionate about art, that I am looking to stimulate my creativity, that I love drawing and that I am a perfectionist.

"I inherited this from my parents. They taught me from the age of 6, but I perfected my skills at the age of 14 and from then on, I innovated with the stories told and designs. Now I am proud to teach children and young people, both in the local school in Cochas, Huancayo and in my own workshop, so that this art is not lost.

"I had to constantly practice patience, positivity and perseverance. Mate takes a creative process that starts from drawing, burning, carving, dyeing and painting that requires a lot of hand precision and concentration. The main raw material in this art is mate burilado, a gourd that grows here in Peru naturally. The mate grows in different ways and we accommodate it to the design that we want to apply. Because our base material is 100% natural and the shapes can vary, we could even say that each piece is different and unique.

"When I started my business I had many failures and falls. There was a lot of concern on the part of acquaintances and relatives who believed that I would not be able to get ahead to be successful. However, thanks to my strength and creativity I have managed to successfully undertake the art that I am passionate about.

"My goal is for my art to reach different parts of the world and to be recognized by the most demanding eyes. It inspires me a lot to give work to more artisans and thus collaborate with the local economy, as well as not to lose this wonderful technique that has resisted so much through the years.

"I am always inspired by the nature, flora and fauna that exist here in Huancayo. I always walk in the mountains to get inspiration. I am also inspired by stories and legends that exist in my region.

"We always support each other as a family. My mother supports me with the washing and dyeing of the piece, and I also have the support of my father to buril (engrave). Many times we receive support from other artisans, so we provide work in our town, especially to women who work from home because they have to take care of their children.

"It is important to me that this art remains alive, that people know the origin and history of this art and thus understand its importance both artistically and as part of our culture. Clients should know that a piece of mine contains love for this technique, dedication and a family legacy that we must keep alive." "