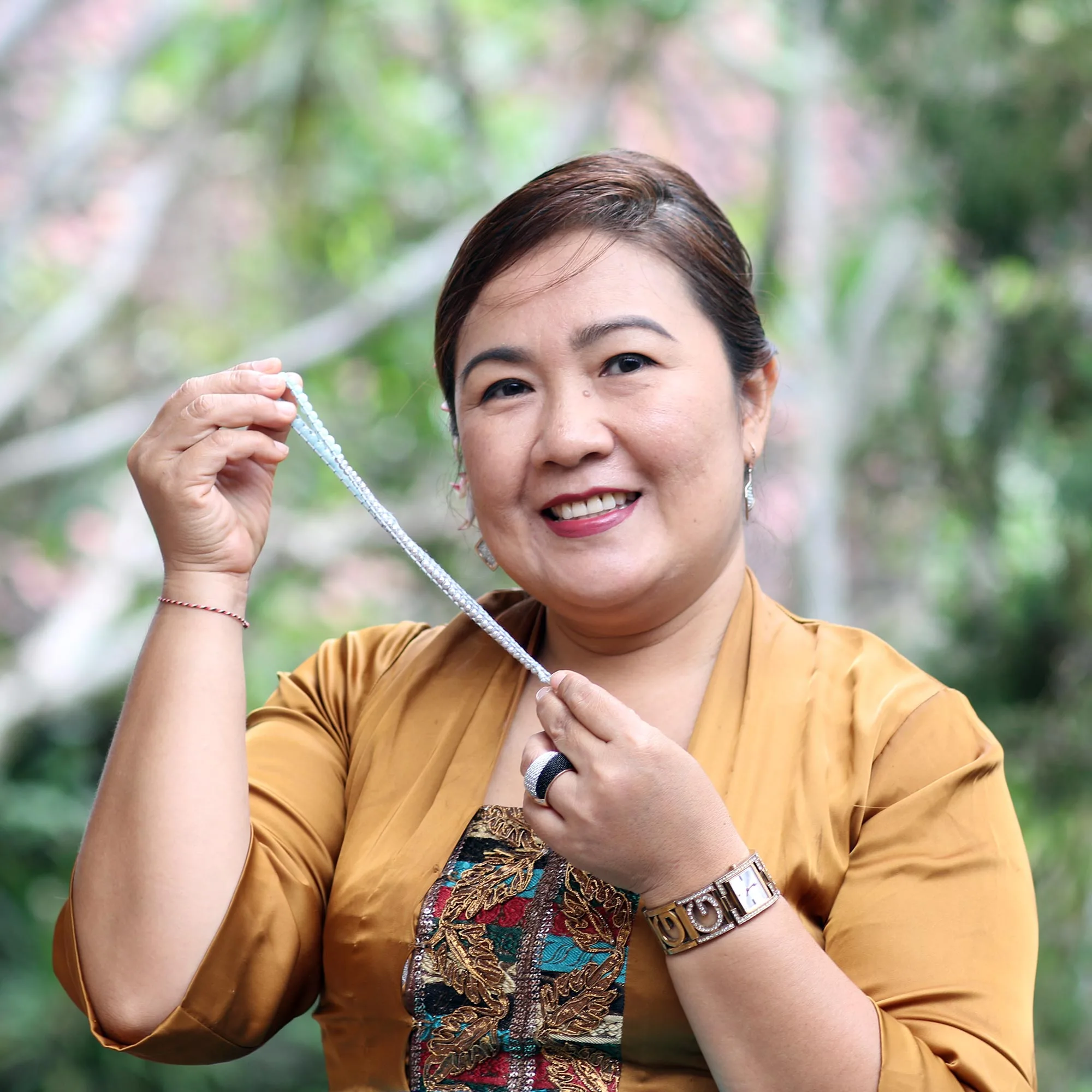 Artisan Organization: Ayu Widiani
Country: Bali & Java
"I was born in 1974 in a small village called Baturiti, Tabanan, Bali. Tabanan was still many fields and forests then, my parents were farmers who had also some cattle. I am the youngest child and also the only girl. My parents had 5 children, but even though I am the youngest and the only girl, my parents did not spoil me. I used to help my mother to clean the house and even sometimes to feed the cattle.

"My childhood was quite fun. I went to school in the village until I graduated from junior high school. And then I moved to Denpasar to study in senior high school. I also continued to go to college where I took a management major. When I graduated, I worked at a jewelry company, and I learned a lot there. I met my husband at the same company, and now we are blessed with three daughters and a son.

"As a Balinese woman, I love silver jewelry, and that is why I try to create good designs with good quality. My husband helps me to create and to maintain the quality. When it comes to workers, I do not just hire people with silver experience; I also prefer to help other women. I teach them how to make the beaded bracelets, and also give them the tools and the raw materials. I give them a sample, and they just have to copy the sample. It is good for them, because they don't just earn income but can also pick the times they are comfortable working.

"I am inspired by the beauty of Bali for the jewelry I design. Most of my designs use natural gemstones with many colors, like the Balinese women who wear colorful traditional clothes. Besides beauty, quality is our main concern. To create a long wrap bracelet with many different gemstones, we use one single thread which is 4 meters long to ensure the quality and the strength of the bracelet.

"My husband is a very supportive man, and I couldn't be happier about it. Together we build the business and try to create good jewelry. Together we found Novica, and I hope they can help us to market my jewelry. Not just for my own family, but also for the women who I work with." "