Our GlobeIn Premium Wrap
Hand wrapped with love, each gift comes with its own regional pattern, giving your gifts an international flair.
Premium gift wrap – $5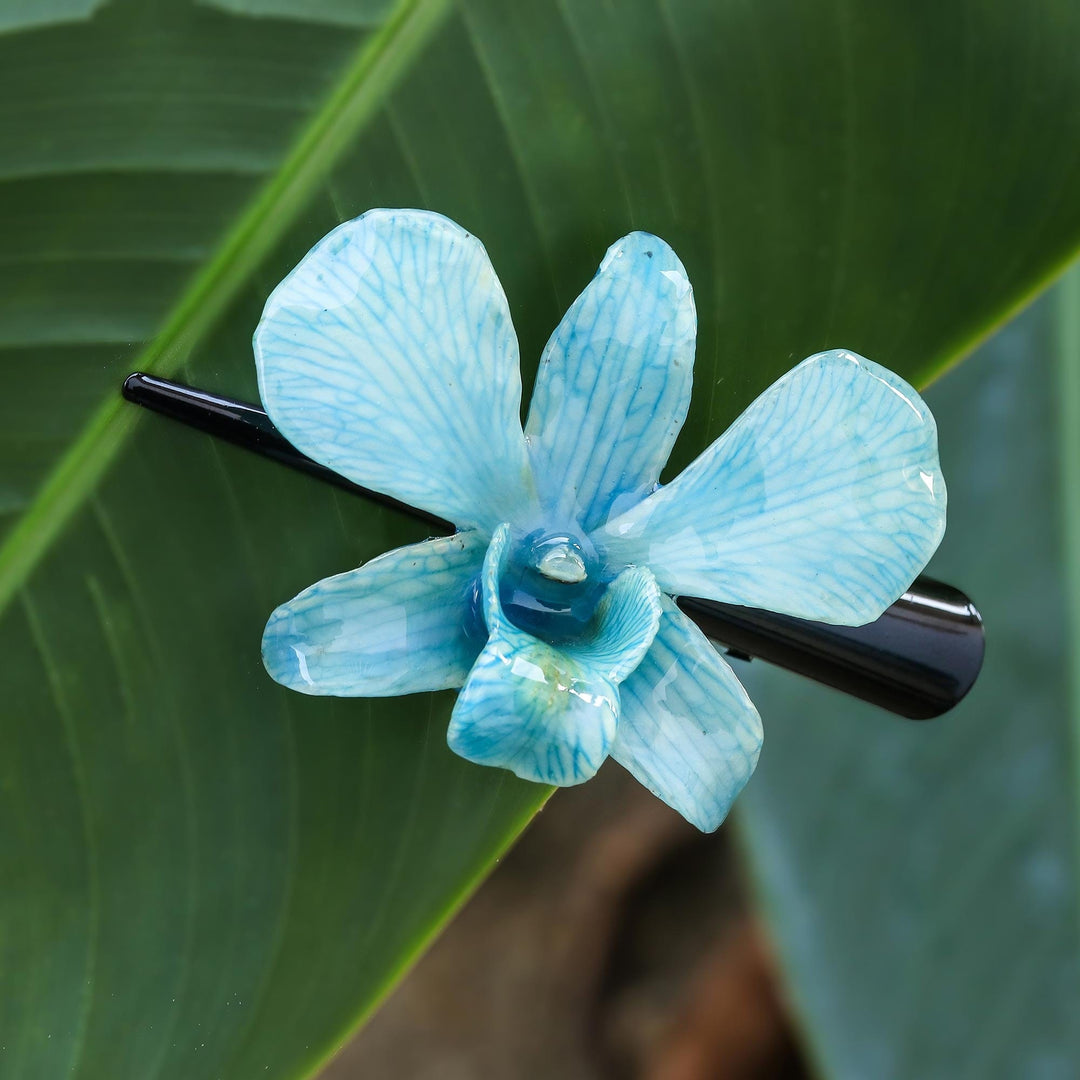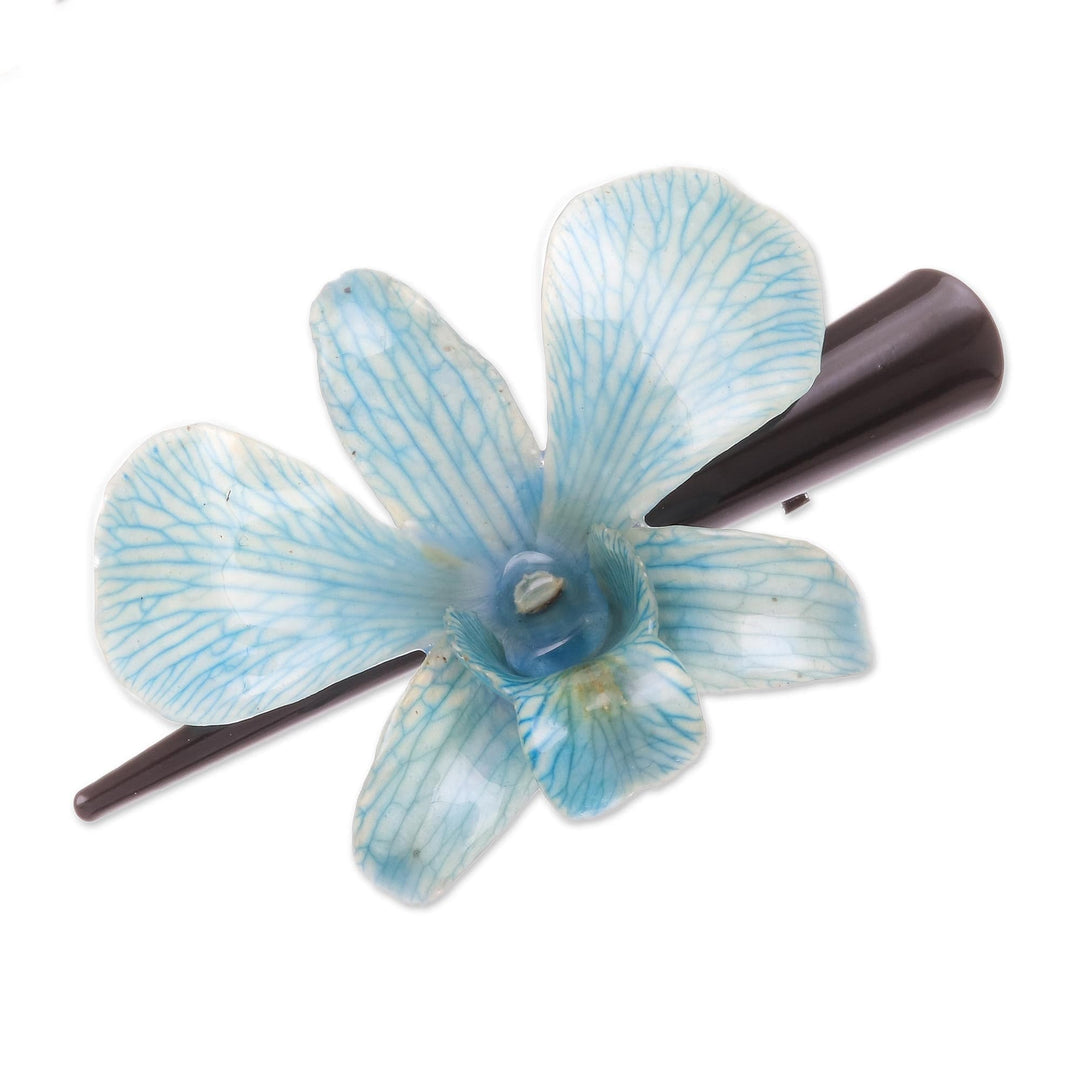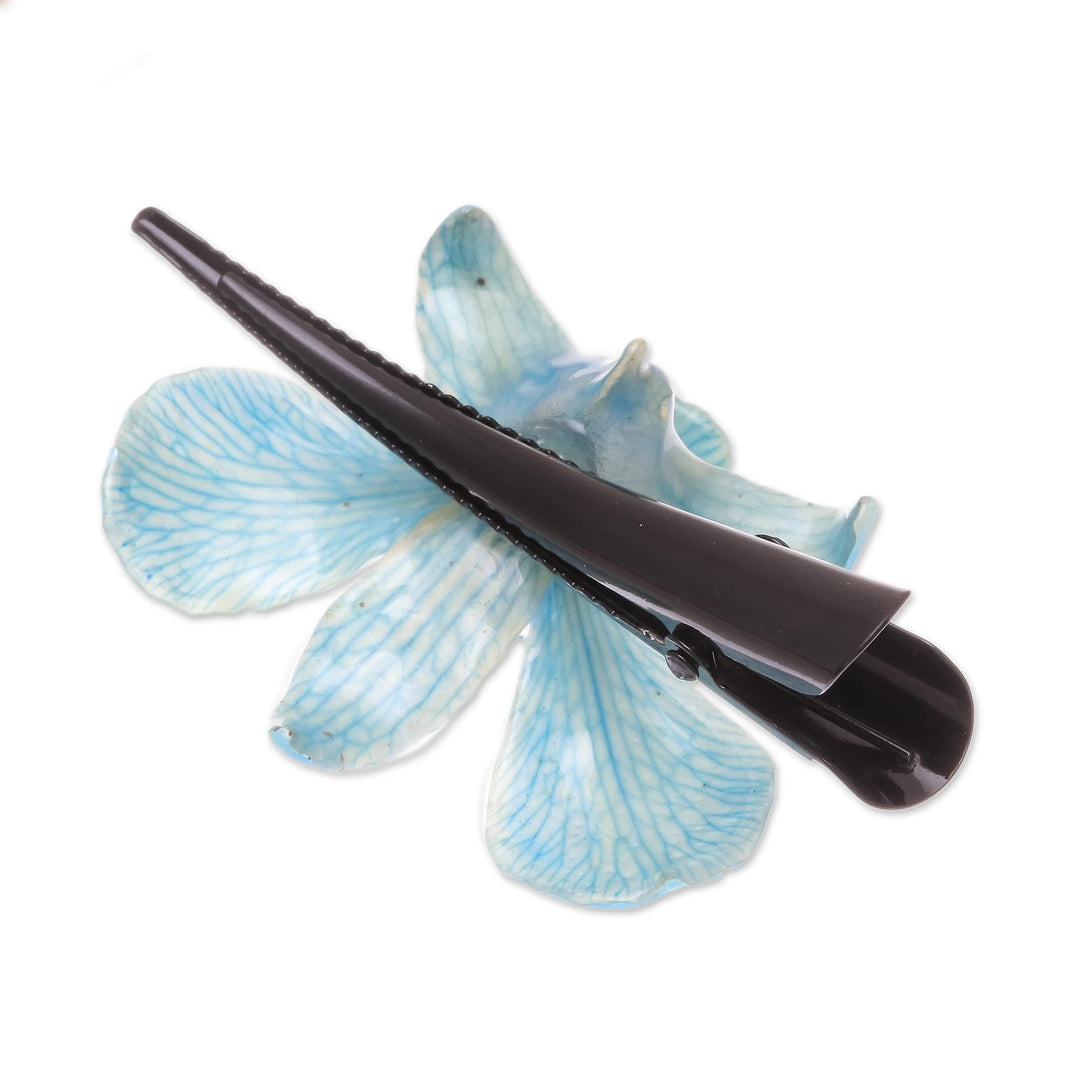 Natural Blue Thai Orchid Hair Clip - Blue Orchid Love
$41.00
Guest price
$32.80
Member price
Available Premium Gift Wrap
You can optionally add Premium Gift Wrap into cart.
Learn more >
Overview
Description
A natural orchid embraces the sky's delicate color. Poised on a sleek black hair clip, it becomes an exquisite fashion accessory. Danai pays tribute to Thailand's extraordinary flora.

Because natural blossoms are used, size, color and shape will vary slightly.
Resin-coated hybrid dendrobium orchid, stainless steel clip
0.18 oz
3.1 inches L x 1.9 inches W x 1.1 inches D
THE STORY BEHIND THE PRODUCT
Artisan Organization: Danai
Country: Thailand
"My name is Danai Leosawathiphong. I was born March 20, 1949 in northern Thailand. My grandfather was a Chinese immigrant from the Canton province. He emigrated to Thailand at the end of the 19th century when he was in his early twenties. He was a very hard working person trading goods all along the river and during that time he met my partner's grandfather.

"I studied business and left for England. Engineering interested me, and I graduated with an engineering degree from Leeds University. I met Ilkay, my wife there. She went to Brunel University where she graduated in polymer science.

"In 1976, Ilkay and I came back to Thailand. Originally my family and partner's family planned to get into mining. And in order to analyze the rocks, ores and minerals, we needed to set up a lab. Then my partner's father suggested that we could also use the lab to create something representative of the area, and we came up with the idea of covering natural products such as exotic flowers and plants with gold. Well, the easiest way was to experiment with copper.

"So we started electro-plating products. We got a small bathtub, filled it with an electrolytic solution and placed anodes in there. We placed flowers in as cathodes wired to a DC rectifier and went home. Of course, we could not wait to see the results, so we came back at 2 or 3 in the morning. Yes, the flower should be nice by now. We took them out and… Wow! Only the wires were left! We tried and tried until we had our first flower covered with metal, but it really looked like a shrimp. So this experimenting lasted about two years. We had to start working professionally, because our process is not electro-plating, but rather electro-forming. Basically with electro-forming the layer of plating is much thicker and the surface better leveled than with electro-plating.

"It was a very demanding and challenging time for Ilkay and me because there were so many details involved in trying to get our products off the ground, working on packaging and advertising, etc. We had to run this activity like a proper business and, with our scientific backgrounds, this was another challenge. It was just as we were launching our product on the market that my partner married. His wife is in charge of marketing and has helped us tremendously.

"This new venture gave flavor to my life. It has enabled me to provide employment to others in my community, and they can provide for their families. From the very beginning, one of our main objectives has been to employ women, as there were few job offers for women then. Another main objective has been the environment, because we have to deal with chemicals. We reprocess everything we use and do not throw anything away. All our boxes are made out of recycled paper as well.

"I think our creations have a lot of potential. I do not think they will go out of fashion, because people generally love flowers. It is so interesting when you work for yourself. For the past 20 years or so, I have had good and bad times but I enjoyed it all. It is pretty much like black coffee – bitter, sweet and very nice.""