Our GlobeIn Premium Wrap
Hand wrapped with love, each gift comes with its own regional pattern, giving your gifts an international flair.
Premium gift wrap – $5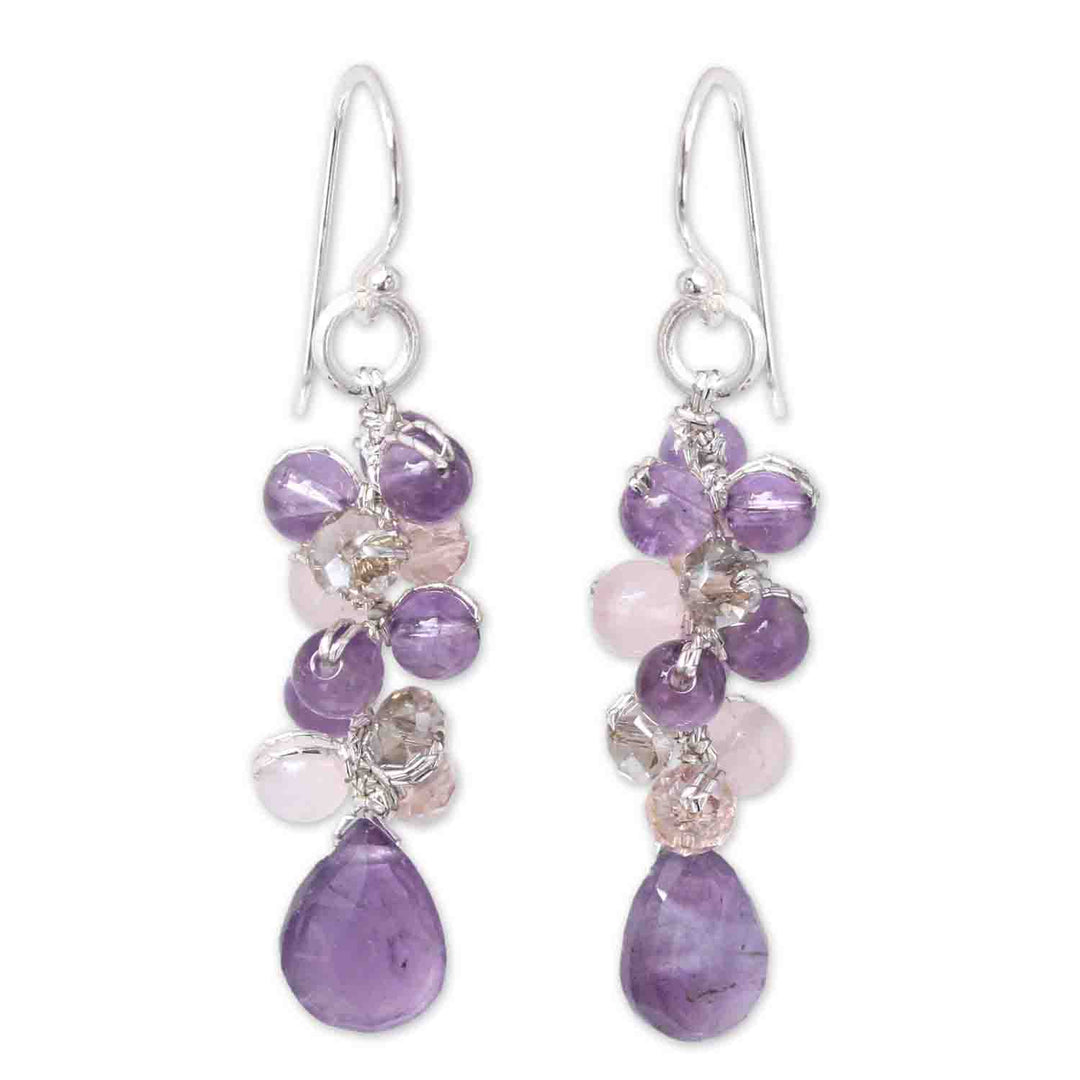 Amethyst and Quartz Beaded Earrings - Purple Pink Glam
$43.00
Guest price
$34.40
Member price
Available Premium Gift Wrap
You can optionally add Premium Gift Wrap into cart.
Learn more >
Overview
Description
Anusara designs earrings that sparkle with a purple rose glamour. She crafts the earrings by hand by tying faceted amethysts, dyed pink quartz and glass beads with silver silk threads. Like a raceme, the purple clusters hang from sterling silver hooks. Totals approximately 4.5 gemstone carats.

.925 Sterling silver
Amethyst, dyed quartz, glass beads, silk threads, sterling silver, sterling silver plated brass
0 oz
1.8 inches L x 0.4 inches W
THE STORY BEHIND THE PRODUCT
Artisan Organization: Anusara
Country: Thailand
"Hi, my name is Anusara Konkam. I was born to a small but very warm family consisting of my father, mother, my older brother, and myself. I love art and nature and consider myself a 'natural' woman. I like to create embroidered works and grow flowers at home.

"When I was a child, I wove jasmine garlands to sell in the morning market, making them in my free time after school. I chose the most beautiful blooming jasmine blossoms. But first I had to finish my homework and reading before I was allowed to weave jasmine garlands. These garlands didn't bring a high price at the market, but my work helped my family to save money to support my studies.

"I participate at every local festival in our town. Sometimes I'm a Thai dancer, leading the parade to the temple. Sometimes I compete as a noppra-mad girl. Once I almost won first place, but that was only in a village contest. This is my personal challenge, and it is great fun and a good experience for me. I like to study and play northern style music and perform northern style dance (the sword dance, spear dance, and so forth), and I play the sa bud chai drum. This drum is played before a soldier goes to war, and again upon his return. The villagers play the sa bud chai drum to lift the soldiers' spirits, and a woman can play it. Every year at the Loy kra thong festival, I weave a floating basket from banana leaves to sell that evening. I want to help preserve nature and our environment; so that it will remain with us. I don't like to use unnatural materials. Banana leaf baskets are very beautiful. Have you ever seen them?

"About my handcrafts, I feel love and pride for all of my artwork. I'm proud of my designs, proud of creating them, proud to wear them and proud to sell them. In the future, I'd like to have a small shop of my own, in which to sell my jewelry. Now, this site is my little shop, open to all who love jewelry and stones.

"With some of my income, I'd like to help conserve the natural world and the original Northern Thai culture that I love. I don't want it to disappear. And I want to keep some of my income to help underprivileged children in my hometown, so as to give something back to my city. This place holds many things that have meant a lot to me for a very long time.""