Our GlobeIn Premium Wrap
Hand wrapped with love, each gift comes with its own regional pattern, giving your gifts an international flair.
Premium gift wrap – $5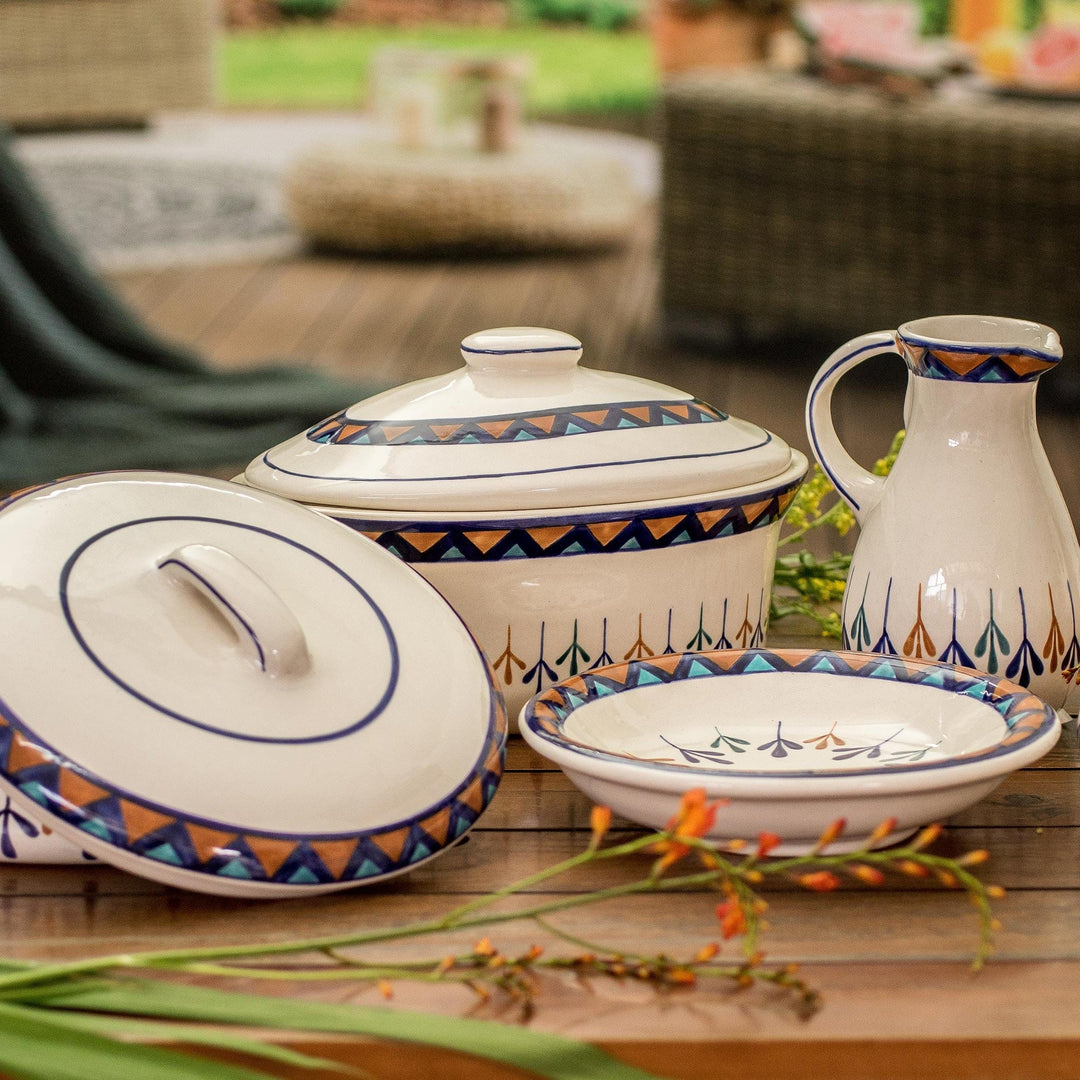 Ceramic Hand Painted Covered Oval Casserole Geometric Motif - Antigua Breeze
$171.00
Guest price
$136.80
Member price
Overview
Description
Impress your guests while you save yourself a little clean up with this oven-safe covered baking dish so pretty you can serve with it, too. Crafted by ceramicist Lilyan Benecke of Guatemala, the deep oval casserole features a geometric and floral-inspired design in blue and orange on an off-white background.
Ceramic
1.89 lbs
6.3 inches H x 10 inches W x 7 inches D
67 oz.
THE STORY BEHIND THE PRODUCT
Artisan Organization: Lilyan Benecke
Country: Guatemala
"I always say it was like love at first sight, because from the very first class I ever took in ceramics I became fascinated with the technique and the material, and because I was able to combine it with my other passion, painting.

"Neither of my parents are artisans but, ever since I can remember, I've always loved art, especially painting. My parents enrolled me in art classes when I was a little girl, and that's how I came to learn about painting with oils. I've always wanted to learn more and eventually I studied interior design in Guatemala City, and a postgraduate course at the Bournemouth and Poole College of Arts in England. And that's when I fell in love with ceramic arts. Some years later, I won a scholarship to study ceramic techniques in China, which complemented my knowledge and — as if it were possible — made fall in love with ceramics even more!

"I don't remember the first ceramic piece I ever made, but I remember the first piece that impressed me as it if it had happened yesterday. It was a black vase with a stampede of white horses in relief. It is one of my favorite pieces.

"I began to work formally in this field in 1983, but it wasn't until 1993 that I formalized my workshop. Over the years, I have taught and trained a group of artisans who now work with me. Originally I thought I'd work with women from the villages around Antigua but, little by little, I came to realize they weren't interested in this art form and so now my team is made up of male artisans. Completely opposite to what I originally wanted but, throughout this time, I've come to appreciate the men's abilities and thirst for learning to paint and work with this type of materials. Now at the workshop we feel like a family where we help each other, collaborating together to make the best art possible in the least amount of time.

"Looking back, one of my favorite stories is when we received a big order and the clay we used, which I always get from suppliers in the U.S., started to crack in the kiln, ruining every piece we had made. My suppliers said they had changed the formula and, since each type of clay has its own specifications, we had to start from scratch. We lost a considerable amount of time and I was really embarrassed, but I didn't want to upset my customer. We all worked really hard for long hours until we completed the order, which made us very happy but it also made us stronger as a team.

"My dream is to continue sharing my expertise and techniques with people who are interested in working and learning. Whenever I'm looking for someone to offer them a job and have them join our team, my main concern is what they are like as a person – this is something that doesn't change whereas techniques and paintings are abilities that can be learned. I'd much rather have someone that knows nothing at all about ceramics but who has a good attitude and enjoys working as a team.

"Today, my favorite part of this work is coming up with new designs because I can let my imagination run free. I can give life to new designs that exist only in my mind. My inspiration comes from all that surrounds me, and I try to create products that are right for everyday needs. Utilitarian products must be practical and well, really useful.

"I'm grateful for the opportunity to show and promote my collections. Our designs are directly related to the traditions, colors and customs of Guatemala, my beautiful country.

"I sign my products as Topis, a term I used to say to my children when they were little. Any time they did something great or had a good attitude about something, we'd regarded as being Top of the Class. But since that's too long to say, we shortened it to topis. So when I opened my workshop and needed a name, Topis was perfect, because my ceramics are Top of the Class!""