Our GlobeIn Premium Wrap
Hand wrapped with love, each gift comes with its own regional pattern, giving your gifts an international flair.
Premium gift wrap – $5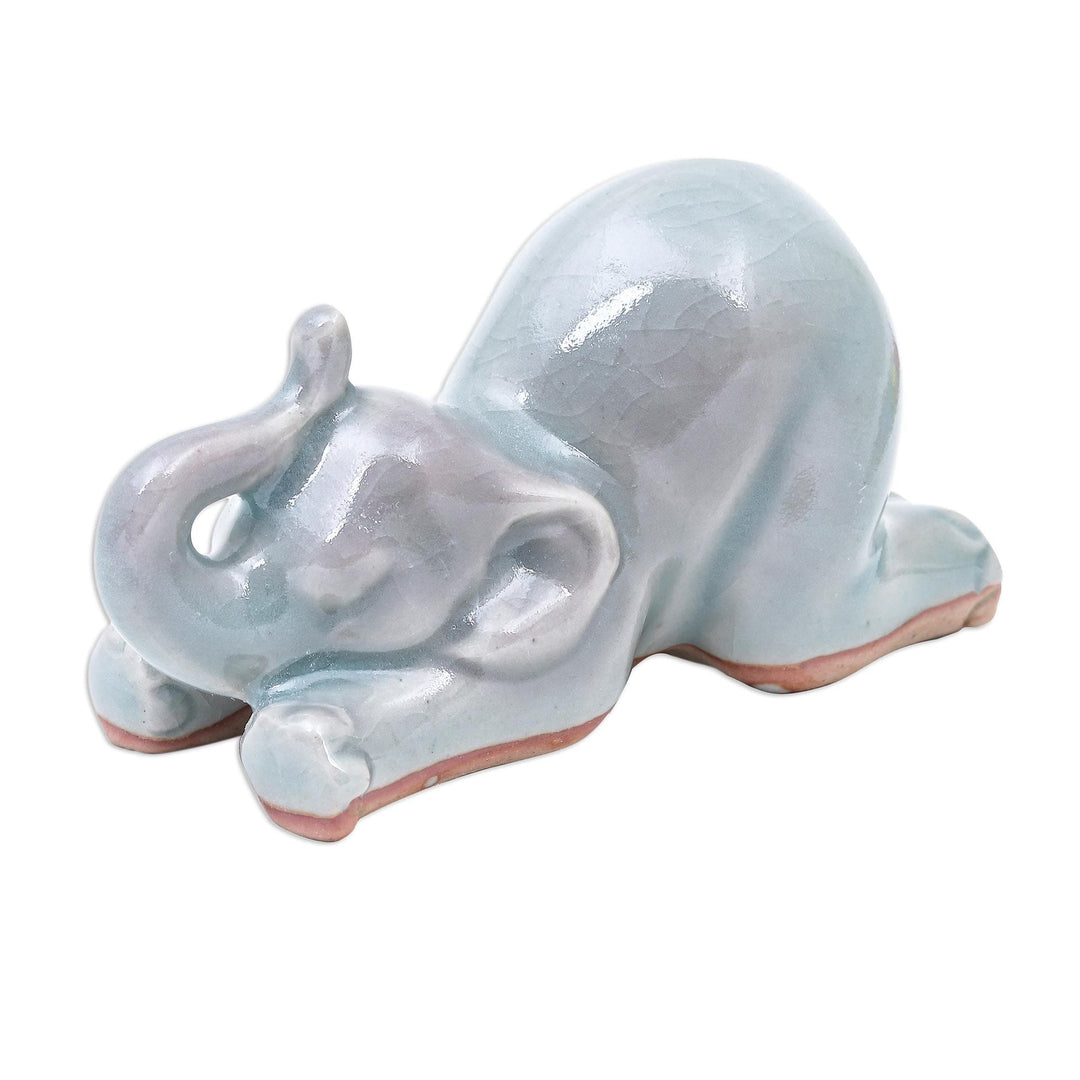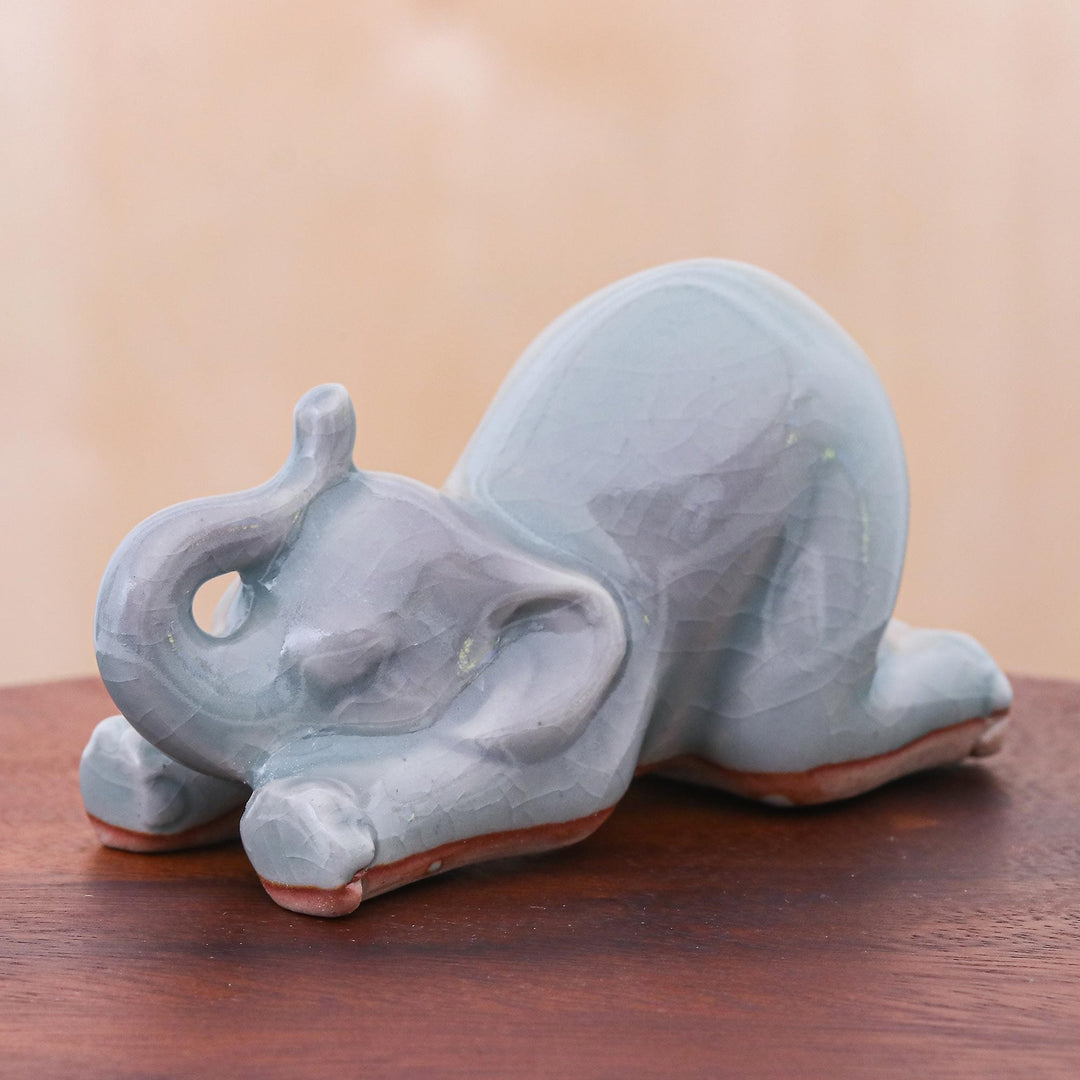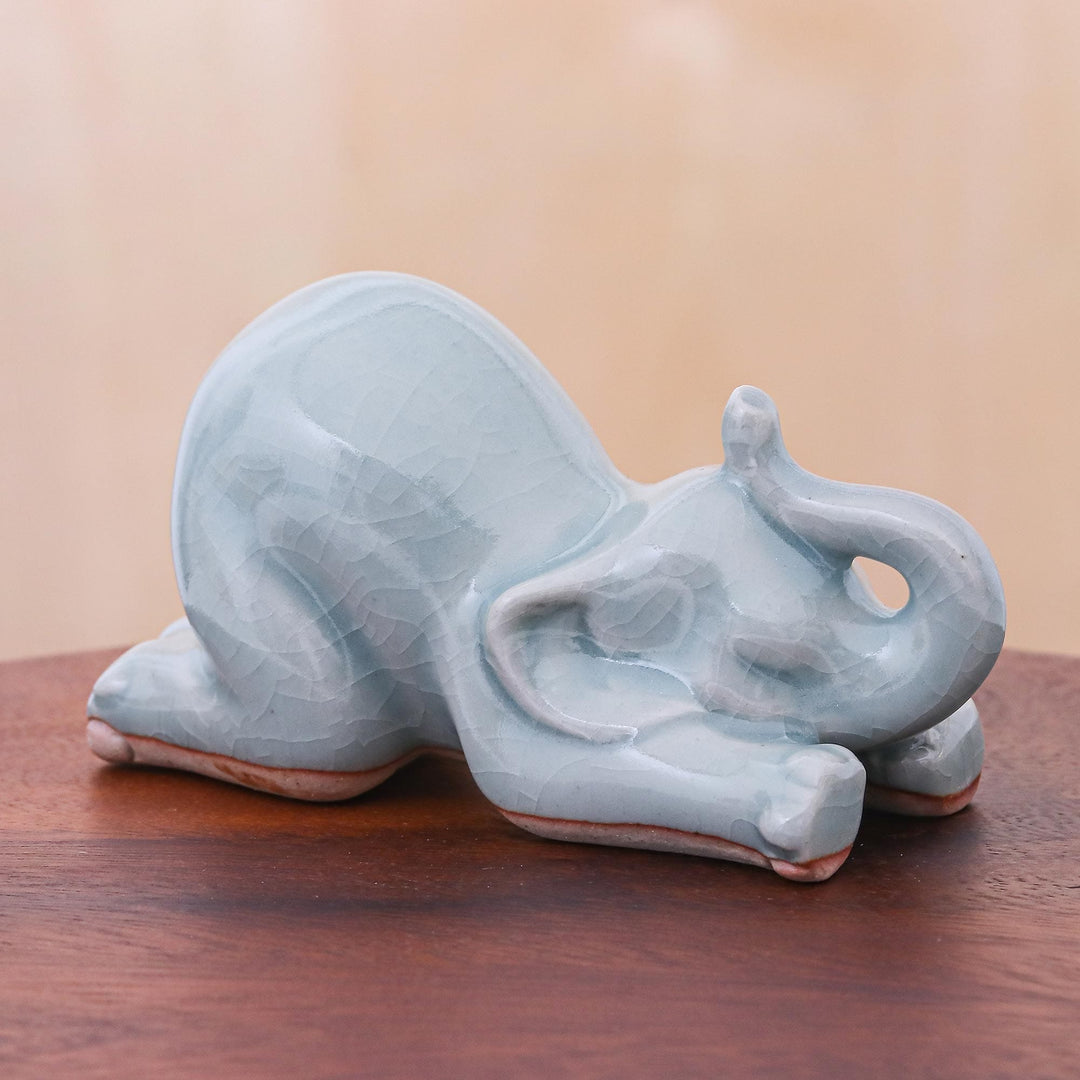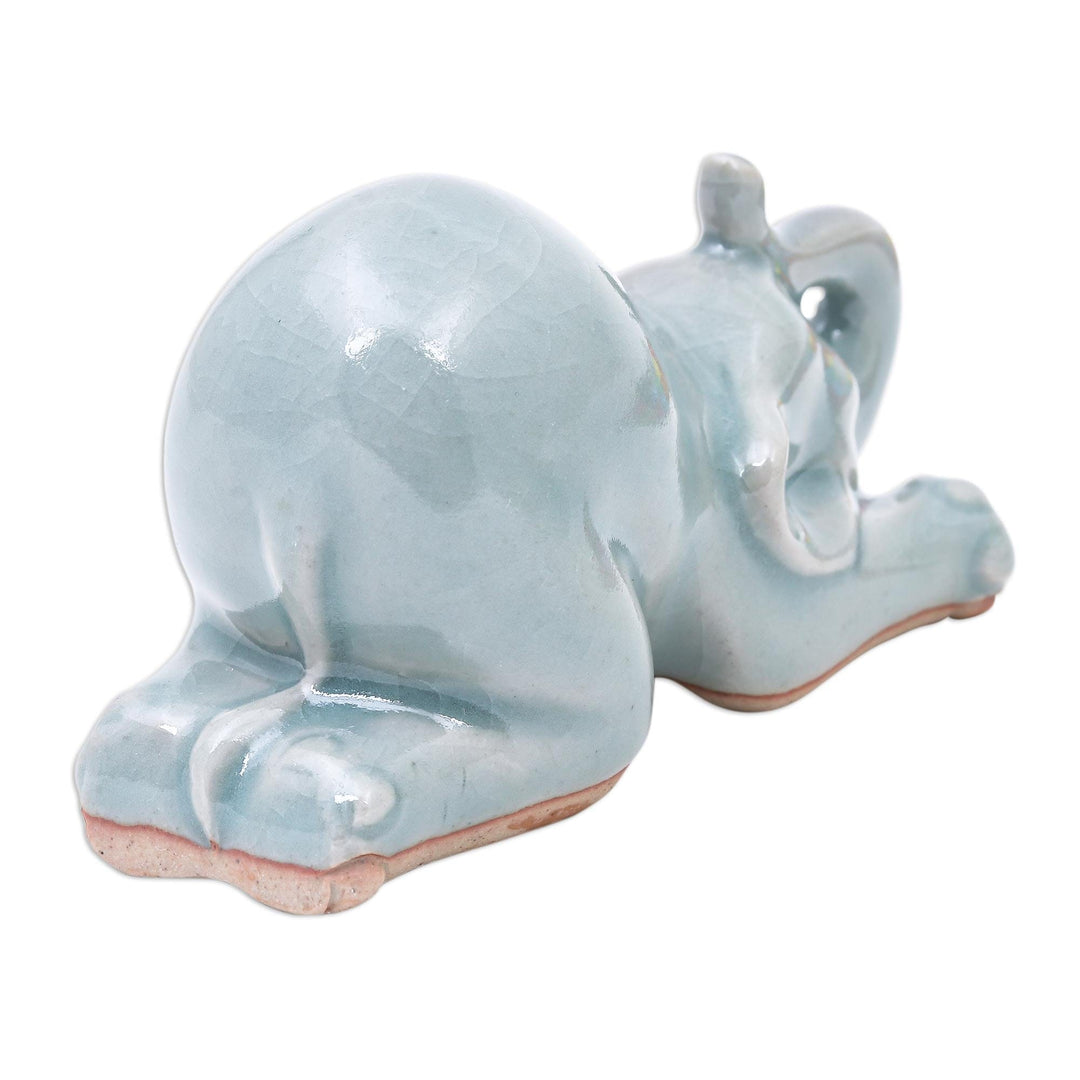 Ceramic Elephant Yoga Figurine - Elephant Puppy Pose
$34.00
Guest price
$27.20
Member price
Available Premium Gift Wrap
You can optionally add Premium Gift Wrap into cart.
Learn more >
Overview
Description
A delicate elephant leans forward and stretches all the muscles in his back in this adorable figurine from Thai artisan Duangkamol. Crafted from green celadon ceramic, the elephant is shaped into 'extended puppy,' a yoga pose also known as uttana shishosana. The figurine is treated with a glossy glaze in a crackled finish.
Ceramic
1 oz
2.1 inches H x 1.7 inches W x 4 inches D
THE STORY BEHIND THE PRODUCT
Artisan Organization: Duangkamol
Country: Thailand
"My name is Duangkamol Srisukri, born in Bangkok in 1957. I have an elder brother and an elder sister. My parents were part of the first group of doctors who were assigned to work in Chiang Mai at Suan Dok Hospital, the biggest government hospital in Chiang Mai and in Northern Thailand. My father was a pediatrician and my mother was a forensic doctor. When my father was working as Dean of the Pediatric Faculty at Chiang Mai University, he got together with his good friends, Mr. Gibson and Mr. Walker, and founded a ceramic workshop out of their shared passion in celadon and stoneware.

"Most of my works are both Thai and Chinese reproductions like vases, ginger jars, and figurines. My intention is to maintain the ancient art of making celadon and stoneware so that our future generations can enjoy these pieces. Together with other artists, we have created beautiful handcrafted pieces with ornate incisions and bas relief.

"My work and my clients have changed over time. In the past, the majority of my clients have been elder generations who liked only replica pieces like vases or lidded containers fully incised or in bas relief. Nowadays, most of our clients' age range goes from 17 to 80 years old, with a variety of preferences that go from traditional to modernistic styles. Therefore, I have been concentrating on both traditional and modern pieces.

"I have always loved to draw, which is why I started working at my parents' workshop. As time passed, I learned the full process from my hands-on experience. Mr. Walker, one of my parents' best friends, taught me the recipe for the wood ash glaze. I have also learned other glaze recipes from many ceramic experts in order to add more color options to our products. I must say that working with glazes is one of my favorite forms of art.

"I never feel tired of working in celadon ceramics, which I have been doing since 1980.

"My intention is to do my best when making beautiful art for shoppers to enjoy. This is the most important award for my work. Seeing that people are pleased with my works and to see repeated purchases is my best inspiration. This motivates me to work harder and pay more attention to details in order to have great art pieces for you.

"Each piece that I work on involves hours of reading and researching to get the most accurate details. Once details have been fully collected, a master piece is created. After many trials, a master piece is completed and tested. Finding time to sharpen my skills is probably one of the most difficult tasks to put on my agenda. I am at the workshop six days a week. I would like to have more time to refresh my mind and skills.

"My favorite animal is the cat. I think cats are charming and very interesting. I have worked on several figurines and even some dinnerware in the shape of cats. Even at the kilns, I have some cats around to keep me company.

"I have not taught my craft to the public. As I am working at the kilns, I do more information sharing with the people who work with me.

"I hope that my products will inspire a lot of people to see the beauty of ceramics. I hope more people will understand and appreciate the art of celadon ceramic. Each piece that I make has many stories to tell. Each piece is individually signed by the artist who has worked on it.

"Having my work featured on your site is very good because people can enjoy seeing many beautiful pieces of art by sitting at home in front of the computer. Being able to click on a country or area of the world that people would like to visit in a minute is and indescribable experience.

"Thailand has many wonderful forms of arts. Visiting Thailand will definitely be an invaluable trip to experience many cultures all in one country. Thailand is a big melting pot for Thai, Chinese, Indian, and many other cultures. You can see all of these cultures in many of my designs, too."

Please note — Duangkamol works with a team of master ceramists, and therefore each piece is signed by the person who made it."