Our GlobeIn Premium Wrap
Hand wrapped with love, each gift comes with its own regional pattern, giving your gifts an international flair.
Premium gift wrap – $5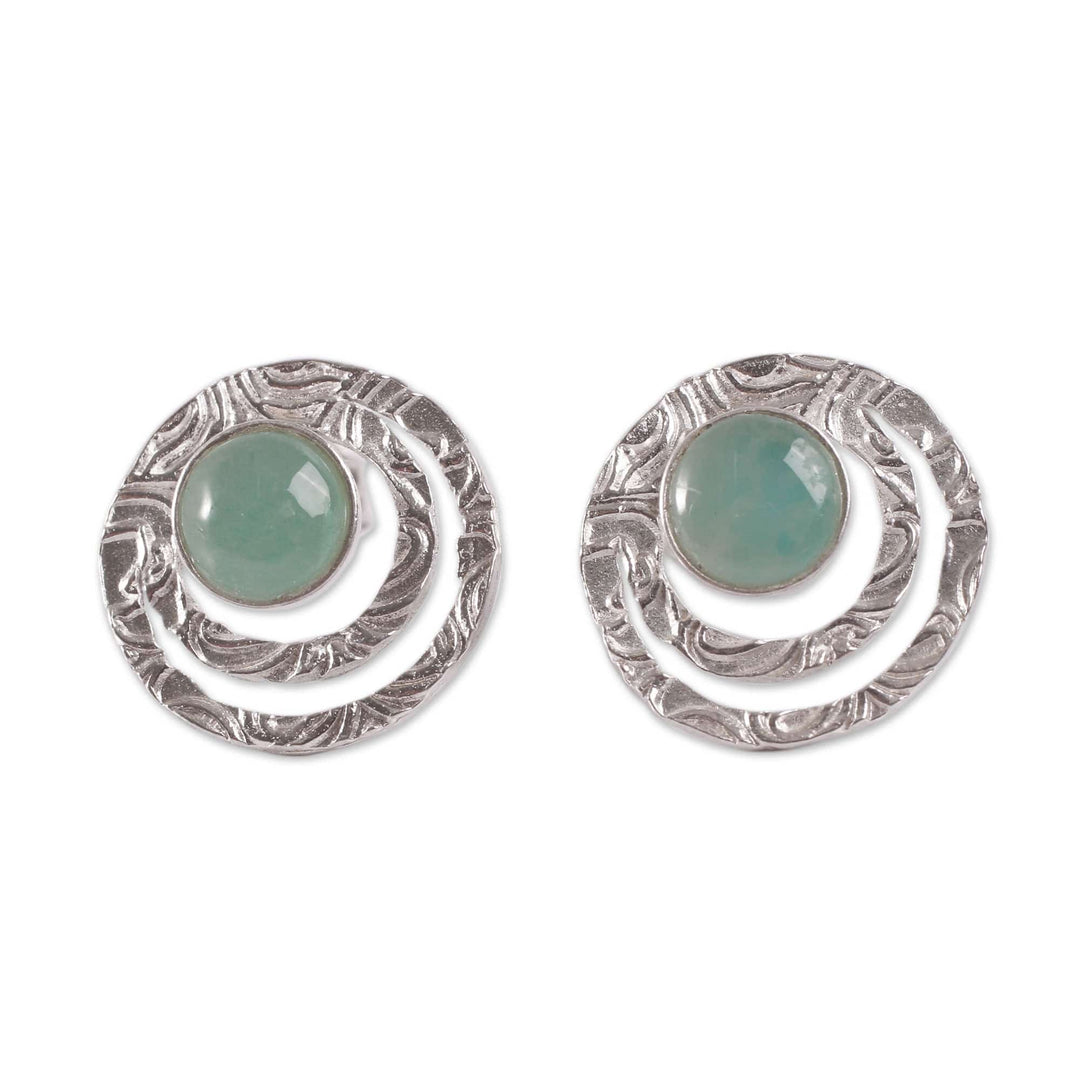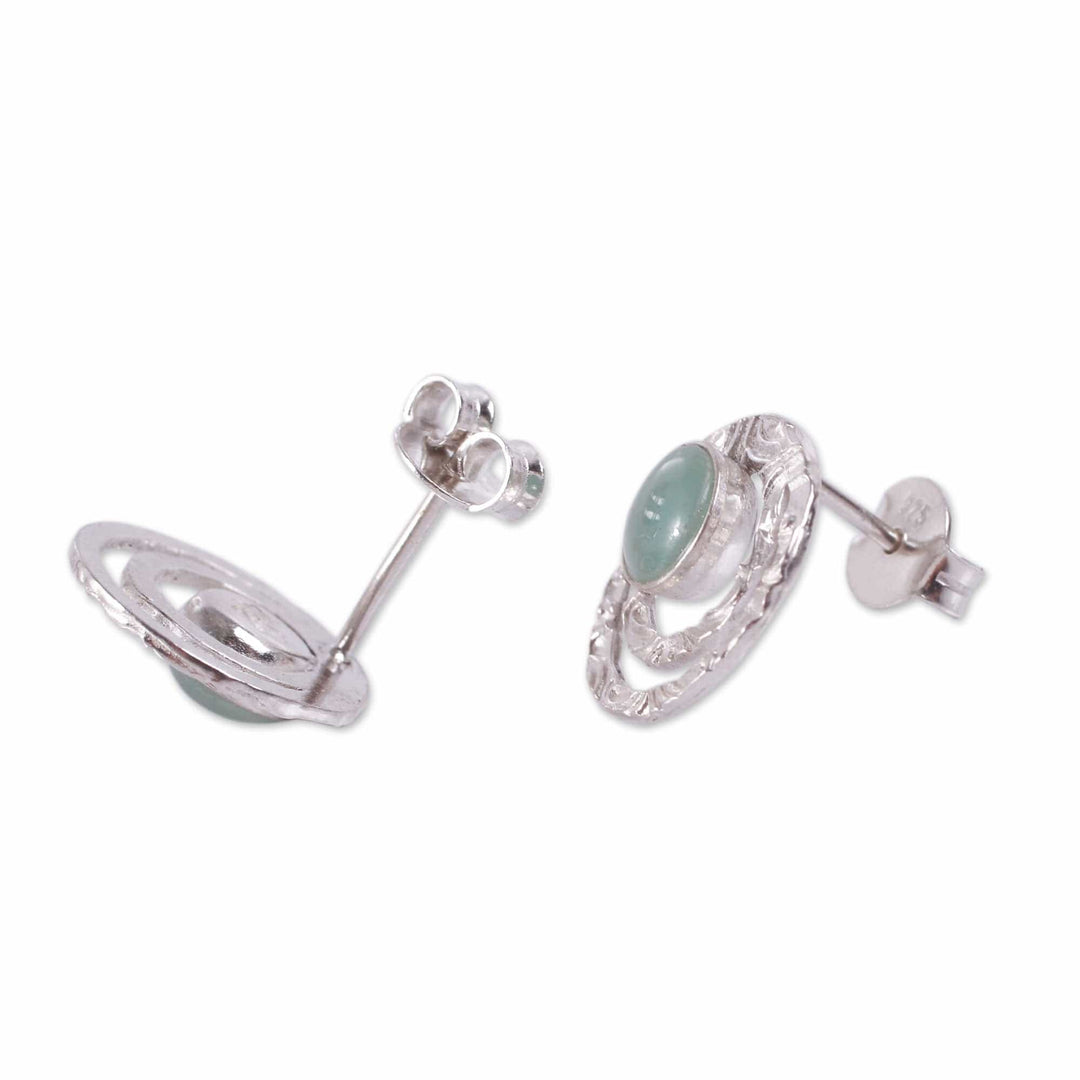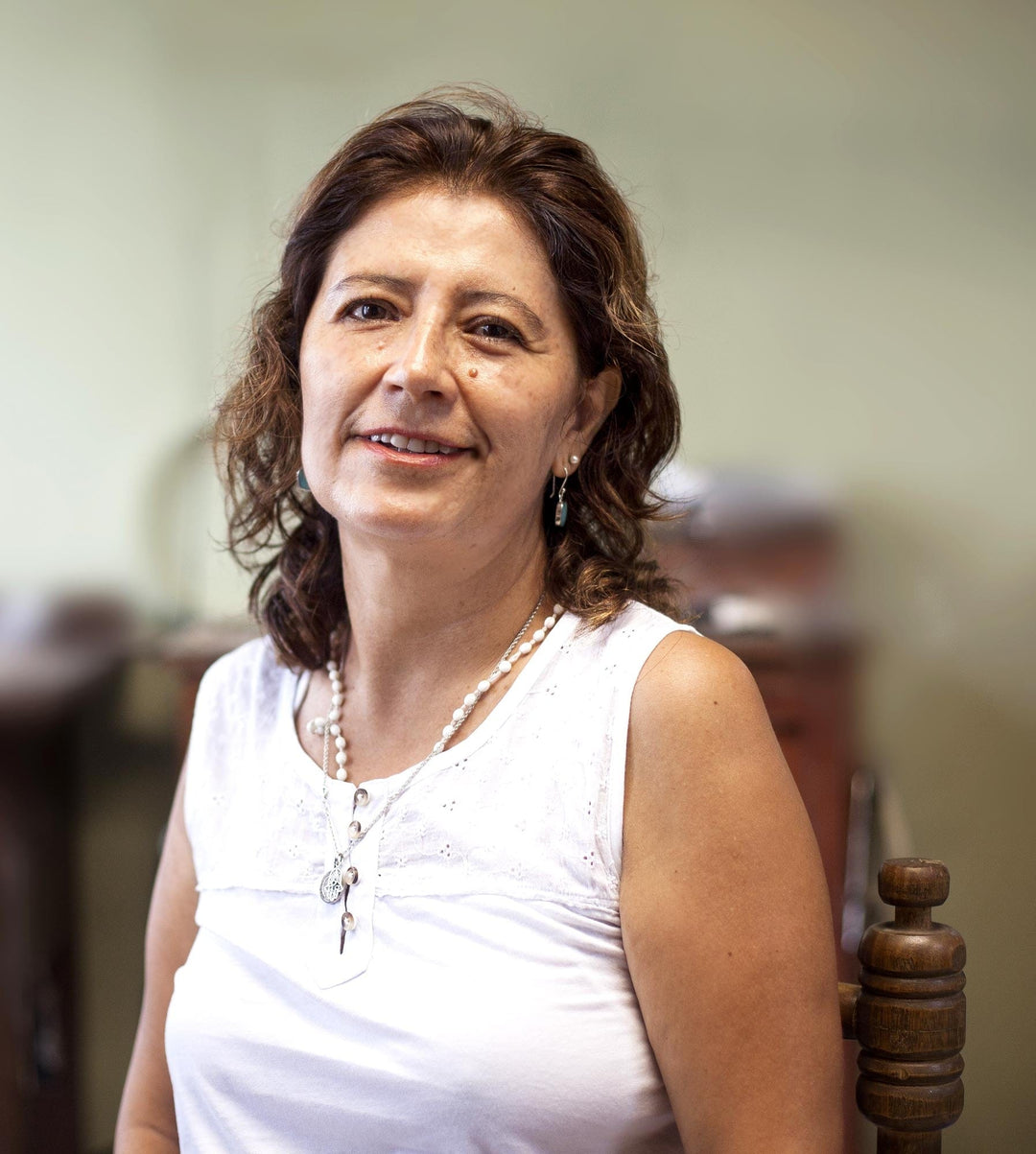 Handcrafted Sterling Silver and Green Opal Button Earrings - Green Vibrations
$73.00
Guest price
$58.40
Member price
Overview
Description
These sterling silver earrings reverberate with timeless elegance. Designed by Patricia Jara in Peru, they are centered with Andean opal. This stone of devotion for faithful lovers is also the stone of hope.

.925 Sterling silver
Sterling silver, dyed opal
0.05 oz
0.6 inches L x 0.6 inches W
THE STORY BEHIND THE PRODUCT
Artisan Organization: Patricia Jara
Country: Peru
Update (June, 2019)

"I was born in the city of Lima in 1962. Would you believe that almost a decade ago I was working in an office practicing my career as a lawyer? I never thought that life would lead me to the art of jewelry. What madness!

"I remember a very enjoyable childhood in Huancavelica, a magical place where I spent my first years, which marked my heart and from which I cherish the most endearing anecdotes. I was surrounded by nature and flowers, and would lie on the grass at the skirts of a mountain watching the movement of white clouds crossing a blue sky, feeling the cold wind and loose strands of hair brushing my face. I can close my eyes and fly to the past.

"After almost ten years working in the city in an office with established hours, I felt that there was something wrong. I wondered if I really wanted to practice the law all my life. It was a constant question that accompanied me every day and I began to consider. It's difficult to make such a decision when it seems that you found the ideal job, and got the promotion you wanted. But law did not fill my heart completely. I had many doubts about the path I was on and, although it seemed to be the right one, I began feeling uncertainty about the future. I gathered my courage and eventually I made a decision that, of course, nobody expected, especially considering the situation that the country was in. Jobs were scarce and the current government of the time had many problems. I took a risk with everything I had and gave up the life I once believed would make me happy.

"It was clear that I wanted to dedicate myself to art. I was always very skillful and creative, so one of my great friends in life motivated me to enter the world of art in the least expected way. I discovered the art of jewelry. I started to visit art fairs, not only national but international. Without a doubt, it was love at first sight. I was so impressed by the work of those artists that I couldn't resist visiting their workshops. And that made my creativity bloom completely. I felt free! Suddenly I started to put my ideas on paper. I signed up as soon as a training course about jewelry and technique was offered. I realized that I enjoyed it very much. This was my path.

"2016 was a very hard year. There are still times when I think of those days I spent in a hospital, away from home — suddenly waking up, opening my eyes and seeing that intense white light without understanding what had happened to me. I realized I could not control my movements; everything was confusing. I was wondering what happened to me? It was a cerebral effusion. I saw my little daughter wondering why we could not go home. This touched my soul in the deepest part of my being. She was the impetus, my motor, my reason to face the hard rehabilitation. Life gave me a second chance, and little by little with dedication, perseverance and effort, I was able to get ahead. I went back to the work I loved so much cerebral effusion — I went back to designing beautiful jewelry. I recovered my memories, even in dark moments. My daughter and my parents became that source of energy for me to wake up every day and believe that yes, it's worth it.

"Today I am completely recovered after three years of that situation. I am a new person. I feel fortunate and very proud of everything I achieved and all I was able to overcome. I want to thank all of you who help show my work, my art and creativity, everyone who purchases it. You were present from the beginning, during and after the episode, believing in me, helping me in the recovery to continue innovating and not abandon what we had built together.

"I believe that everything is possible to the extent that you believe it is possible. What you do with love will always be transformed into love in some way and will be expressed as such. My jewelry is an expression of love embodied in art, influences of nature that interact in the same piece."

Original Artisan Story

"Since 1992, I've been dedicated to a variety artesian manifestations in regions throughout Peru, and making discoveries in order to show the world the great variety of folklore that exists in our different provinces.

"My artistic formation is entirely self-taught — it is a personal search. I find nourishment in the art of our ancestors, the experience of master artisans, and the influence of foreign designers. I seek to develop jewelry with a sense of identity, one that appeals to international tastes. Handicrafts are my life's passion — they achieve the perfect equilibrium between art and people, sensitizing us. My art allows me to be in contact with my pueblo — people with a very special philosophy about life that places an innate art in their hands.""