Our GlobeIn Premium Wrap
Hand wrapped with love, each gift comes with its own regional pattern, giving your gifts an international flair.
Premium gift wrap – $5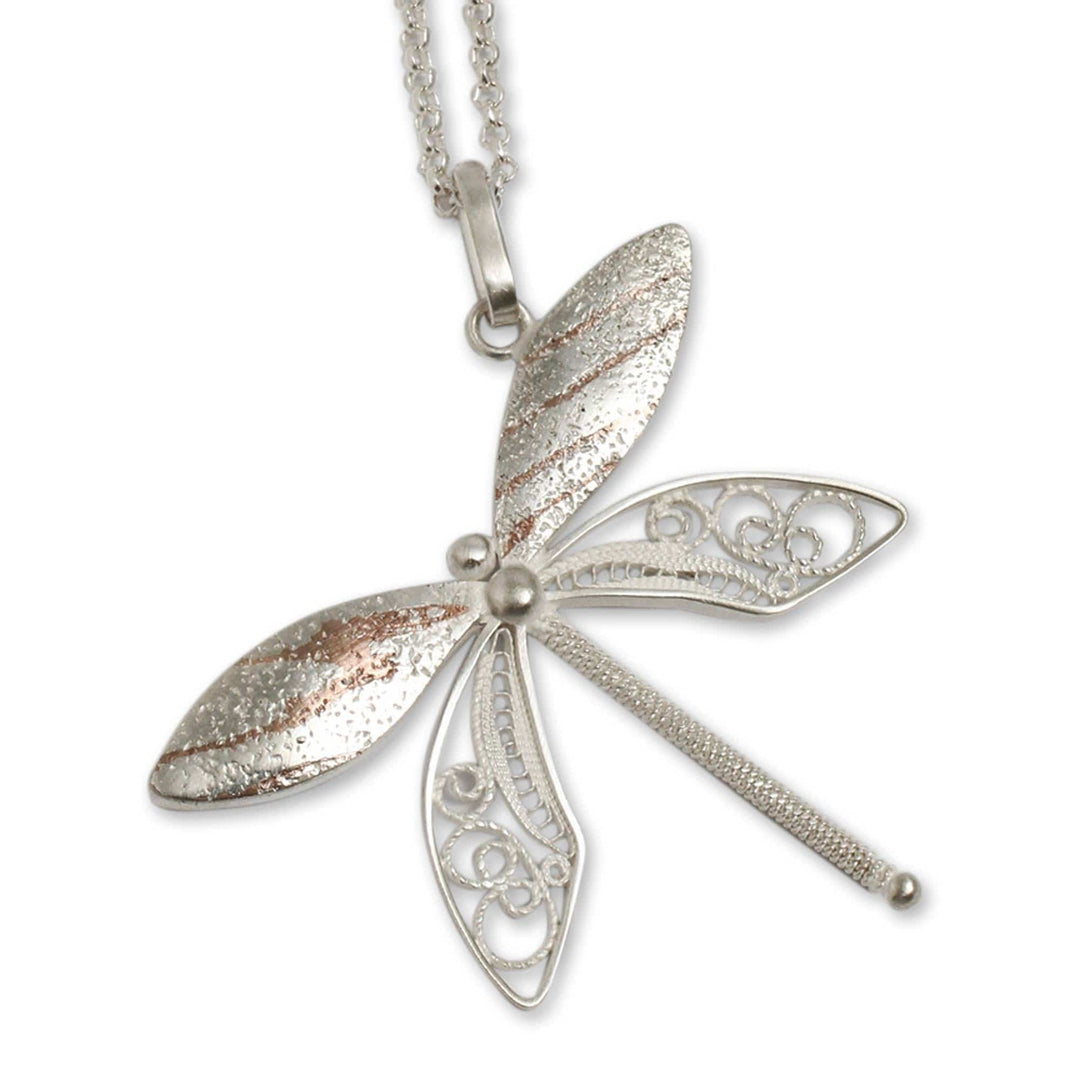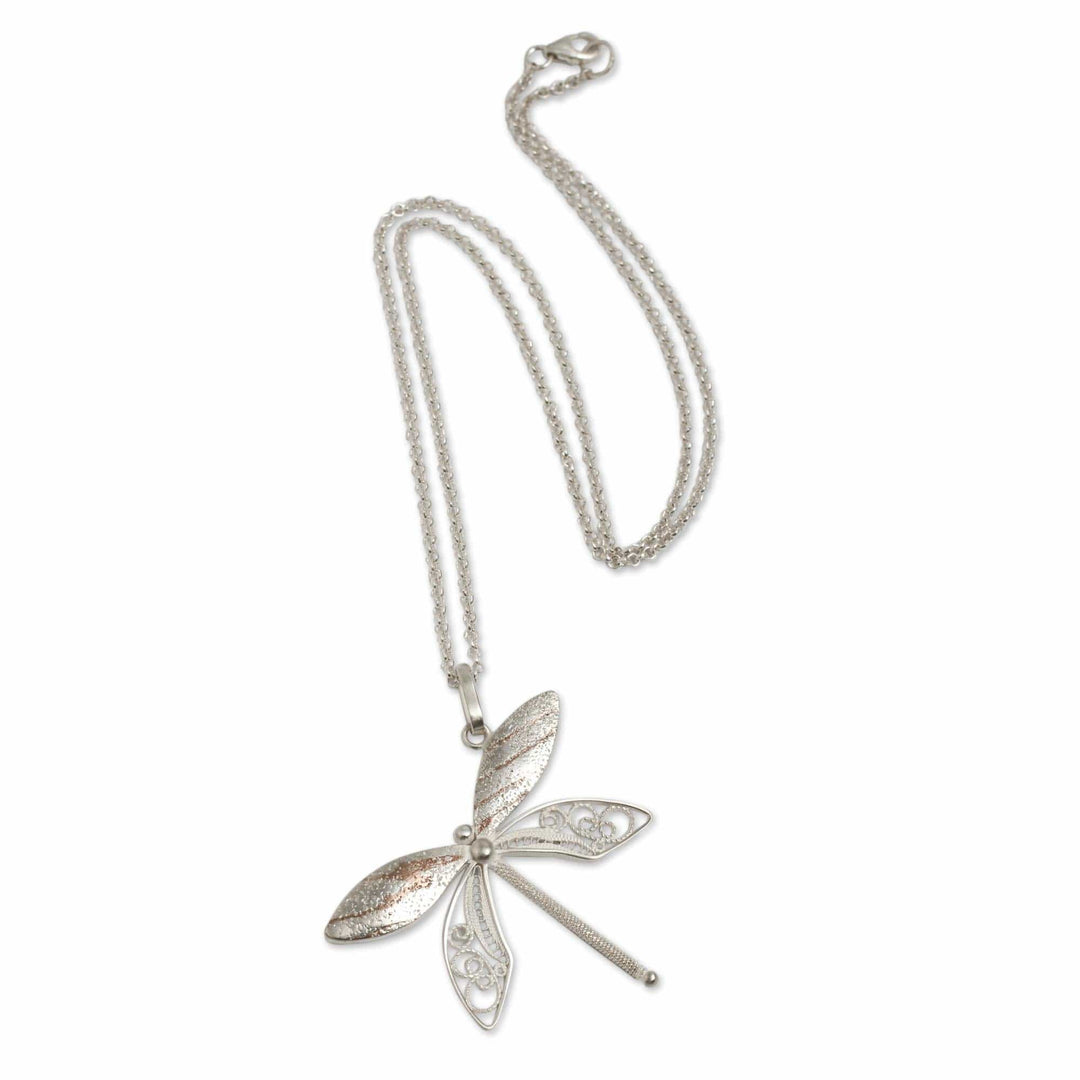 Sterling Silver Filigree Pendant Necklace and Copper Accents - Poised Dragonfly
$97.00
Guest price
$77.60
Member price
Overview
Description
A poised dragonfly shows off its dazzling wings in a necklace by Carlos Yauri. Working with sterling silver, Yauri masters filigree techniques for the lower wings. The upper wings are detailed freestyle in copper.

Copper patterns may vary.

.925 Sterling silver
Sterling silver with copper accents
0.14 oz
18.3 inches L
2 mm W
Pendant(s): 2 inches L x 1.8 inches W
THE STORY BEHIND THE PRODUCT
Artisan Organization: Carlos Yauri
Country: Andes
Latest Update

"I began working with filigree and this art became my whole life. There is no work more beautiful than that done with patience and good humor.

"I was the first artisan to have a small filigree jewelry workshop in our town. I have nine brothers but only four — including myself — practice this art.

"Since starting to work with you, our lives have only improved. We've learned a lot about innovation, about quality. This has had a great impact on our personal and family lives.

"As a result of sales, our growth is undeniable. We were able to move to a larger place where we are still working on the extension of the workshop. We started with a small workshop and today our place has more room. We were able to hire temporary and part-time staff. I have also been able to provide training on the technique and share my knowledge. And, my children managed to successfully complete their education.

"We never imagined that our jewelry could cross borders and, thanks to you, they have. Our plan for the future open a jewelry shop in my home and, eventually, another in the capital. We want to continue growing and expanding our workshop.

"We are committed to the growth of our assistants — single mothers who give their best effort not only in their jewelry but also to their children and families. We want to continue supporting those who work with us and our community.

"Today, I find myself more stable, and very happy about my achievements, such as winning the national contest of the silver patronage in the filigree category. I have been recognized in my region as well."

Original Artisan Story

"My work is an art form I enjoy developing because it challenges my artistic skills. Filigree is hard work, but my patience and dedication serve me well when I'm working on new designs.

"I trained as an apprentice to some of the most renowned master silversmiths of the region. I eagerly learned all I could from them and gradually, as I honed my own skills, my jewelry became impeccable. So much so, that I started to develop my own collections.

"I think of myself as a happy, responsible and hardworking person and these traits served me well when, at the age of 18, I faced the challenge of becoming an independent artisan. I am now in a more stable position and I am proud of what I have achieved, especially the awards I have received.

"Our workshop is pulling through thanks to the efforts of my family and my team. Our designs are inspired by our natural environment as well as by our culture and customs, and these are represented by our material — silver.

"I met my wife thanks to my life experiences and working environment, and together we have forged a life dedicated to the art of filigree jewelry. We share our passion, experiences and love for this art through each of our designs. We craft our designs by hand, always making sure we attain the high quality you deserve.""