Our GlobeIn Premium Wrap
Hand wrapped with love, each gift comes with its own regional pattern, giving your gifts an international flair.
Premium gift wrap – $5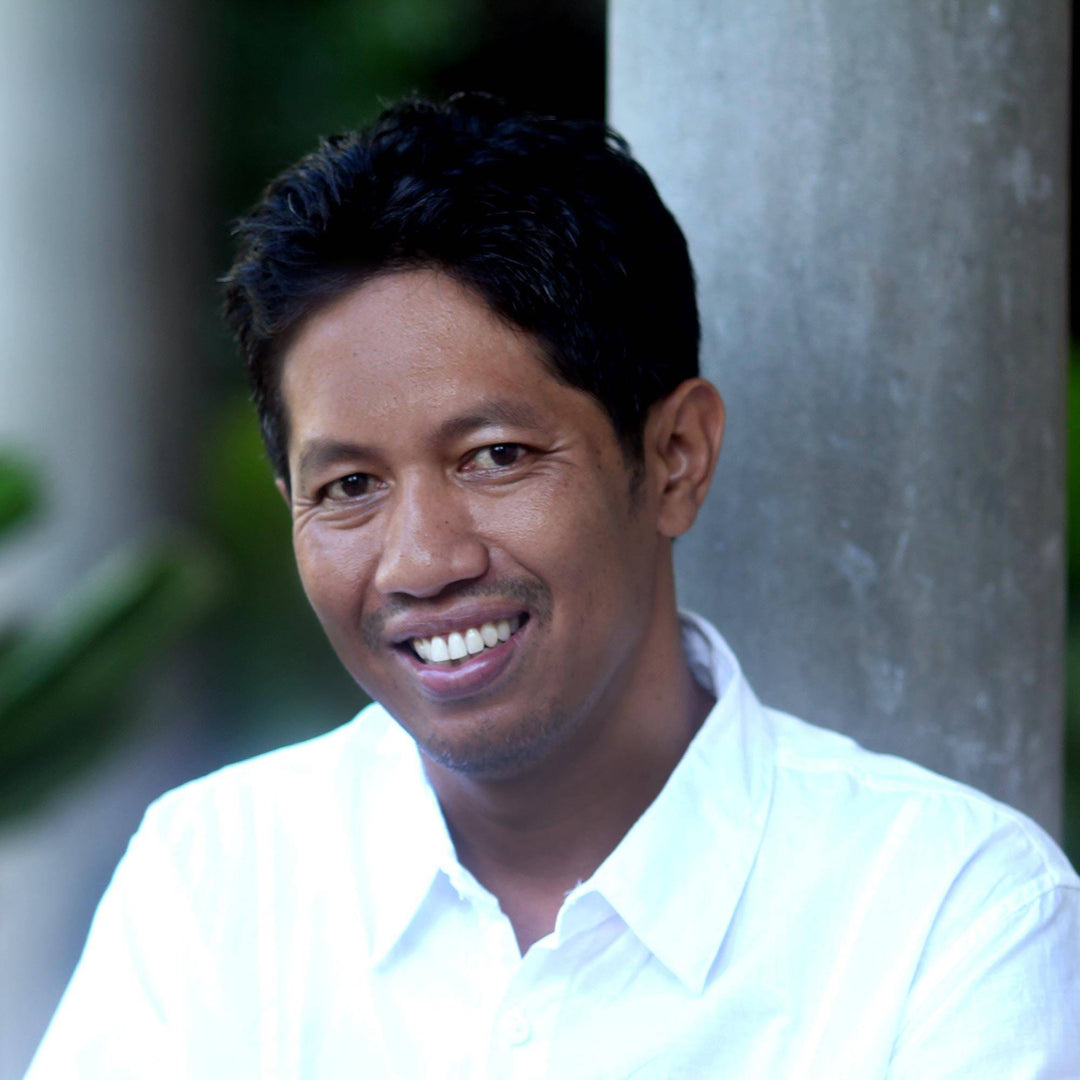 Sterling Silver Fashion Hoop Earrings - Layer of Life
$86.00
Guest price
$68.80
Member price
Available Premium Gift Wrap
You can optionally add Premium Gift Wrap into cart.
Learn more >
Overview
Description
Fall in love with the magnetic appeal of this pair of awe-inspiring sterling silver hoop earrings crafted in Bali. The earrings feature a carved pattern and combination finishes that make this design by artisan Nyoman Ariawan your go-to fashion accessory.
925 sterling silver
0.14 oz
1.2 inches L x 1 inches W x 0.4 inches D
THE STORY BEHIND THE PRODUCT
Artisan Organization: Nyoman Ariawan
Country: Bali and Java
"I'm from a village in Klungkung, Bali and, when I was still a child, my life was extremely hard. There was no electricity, no gas, no water, and no television. We used firewood for cooking and for lighting we used traditional lamp in the night. Luckily we had the old radio to keep up with the news.

"My mother and my sisters walked about three kilometers to fetch a gallon of water while my father and I would go looking for firewood two times a week. Once, when he was at work, I made small wooden beads with a small knife that I brought and I strung them into a bracelet. My father was very proud when he saw my bracelet. It wasn't perfect but the jewelry idea was there.

"My parents changed my life by sending me to a high school, even though they never received formal education as they were pressed by harsh living conditions. I studied at a technical high school in Denpasar, 40 kilometers from our home, so I walked around six kilometers to the school everyday.

"Unfortunately, when I was 18, my Mom passed away.

"I got the school fee from my sister, auntie and sometimes from my father. I'd only eat rice with salt so the money they gave me was enough for me to live far from home. Despite all of this, I got the best rank in class and I got a scholarship from the government.

"Not long after I graduated from technical high school, I worked with a famous jewelry designer in Bali where I learned about gold and silver designs. I worked there for 21 years and handled quality, even did final inspections for China and Thailand.

"After a long time working there, I wanted to explore my dreams and talent, so I started creating jewelry on my own. Now I can give my son a motorcycle to get to school.

"It started when my neighbor asked me to make a ring with his local stone. I created a traditional design which I combined with western or modern methods. The result was very nice and he was very happy with it. And then I started to build a workshop.

"There are three people who help me, and I coordinate them based on their skills. We use pliers, burs, grinding diamonds, grinding silicone, hanging dynamo, a polishing machine and buffing wheels. I use leather, wood, stainless steel sheets, semi-precious stones and silver.

Some are easy to get. We purchase the material from the supplier. We also prepare our own, for example, we have to cut stainless steel to make a spring. I make sure my products are special to my customers by focusing on the quality and unique design.

"Based on my own personal experience, I have a dream to help unfortunate people improve their lives by hiring disabled people to be craftspeople. But I cannot do it by I myself. I need your help to realize this dream.""