Our GlobeIn Premium Wrap
Hand wrapped with love, each gift comes with its own regional pattern, giving your gifts an international flair.
Premium gift wrap – $5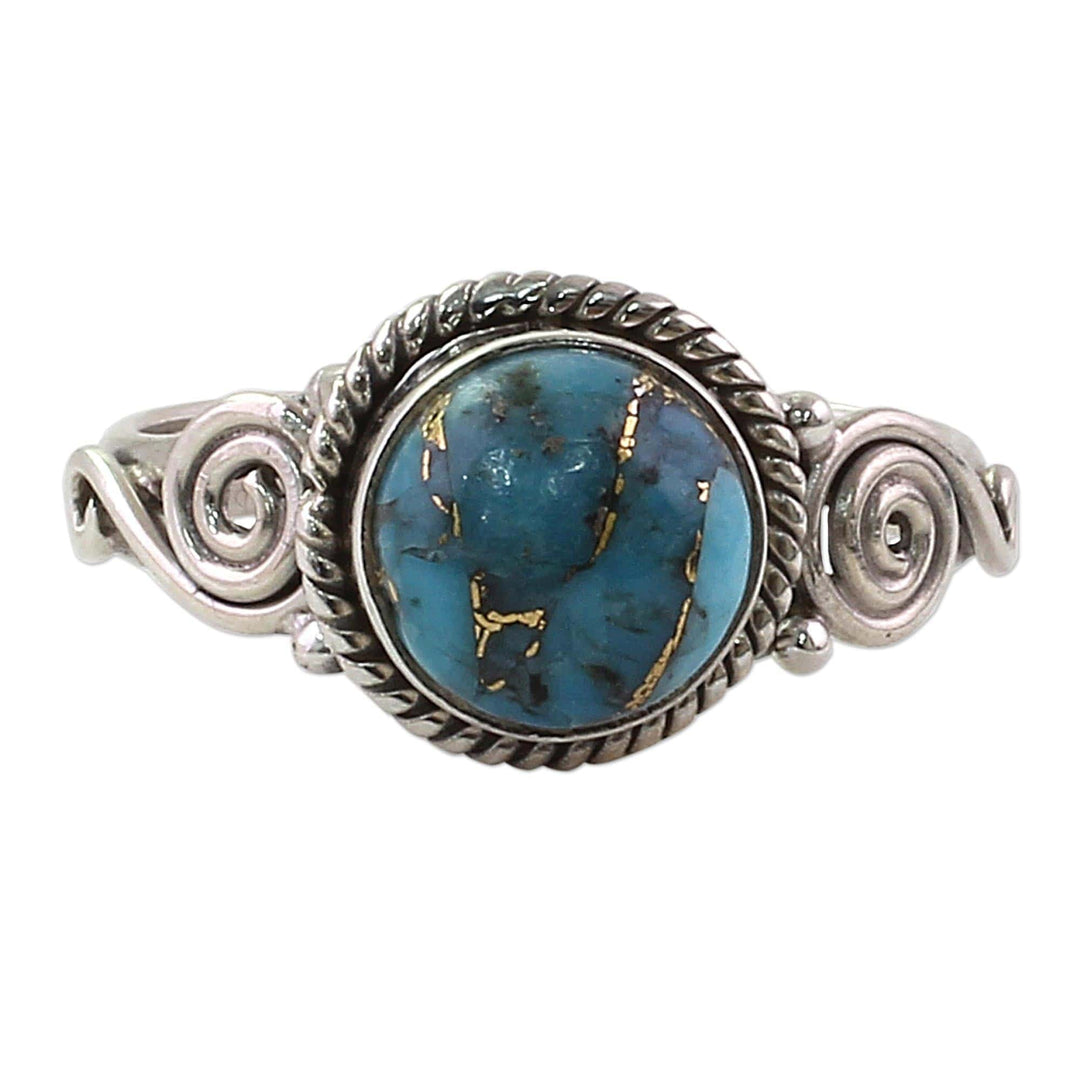 Sterling Silver and Blue Composite Turquoise Cocktail Ring - Blue Attunement
$25.00
Guest price
$20.00
Member price
Overview
Description
A single stone of blue composite turquoise rests atop this cocktail ring, presented by India's Aparna. The stone is surrounded by rope and swirl motifs on a sterling silver band for a look that attunes its wearer with the wisdom of the universe.
925 sterling silver, composite turquoise
3 g
Crown/bezel: 1 cm L x 1 cm W x 0.6 cm H
Band width: 3 mm W
THE STORY BEHIND THE PRODUCT
Artisan Organization: Aparna
Country: India
"In traditional Indian families, it isn't easy for a housewife to start a design workshop, but I was fortunate that my husband also shares the same interests. Together, we create beautiful jewelry. My husband is an expert in crafting jewelry while I do the designing.

"My father was a jeweler and I was highly inspired by him. I grew up watching him make amazing jewelry with his own hands and this really fascinated me.

"I come from the majestic city of Jaipur, the pink city. I had a joyful childhood with four sisters at home. We had so much fun and I, being the youngest of the four, was pampered and loved. We also have a brother who is the youngest of all, and he is a real sweetheart.

"School was fun. I had such good times with my friends and never stopped yapping – so much that, during parent-teacher meetings, my teachers asked my mother what she fed me to give me so much energy to talk nonstop. But I was one of the brightest students in our whole class. Most of the time I was at the top of my class. I was very much interested in studying and wanted to sit for a competitive exam.

"There was another thing in life that interested me, and that was silver. Jaipur is a land of gems and silversmith art is highly practiced in this city. Many jewelers belong to silversmith families who have inherited the craft from their ancestors. However, for my father, it was a passion that arose within him and, though he never technically learned the art from anyone, he was an expert in this field. And one day, I do wish to inherit this quality from my father.

"I did my post-graduation in accountant business statics, which I completed a year after I got married. Luckily for me, my husband was already a jewelry craftsman and this was a turning point for me. I haven't been designing very long, and I hope you will help us realize our dream.""