Our GlobeIn Premium Wrap
Hand wrapped with love, each gift comes with its own regional pattern, giving your gifts an international flair.
Premium gift wrap – $5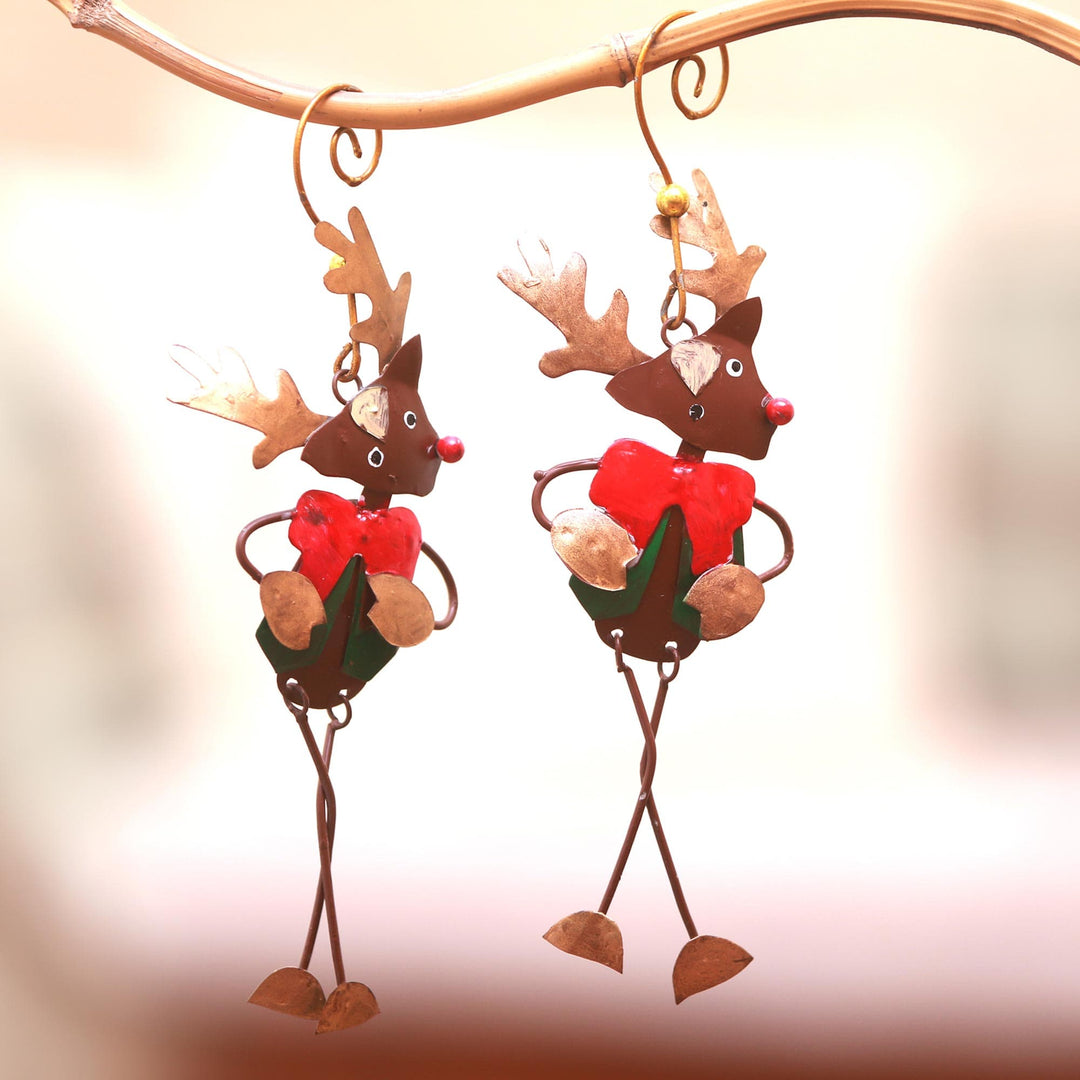 Steel Rudolph Ornaments - Set of 2 - Dapper Rudolph
$28.00
Guest price
$22.40
Member price
Available Premium Gift Wrap
You can optionally add Premium Gift Wrap into cart.
Learn more >
Overview
Description
Handcrafted from steel, two dapper Rudolphs wear bright red bow ties. Nik creates this pair of Balinese ornaments, which is painted by hand. Each Rudolph features dangling legs that dance.
Steel, plastic beads
1 oz
Each: 8.8 inches L x 2.4 inches W x 0.1 inches D
THE STORY BEHIND THE PRODUCT
Artisan Organization: Nik
Country: Bali and Java
"My name is Ni Ketut Lastini but my friends just call me Nik. I was born in Mas in 1980, the fourth child of seven. I'm so proud to have been born in Mas, which is also called the 'art village,' since there are many carvers of wood sculptures here. Since I was a girl, I have carved with my parents and siblings.

"I loved my childhood. I used to go to the rice fields after school. Sometimes, I helped make sculptures in order to earn more money. I usually used the money I earned to buy school supplies and even pay my school fees. I've had to work ever since I was a child because my parents are just farmers and carvers. But, they are hardworking, which has made me who I am today.

"Like other children in my village, I also went to school. I didn't just complete primary school but attended all the way through senior high. After graduating, I began to work. My career started as a salesperson. Aside from promoting things, I also sold fabric back in those days. Eventually, I met an American couple. I worked for them as a shopkeeper in their handicraft shop.

"One day, this American couple wanted to change their shop. They wanted to sell Christmas ornaments instead of handicrafts. Yet, their dream never came true, because the wife passed away. From that moment on, I wanted to carry on their dream.

"Making Christmas ornaments is one of my hobbies. Usually, an idea will come to my mind and then I bring it to life. Because I'm still single, I am helped by 12 other people. Aside from making ornaments, I also love to swim, run, and cycle. Due to my hobbies, my friends call me a hardworking and creative person.

"I hope you'll be able to promote my handcrafted ornaments so I can be a part of people's Christmas joy. Also, I want to recycle things like wood, steel, and aluminum into something better… like Christmas ornaments.""