Our GlobeIn Premium Wrap
Hand wrapped with love, each gift comes with its own regional pattern, giving your gifts an international flair.
Premium gift wrap – $5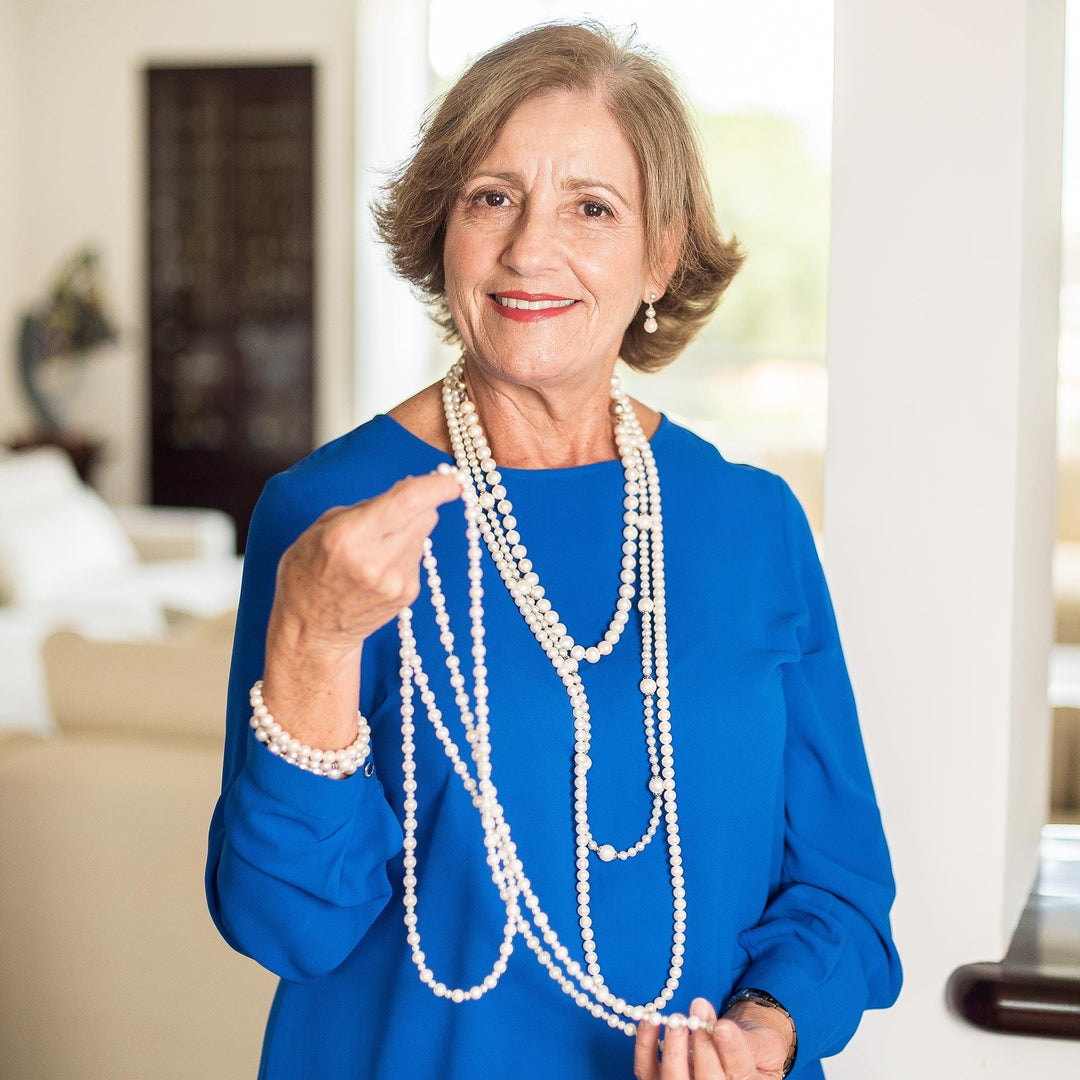 Pink and Peach Cultured Pearl Necklace - Rosy Future
$146.00
Guest price
$116.80
Member price
Available Premium Gift Wrap
You can optionally add Premium Gift Wrap into cart.
Learn more >
Overview
Description
Luminous cultured pearls in assorted shades of pink, peach and cream make up a classic strand necklace. Costa Rican artisan Miriam Bruten creates the necklace, adding a sterling silver toggle clasp to complete the design.
925 sterling silver, cultured pearl
0.57 oz
17.8 inches L x 0.2 inches W
THE STORY BEHIND THE PRODUCT
Artisan Organization: Miriam Bruten
Country: Central America
"I am Miriam Bruten from San José, Costa Rica, where I was born in 1948. I enjoy reading, theater, cinema, music and the sea. I grew up as a happy girl with loving and hardworking parents. From them I learned to be responsible in what I am committed to. They are merchants, so they supported me from my beginning in jewelry.

"I always liked crafts, so I took several courses. My husband is a glass artist, and thanks to him, I started making jewelry 23 years ago. I accompanied him to a fair and got bored after 15 minutes, so I went to where they sold jewelry materials. From that moment, I took different courses and found my true passion. The first jewelry I made I used for my son's wedding, and it is one of the pieces that people like the most. I have always liked jewels, but they are really very expensive and not everyone can have access to them. I thought that I would like to have it be elegant, conservative and accessible, and that I would like to use it for different occasions. I love all my creations; if I am not totally satisfied, I will not produce it.

"I learned the techniques in jewelry workshops outside of Costa Rica. Now I am teaching a person who has a lot of creativity and enthusiasm. To learn I have had to work a lot, play with the materials and put them in different shapes until the model that I like comes out and I am really satisfied. I use 925 silver, gold-filled silver, pearls of different shapes and colors, and semi-precious stones. All are natural; for example use black and green onyx, malachite, turquoise, lapis lazuli, agate, chalcedony, and crystal. I have to bring the raw materials from abroad; unfortunately in Costa Rica they are not available.

"The best part is definitely creating new models. The challenge is whether people will like it. I have been very lucky; my pieces have been well-accepted in general. My inspiration comes from the need to make a piece of jewelry that many people can wear. When I go to buy the materials, right there I already get the inspiration to create something new. My art represents a tradition in my country and everywhere. If a person can have a pearl necklace, I help them to have it without paying exorbitant amounts. Parts can be reused.

"It has been a lot of fun establishing myself as an artisan and working alone. At first I had the help of my family, who would give me their opinion on the products. My dreams and plans for the future are that my brand transcends borders and that we continue to grow every day.

"My jewelry is international. My style is classic, though there are more conservative people everywhere. The quality is indisputable; if you acquire one of my jewels you will have it for a lifetime. The work we do is done with the full conviction that the jewelry you are going to wear will make you feel even more beautiful and distinguished. Thank you very much!""