Our GlobeIn Premium Wrap
Hand wrapped with love, each gift comes with its own regional pattern, giving your gifts an international flair.
Premium gift wrap – $5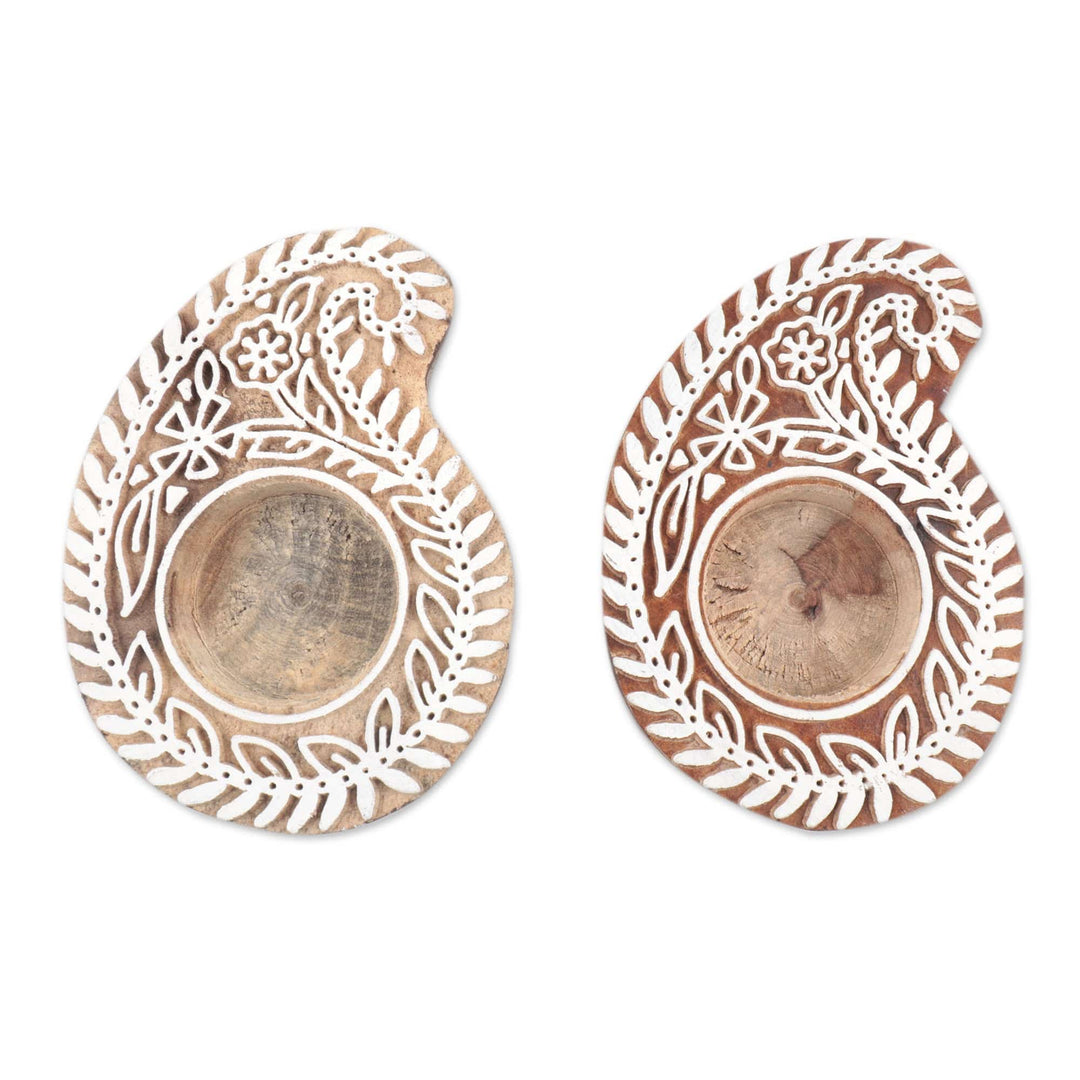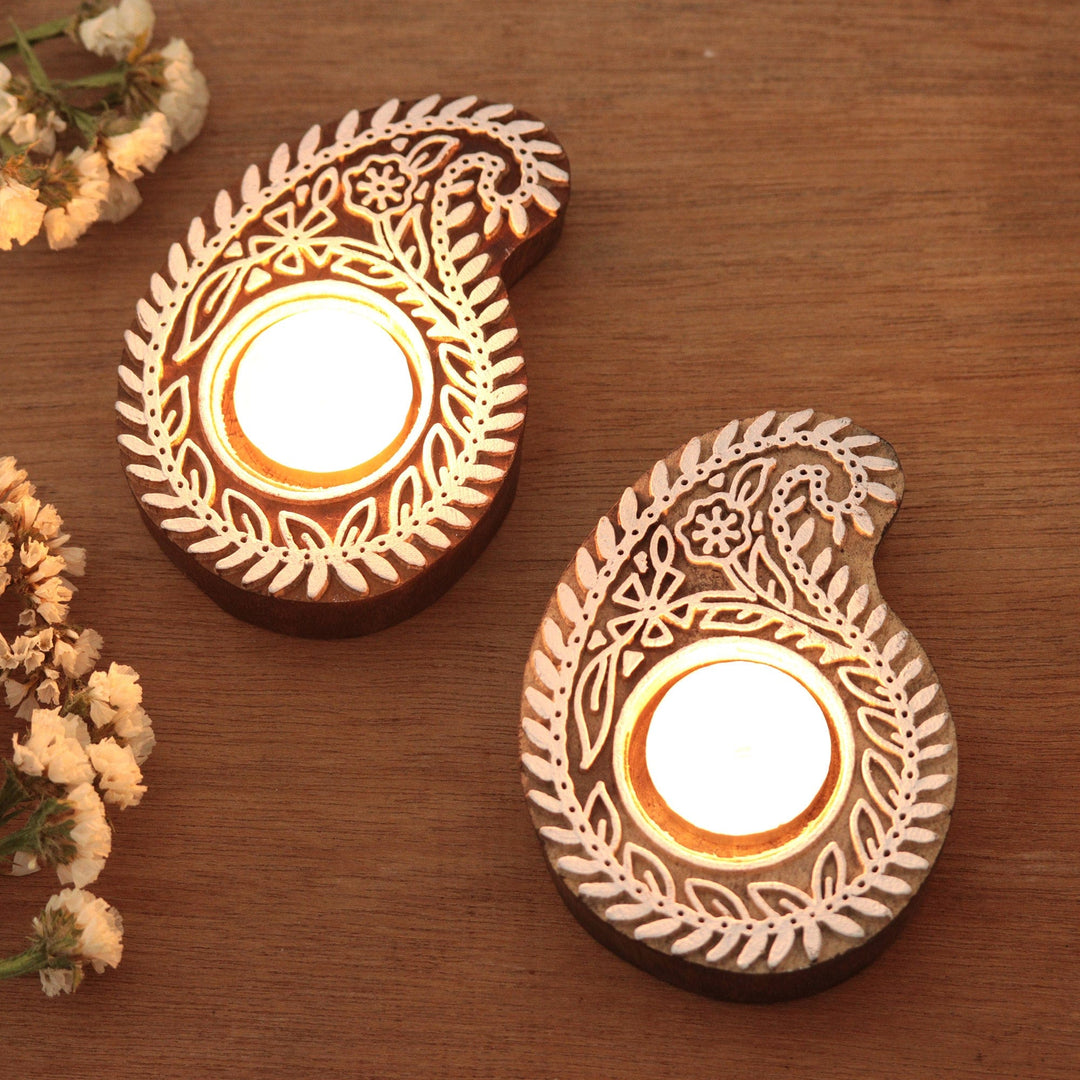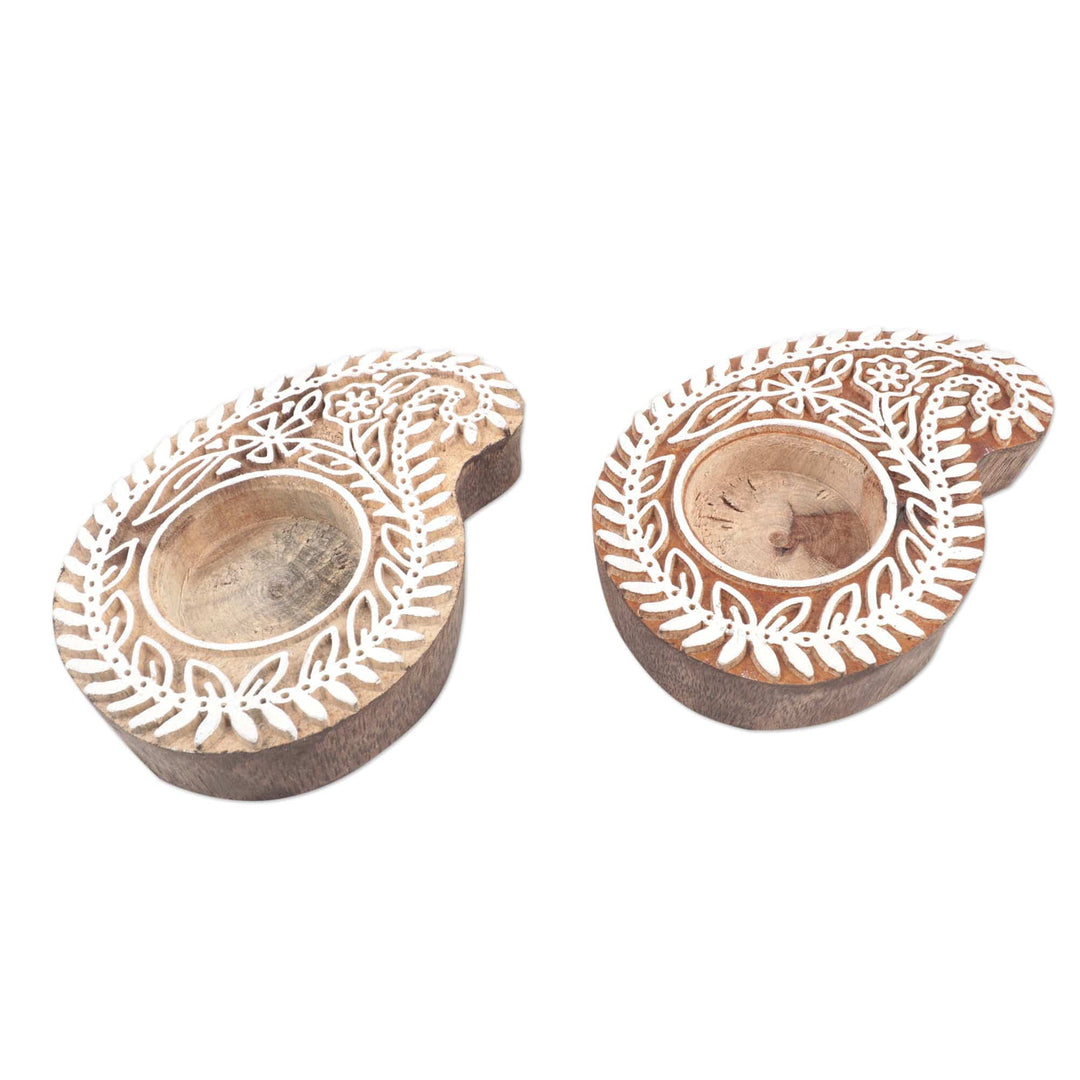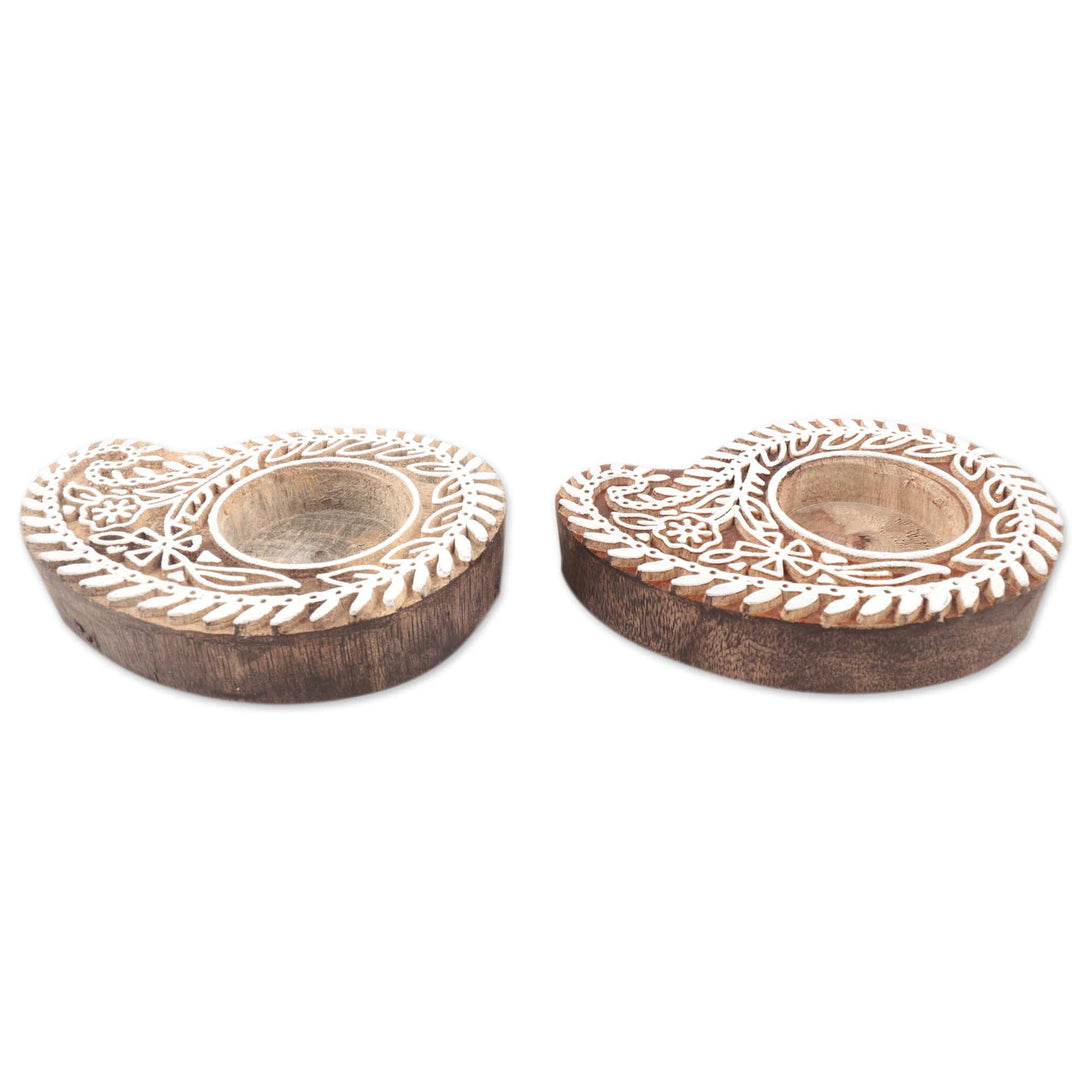 Mango Wood Paisley Tealight Candle Holders (Pair) - Paisley Glow
$41.00
Guest price
$32.80
Member price
Available Premium Gift Wrap
You can optionally add Premium Gift Wrap into cart.
Learn more >
Overview
Description
Combining the ornamental paisley with designs inspired by traditional block-printing, Tariq Khan's presents this pair of tealight candle holders. Carved in relief by Indian artisans, the hand-chiseled designs are painted white, contrasting beautifully with the natural mango wood below.
Mango wood
0.20 lbs
Each: 0.9 inches H x 4.4 inches W x 3.1 inches D
THE STORY BEHIND THE PRODUCT
Artisan Organization: Tariq Khan
Country: India
"Hi, friends! I am Tariq Khan from the city of Farrukhabad in Uttar Pradesh. I was born in 1986 in a family where block printing was in the blood for generations.

"My grandfather Afzal Khan, who received the State Award for block printing in 1992-1993, went all the way to Kolkata to learn the art of block printing and making block stamps. He came back to Farrukhabad and started teaching other people this art form. Together with a handful of people, he started to work with wooden and brass block printing on fabrics. In 1975 he started his own workshop, the very first of its kind in Farrukhabad. Subsequently, my father Ajmal Khan, who was also in love with this art, joined him in his work. After mastering this art from my grandfather, he spread his talent all over India, mainly throughout Delhi, Jaipur, Punjab, Banaras and Kolkata. He taught several people this art form. In 1995, my father received the State Award, but was deeply grieved by the death of my grandfather.

"As a little boy, I used to observe how the blocks were made and how block printing was done with them. It fascinated me a lot, and I too wanted to learn this art some day. Instead of toys, the wooden blocks in different shape interested me more.

"In 2001, my father met with a car accident and the downfall of our family business started. It took him three years to get well and start working. We were under immense financial pressure, as we had spent all our money on my father's treatment. My elder brother and I were too young to take care of the family business. We suffered huge losses. We could not get any financial help from anybody. My father had to struggle to make ends meet and educate us. In the meanwhile, as we grew up, my father taught me and my brother how to make wooden blocks.

"After my graduation, my brother and I started to work with my father. We decided to give it a fresh try again to revive our family business, and also to preserve our craft of wooden blocks. In 2012, I tried to promote the beauty of wooden blocks and block printing through social media sites like Facebook and Instagram. People started liking our designs, and we started to get work.

"Although I was happy to revive our family business with my father and brother, I decided to do something more creative with this art form. I started to customize the wooden blocks into beautiful tealights, which worked very well in the market. Now I have a team of 20-25 workers who work with us in our workshop. Most of them have been taught by my father. We also have 10-15 part time women workers who work from their homes. We also make wooden wall hangings, wall hooks, boxes, masks and coasters with this art form.

"My father is my greatest inspiration. Whatever I am today is because of him and also my hard work. I do the designing with my father, and also do the crafting.

"We supply our products to many handicraft shops in Delhi, Jaipur and other parts of the country. We have participated in a handicraft fair in Kerala, and showcase our products in the local fairs in Farrukhabad.

"I am very passionate about my work. I also teach whoever is keen to learn this craft in my workshop. Working with me gives an opportunity of employment for my team workers. They are able to provide a stable life for their family, and education to their children.

"NOVICA has given me an opportunity to showcase my craft to the whole world. It is my dream to expand my work and spread the beauty of my craft to the entire world. I hope that people will appreciate the beauty of my craft work." "