Our GlobeIn Premium Wrap
Hand wrapped with love, each gift comes with its own regional pattern, giving your gifts an international flair.
Premium gift wrap – $5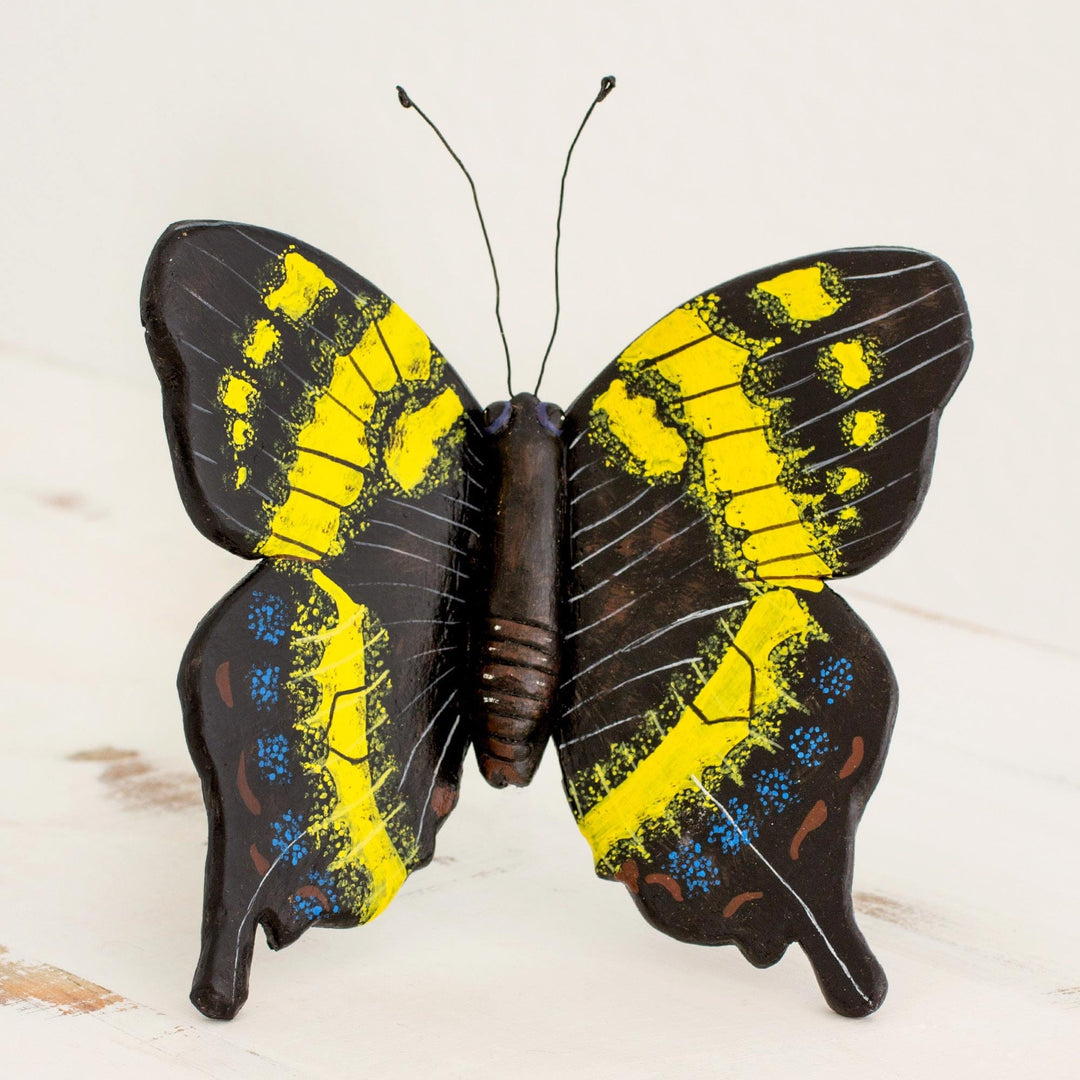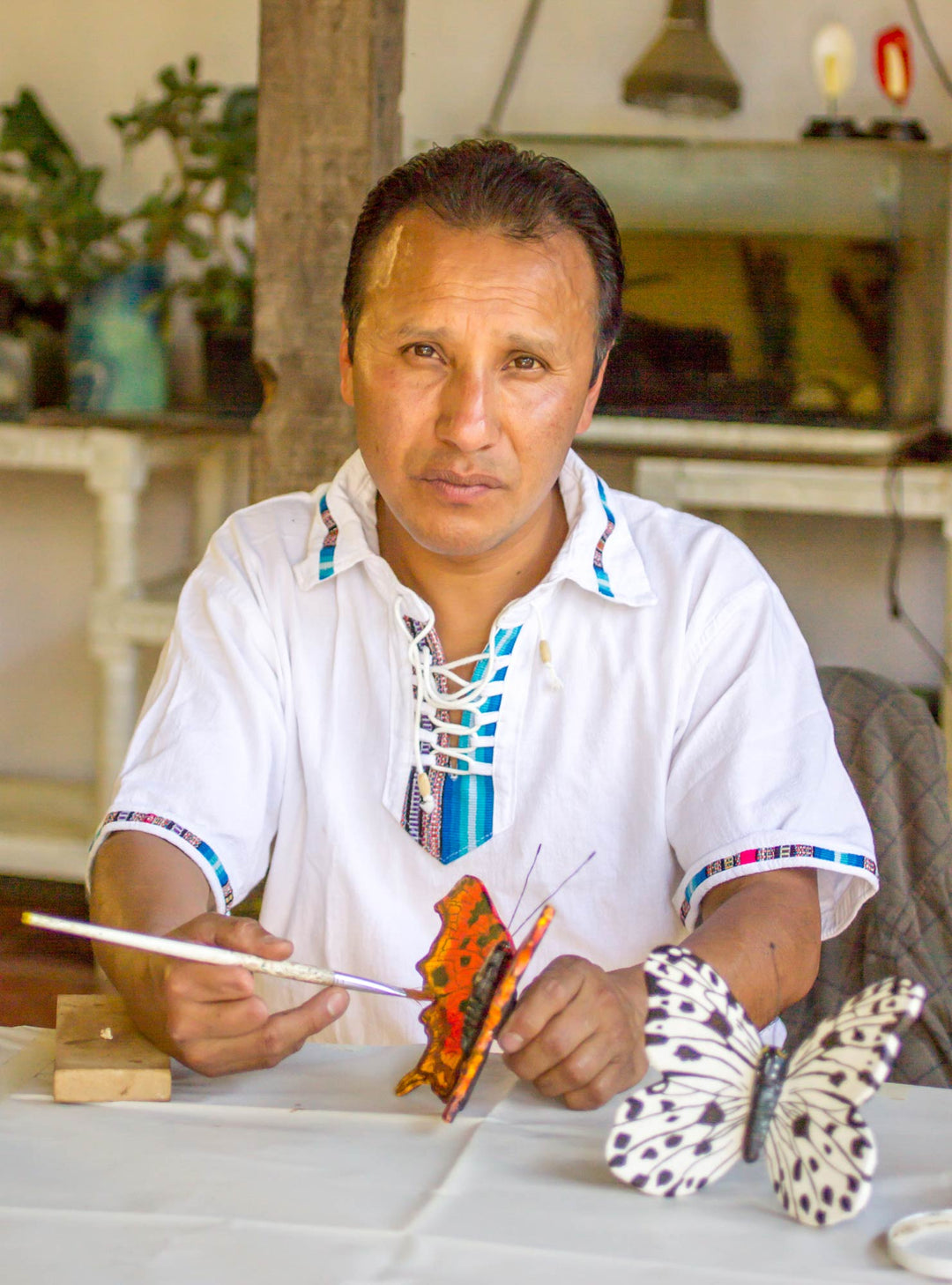 Handcrafted Ceramic Yellow Swallowtail Butterfly Sculpture - Yellow Swallowtail Butterfly
$73.00
Guest price
$58.40
Member price
Available Premium Gift Wrap
You can optionally add Premium Gift Wrap into cart.
Learn more >
Overview
Description
Pedro Apop finds great inspiration in observing the elegance of Guatemala's birds and butterflies. He crafts this ceramic sculpture by hand in the shape of a yellow and black swallowtail butterfly. The artisan uses paints that he mixes with care in an effort to achieve the creature's natural colors. A hook at the back permits wall display, or the sculpture can pose on a tabletop.
Ceramic
0.20 lbs
5.5 inches H x 6 inches W x 1.4 inches D
THE STORY BEHIND THE PRODUCT
Artisan Organization: Pedro Apop
Country: Guatemala
"I became interested in ceramics a long time ago. It was such a big interest that I learned on my own because I didn't have money to pay for classes.

"I'm a simple, noble and solitary person. I'm a single dad, and that makes me feel very proud.

"I've had difficult and sad moments. The one that has affected me the most has been losing my marriage. My wife left me, and afterward, she took my children. I'm sincerely thankful because the youngest son stayed with me. He's the reason I've wanted to achieve the goals we've set for ourselves.

"While I was learning, I still hadn't mastered sculpting the clay when a woman asked me to make ceramic portraits of her children. I was very happy to do it. It was one of my first orders. After finishing and delivering them to her, she couldn't stop laughing. They turned out terribly! They didn't even look like her children. It was a very funny moment that reminds me how you need a sense a humor and that, while work can be serious, you have to have fun.

"I like creating birds and other animals. If I'd had the chance to study, I would've liked to focus on birds and other species. I'm very drawn to their movements, their colors, their courtship and how they defend their territory. I'm interested in creating birds through ceramics — to show nature's beauty and how amazing art can be.

"To master the techniques of molding and firing, I had to study a lot. I practiced by myself, in my room. To learn about birds and other animals, I watched a lot of programs and documentaries, and I looked at magazines and books. It's difficult to create animals, since you have to try to make them look like the real ones in shape and color. I had to learn how to paint by experimenting because I didn't take any formal classes. Then, I had to learn to lose the fear and embarrassment of offering my creations in the market.

"Now, I have some clients and am able to sell my pieces. But it's not very easy because when people don't recognize artisans' work and buy it, the artisan starves.

"I work alone and, in my free time, I teach my son a bit because he's interested in my art. I dream about making my workshop bigger and giving other people work. With God's help, I dream of giving my son everything he wants and needs to get ahead. My parents were very poor and everything was limited. I dream of helping other people, too.

"My two keys for success are passion and excellence. I work with all of my heart to give my son a better education, improve our workshop and give my neighbors work.""