Our GlobeIn Premium Wrap
Hand wrapped with love, each gift comes with its own regional pattern, giving your gifts an international flair.
Premium gift wrap – $5
Albesia Wood Dog-Motif Statuette - Canine Wisdom
$54.00
Guest price
$43.20
Member price
Available Premium Gift Wrap
You can optionally add Premium Gift Wrap into cart.
Learn more >
Overview
Description
With perked ears and wagging tail, Togog Suyasa's canine statuette is sure to wiggle his way into your heart. The Balinese artisan hand carves the statuette from albesia wood before giving the dog white and gold-tone accents. Iron legs give the pup a whimsical touch, while a coiled iron neck spring allows his head to bobble playfully back and forth.
Albesia wood, iron
0.10 lbs
8.8 inches H x 2.4 inches W x 4.7 inches D
THE STORY BEHIND THE PRODUCT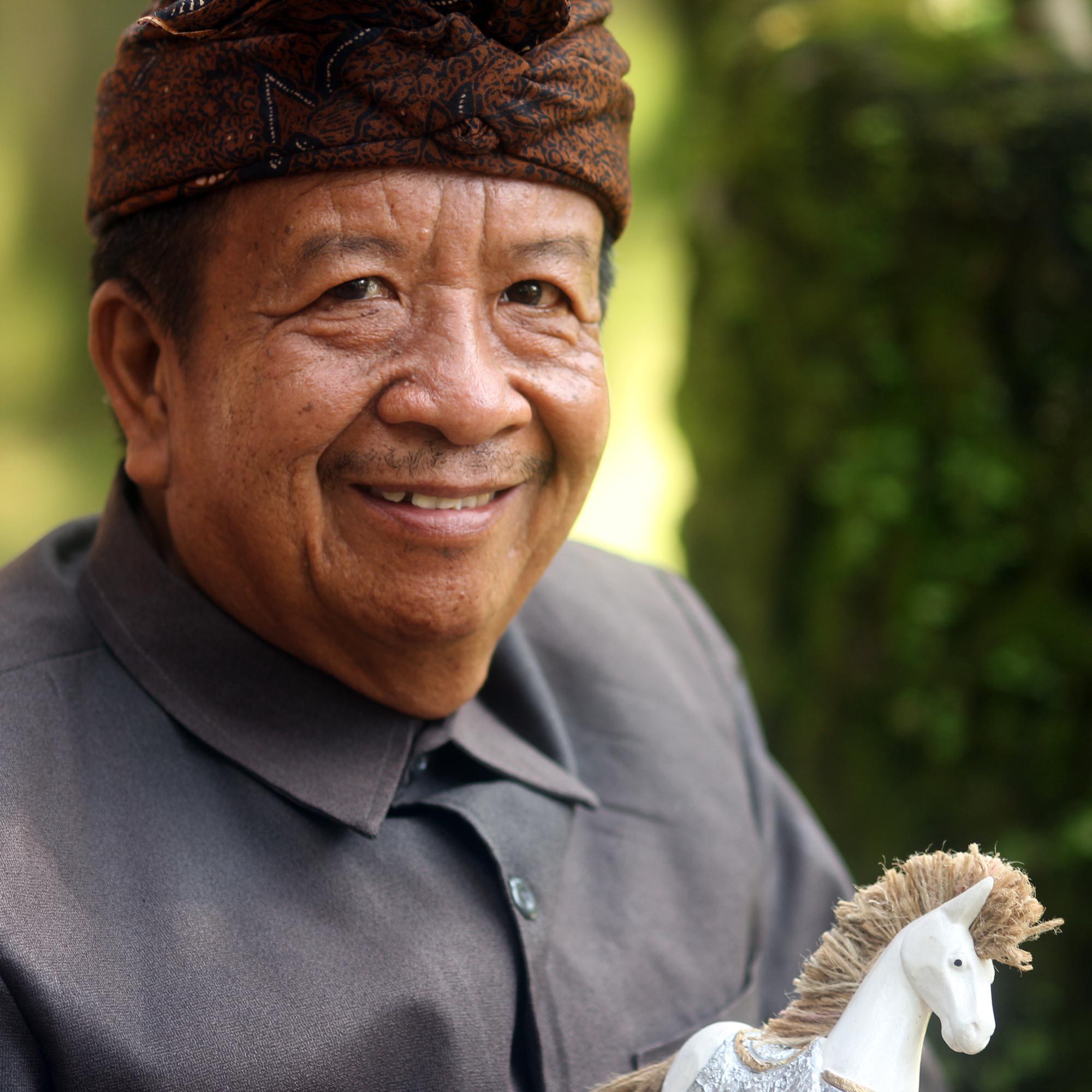 Artisan Organization: Togog Suyasa
Country: Bali and Java
"I'm the son of farmers, born in Tampaksiring as the third of four children. When I was in the second year of elementary school, my father passed away from a disease that spread due to the disaster brought on by an eruption from Mount Agung. Our financial conditions became very limited after his death, so I used to work hard to help my mother and sisters. I learned to carve wood and worked as an artisan after school so I could afford to pay the school fees, help mother with food and also cover the school fees for my sisters. I finished elementary school, but I couldn't afford the fees to continue on to middle school.

"Bali is very nice — it has so many beautiful places and a rich culture. Most of the people in my neighborhood are carvers too, specializing in either wood or bone. We have so many ideas to develop our designs. I learned to carve wood for the first time from my neighbor. He was a kind man and he knew about our family's strained condition. He offered me wise words of advice, encouraging me to work hard so my children wouldn't suffer the same problems I did. I sold my first carvings to him and, after that, I also sold them at Sukawati market, which is a famous market in Bali that offers traditional handcrafted work by local artisans.

"In 1977, I married a beautiful woman, and we have two daughters and a son. Becoming a father meant assuming more responsibilities, more expenses and more hard to work to ensure a brighter future. People know me as a kind and smart man. My wife helps me, and we opened a shop nearby to sell my designs. We have offered work to many artisans from the community to help me when I receive large orders. But after the bombing tragedy in Bali, we hardly had any customers, and finally we had to decide to temporarily close the shop. I only do a small amount of designs now.

"For materials, I use woods, coconut shell and metals. Now I work with the help of five artisans only, and we work with manual tools like knives, saws, chisels and mallets.

"I knew about NOVICA some time ago from a friend, and now my daughter Eka and son Komang Agus Saputra are featured artisans. Since our designs and skills are different, I also would like to work with you to show my work worldwide.""